Norman Etherington and Peggy Brock never imagined they would design and build themselves a new home. Both retired history professors, they had always lived in old houses and never harboured ambitions to build from scratch.
But when a site across the street from where they lived in North Adelaide was listed for sale – and it seemed likely that the existing house would be demolished to make way for new townhouses – they were prompted to act.
This unexpected opportunity gave Norman a chance to prove a point, after spending 40 years involved in heritage politics. "I was always coming up against politicians and architects who said: 'Heritage preservation makes it impossible to do exciting new design; you can't build in a heritage neighbourhood because of the restrictions; or it's uneconomic'," he recalls. "So I was determined to prove them wrong: to build something that was very new, that completely fitted in, and which complied with all the rules."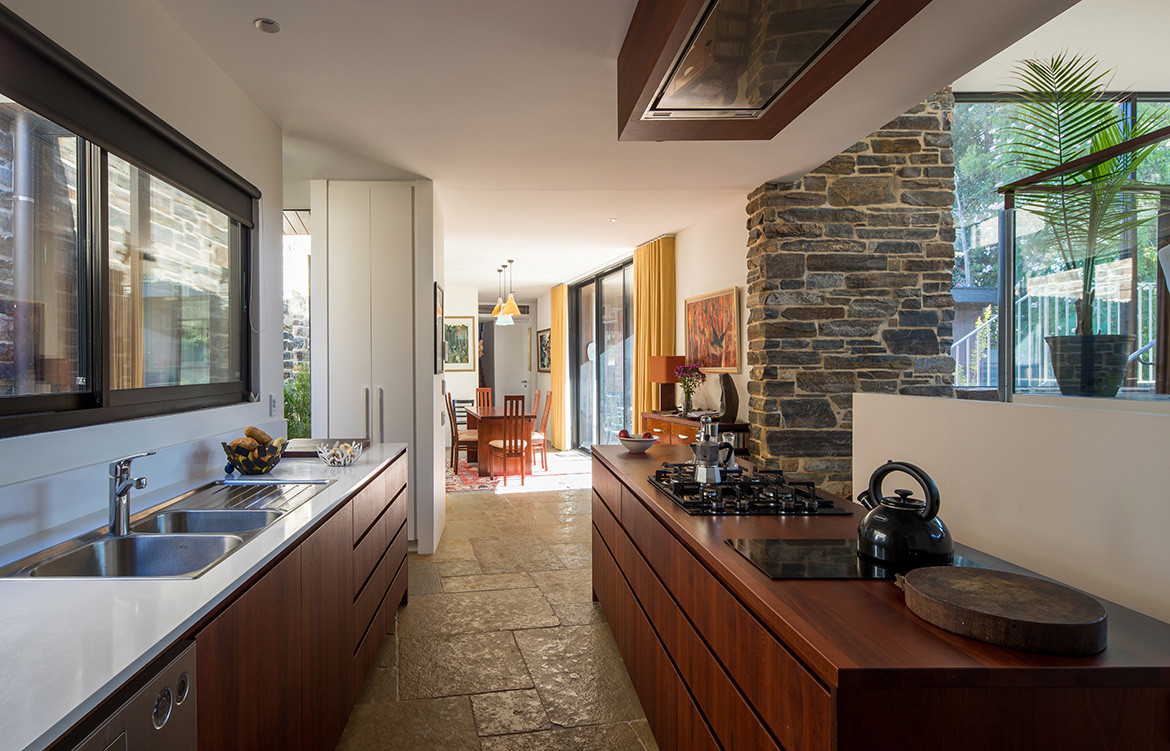 From there, it was a natural progression to engage their son – architect and PhD candidate Nathan Etherington – to help them design and deliver their new house.
Together they created a plan to sub-divide the land to create two homes – one that could be sold to fund the construction. Both nestle comfortably in the narrow street, which regularly fills with people walking to cricket and AFL matches at the nearby Adelaide Oval.
To provide privacy from that passing traffic, and protection from the hot afternoon sun along the western elevation, Nathan shielded the house with a stone wall made of locally quarried Bluestone, a material that is plentiful throughout the suburb. Apertures in the wall provide views into and out of the house, and one of them looks straight through the house to frame a view of the nearby St Peters Cathedral.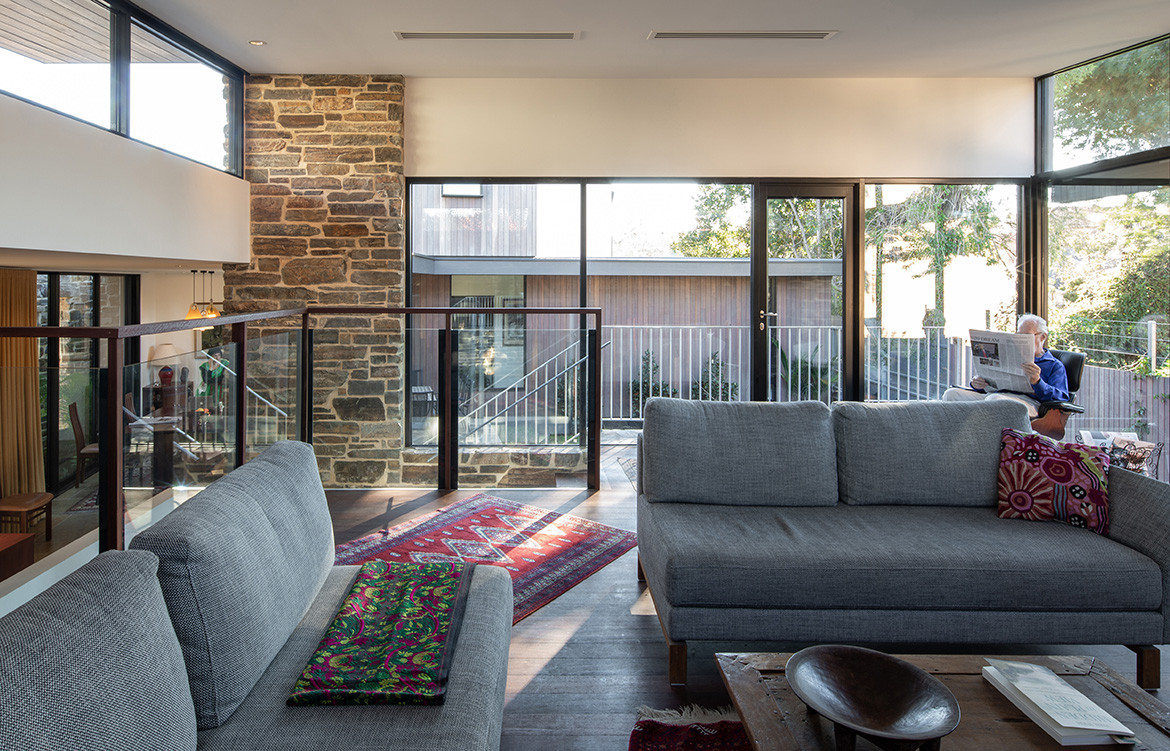 The stonework grounds the house in its context, and while stone sometimes carries a reputation for being a difficult work with, that wasn't the case here. "We visited the quarry in the Adelaide Hills and we loved the way the stone came off the mountain," Nathan says. "They'd pull up a front-end loader to loosen it, then collect it manually and cut it. There is a minimal amount of work to get the material ready for use in 100-millimetre deep pieces, and it was laid onsite by a bricklayer."
Beyond the wall, a U-shaped plan fulfils several key functions: it creates three distinct outdoor courtyards with different outlooks and microclimates; it separates public entertaining and private sleeping zones; and it maximises the northern orientation for both wings. All of the main rooms are laid out on a single level, with a tower-like room located upstairs; used as a study, this space enjoys district views.
The lounge room is slightly elevated and provision has been made for the installation of a lift that will connect it to the adjacent kitchen and garage below, to enable the couple to remain in their new home as they grow older.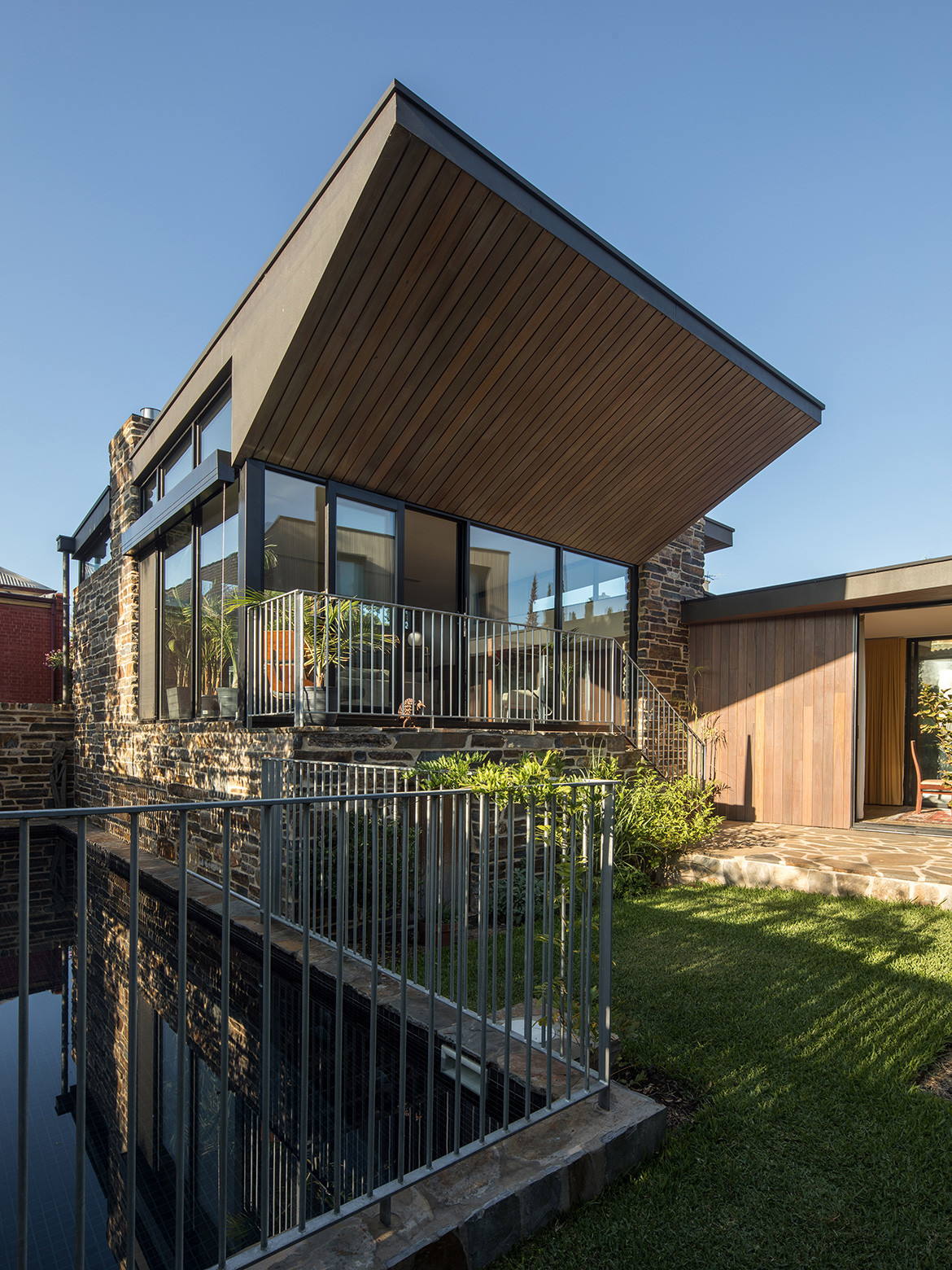 There are very few precedents for this type of carefully designed, sympathetic to history, urban-infill residential project in Australia. The success of this one largely arose from the family relationships that underpinned it.
"If you look at the interiors of the house, there are some elements of my parents' professions which come into it, a lot of objects and books which have been accumulated over time," says Nathan. "Against that, there was a real desire on the part of everyone to do something that was distinctly contemporary.
"As a result, the project sits a little bit out of time: it's not a historic project yet the contemporary expression is completely contingent on a historical understanding," he adds. "It's rare for a project to be infused with history, while simultaneously refusing to copy historical examples.