Nestled into a skinny block of land in the North Sumatran city of Medan, Indonesia, House of Light Voids redefines the conventions of Indonesian design through precise minimalism.
From his home in Medan, Indonesia, Raymond Boedi tells me that he wanted to show his city something different. In contrast to Medan's usual intricate and colourful design, Boedi's ultra-minimalist home, known as House of Light Voids, has achieved just this.
The home, as it turns out, was purpose-designed by and for Boedi to live in with his partner, but more importantly as an example of what his practice is capable of. "I actually designed this house to really represent my firm," he says, elaborating that the project is part showroom and part portfolio.
The advanced minimalism acts in sheer contrast to the cultural heritage of Medan, where, according to Boedi, houses are generally traditional, highly ornamented, and likely to use gold paint accents. "I think rather than represent, we wanted to break this stigma of houses in Indonesia," says Boedi.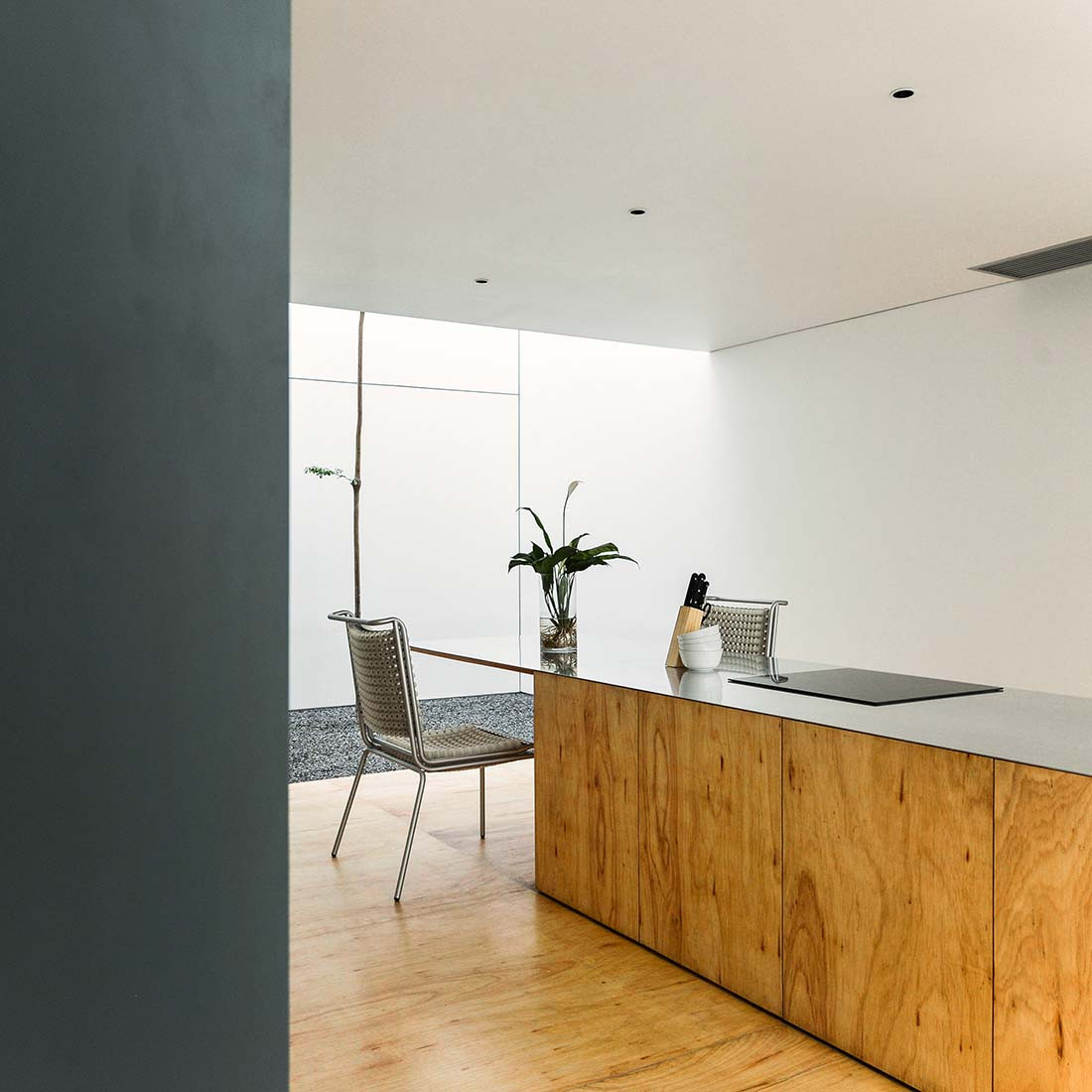 Even from the façade, the house contrasts with the architecture of the North Sumatran capital. A sheer cement wall rises stoically out of the perfectly trimmed petite front lawn, while on either side of the skinny building, low, spiked and slightly ornate ageing metal fences give an indication of the general style of the neighbourhood.
Just as aesthetically poetic as the name suggests, House of Light Voids is a three-storey building characterised by voids in the structure that allow light to spill down through the lower levels of the home. On the upper levels, solid floor slabs have been traded for galvanised grating, allowing natural light to permeate from the glass skylights.
On the ground level, the light meets small courtyards that are integrated into the living space. These courtyards differentiate the kitchen and dining from the lounge area, actively demarcating spaces without any structural partitions.
"When I designed this house, my dining and my kitchen were created as one space," says Boedi, explaining that it suits his family's routine of buying food from outside rather than cooking at home. The intersection of spaces, says Boedi, helps to create a spacious feeling inside the house, which is built on just 150 square metres of land.
Boedi's studio, byrayboedi, is a subsidiary of Medan-based design studio KE.RA. Prior to this house, his studio had worked mainly on commercial design, and Boedi encountered difficulties finding builders who could build to their requirements.
"It's very difficult for us to find good contractors that can understand the details that we want, the craftsmanship that we want to achieve. So sometimes for the walls and the furniture we have to repeat them two to three times to achieve that craftsmanship," explains Boedi.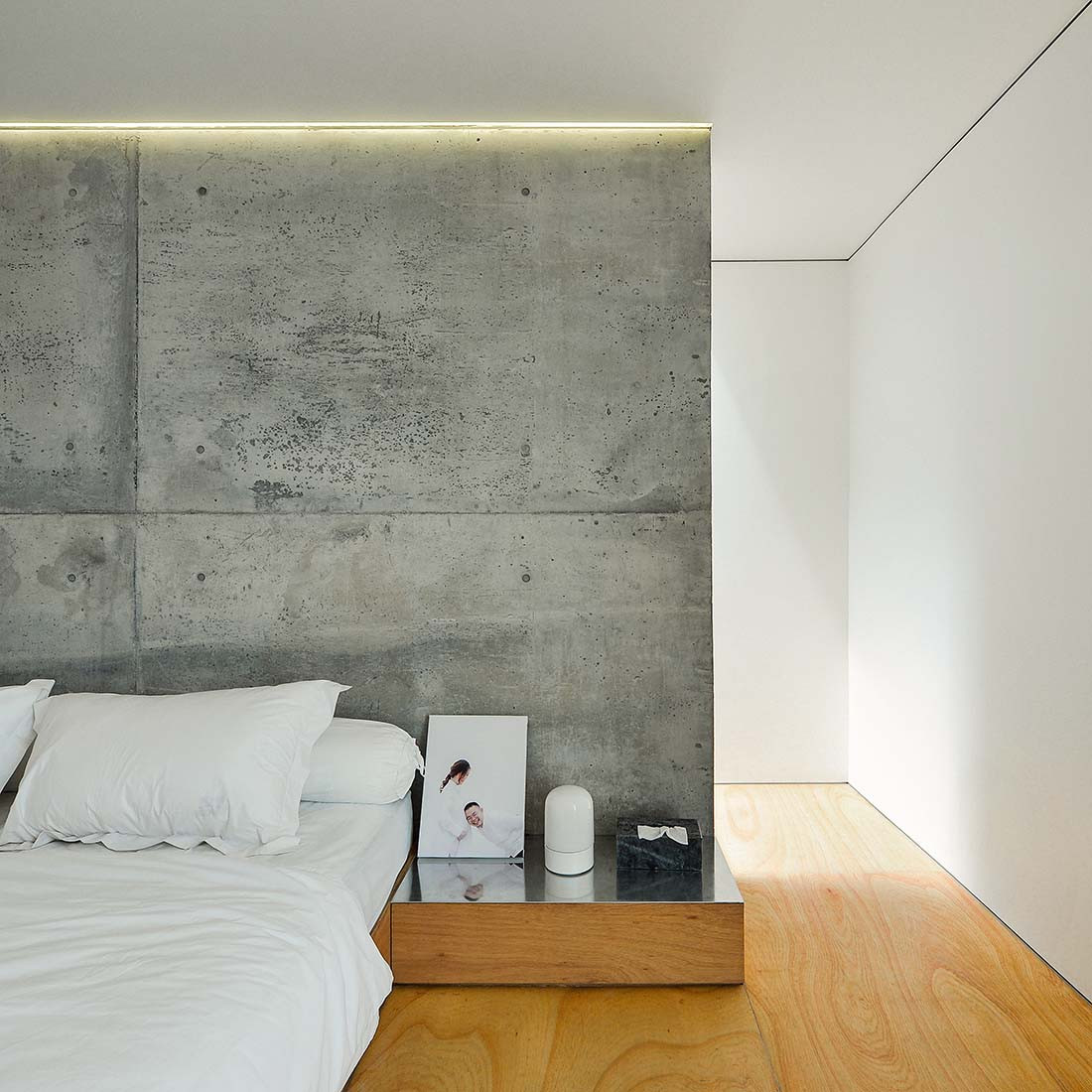 Boedi's high standards meant that the couple prioritised achieving precision over maintaining their budget, which went almost three times over their original plan. The perfectionism paid off though, as the house has become an investment in his business, offering a practical example of what is possible. Through building the house, Boedi was able to develop strong relationships with a contractor that he now uses for new projects.
Recently, Boedi has started picking up more residential clients, a shift that came alongside Covid-19. "People tend to work from home and stay at home," says Boedi. "The house has become a more important aspect in their lives".
Although the House of Light Voids contrasts with much of Indonesian architecture and design, the minimalism was unsurprising to many of Boedi's friends. "They know me, and I kept bragging about my house, how I want to live," he says. When it came to actually living in the renovated home though, the Boedi family found it still took an adjustment.
"My wife and I now tend to have less things. We tried to figure out what's important, things that we can keep and what we don't need to buy," he shares.
To throw a spanner in the works of a minimalist, Raymond and his wife recently had a baby. "I think we just agree now that we can't really control it anymore. There's a lot of children's toys scattered around," he laughs.