Waipapa, a simple and artful building by Strachan Group Architects, reflects the context and climate of New Zealand's east coast.
Coromandel Peninsula is best known for its pearlescent beaches and goldmining settlements, and as one of the places of first landfall for Aotearoa New Zealand's earliest Polynesian migrants. The steep, bush-clad mountain spine drops down to a harbour to the west and the Pacific Ocean to the east. On the Pacific side, the small holiday settlement of Whangapoua is the location of a new beach house designed by Dave Strachan, Hana Scott and Kelly O'Sullivan of Strachan Group Architects.
Set between the ocean and a small river, the site is subject to strong north-easterlies and south-westerlies that sweep across neighbouring farmland. With scorching sun in summer, and rain and squalls in winter, this retreat had to be usable and comfortable in every season.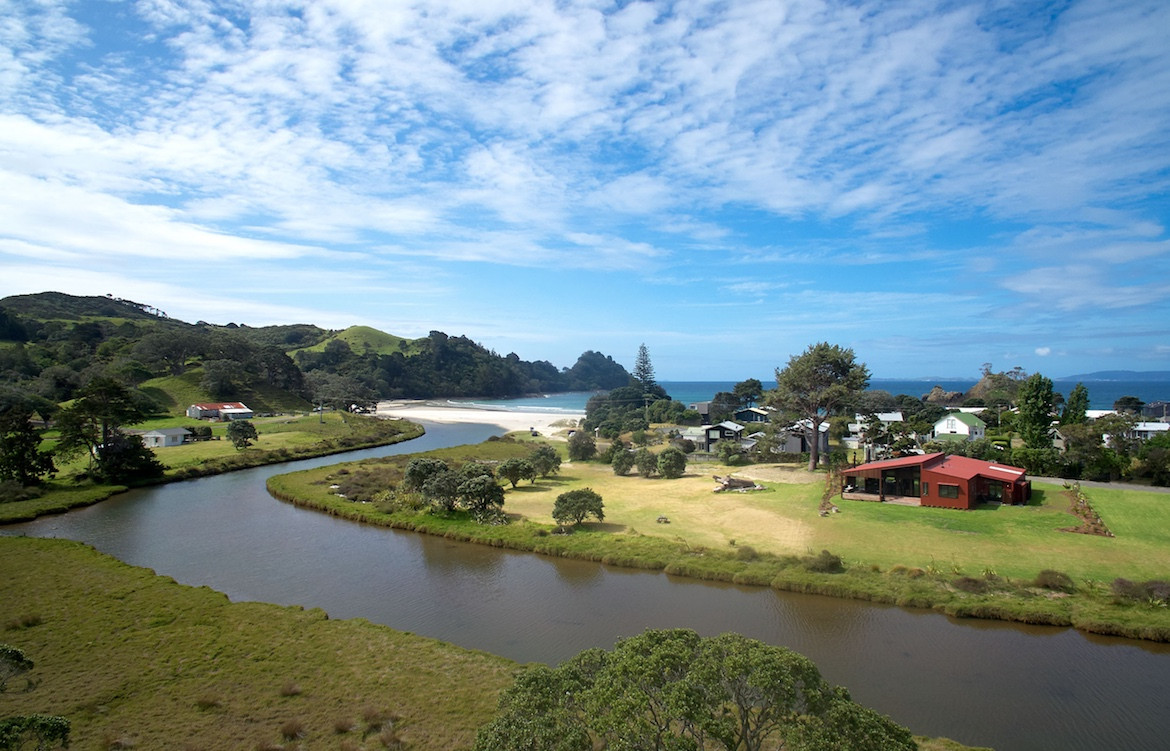 "We've given it a sense of enclosure and comfort," says Strachan. "Particularly with the slightly dropped light levels, it feels like a cosy lodge. But on a sunny summer's day when 20 people are here, it's wide open – breathing and moving with the light, as the sun moves around the building in the course of a day."
Strachan Group Architects is one of the leading residential practices in the country for passive climate control, and the studio's solution is informed by the site and environmental conditions. Deep overhangs, outdoor rooms, electronic actuator screens, shutters, and carefully planned windows all help to naturally cool and protect living spaces.
Volumes are refined and elegant in their simplicity, inspired by a small corrugated shed on the farm across the river. Adopting a similar low-pitched roof and humble iron cladding, the architects have added timber detailing, decks and landscaping to develop a sophisticated yet pared-back aesthetic. It doesn't shout. It's a quiet, clever house that is much larger on the inside than it looks on the outside.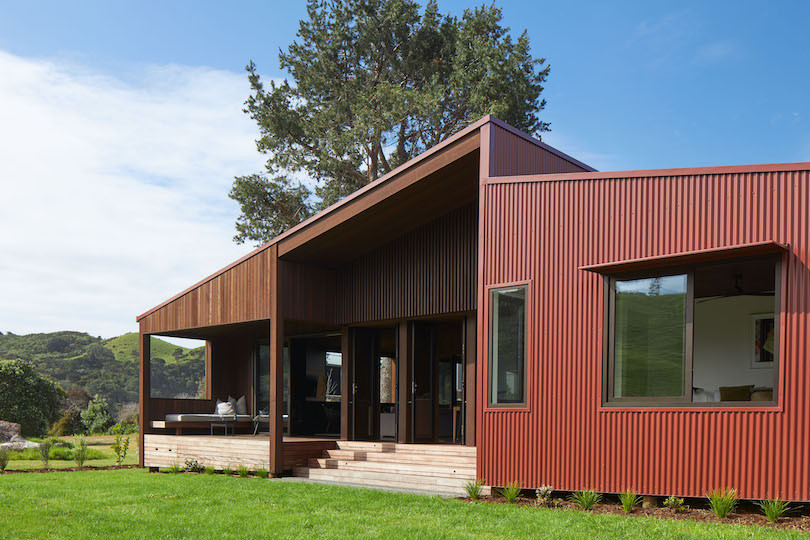 Living areas are located to the north and clad in dark-stained cedar. Bedrooms are located to the south – a retreat in the heat of the day – and covered in a rich scoria-red corrugate. The red is a reference to multiple strands of cultural heritage: painted Māori carvings and whare, the iconic red barn, the rusty colours of volcanic scoria.
Exterior materials are wrapped inside, to bring the rural character into the interior. Kwila flooring, meranti plywood and stained cedar make it feel contained and sheltered – a comforting 'blanket' compared with the openness and scale of the landscape and Pacific Ocean nearby. Framed views over the adjacent Pungapunga River and farmland have a timeless feel. The spirit of this family cabin is unobtrusive and intimate, while executed in many subtle and artful ways – with intricate corners and junctions, precise lines and flush, seamless detailing.
Built-in cabinetry creates niches and nooks to read a book and for overflow sleeping; places to share a cup of tea or to cook and socialise.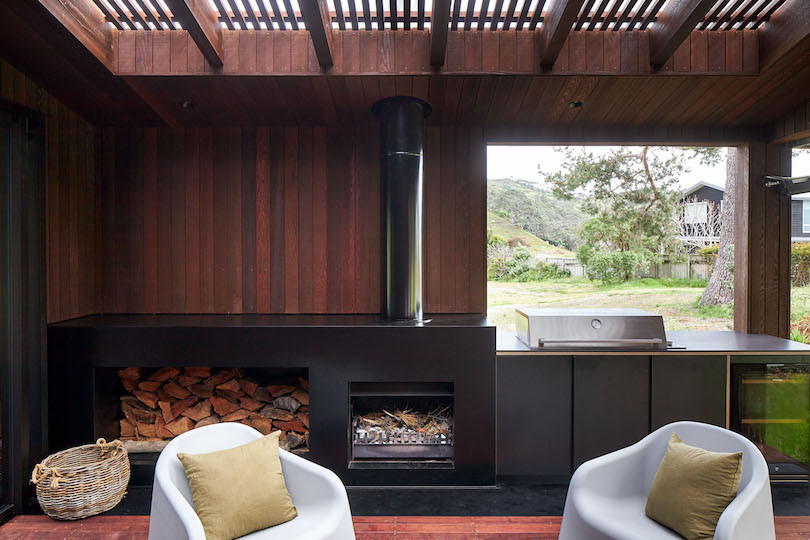 A superbly functional outdoor room becomes an extension of the kitchen, with a continuous benchtop threaded inside and outside and fitted with an outdoor fireplace and BBQ. Just as the exterior wraps inside, the interior stretches out to capture the sun, breeze and view. It's a perforated shed of interlocking, positive and negative casual social and retreat spaces.
"You listen to the wind: you ask, what can this place tell us that we can then use to make a building and to make it feel like it belongs?" asks Strachan. "I mean, it's a wonderful thing if you can somehow produce a work of architecture that actually feels like it belongs. That it is of this place."