Gaining an Endorsed Sustainability Design Assessment from the City of Yarra, the new Fitzroy showroom for Armadillo is as ethically sound as the company it houses.
The original building has been celebrated through a material palette that allows the scale and magnificence of the site a second life. "During the build, we tried to keep as much of the heritage fabric visible as we could but at the same time create a more contemporary layer that represents where Fitzroy is at now," says David Goss, Director Studio Goss.
Moreover, the world of architecture and design is embedded in the building's history as a former furniture manufacturing site. As such, during restoration, Armadillo was sensitive to the building's nature, selecting materials, such as handmade tiles, oak and natural cork.
"The materials we chose with David were selected to make the space feel warm and inviting. We wanted to conjure a more refined aesthetic that also made for a compelling contrast against the raw materials of the original façade," says Jodie Fried, Armadillo's co-founder.
As the sixth physical incarnation of the brand, the Melbourne showroom follows the recent opening of a new flagship in San Francisco's Presido Heights neighbourhood and existing showrooms in Los Angeles, New York, Brisbane and Sydney. For Armadillo, the site in Fitzroy, Melbourne, offered both a historic connection to a contemporary neighbourhood filled with a good mix of design studios, galleries and homewares.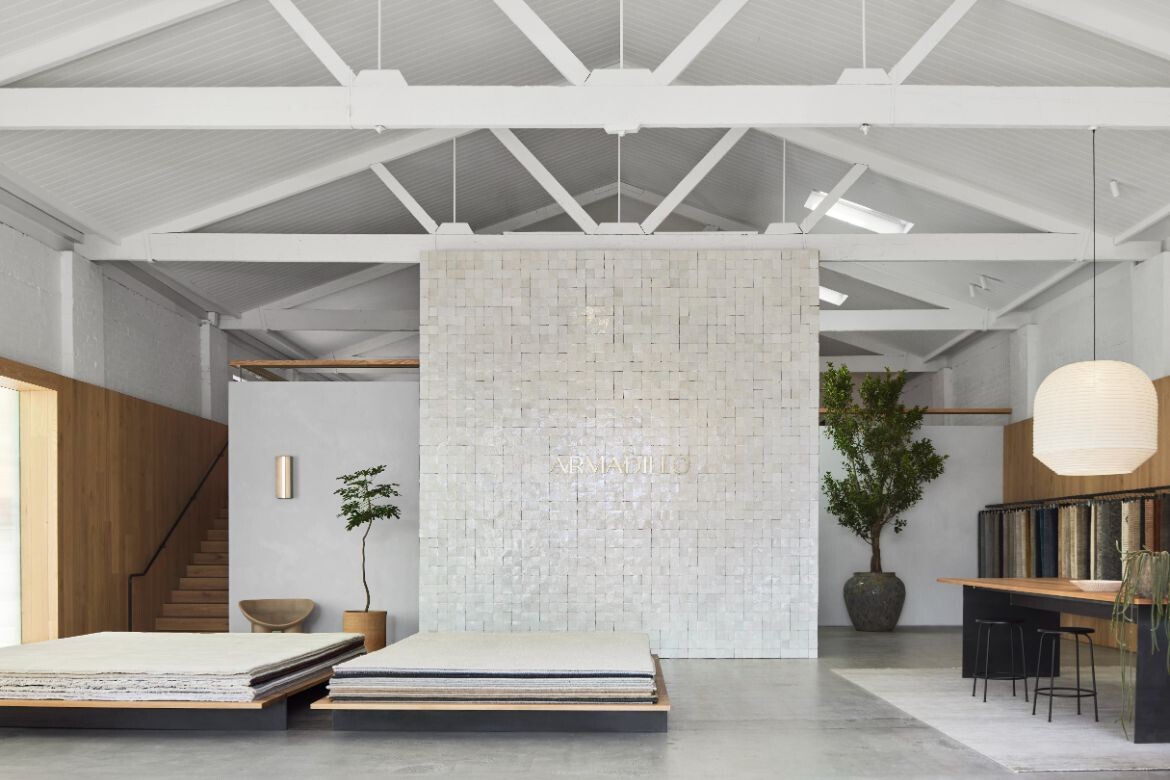 "Over the years we've been lucky to collaborate with leading lights in the Melbourne design community and it feels important to have an equally inspiring space to house our collection and continue building these relationships," says Sally Pottharst, Armadillo's co-founder.
That said, it was also essential the space be large enough to cater to both trade and retail: "We are thrilled to introduce the Armadillo retail experience to Melbourne for the first time," Sally adds.
Taking its cues from bespoke tailoring, the showroom reimagines the traditional model for rug retailing. To this end, the design includes rails of garment-sized samples that allow clients to see and feel Armadillo's rugs in a hands on experience of feel, composition, sheen, colour depth and spring in a simplified model.
As the first Australian and American rug maker to achieve B Corp status, the new showroom is entirely in keeping with Armadillo's position as a purpose-driven brand.
Indeed, sustainability and environmental impact were cornerstone considerations in the design of the showroom: "We're proud to be using rainwater tanks and solar panels to help offset our greenhouse gas emissions. Any additional energy is purchased only from environmentally conscious suppliers meaning that all of our Australian showrooms now operate entirely on green power," says Alarna Rose, Armadillo's head of purpose.
The Melbourne Showroom is located at 102 Charles Street, Fitzroy VIC 3065.
Project Details
Client – Armadillo
Interior design – Studio Goss
Styling – Joseph Gardner
Photography – Sharyn Cairns
---