"Our brief was to overhaul the site and create a new brand-immersion across bar, dining, tasting and retail spaces, inspired by the surrounding landscape, the alchemic process of winemaking and the meeting of old and new worlds," says Foolscap Studio founder and principal, Adele Winteridge.
Here, Foolscap found that these 'old and new' worlds had one thing in common: the uplifting ritual of spontaneously popping the cork on a luxe bottle of sparkling wine. This familiar and endearing concept ultimately drove the essence of the design, where the iconic méthode traditionelle producer Domaine Chandon was cleverly and emotionally connected to the personal experiences of its visitors.
Situated in the Yarra Valley, the site's stunning natural environs and changing view over the seasons were a natural starting point for Foolscap's design scheme. Views of the incredible landscape were a natural starting point for considering the visitor experience, the range of which will traverse loyalists and locals, diehard food and wine thrill-seekers, 'gramming millennials and new discoverers alike.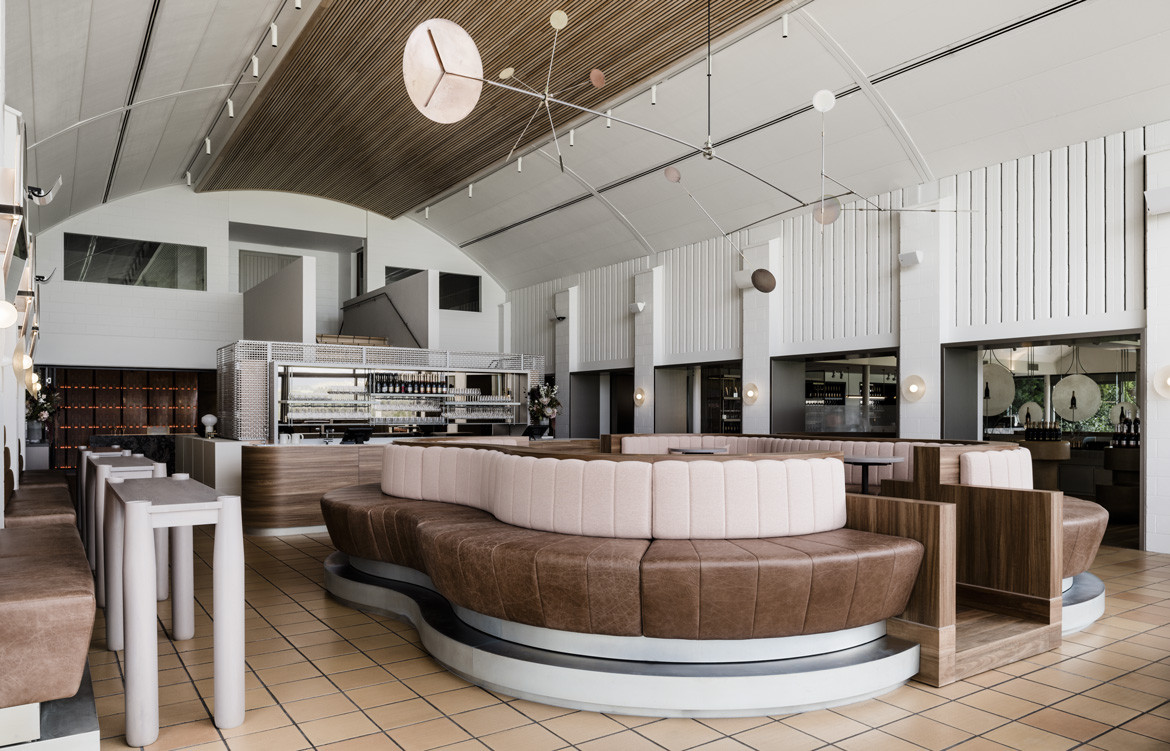 Fearless use colour reflects the tonal shifts in the landscape, while a key counterpoint is in the application of metal finishes to joinery and an overhead kinetic sculpture. Alchemy – the transmutation of a base metal into gold – were considered as analogous to the production of Champagne, and Foolscap strove to reflect the wonder of transformation and the vitality of bubbles through our unique metal treatments.
Central to the brief and the layout, was the retail space. "We worked closely with local fibreglass and metalwork manufacturers to realise different product display systems, installing bespoke sculptural joinery, portable plinths and framed, up-lit fibreglass screens for product storage and presentation," says Adele. "The mobile sculpture was also the outcome of collaboration between metal-craftspeople and our designers."
Similarly, the process of transformation in winemaking informed the organisation of space. 'Compression/Release' is revealed in enclosed, intimate spaces – the Tasting Room for example – and airy, exuberant zones, like the Lounge & Bar. Open, woven materials are juxtaposed with the solidity of weighty, opaque substances to allude to the duality of density and lightness in sparkling wine.
These ideas were also rendered in a style that pays homage to Chandon's French heritage, while retaining a youthfulness that speaks to its relatively recent establishment within the Champagne house's lineage. Banquettes styled in aged leather and velvet, with brass light fittings suggest a Parisian bistro aesthetic, but from there it's all local goodness.
Adele emphasises Foolscap's mission to support local creatives. "We always aim to celebrate local material sources and object makers. Spotted gum timber flooring and joinery is smooth and warming next to the remarkable speckled patterning of Queensland 'Dreamtime' marble. Textiles were printed by indigenous artists and we worked very closely with Melbourne metalworkers and craftspeople to create the pièce de résistance: a large but ethereal mobile hanging over the central bar. Dynamic and buoyant, this suspended kinetic sculpture gently bobs to the beat of its own drum, projecting a sparkling patina in a playful take on the unpredictable nature of bubbles."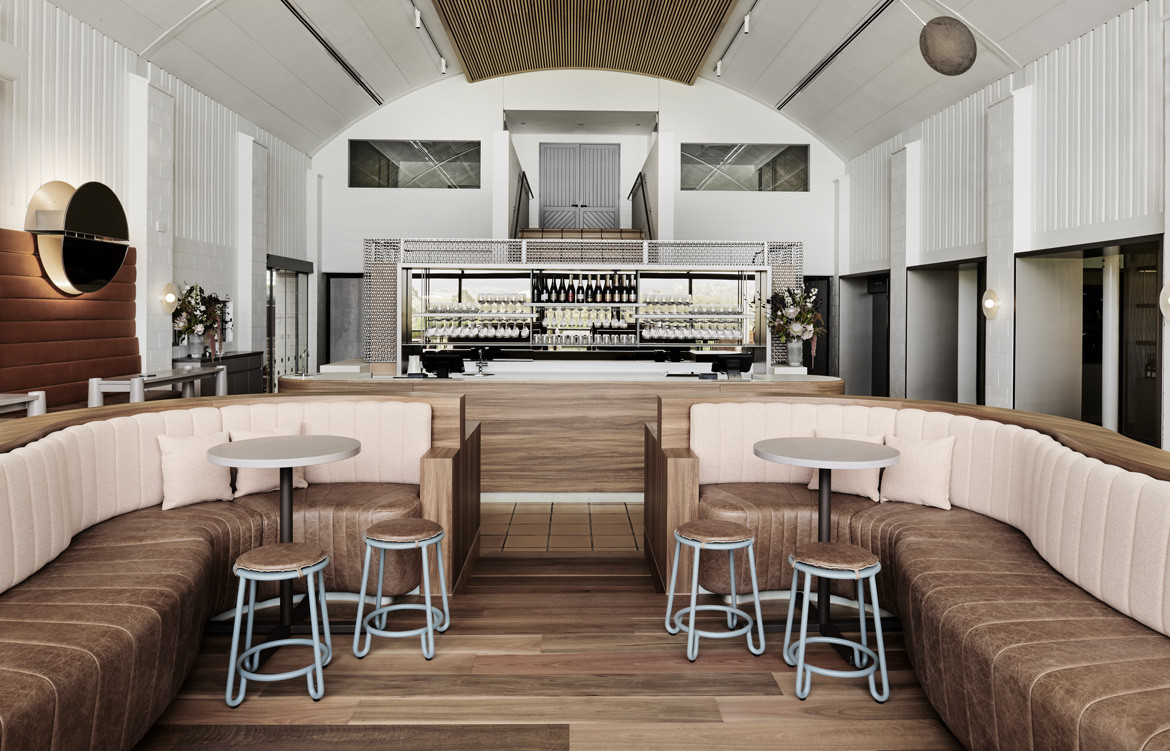 As an added detail, Foolscap were clever in acknowledging Chandon's parent brand, LMVH, and the discerning tastes of their stylish, international clientele. "We created a retail experience influenced by the dramatic luxury you'd find in a Louis Vuitton store. Fine metal detailing references shoe and bag hardware, while curved metal frames, with fibreglass cast discs in a rice-paper texture, innovate materiality in display arrangements. Reducing the amount of stock on display elevates the product to a rarified level. We also developed a truly unique, custom metal finish for joinery, through a treatment to metal substrate that resulted from a long and deliberate process of combining different metalworking techniques."
Though armed with a highly original design concept and solid methods of making the brief a reality, the project wasnt without its challenges. "The budget demanded that the voluminous industrial structure with vaulted ceilings be retained, which required careful management of acoustics and considered demarcation of space," recalls Adele. "Through the demolition process came little surprises and some challenges, all of which we took in our stride, making a point of integrating seamlessly the old character and history of the site with the new fit out.
"Additionally, existing hard surfaces and quite a bit of loose furniture had to be retained for budget reasons. We're comfortable with such limitations: they lead to waste-reduction and inspire careful choices of what to introduce and when. Local materials support industry and sustainability. Why import American or European timber over characterful Spotted Gum? Marble quarried in Queensland is extraordinary. Reduced carbon footprints, as well as friendlier lead-times, are big wins."
Foolscap Studio is a design house that always pursue design approaches that meet the brief essentials while exceeding what the client could possibly have imagined, through unique and visually captivating outcomes. As a result, the Yarra Valley's new Domain Chandon Winery is a fluid and holistic system of hospitality and retail, encouraging emotional connections and 'stay-awhile' hospitality moments.
Foolscap Studio
foolscapstudio.com.au
Domaine Chandon Winery
chandon.com.au
Photography Tom Blachford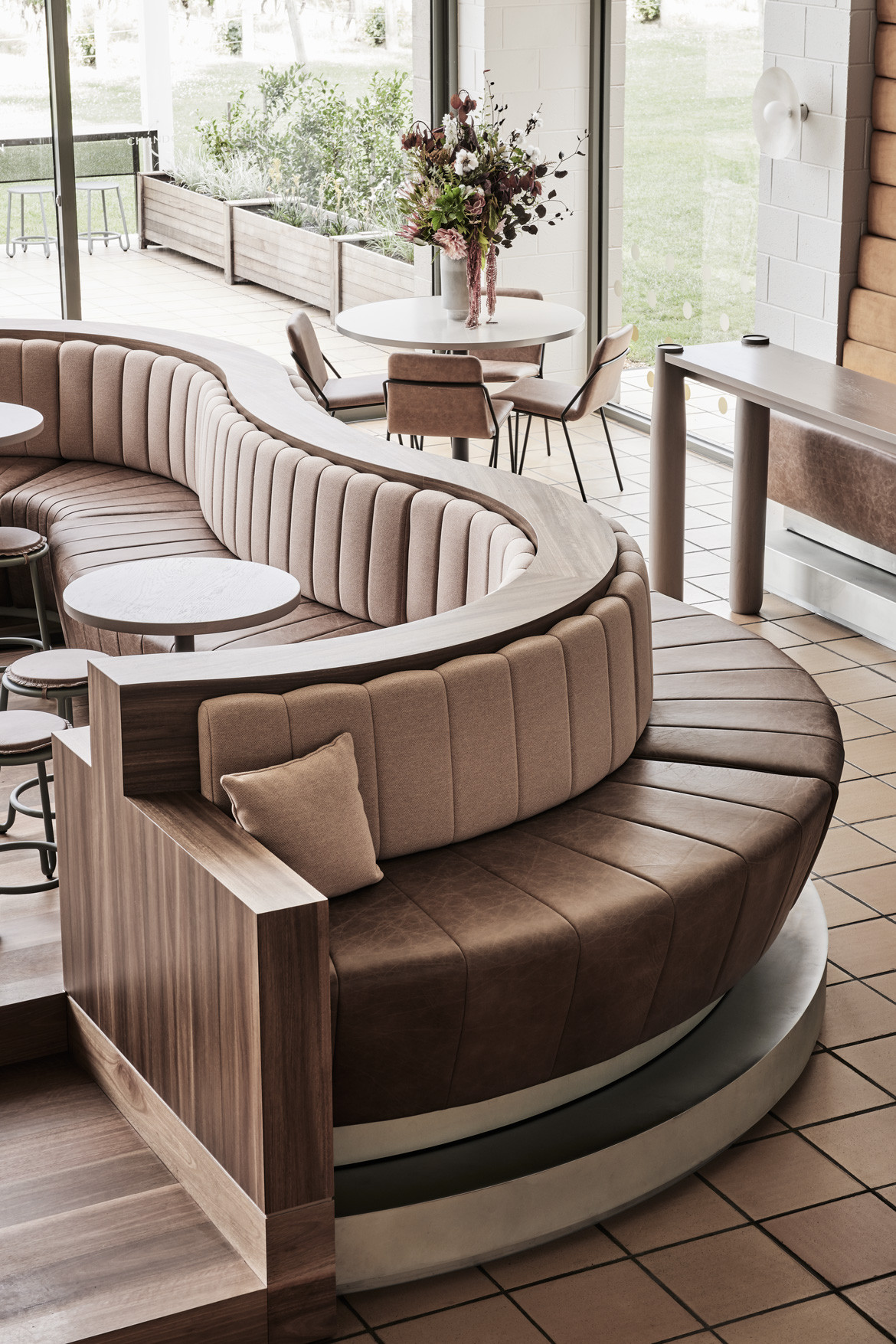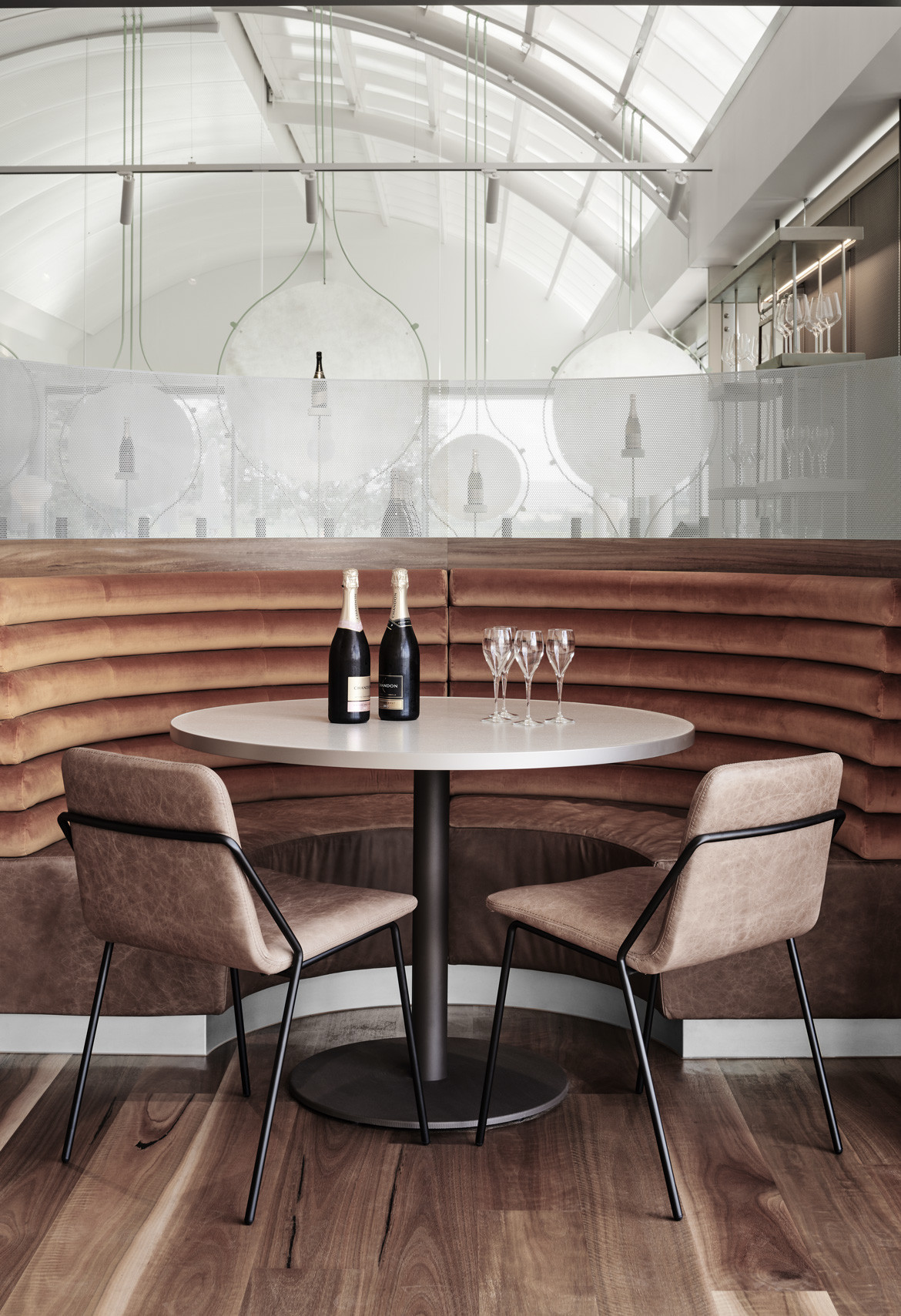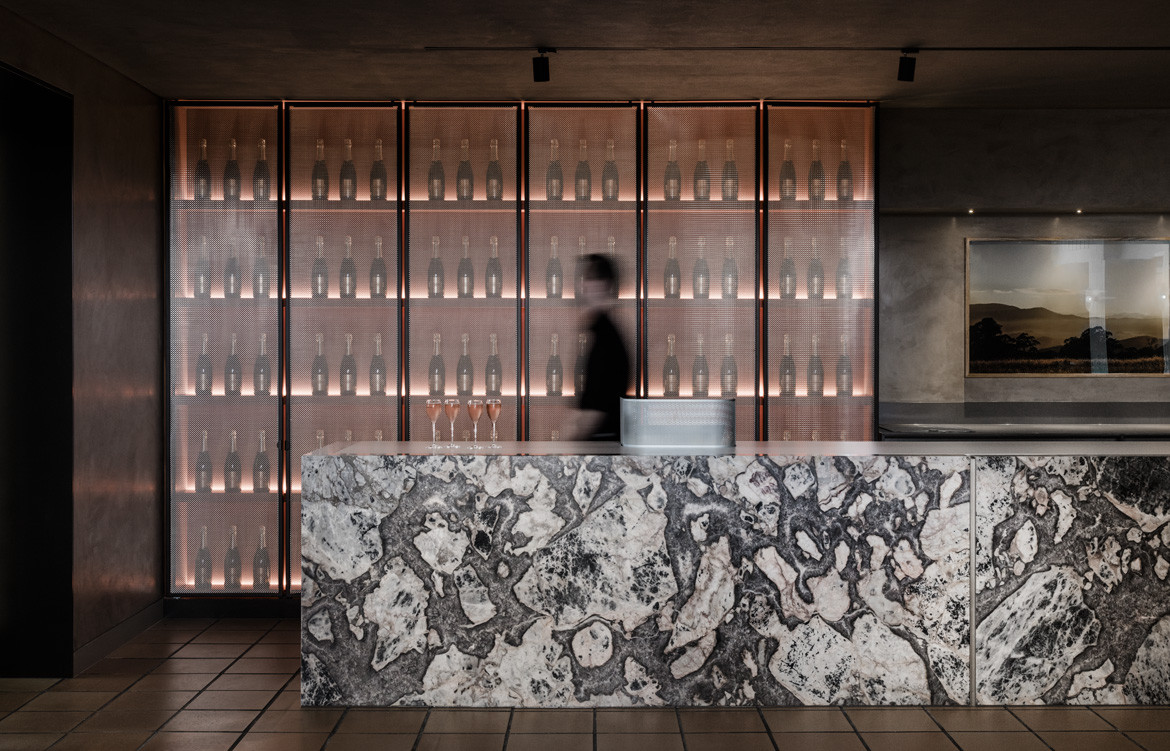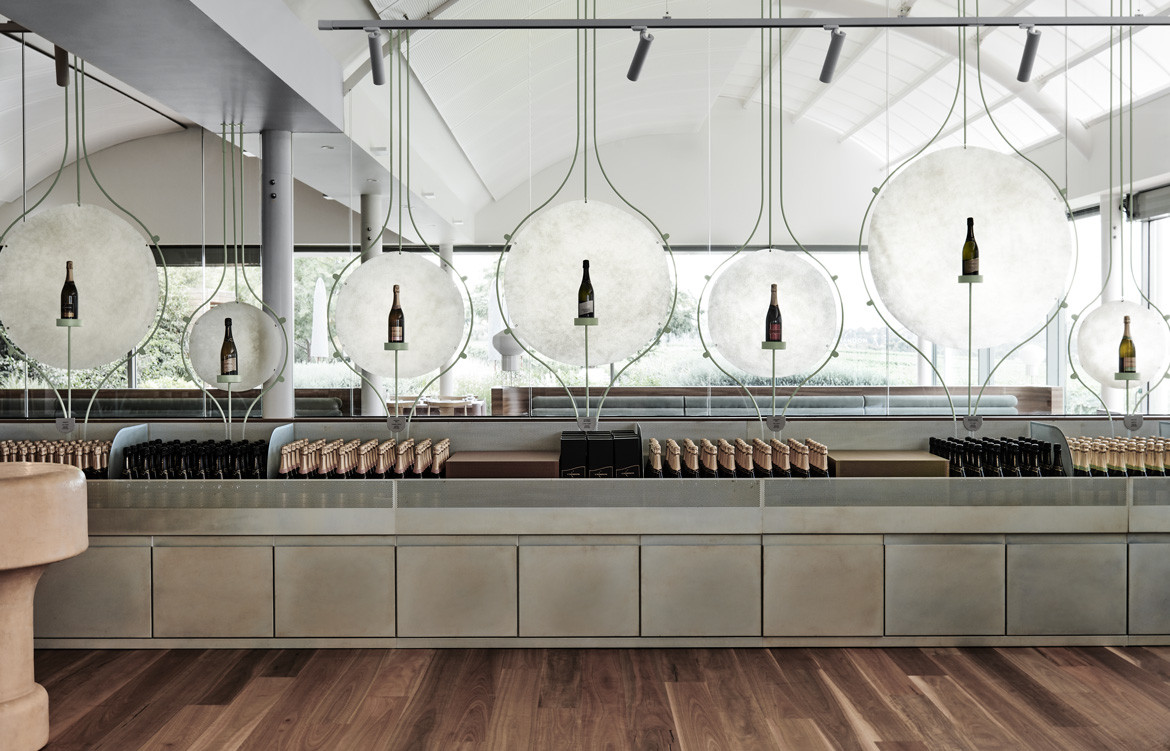 We think you might also like Jackalope Hotel by Carr Design Group
Tags: Domaine Chandon Winery, Foolscap Studio, Sophia Watson, Tom Blachford
---