When Club AM:PM co-founders Hannah Emmerson and Abby Smith approached Made For to design their new pilates studio, they did so without a formalised brief.
As Made For Associate Director Maddi Stevenson explains, "We went on a journey with them, tried a few things, ditched a few things, and eventually reached clear design drivers and goals that fit the needs of their business." The result is a space that aligns with the expectations of the clientele and ultimately evokes a sense of intimacy and warmth.  
Both Emmerson and Smith are confident, playful personalities and Stevenson was sure to convey this within their new studio, which is located in Hawthorn East.
However, the space itself posed a number of challenges. As part of a large development, the positioning of columns proved restrictive and locations of plumbing and services were not always desirable. To counter these obstacles, Stevenson and her team hid the columns within plaster build-outs and the services within organically shaped bulkheads. It's a seamless, thoughtful solution that provided the perfect backdrop into which a richly tactile material palette could be applied.
"We considered the ways in which materiality would allow us to open up the space yet still have it retain a sense of intimacy and warmth," says Stevenson. "And by utilising timber grain, textured glass and purposeful feature curves, we reflected the clients' desires to imbue moments of earthiness and rawness."
The fit-out does indeed appear calm and grounding, with a pop of marble at the drinking station, deep caramel-hued timber laminate on the joinery and a standing table with two thick column-like legs. Each of these elements is brought together by the corked flooring, which features throughout the space and extends to the skirting, creating a lovely contrast with the off-white walls.
Stevenson has eschewed any superfluous decoration to allow the space to breathe and it does, along with providing an immersive experience that's friendly and welcoming. 
At a time when the wellness industry is growing exponentially, Club AM:PM finds itself in good company, sitting amongst a number of other newly opened well designed spaces that offer retreat, rejuvenation and a sense of belonging. Made For's interiors make all these things achievable and Stevenson's judicious eye and minimalist curation allows for easy functionality in a place designed for people to gather comfortably.
Project details
Interior design – Made For
Photography – Jack Lovel
We think you might like this story about a yoga studio in Perth with a minimalist design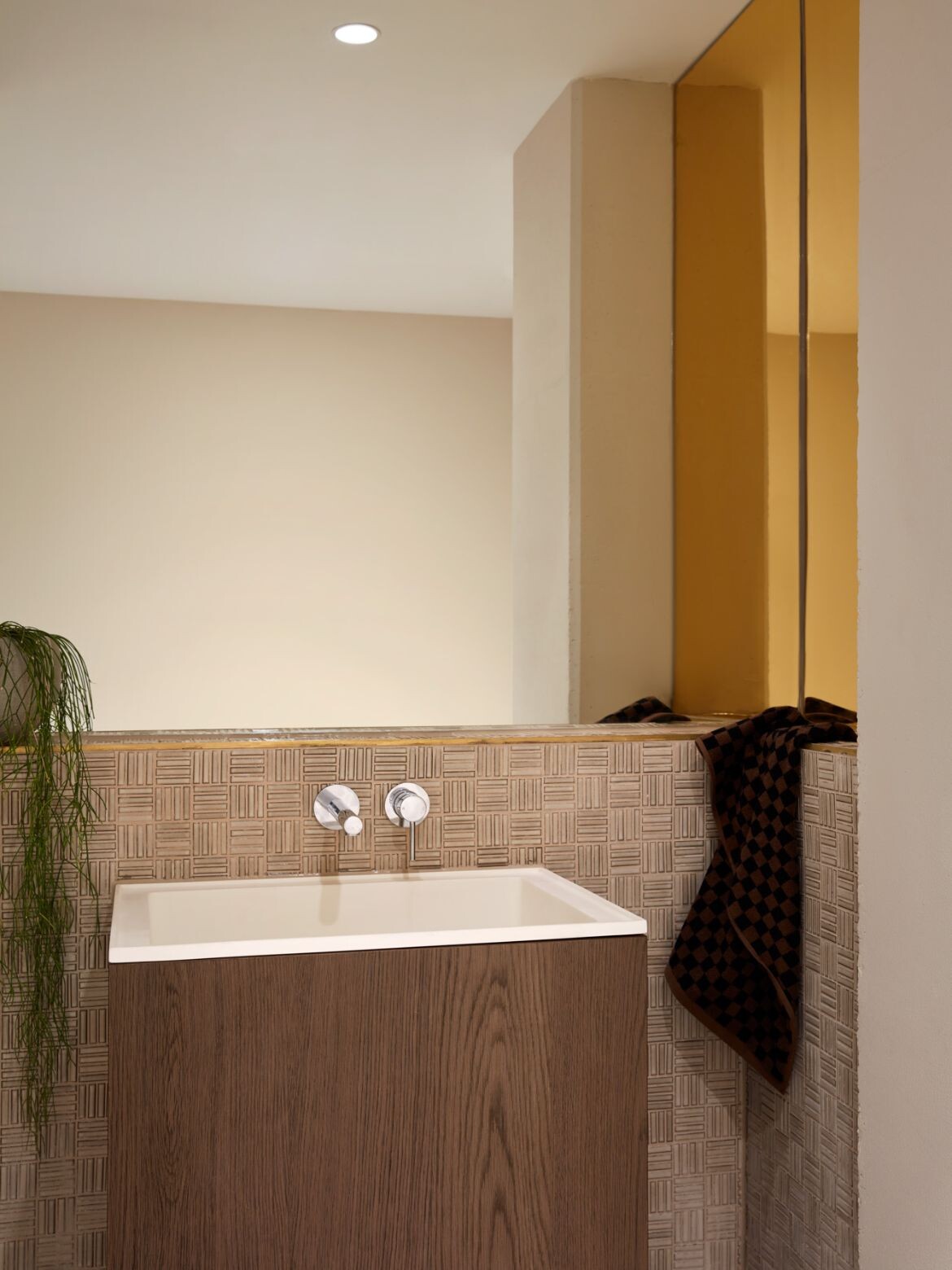 ---