Once a Presbyterian Manse, the double-storey blue stone 1856 building in Williamstown's Botanical Parklands is the architectural handiwork of William Bull. Noted as one of Williamstown's earliest architects and first municipal surveyor, Bull's legacy has been embraced in Park House with interior design by Mim Design and architecture by Pleysier Perkins.
The design response is subtle and engaged with both the historic elements of the property and the contemporary needs addressed. Chief to these is a new extension which picks up on the robust materials of the original building while shifting gear towards a sleek response as the interior is gained.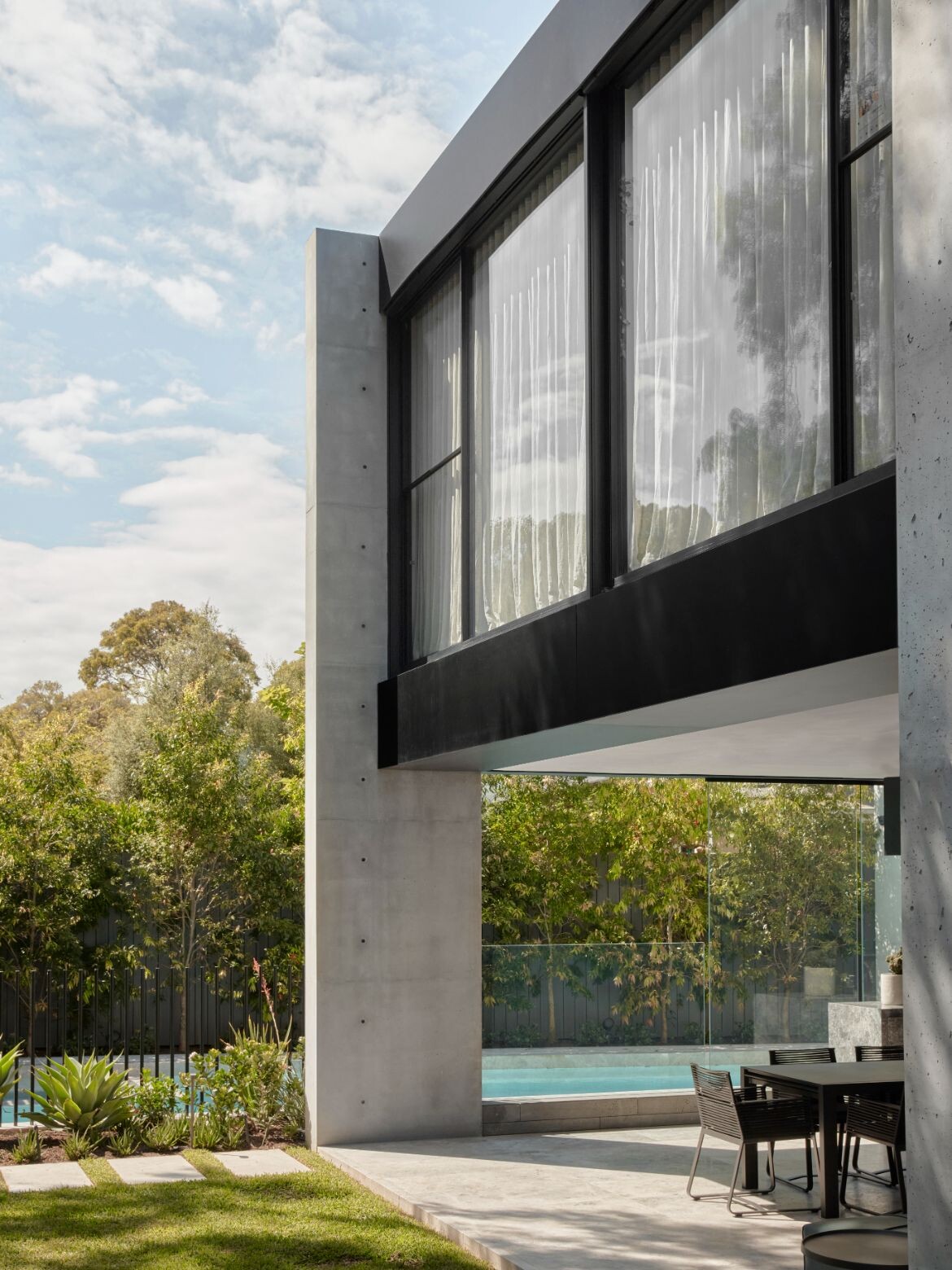 Requiring significant restoration plus the new architectural addition, construction was underway when Mim Design was engaged to work on the project.
"What started as an internal review soon evolved into a significant interior architecture project prioritising spatial planning through to full interior detailing throughout the heritage and new part of the home. We also followed through with the completion of a full furniture, artwork and accessories package," says Miriam (Mim) Fanning, Principal of Mim Design.
Taking spatial cues from the client's love of entertaining, and material palette from the original façade of blue stone, Fanning has created sculptural forms that direct flow and visually engage: "Visitors often gravitate to textures and unique forms… so we anchored the layout with large island benches and plinths that curve and undulate with the spatial volumes," says Fanning.
Shifting between the historic and contemporary volume with ease, the palette of rough, saw cut and chiselled stone is softened by a palette of textural greys and charcoals that will naturally patina with time. The rooms of the heritage portion for example have a pale grey skirting with lightly textured grey plaster walls. Conversely, the extension explores grey through large expanses of concrete with the regular markings of formwork, polished renders plus timber and metal panelling.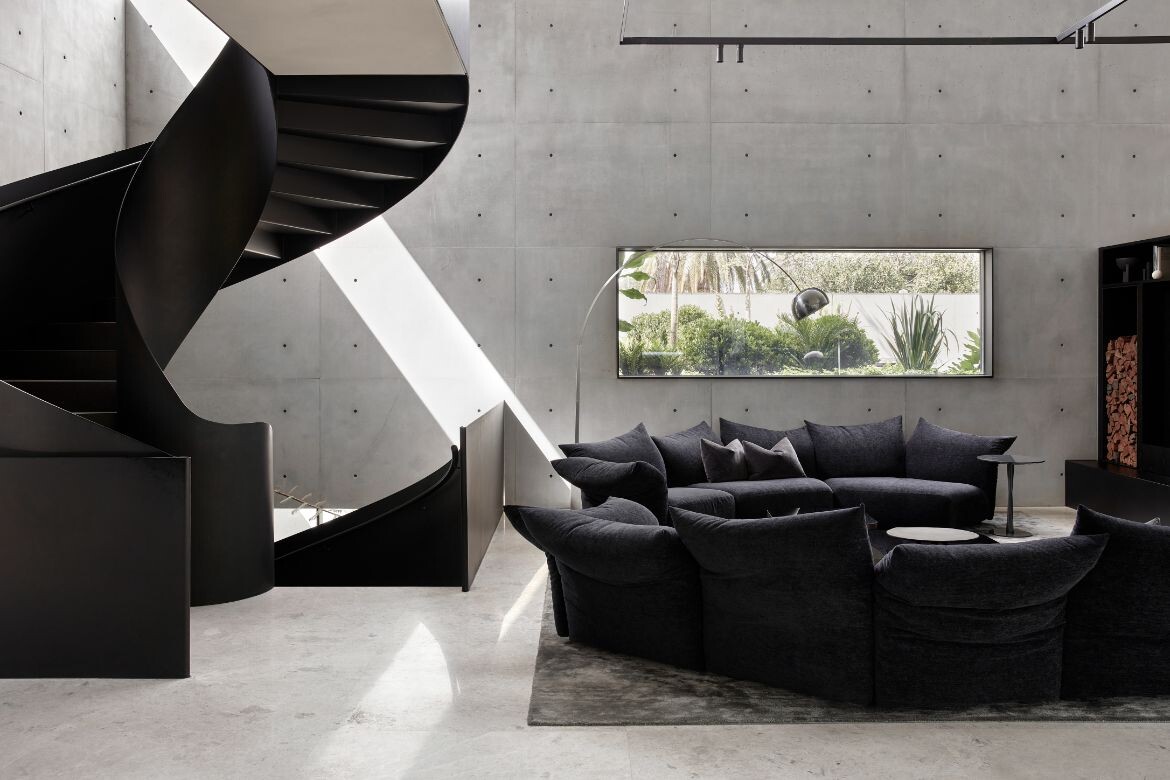 A double-height fireplace clad in domino quartzite posits a sculptural response to the curving lines of the black metal staircase. The fireplace itself is robustly geometric with the quart's diagonal markings emphasising both scale and solidity of the form. The staircase, however, is fine and gracefully proportioned as a fully exposed spiral.
Squared breaks and borders contain the form without truncating the elegant curves. Softening elements such as the heavily gathered curtains add a further textural element, while artworks enliven spaces throughout.
Mim Design kitchens are always extraordinary and here the forms of chiselled and hammered grey marble, black-stained American oak cabinetry and gunmetal detailing are robust and handsome. The bespoke banquette seating comprising rolls of butter soft dove grey leather over a grey marble plinth is paired with soft grey and timber chairs in an unusual combination of hard and soft surfaces that work beautifully.
Furniture throughout is sculptural and considered with undulating forms explored through a dark and moody palette that works splendidly with the shafts of light that enter through skylights and double volumes.
Moreover, the meticulous attention to detailing and craftsmanship cannot be understated: "Each and every trade worked tirelessly to create a home that would continue to stand in the community as a pillar of heritage preservation while addressing the contemporary needs of a hard-working and experiential home," says Emma Mahlook, Mim Design Creative Director.
Project Details
Interior design – Mim Design
Architecture – Pleysier Perkins
Landscape designer – Rupert Baynes
Builder – BCG Construction
Photography – Sean Fennessy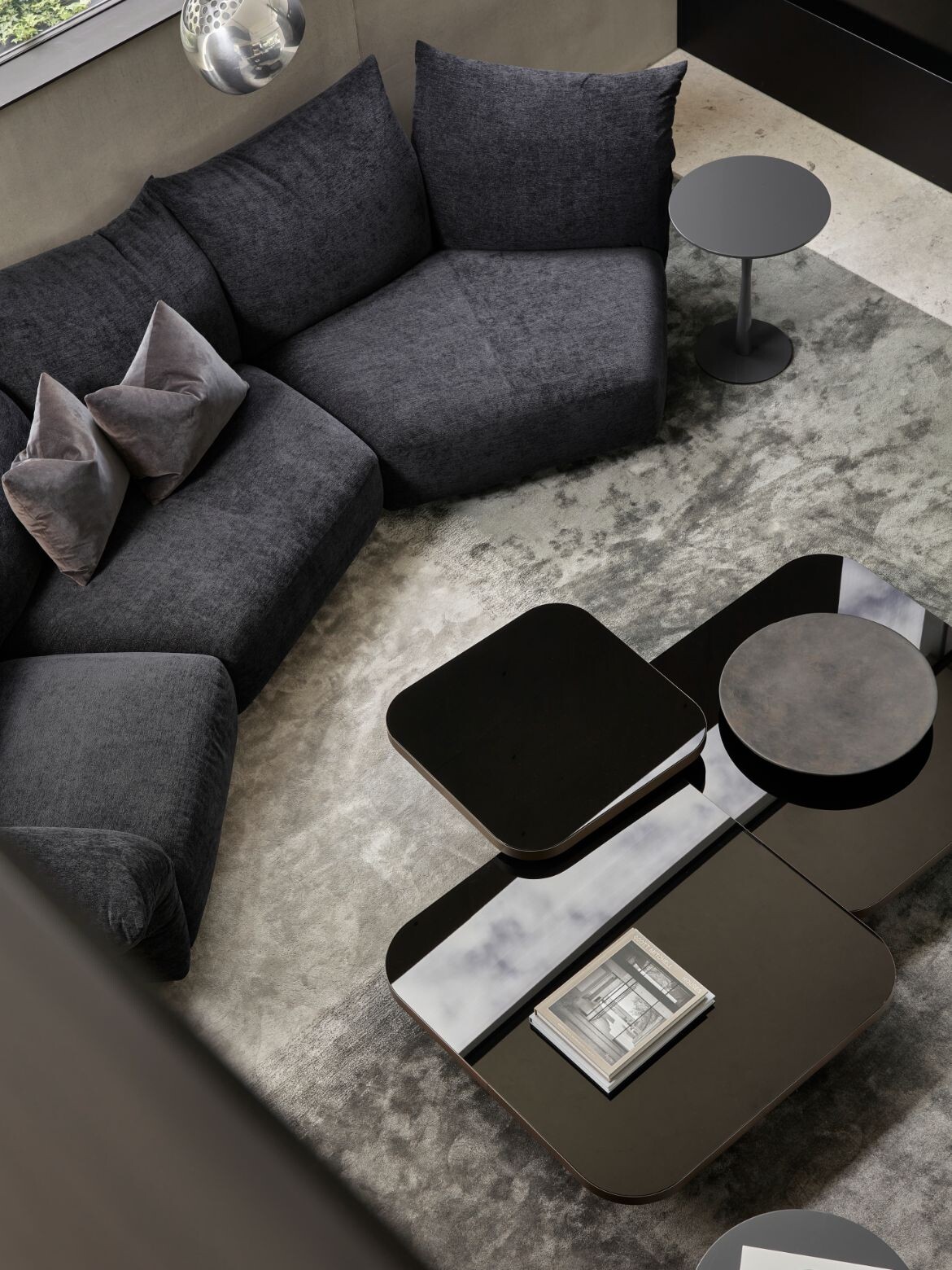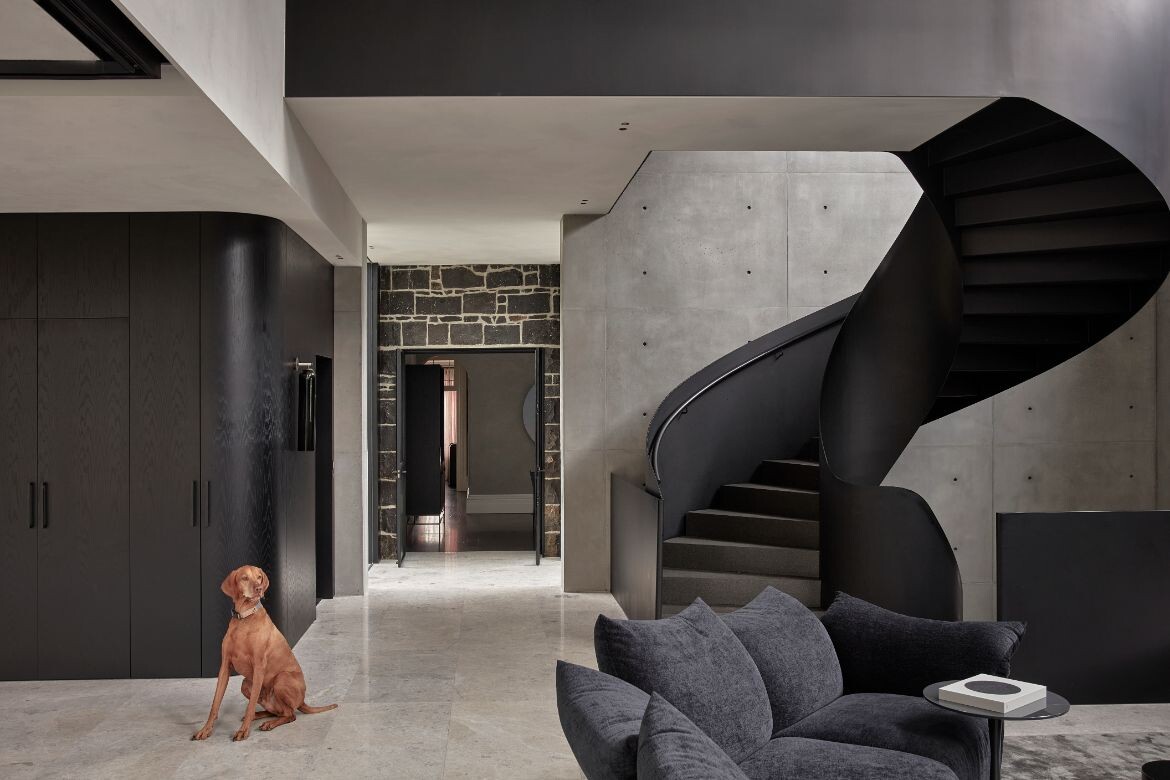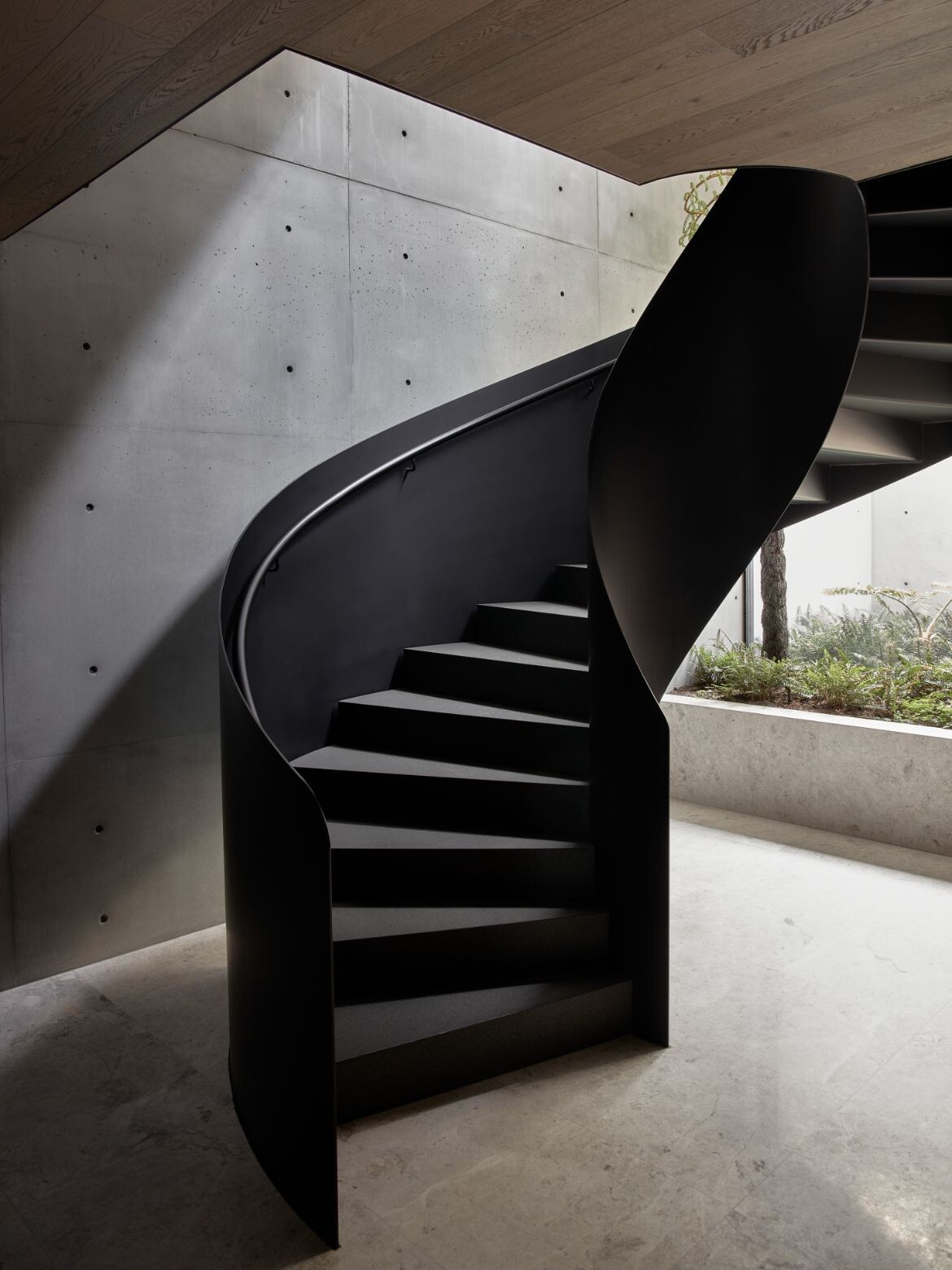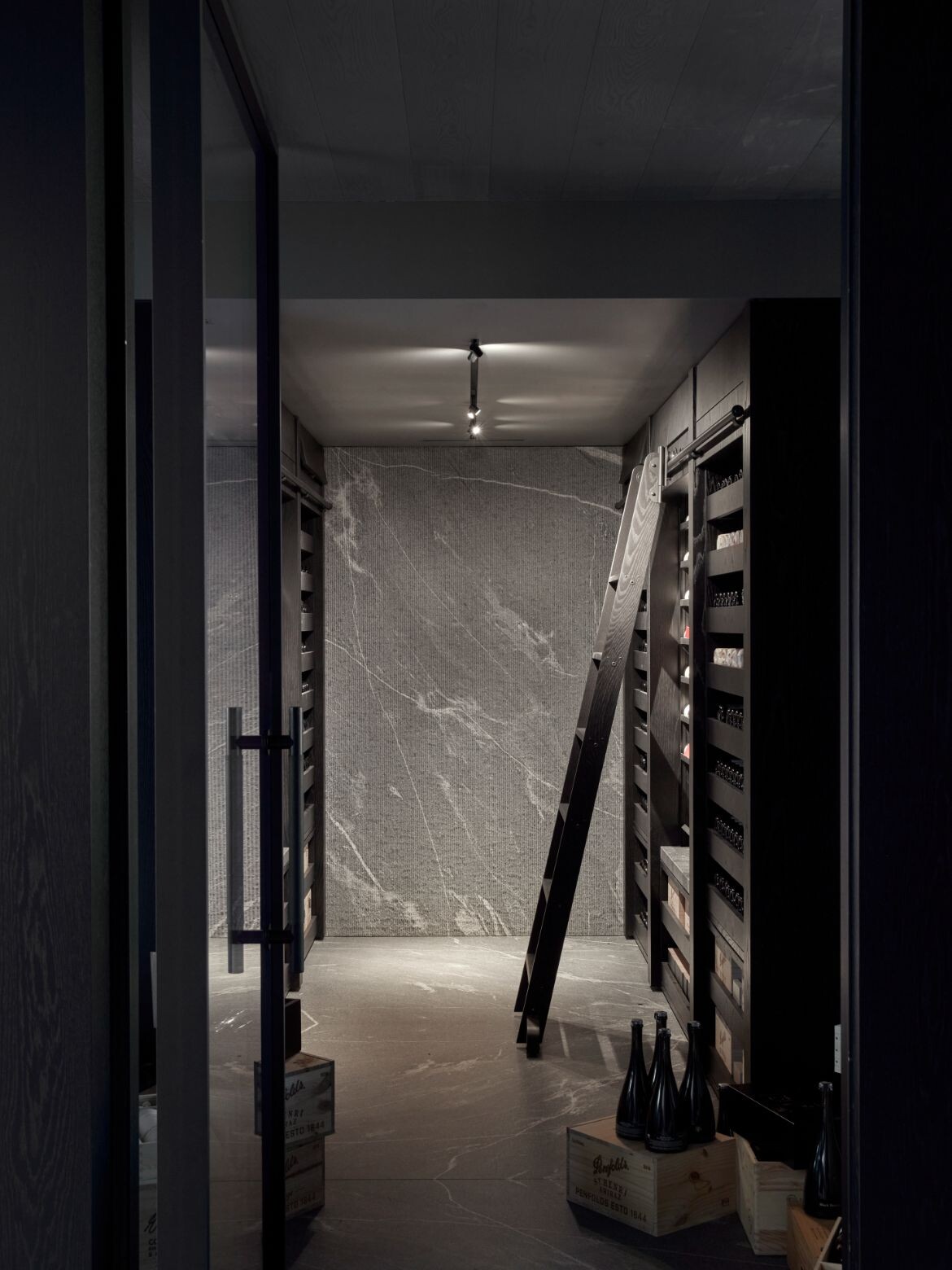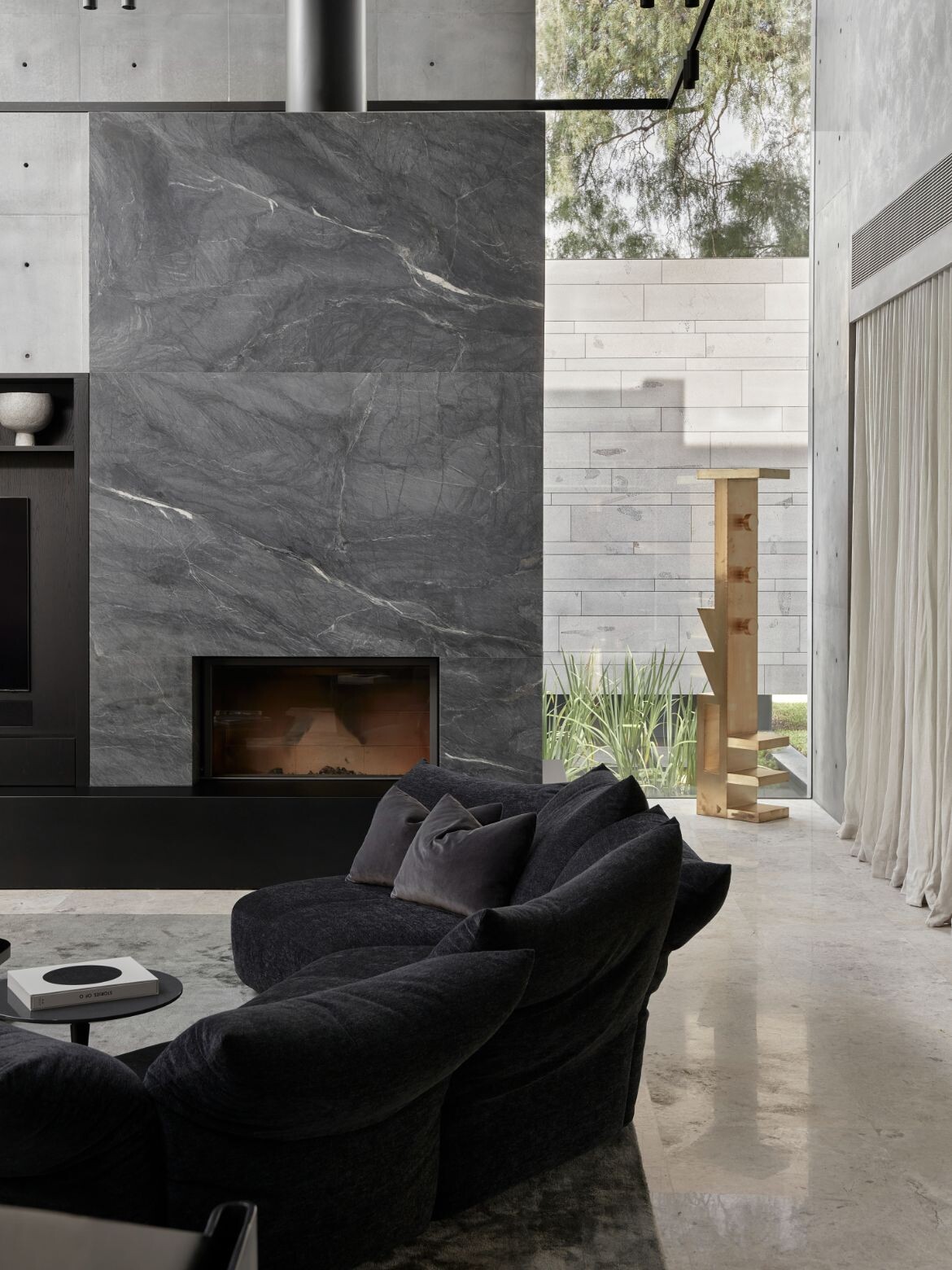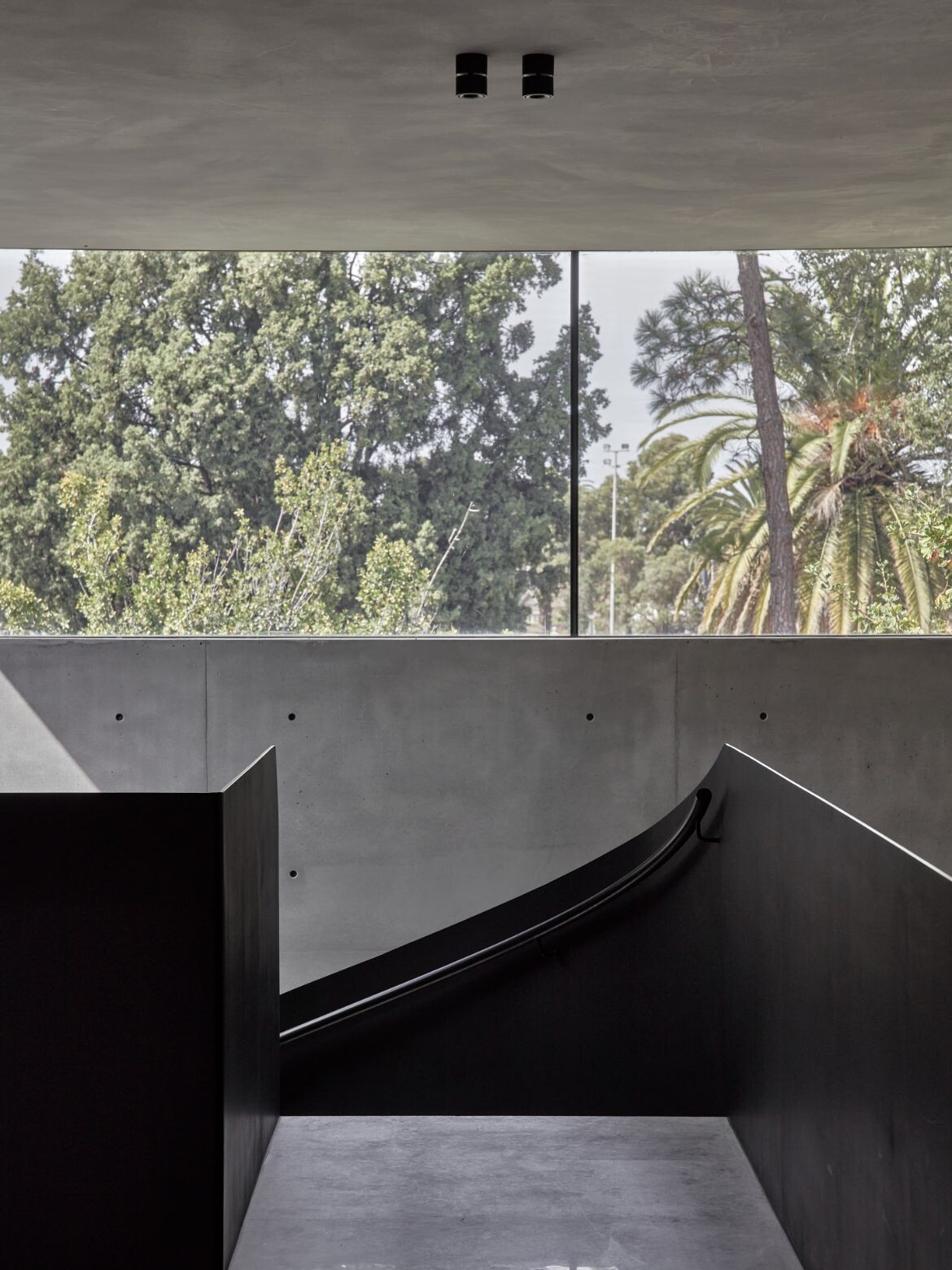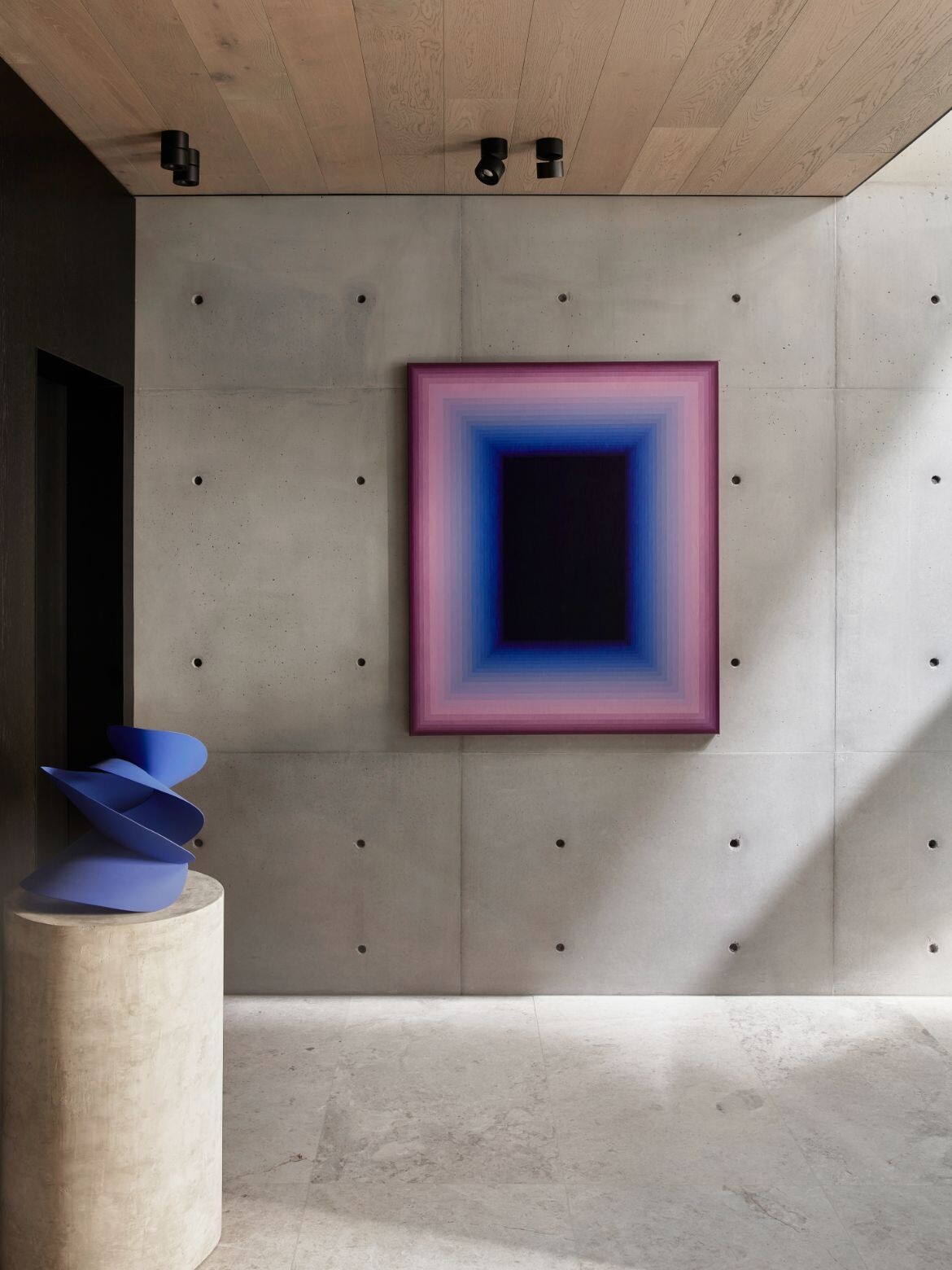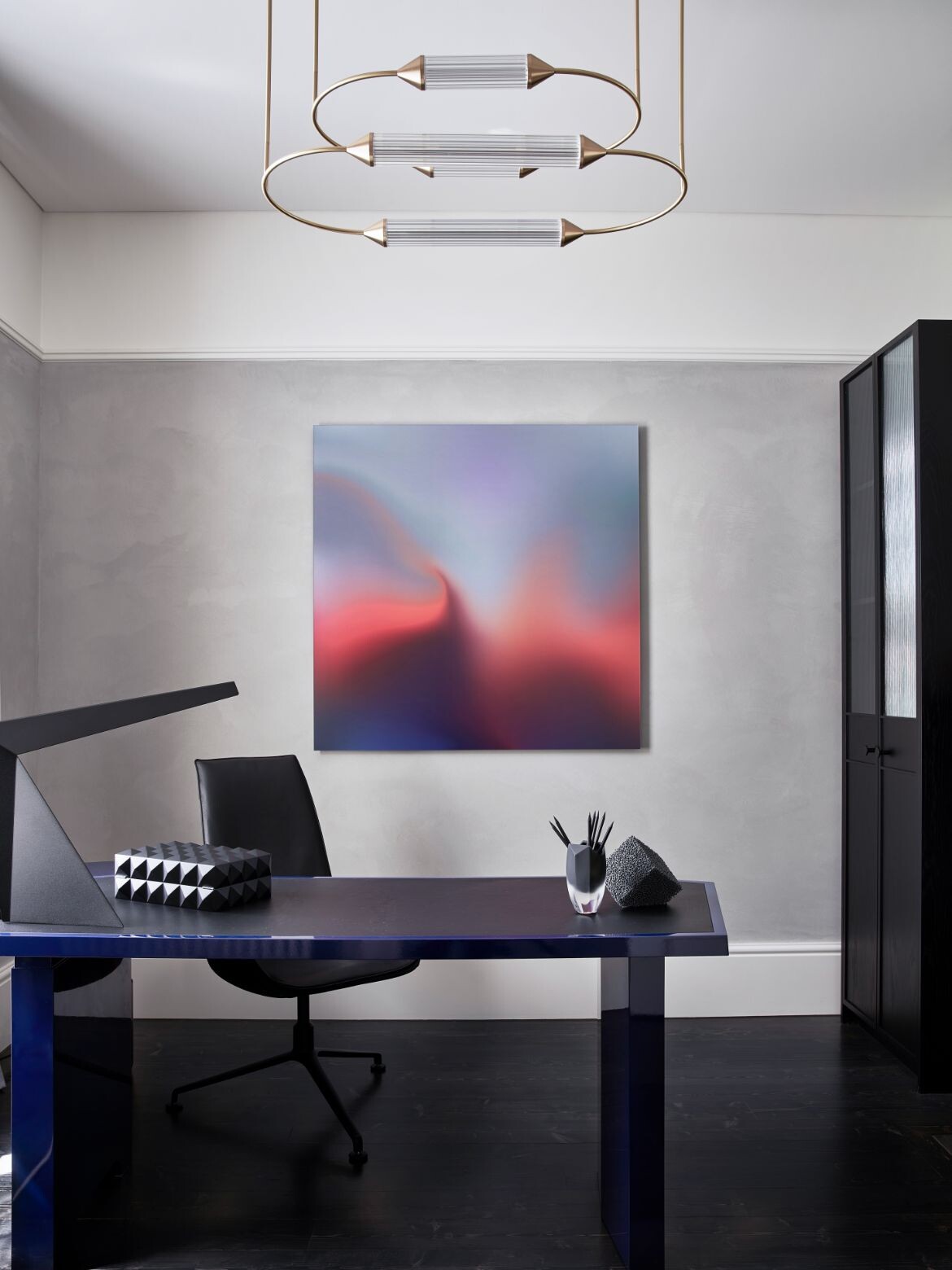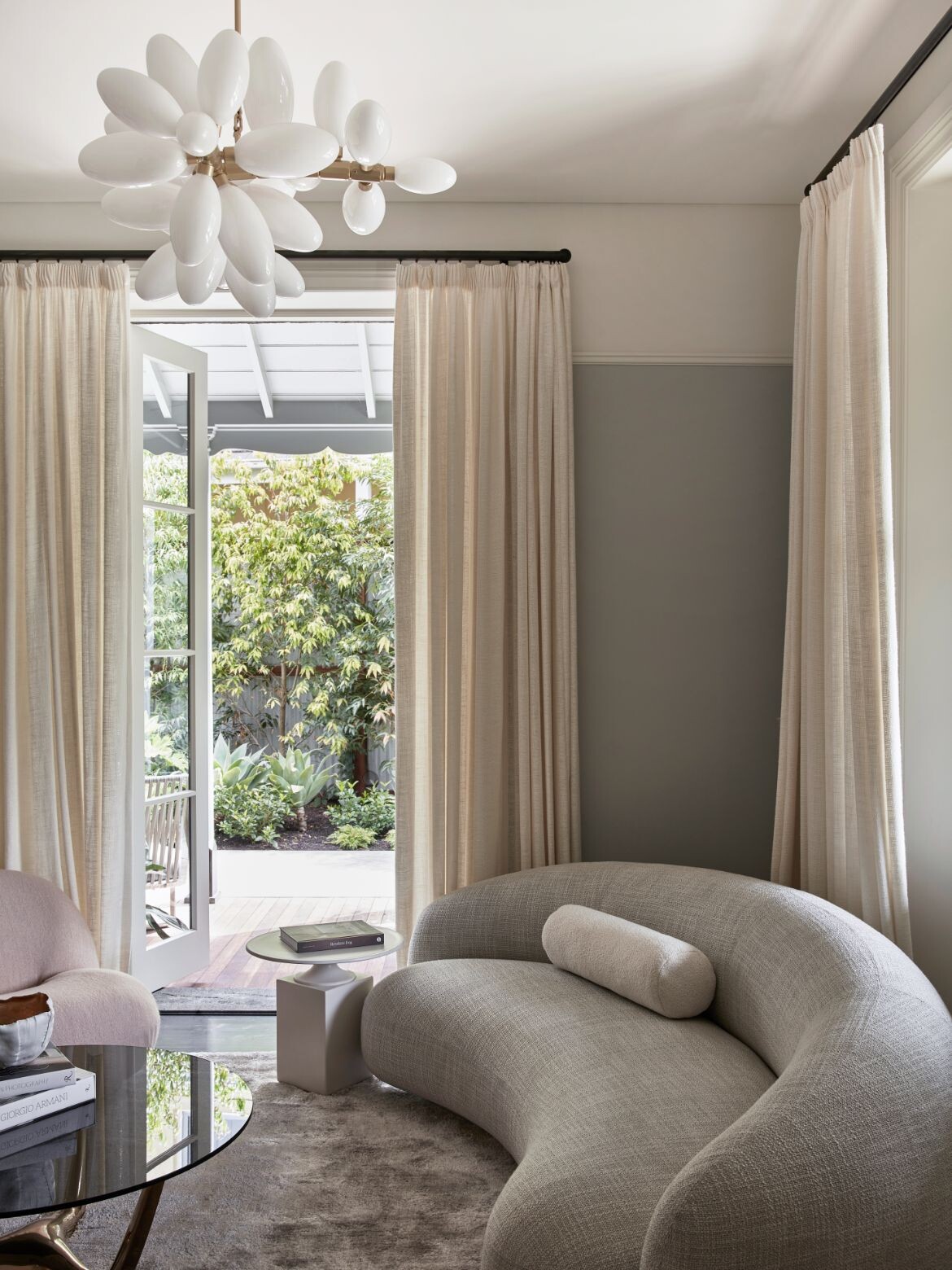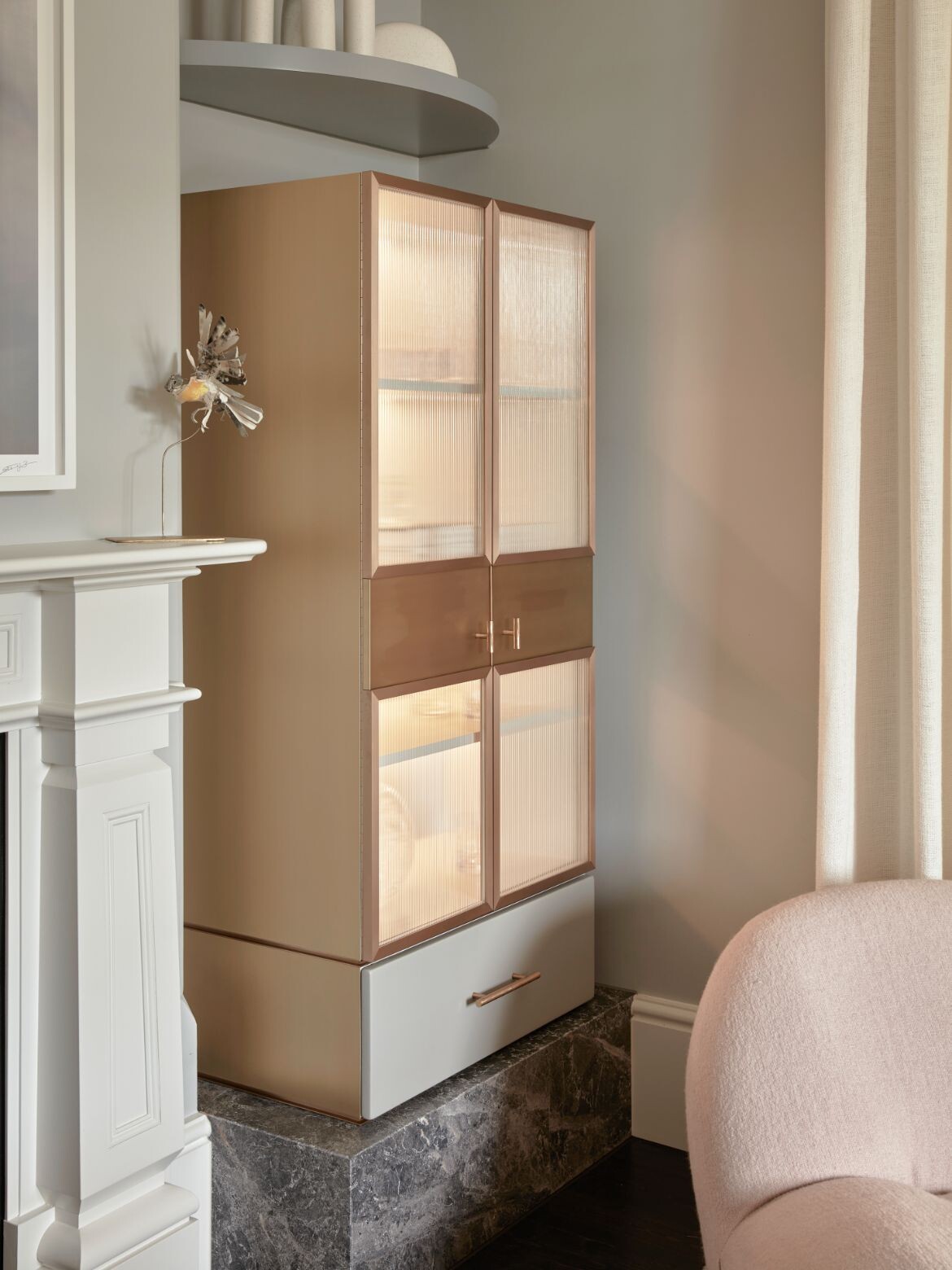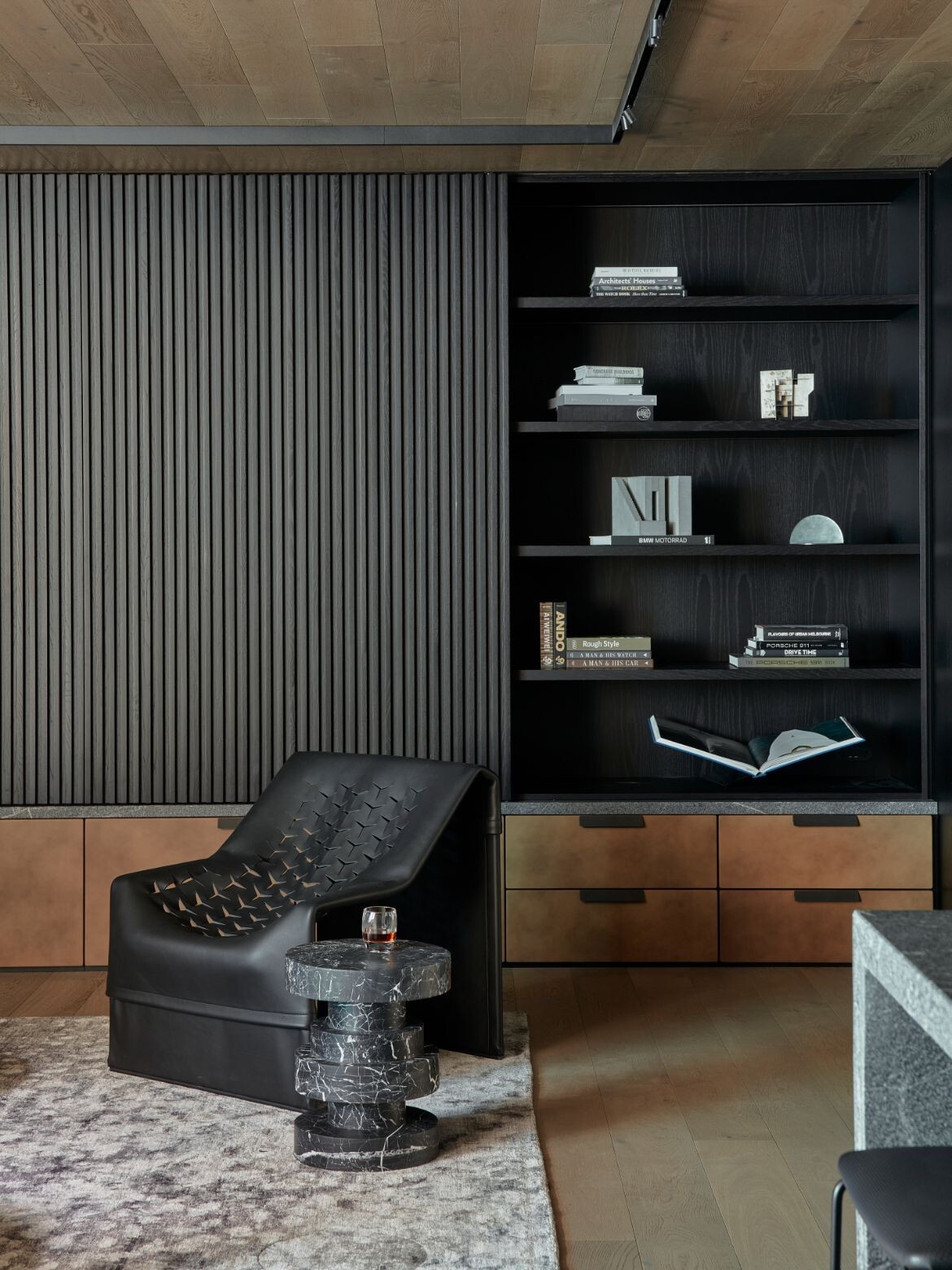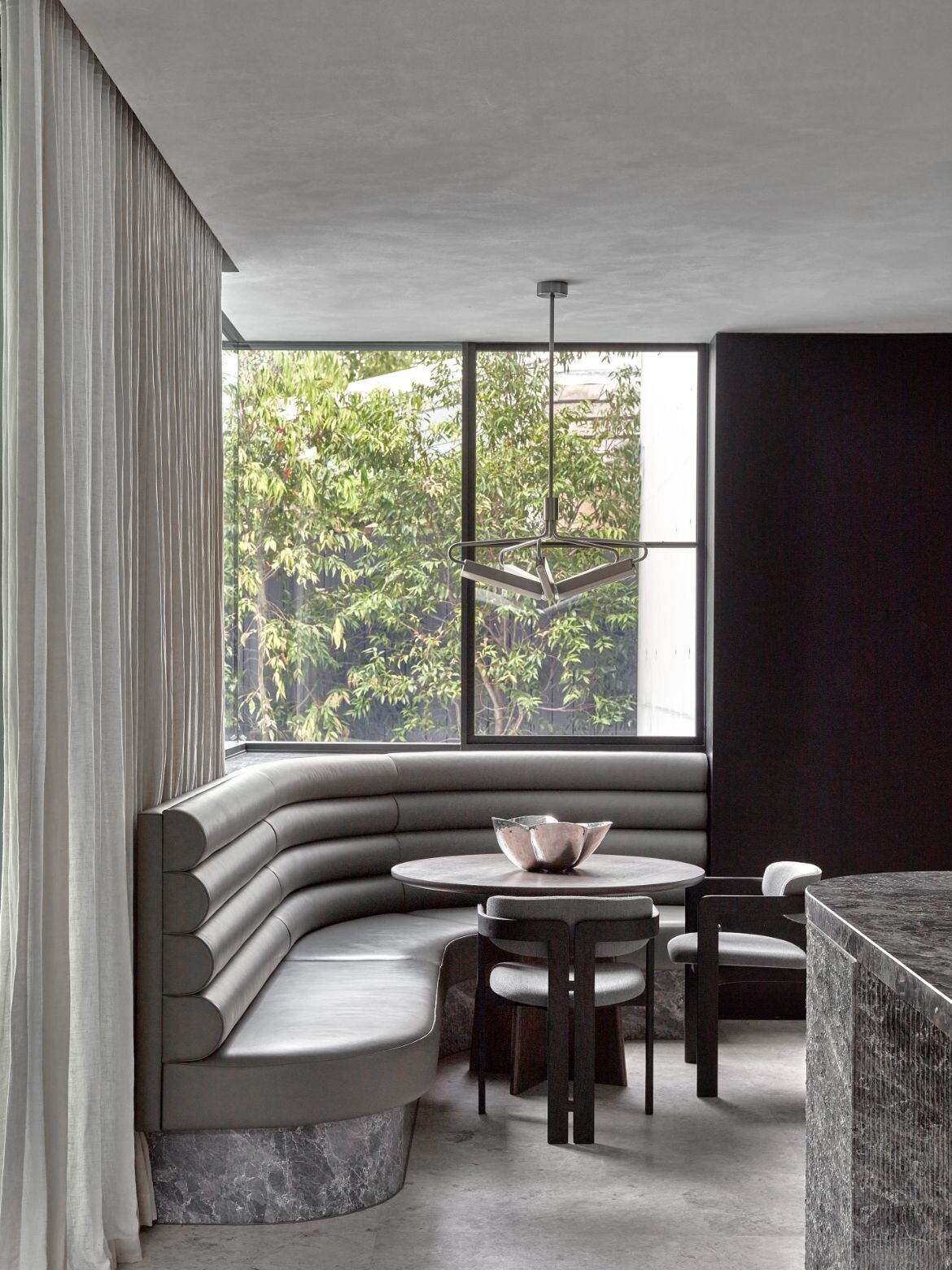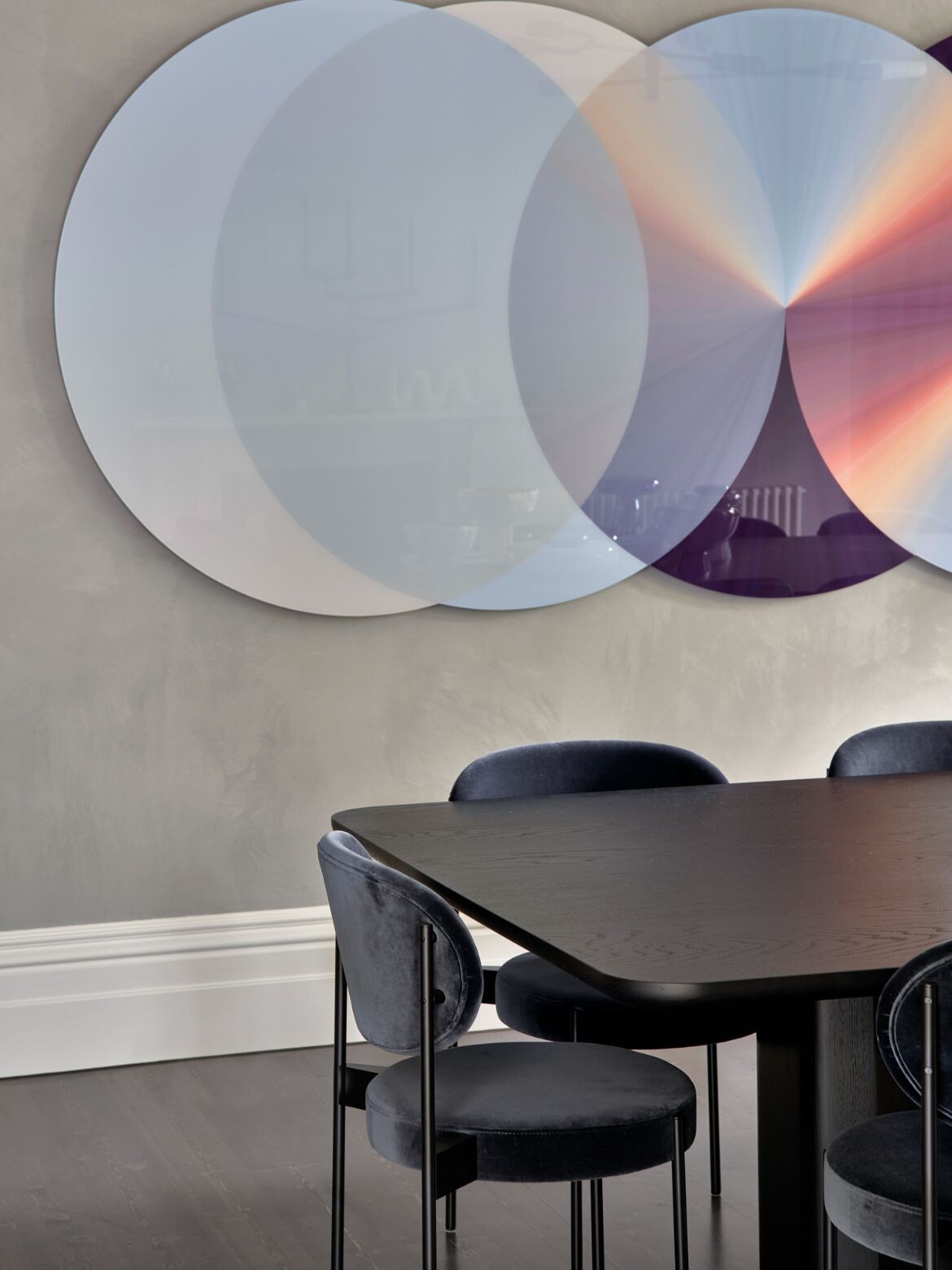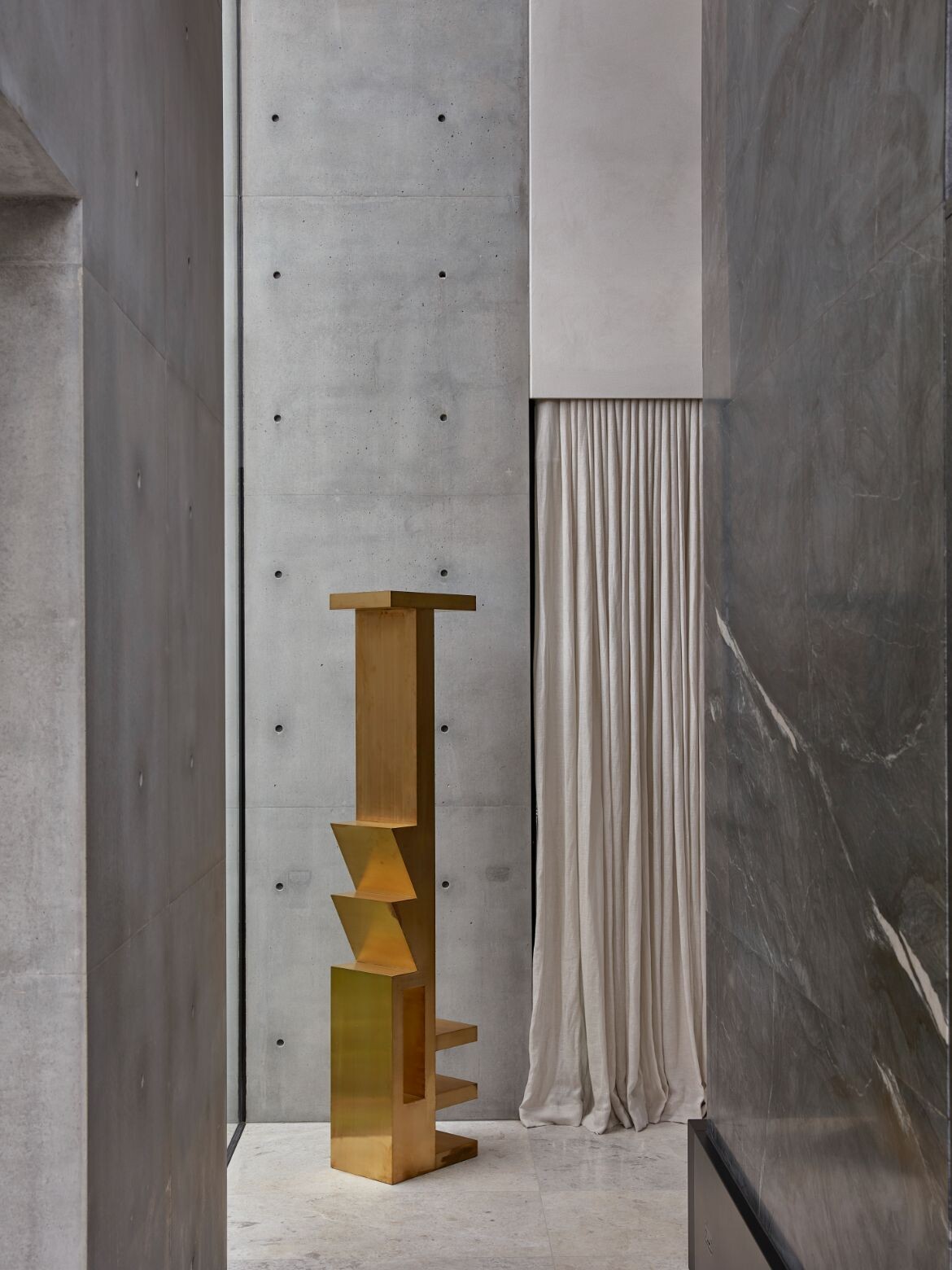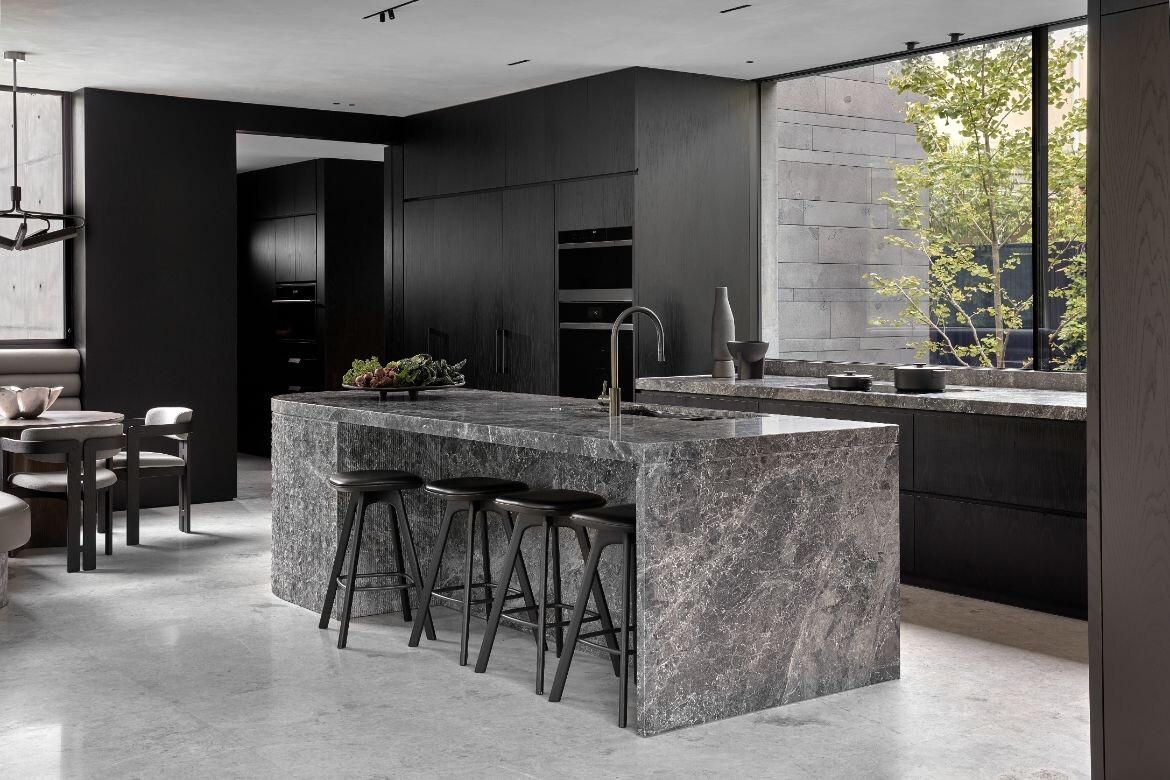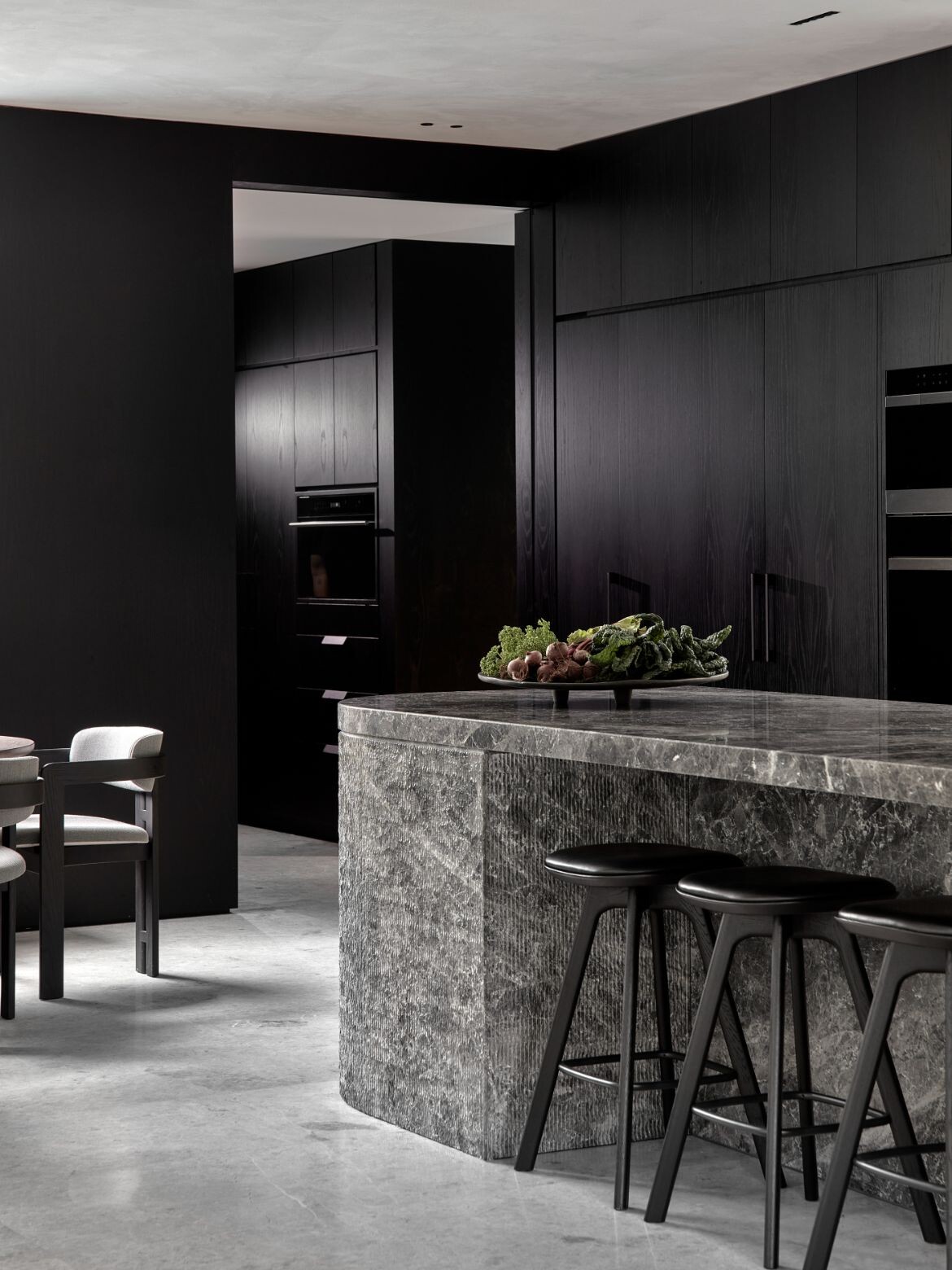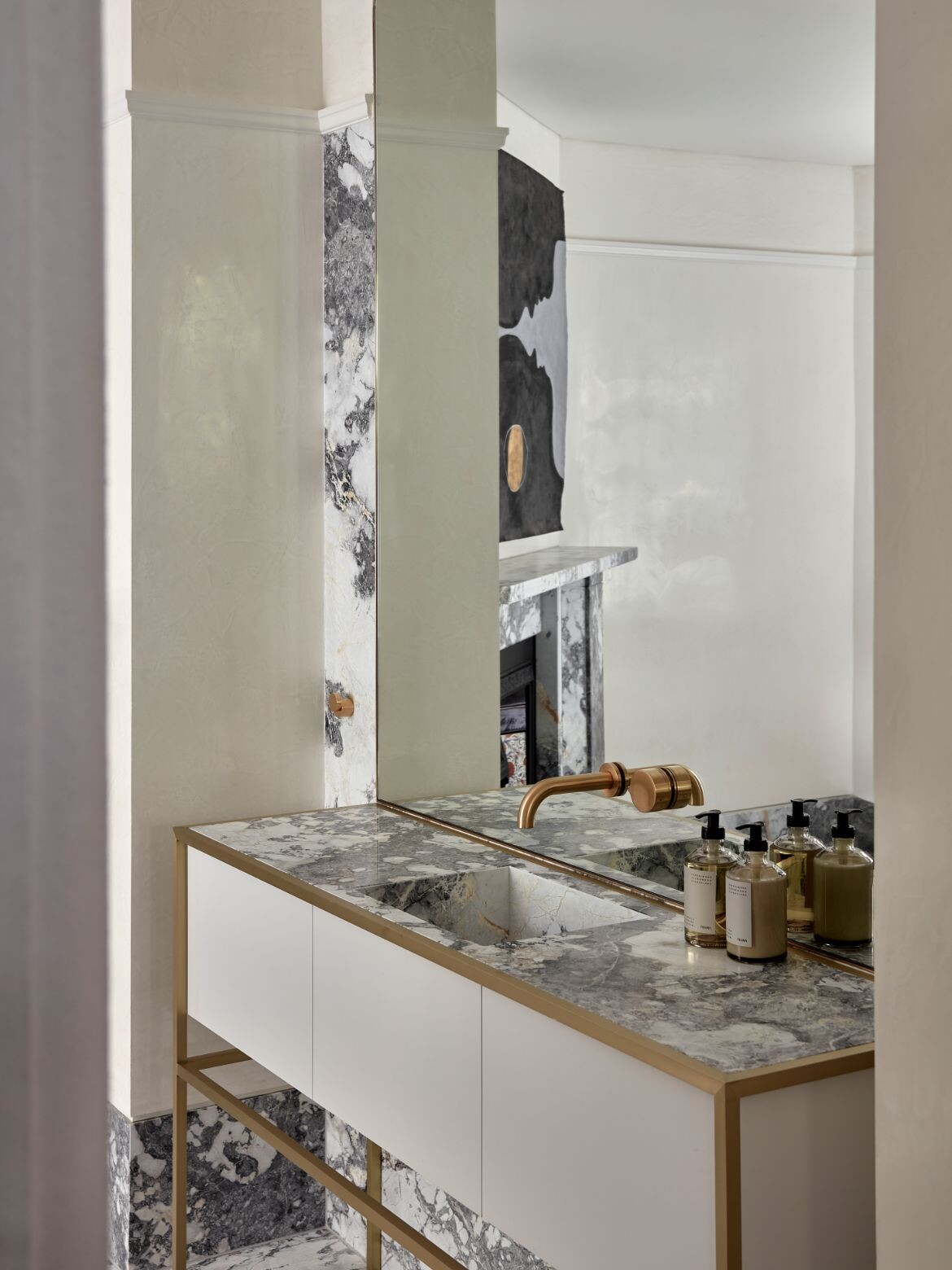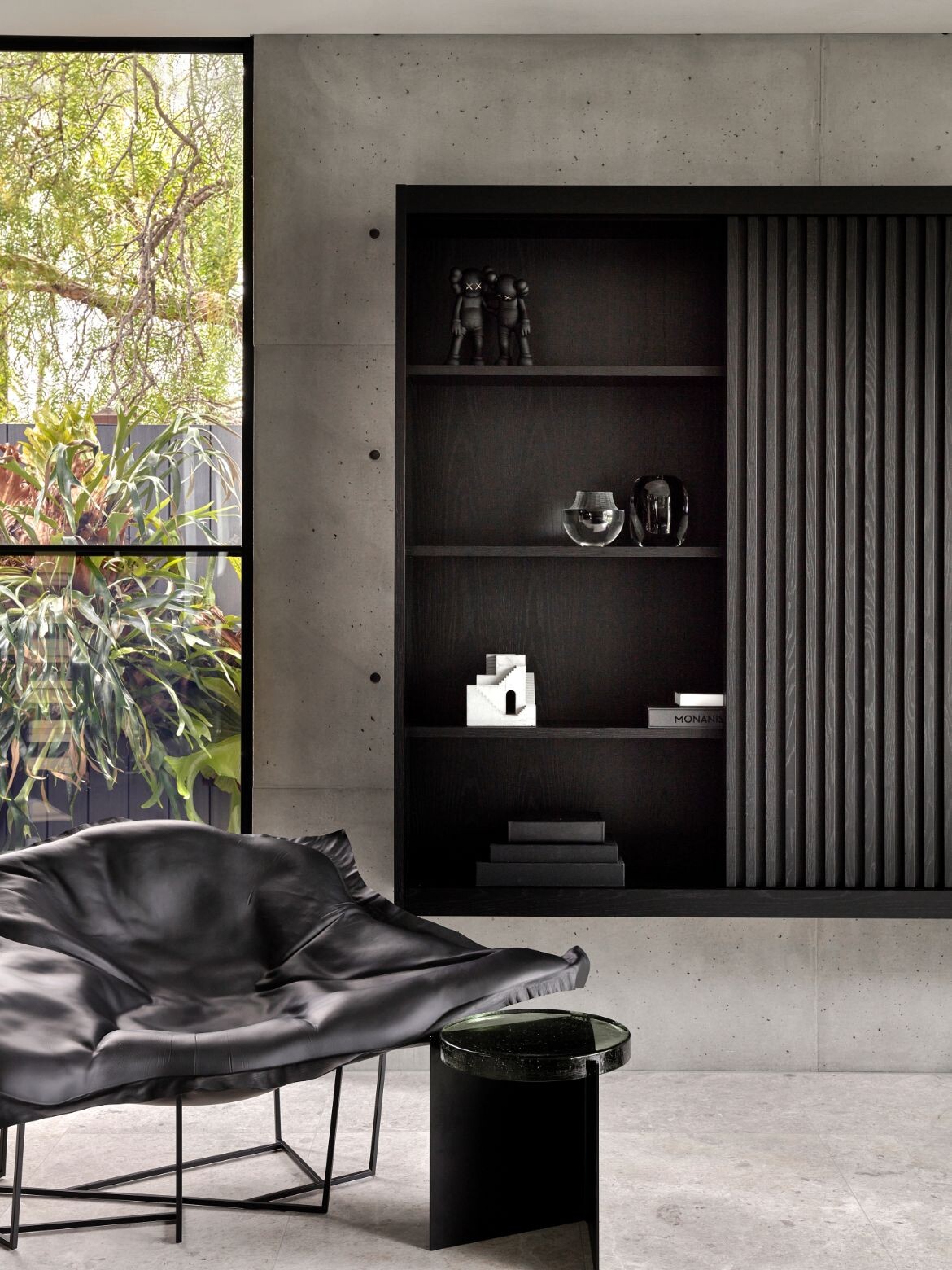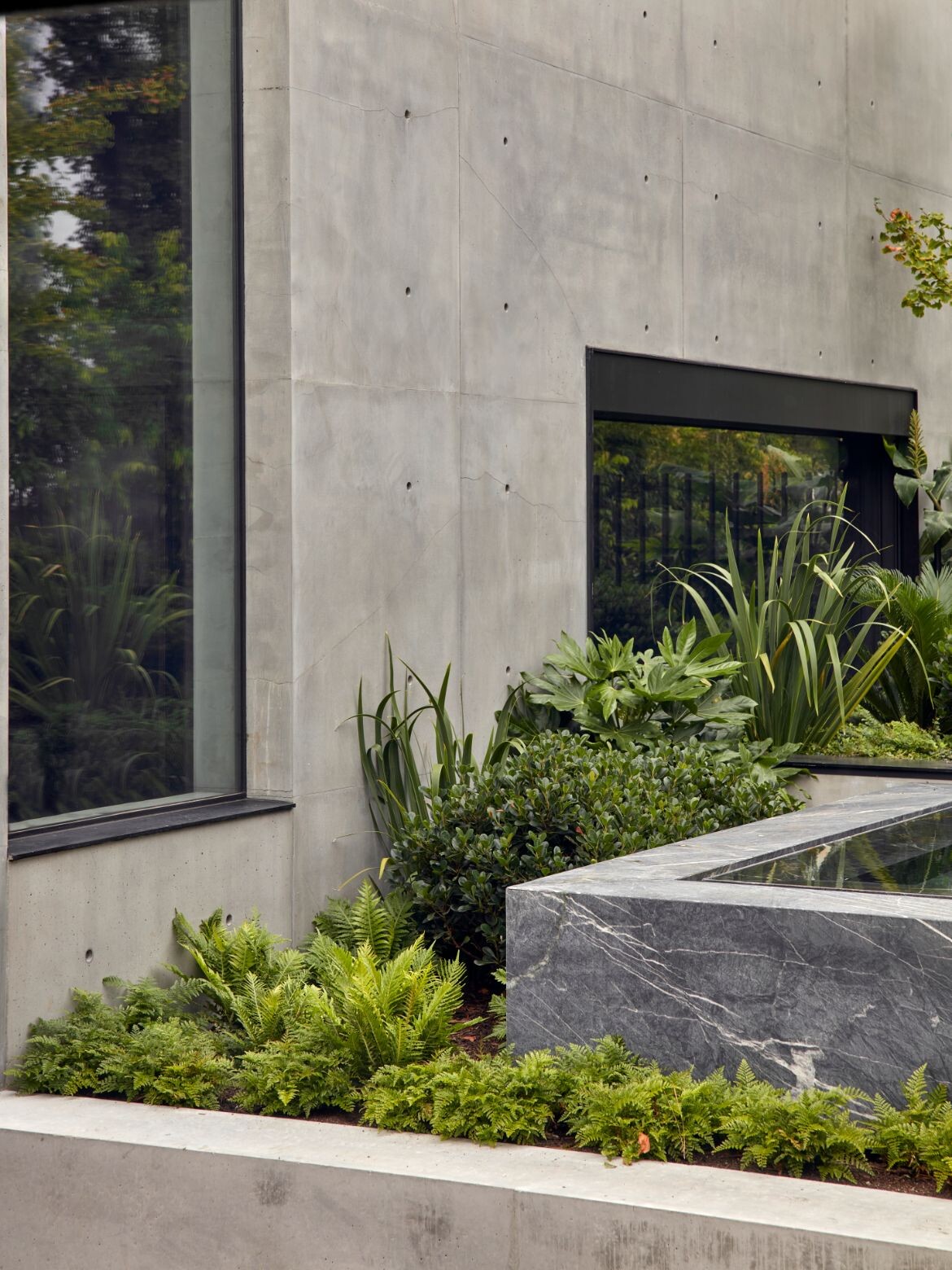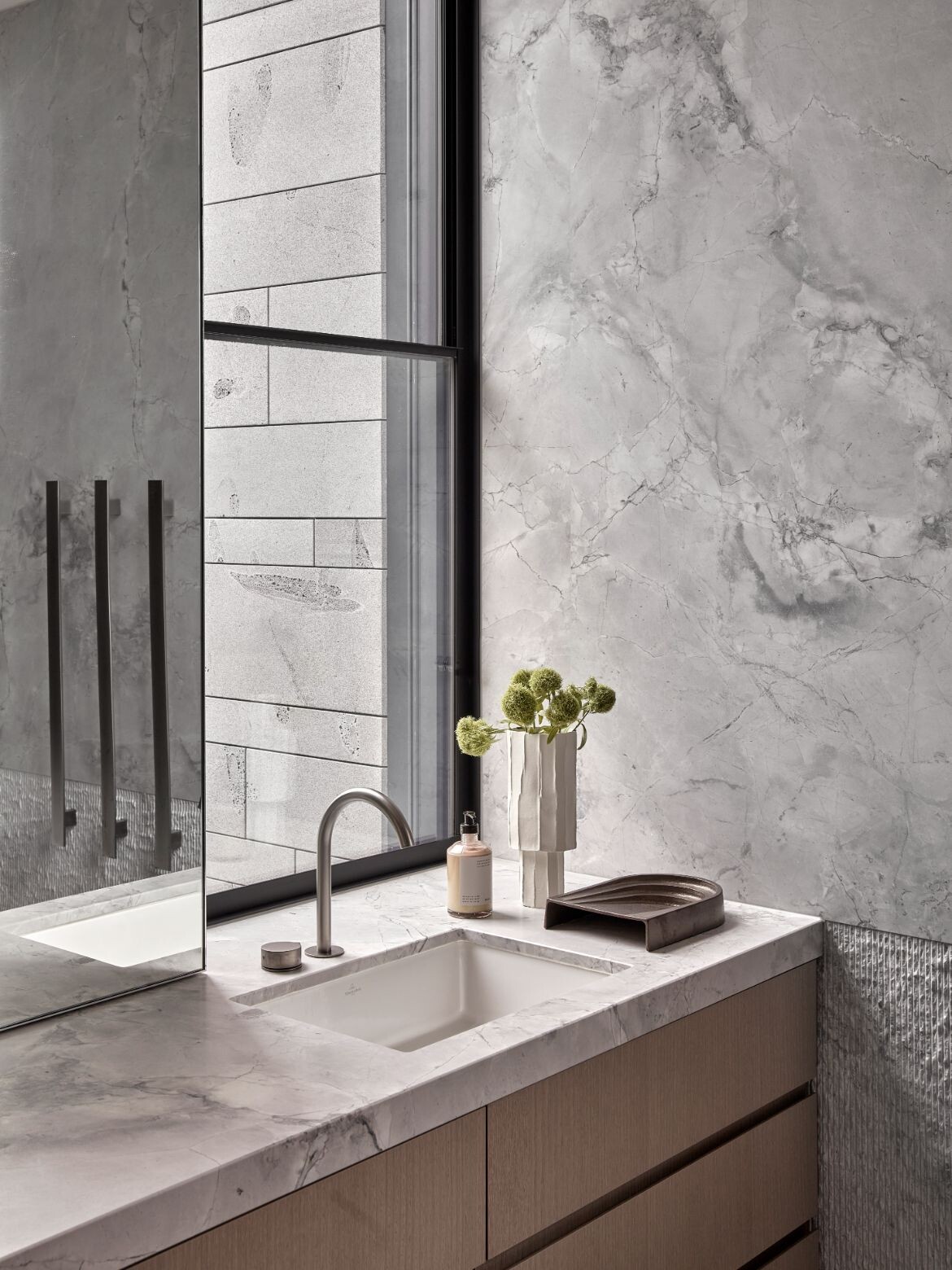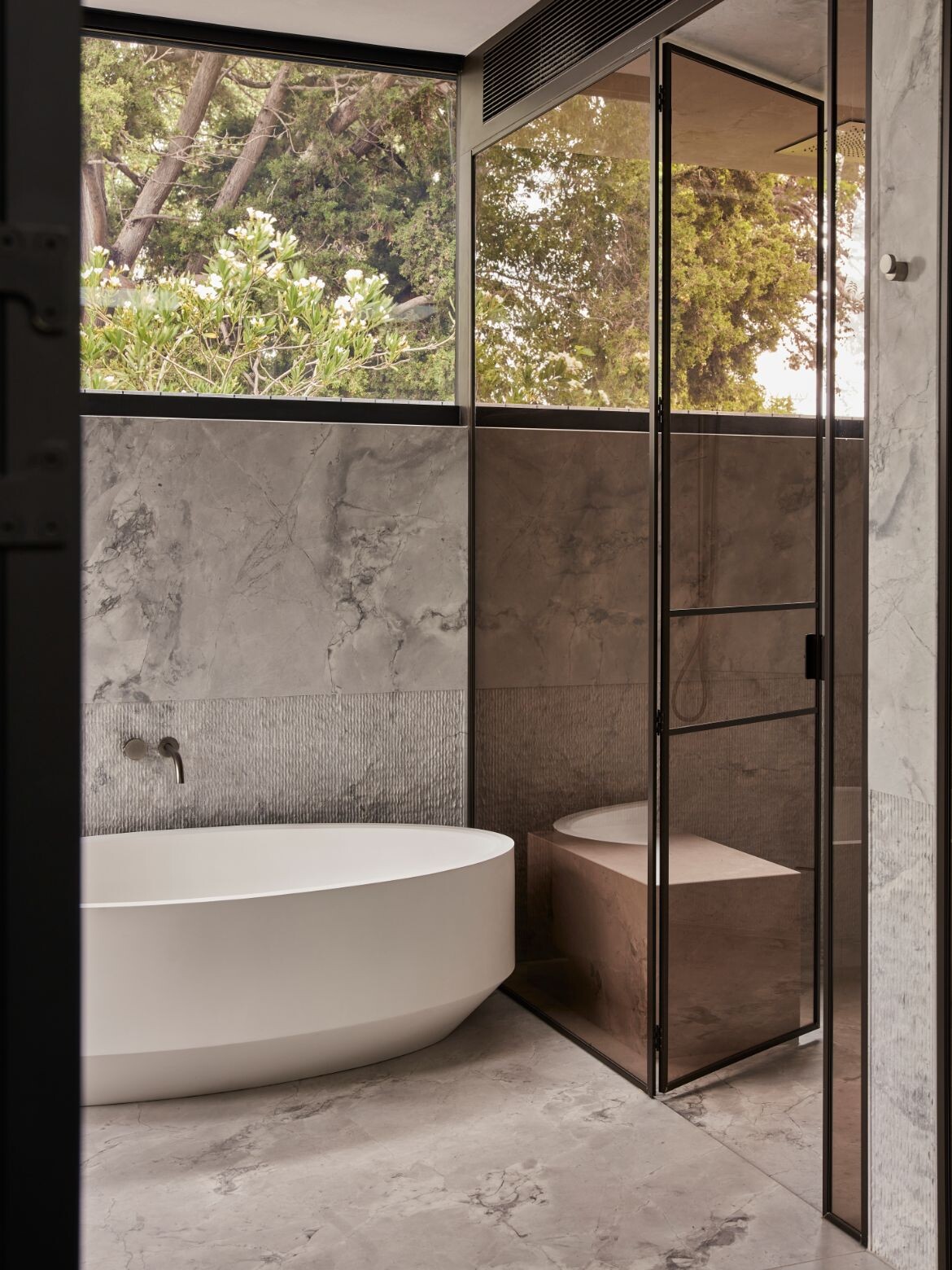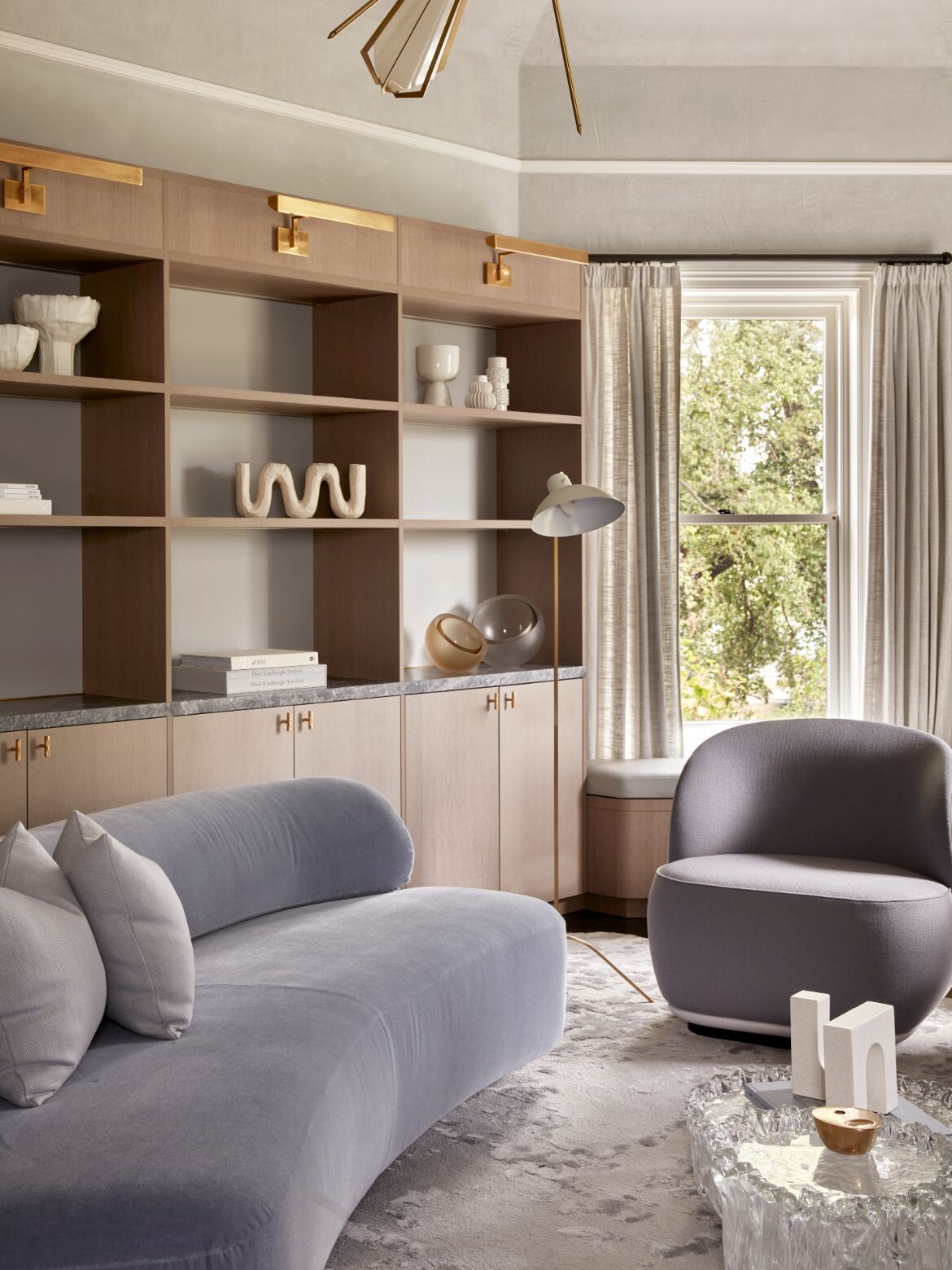 ---