Above: The playhouse roof of Hern's home pierces the sky like a concrete eco-rocketship
Known by his nickname, Hern, this 34-year-old dreadlocked Thai man makes an instant impact. With a playful personal style, Hern lives and breathes art with every fibre of his being. "For me, every day is a holiday. What I do does not feel work or a job to me." Hern smiles and you feel the sincerity.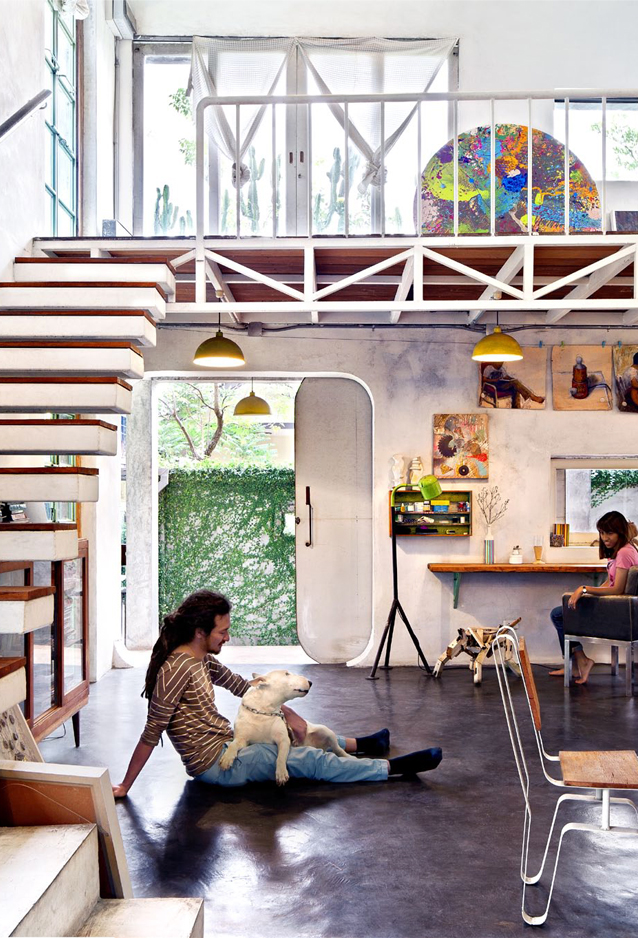 Hern plays with his dog, Plachon, while his assistant organises the day's agenda.
In actuality, Hern is a very productive and prolific artist, with an abundance of ideas and plans. He lives out all of his artistic fantasies: "My art is crazy because my mind is crazy – I put everything in my head into my art and feel peaceful for a moment, until the noise starts again. It helps me get creative."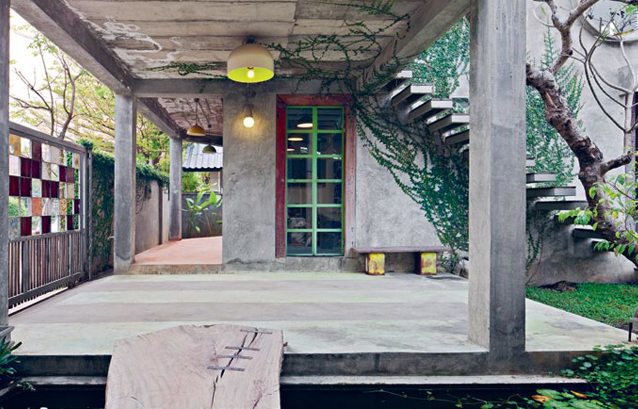 Concrete and nature intertwine around Hern's simple, yet functional, carport. 
The son of a carpenter father and farmer mother, Hern's accepted success as an artist is relatively recent. He struggled to find his path and live from and through his art, but since 2009 he has been flourishing.
Born in 1977 in central Thailand's Ayutthaya Province, Hern spent his childhood by the river, sketching and drawing in green and natural surroundings. He acquired technical skills and a love of wood from his father.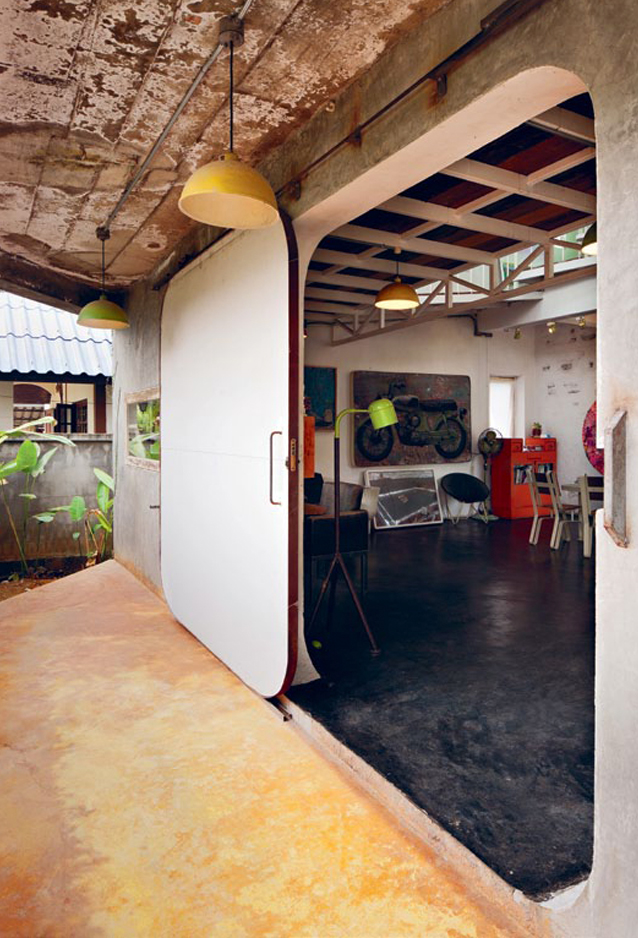 Hern created the doors and windows of his home to be utterly imperfect, yet this huge sliding main door appears the perfect gateway to his realm.
At the time, art wasn't considered a viable career choice in Thailand, and his family was reluctant to show support. His older brother went into the construction industry and his younger sister became a nurse. "I could have selected any job other than art and they would have been happier," he laughs. Yet, he still went to art college in Bangkok, and then moved to Chiang Mai some 16 years ago to study Fine Arts – and stayed.
Hern works primarily with functional art and re-purposing or recycling, including sculpture, painting, installation art, design objects and mixed technique pieces, such as his painting with a mounted TV shell, integrated working speakers and an MP3 player dock.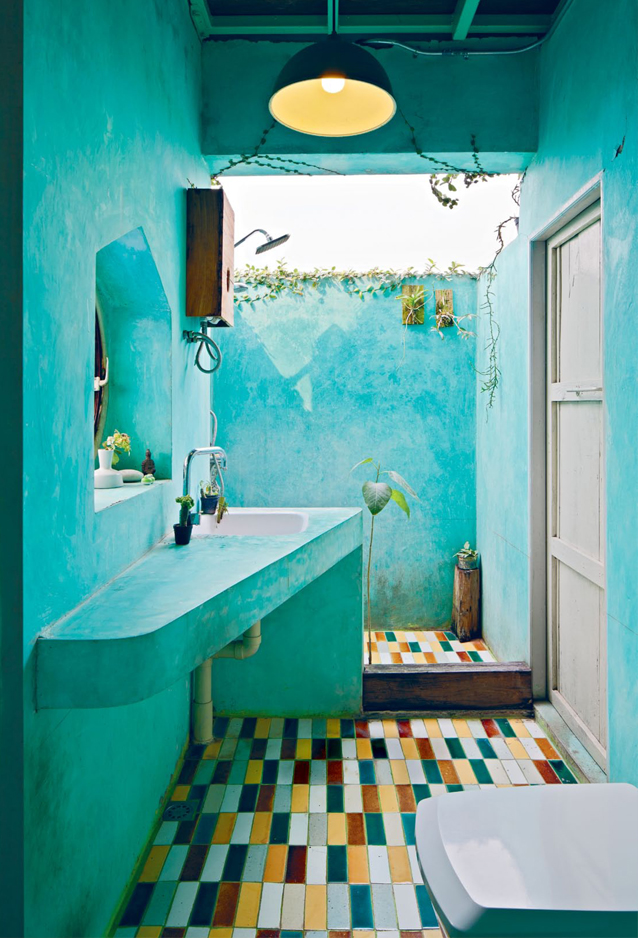 In the upstairs bathroom, Hern showers under the stars. "I grew up living amid nature, which makes me still always want to be close to it."
Hern also brings art to the community as owner, director and curator of Gallery See Scape, his very own gallery/lounge/cafe/shop/ atelier, complete with quirky artist residence and a mobile art gallery in the form of an old converted Ford Sierra Jeep. "Art is a part of our life – I want to show art in everyday life. I believe everything around us is art," he notes with a slightly philosophical, yet unpretentious, air.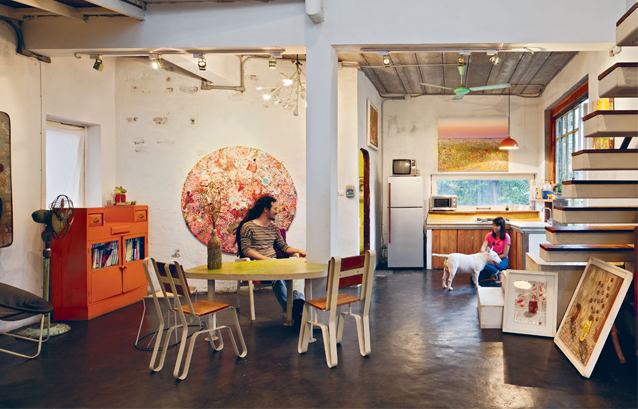 Although Hern's dog feels he rules the roost, Hern's art is king, scattered across the floor and rugged white walls everywhere in his home.
He has a similar affinity with nature, and his recycling of old junk as well as his partially technicolour 'Empty Land' oil and acrylic paintings reflect his love of the
environment. Where others see junk, Hern sees treasure and the potential for great art. "I look at everyday objects and think about how I can use them differently, giving them a new or special function. I get inspiration from all around me." Snooping around his home, gallery and ateliers, one gets an instant sense of who Hern is, and he is exactly as he appears. The pleasantly exhausting and chaotic nature of his art is balanced by the chilled persona of a truly contented individual.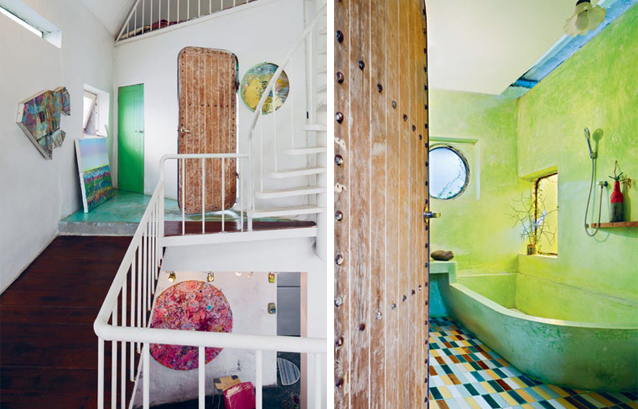 Left: Wooden slopes and stairs jut and spiral their way to the top of the playhouse, as do the artworks and oddly-shaped windows and doors.
Right: The downstairs bathroom features one of Hern's favourite colours, green – even in the tub.
When designing his home, Hern first stood in the empty plot of land and considered all of the elements before putting pencil to paper. For him, they all conspired to allow for his ideal living space. Hern drew inspiration from a child's drawing of a house, with simple lines, tall sloping roof, and simplistic doors and windows – an oversized playhouse.
His home is a functional empty space, like a blank canvas or gallery, adorned with his art, very low-tech and utterly imperfect. Old rough, scratched wood blends with thick iron for surfaces; doors are damaged and illfitting; windows are unsealed; and plaster and above left | Wooden slopes and stairs jut and spiral their way to the top of the playhouse, as do the artworks and oddly-shaped windows and doors. above right | A bedroom for sleeping and nothing more, this is the only space in the home where art does not pervade walls and floors. paintwork are chipped, scuffed and patchy. "Life isn't perfect," he says. "If I had built a perfect space, I would feel far too serious. There is beauty in imperfection."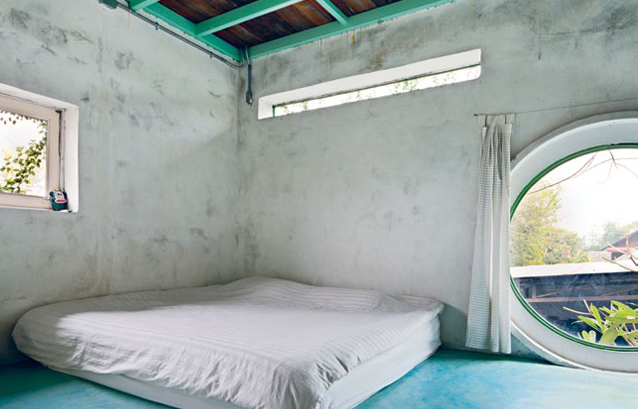 A bedroom for sleeping and nothing more, this is the only space in the home where art does not pervade walls and floors.
To allow maximum space for art, his various shaped windows are small, in contrast to most new homes built with vast expanses of glass. Floors throughout are quite barren, aside from a few standing sculptures and minimal, eclectic furniture. His bedroom contains little more than a bed. The exterior walls with climbing vines are plain grey concrete. His open, outdoor atelier is strewn with finished and unfinished artworks, collected junk, old wood and metal scraps. A water feature is home to a solitary koi carp named Alone.
Hanging in his house is a series of paintings on rough-edge art paper that sums up his style of living: simple, yet special. Created while hanging out with a friend, the first shows playing a guitar, the second an art object, the third his friend reading, the next his dog sleeping (a wily bull terrier, 'Plachon' is translated as 'snakeheadfish'), and lastly Plachon's feeding bowl: play, create, relax, sleep and eat.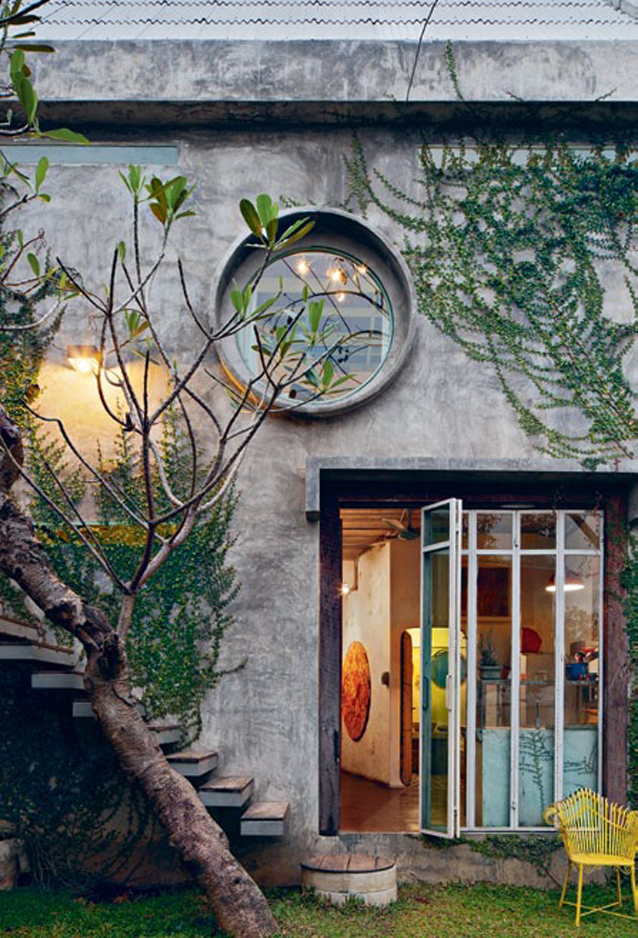 At the side of the house, an almost identical staircase, seemingly extended from the inside out, creeps up the wall with the greenery clinging onto the carport roof terrace.
"I live at times simple, sometimes special, depending on how I feel in the moment," he says, perhaps subconsciously alluding to his budding relationship with his terribly famous Thai pop singer girlfriend, Praow.
Last year, Hern produced the interiors for Sukjai Thai and Middle Fish restaurants in Sydney and Melbourne respectively. In both cases, he reinterpreted the usual concept of Thai restaurants and culture to create something unique and contemporary.
Currently, Hern is working on an installation for the Richard Koh Fine Art Gallery in Singapore in mid-June. The concept focuses on 'the day before an exhibition opening', where the viewer is unsure whether the installation is ready or not, as it showcases handmade equipment replicas and cables that technicians use for mounting and displaying the works. In addition to further installations abroad, one of Hern's main objectives for the near future is to continue supporting other artists through his gallery and increasing focus on his artist residency project. And another project is to build a small Chiang Mai art hotel-cum-artist residence to promote the exchange of ideas and experience between Thai and international artists. "It is important to constantly evolve and challenge myself," he stresses.
Torlarp Larpjaroensook
hern-art.blogspot.com
Photography: Owen Raggett
owenraggett.com
Tags: Home Architecture, House Architecture, Residential Architecture
---