Made : Woven Image
My Category: Finishes
 I am: Interior acoustic wall tile
 About:
Woven Image has just launches a new interior wall tile collection!
Made in Australia and designed in collaboration with Australian's Bang Design, Mura Tile is an exciting new addition to the Woven Image interior products collection. A non-woven felt like tile, it combines contemporary design, innovation and sustainability.
Mura tile is available in 8 fresh block colours and 2 designs: Mura Dune Tile and Mura Wave Tile.  The tiles can be rotated to achieve any number of different designs. Create waves of colour or spot highlights. To assist you with Mura Tile designs and interior plans Woven Image have supported the launch of the tile with online 2D and 3D CAD tools, available at wovenimage.com.
Each tile is 500mmx 500mm and is supplied in a box of 9 tiles covering 2.25 m². At 360grams per tile it is light weight. Developed exclusively for the tile, Mura Tile's unique clipping system ensures easy application and disassembly.
Designed to provide a sustainable, acoustic solution for interior walls, Mura Tile has outstanding Noise Reduction Coefficient (NRC) ratings and is made from 100% PET containing 45% post consumer recycled content. It has been certified to EcoSpecifier Greentag Gold Level A and is fully supported by the Woven Image Product Stewardship program. Available directly from Woven Image online from A$366 per box of 9 tiles the Mura Tile range is extremely price competitive. The pre-packaged, clip system, easy installation template and guide also enables easy and cost effective installation.
The tile is suitable for interior commercial and residential applications especially where acoustics are an issue, or for that feature wall where you want to achieve a contemporary design 'wow!' factor. Mura tile challenges the perception of traditional wall tile by providing an innovative solution that is design driven, acoustically superior, cost effective and easy to install. It sets a new standard for interior wall covering products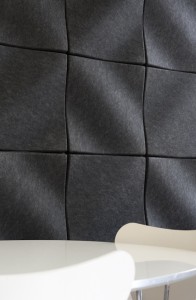 Materials: Felt like finish textile made from recycled PET
Dimensions: 500mm x 500mm
 For more information :
wovenimage.com
Ph:  +61 2 9913 8668
Tags: accoustic, bang bang, Contemporary, interiors, mura dune tiles, tiles, wall tile, Woven Image
---