About:
Operating in Australia since 2001 Caesarstone® is the market leading brand of quartz surfaces in Australia. Today Caesarstone Australia Pty is a fully owned subsidiary of Caesarstone International and with the Caesarstone® brand now available in over 40 countries Worldwide.
 The Caesarstone® product range offers a contemporary approach to kitchen design and renovations while maintaining the quality and luxury that consumers have come to expect from this category.
Caesarstone® engineered stone surfaces are a smart, modern alternative to products such as marble and granite for kitchen bench tops and splash backs as well as bathroom vanities and wall linings.
Caesarstone® quartz surfaces are available across all states of Australia and also New Zealand.
Supremo Collection:
Supremo™ is a new premium collection from Caesarstone® that exudes a delicate, subtly blended aesthetic made possible by innovative patented technology. Creating a new concept within quartz surfaces, Supremo™ proudly delivers a natural, exclusive look supported by the added quality and guarantee of quartz.
Distinctly different from any other quartz surface in the market, each slab is a one-of-a-kind creation mirroring nature's endless diversity. Supremo™ is suitable for all applications from kitchen bench tops and splash backs to wall paneling, vanity tops and even custom made furniture. 
Supremo™ offers a range of six spectacular colors, with names inspired by the romance of history – Fair Lady™, Swan Lake™ – two stunning new whites, Shining Armor™ – the perfect neutral base colour, Black Knight™ and Queen of Sheba™ – two distinctive blacks and finally Maharaja™ – our classic brown.
Supremo™ collection offers premium, luxury quartz surfaces, requiring minimal maintenance. Like all Caesarstone® collections, Supremo™ is heat, stain and scratch resistant, in full compliance with Caesarstone's quality and global environmental standards.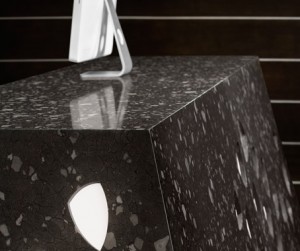 "Supremo™ was created in response to the growing demand for more luxurious, premium quartz surfaces. Over the past year we have refreshed our brand portfolio, resulting in four distinctive Caesarstone® brand collections – Classico™, Supremo™, Motivo™ and Concetto™. This allows us to expand and focus our product portfolio, developing design collections to better meet specific customer needs within the market", says Andrew Dixon, Sales and Marketing Manager.
"We identified the opportunity for a new premium collection, strikingly different from any other offering. Consumers are now so familiar with the superior properties offered by Caesarstone® quartz technology, so Supremo™ will appeal to those early adopters who aspire to break new ground with a distinctive one of a kind look."
The Supremo™ Collection will be available in selected retail showrooms nationwide from early September and also on display in your nearest Caesarstone® showroom. To locate your nearest kitchen showroom location simply go to the "where to view" on the Caesarstone® website and select Supremo™.
Contact Details:
For more information, please contact
Linda Hannah – Marketing Communications Manager
02 8197 4900 or 0408 973 276
Tags: caeserstone, new collection, quartz surface, supremo
---