Windows are perhaps one of the most important components of a building. They are what allow us to experience the world, in all its natural glory, even from the comfort of our homes. They offer us airflow and natural ventilation when an atmosphere starts to feel stagnant. They are the lenses through which a blank wall transcends into a priceless view.
Our purest experiences occur when we are totally absorbed in a moment. Nothing distracts us. This idea of removing distractions and opening up to the beauty of the world that surrounds us lies at the heart of Aneeta's design philosophy. Sleek and unobtrusive, Aneeta windows put the barest of materials between you and the outside world.
A sleek and modern take on traditional servery windows, Aneeta's Duomode sashless window gives the streamlined appearance of a fixed window and the functionality of a fully operable one.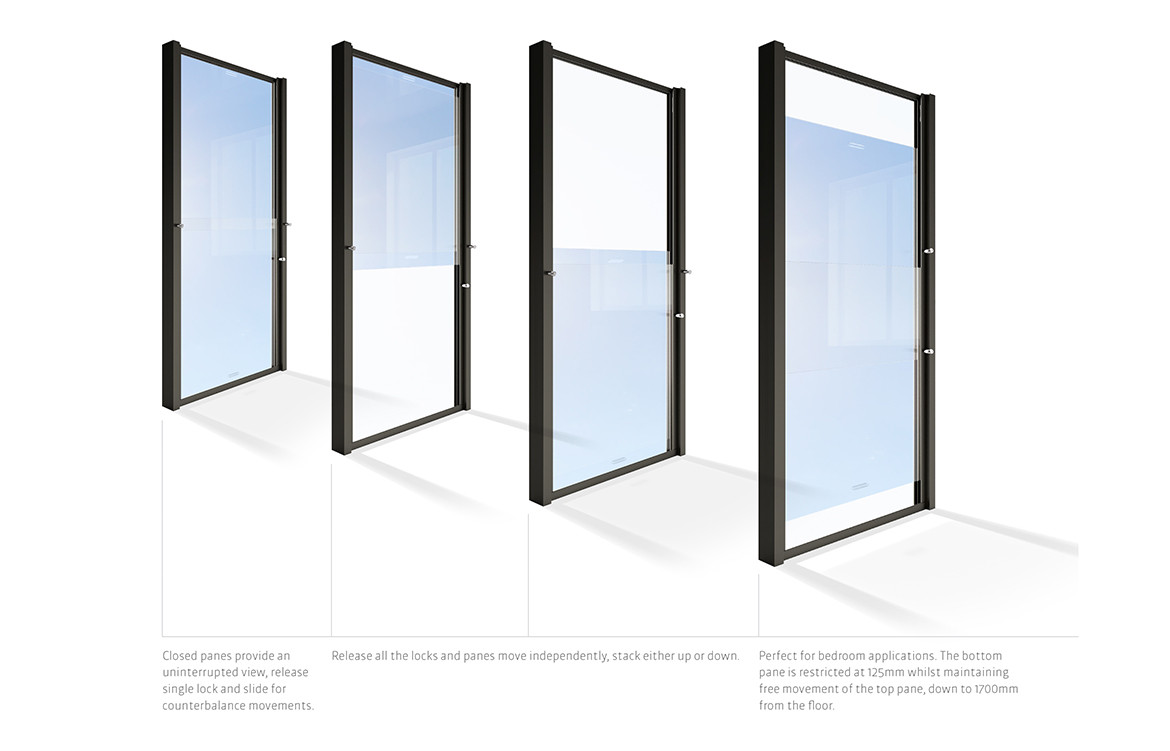 The Duomode product provides a unique solution for compliance with fall prevention legislation. In accordance with the Building Code of Australia (BCA), if a window is two metres or more above the ground, the window must be fitted with either a device to restrict the window opening or a suitable screen so a 125-millimetre diameter sphere cannot pass through. Traditionally, that's meant restricting the opening of the entire window, thus restricting the flow of fresh air into your home.
Duomode allows the bottom pane to be restricted at 125-millimetres, while still allowing operation of the top pane (sliding down no lower than 1700-millimetres from the floor). Which means children and pets are protected, while you still enjoy the benefits of natural ventilation and the practicality of being able to unlock the window for cleaning. It's the flexibility that puts safety front and centre whether in a residential or commercial setting.
Aneeta offer a wide range of solutions from 2, 3 and 4 pane vertical sliders (4 pane pictured below), through to horizontal sliders and more.
Aneeta
aneetawindows.com
Tags: Aneeta, Aneeta Sashless Windows, door & window systems, servery windows, Window
---