TANDEMBOX antaro combines proven technology with a minimalist design creating a more modern drawer system. The new globally inspired design offers a variety of design possibilities which compliment the changing facade of kitchen design. The drawers silk white finish and clear cut rectangular design highlights that sometimes less is more. The pull-out sides can be closed, using a metal or frosted glass design element that provides you with more options to suit your kitchen's overall design. Handle-less designs are even possible with SERVO-DRIVE the electrical opening support system.
Give yourself easy access. A key feature of practical kitchens is to equip base cabinets with drawers and pull-outs. They optimise the use of available space, are far more ergonomic and provide easy access to interiors. In addition, if interiors are well organised, you have clear visibility of all contents. Blum's TANDEMBOX antaro drawer system can be fully extended so all contents can be seen at a glance. You have easy access and no longer need to bend down and dig out things from the back of the cabinet.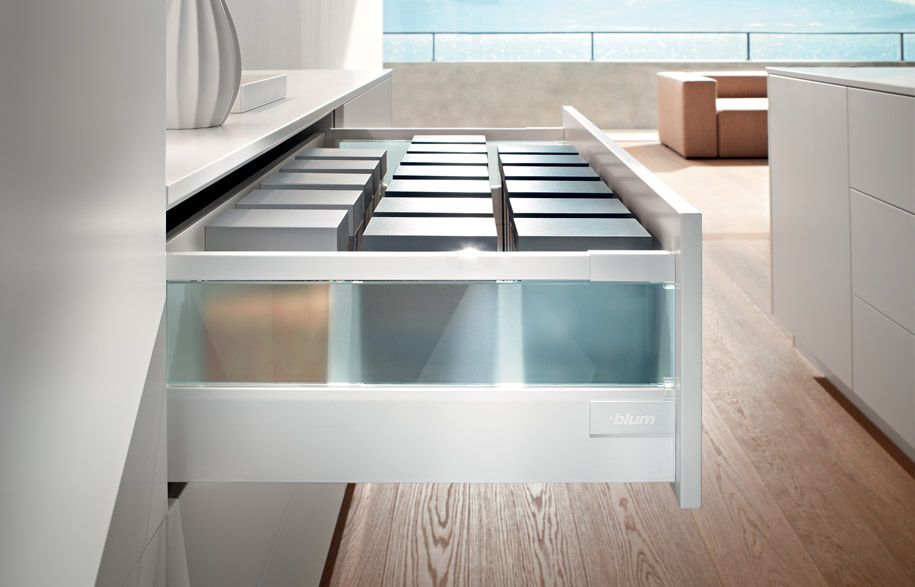 Make use of the space usually wasted such as the area under the sink or the back of the corner cabinet. TANDEMBOX antaro is suitable to be used in Blum's space optimising cabinet solutions including the SPACE CORNER, SPACE TOWER (pantry) and Sink Drawer.
TANDEMBOX antaro offers the kitchen user the highest comfort of motion, drawers and pullouts, even when at capacity glide open and close silently with integrated BLUMOTION soft close. In addition to this, gain exceptional opening comfort when combining the drawer system with SERVO-DRIVE, Blum's electronic opening support system for drawers. A light touch on the drawer front is all that is needed for TANDEMBOX antaro drawer or pull-outs to open smooth and effortless.
Quality of motion is the driving force behind the development and manufacturing process of Blum products. The result: function that fascinates users world wide and a guarantee of high quality of motion for the lifetime of the furniture. Blum's new drawer system offers a creative collision of aesthetics and motion. Whether you see the kitchen as a practical space or a place of indulgence, TANDEMBOX antaro will change the way you interact with your kitchen and home.
Blum
blum.com
---