As the desire to create inspired spaces grows in tandem with more time being spent at home, a renewed appreciation for colour is transforming the way we live. For 2021, colour forecasts are about creating environments to sink into, where comfort and contentment are delivered through deep, luxurious tones that ebb and flow between cool, textured tones to rich and moody palettes.
When it comes to design, colours are brought to life through their interplay with textures, where fabrics, metals and natural materials add depth and personality, taking browns and oranges to copper and brass or finding hints of cerulean in the way light reflects off a particular cut of timber.
As an authority on the world of colour, this year Dulux have released their annual Colour Trends, a forecast that leans into a year that is very much about recovering from the year before. Categorising the colours into trends of Retreat, Nourish and Reset – the trend report paints a picture of spa-like spaces, offering a roadmap for how we can redefine our relationship with our home, office and leisure spaces.
Nowhere is this more apparent than in the bathroom, where the traditional whites and neutrals are giving way to bold colour combinations, tranquil palettes, and natural tones. When paired with lustrous finishes from Caroma's bathroom range, bathrooms are becoming even more of a retreat experience, where colour, texture and materiality offer new and exciting ways to create a unique sanctuary.
A leading name in design-driven bathrooms for over 75 years, Caroma's deep understanding of luxury living plays out in their premium Vogue collection of bathroom products. Industry-leading technology and customisable options allow for personalisation and self-expression.
Chrome, black, brushed nickel, gunmetal and brushed brass – Caroma's Vogue collection weaves effortlessly with the colour palettes for 2021, with a colourway perfect for every design aesthetic.
Retreat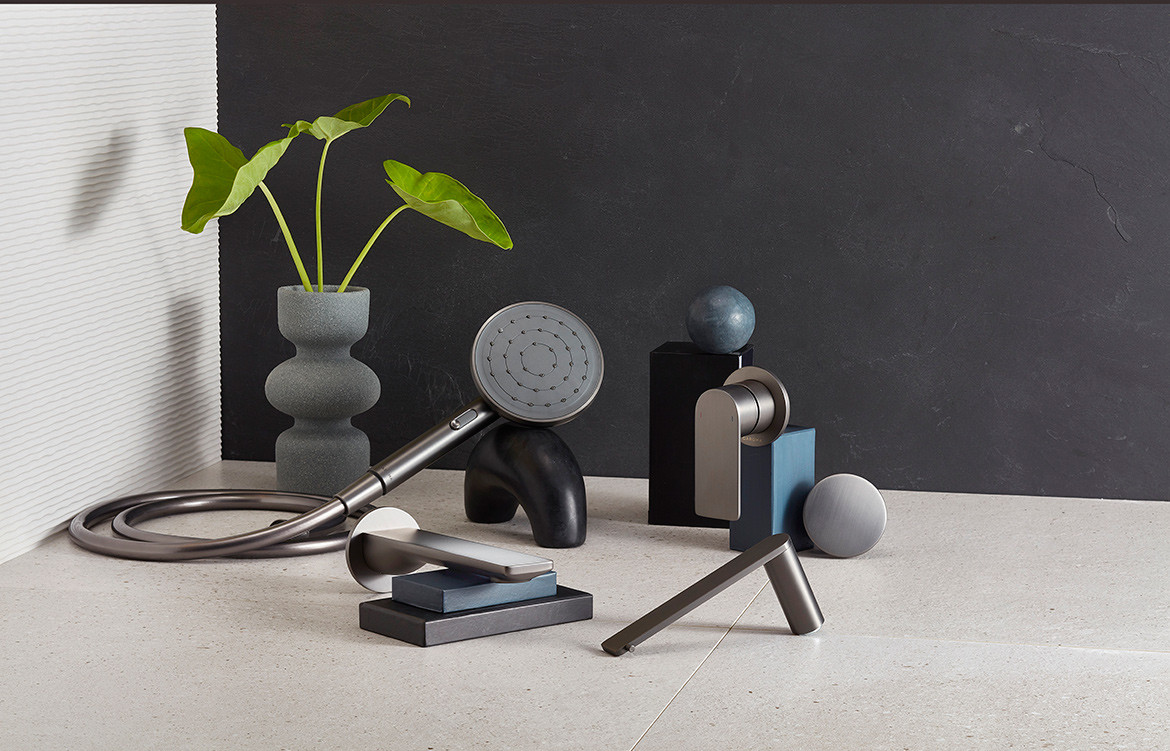 While many of us are desperately looking for ways to escape the house, the retreat palette encourages us to reconnect with those very spaces, tapping into the romance of nostalgia to have us recreate spaces that feel comfortable and safe. Think warm neutrals and rich blues, colours that you can layer on top of each other to create a welcoming environment.
When drawing these colours into the bathroom, deepen the palette and create texture with fixtures and finishes in matte black. Offering a touch of edge that will draw out the deep base notes of your home's colours, the black will transform your bathroom into a private world of your own.
For an earthier palette that utilises deep dusty reds, switch out the black for a brushed nickel finish, where the metallised finish will create a synchronicity between colour and texture to enrich the bathroom space.
Nourish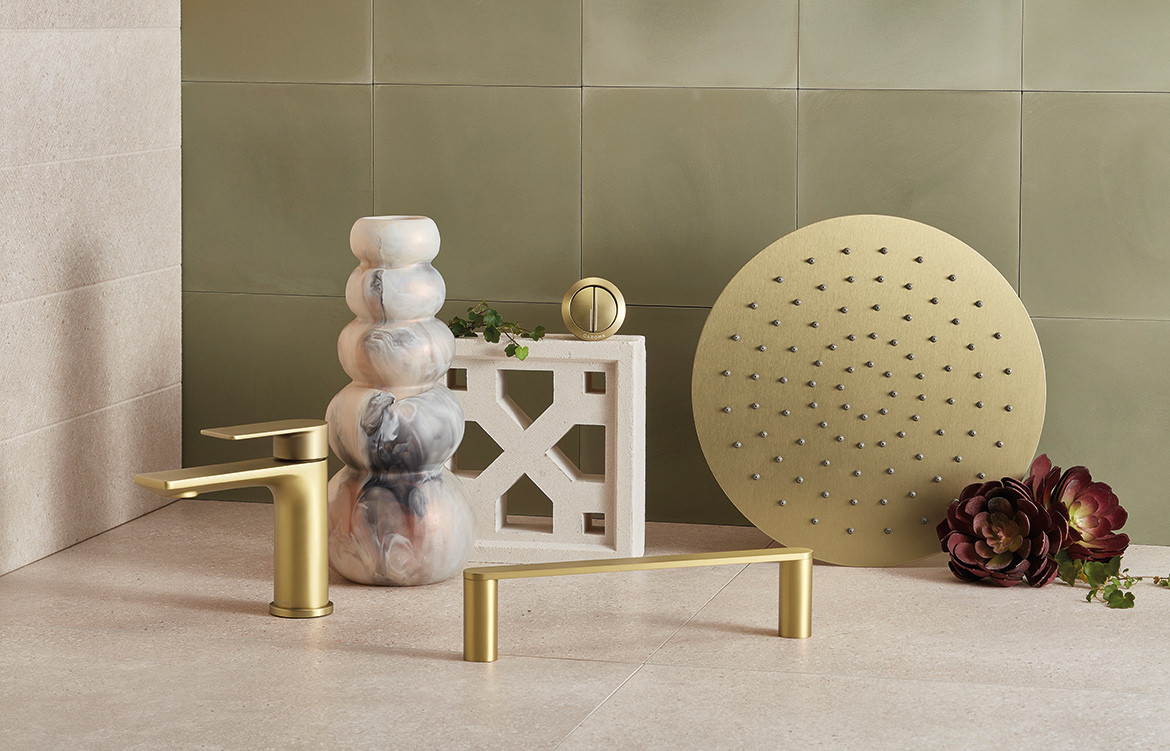 A nature-inspired bathroom of classic white and earthy tones is perfect for those who prefer a minimal look. Rediscover your connection to the outdoors and bring in simple, textural and nurturing hues to create a calming oasis. Experiment with mossy, sage greens, turmeric and citrus hues which can be elevated by selecting products that juxtapose the natural with the luxurious.
In Caroma's new Urbane II range, the brushed brass colourway promises to inject a sumptuous finish into the bathroom space. Creating a statement look that will draw the eye to the oversized showerhead or sleek curved tapware, the brass works perfectly with a more paired back design aesthetic, where the overally look is soft, nurturing and wholly relaxing.
Reset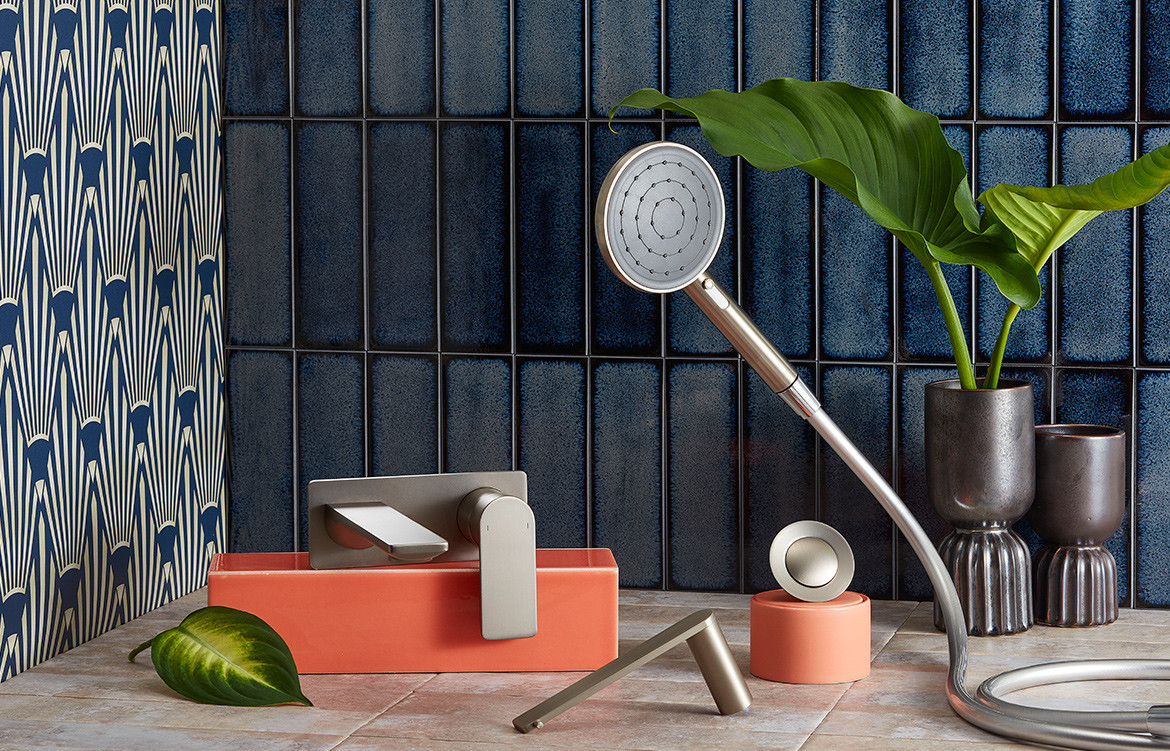 Dulux's Reset palette plays on stronger colours, allowing a more playful side to the bathroom retreat.  Inspired by tones of the 70s, this trend is all about creating energy and vibrancy through design, where bold statements and sweeping shapes give us an opportunity to embrace all that comes our way.
In spaces that embrace this aesthetic, there can be a tendency to overwork or overdo a space in a way that becomes visually chaotic and unappealing. When finishing off a bathroom, the Urbane II colour finish in chrome brings a traditional aspect to a more retro space. Allowing the statement colours or décor to sing, chrome finishes provide a sleek, classic touch, ensuring the space doesn't become overly kitsch.
If you're wanting an option that is a bit different, a gunmetal finish offers the timelessness of chrome with a darker, more satin finish. Perfect for drawing out darker tones in your bathroom space, the gunmetal creates a tactility that can soften a vibrant design.
When harmonised with white, vibrant pops of fun retro colour's Daintree and Hot Cillie give a bold, vibrant statement, while Light Ceramic and Treeless have a softer side. Mix it up with Caroma's Vogue collection – Urbane II or Liano II range – for a personalised bathroom experience.
Colour has a transformative power that allows for spaces within the home to feel, and the bathroom is no exception. Whether it be bold, striking colours or calming natural hues, bathrooms through colour, become a space to retreat, nourish and reset. Whatever your preference, the Caroma Vogue Collection  – Urbane II or Liano II range – offers a personalised bathroom experience, allowing you to create spaces that are completely and utterly your own.
Discover the full Caroma Vogue collection.
Tags: Caroma, Caroma Vogue
---