The kernel of inspiration behind Broad is apparent in the name, shares Melbourne-based industrial designer Kate Stokes, "Broad obviously comes from its huge diameter – 800mm wide – so it's very commanding". In spite of its large scale, the pendant light is softened by its streamlined form and delicate materiality.  
Broad is part of the new collection released by Nau, which features all Australian designers, including pieces by Tom Fereday, Adam Goodrum and Adam Cornish.
Kate says that the process for Broad started with sketches as a way to explore form before moving into 3D models. "I wanted to make sure there was longevity in terms of aesthetics, because even though it's nice to play and experiment, if it's not going to be around in 50 years' time then what's the point?" she muses. From this perspective, Broad is imbued with a charm that feels instantly recognisable – a certain nostalgia – while still being fresh. 
For Kate, it was about designing a pendant light that could grab attention, hung low and confidently over a dining table or island bench. Given its exaggerated span, it does more than make a statement, it "creates a sense of intimacy by illuminating across a wide surface area", she says.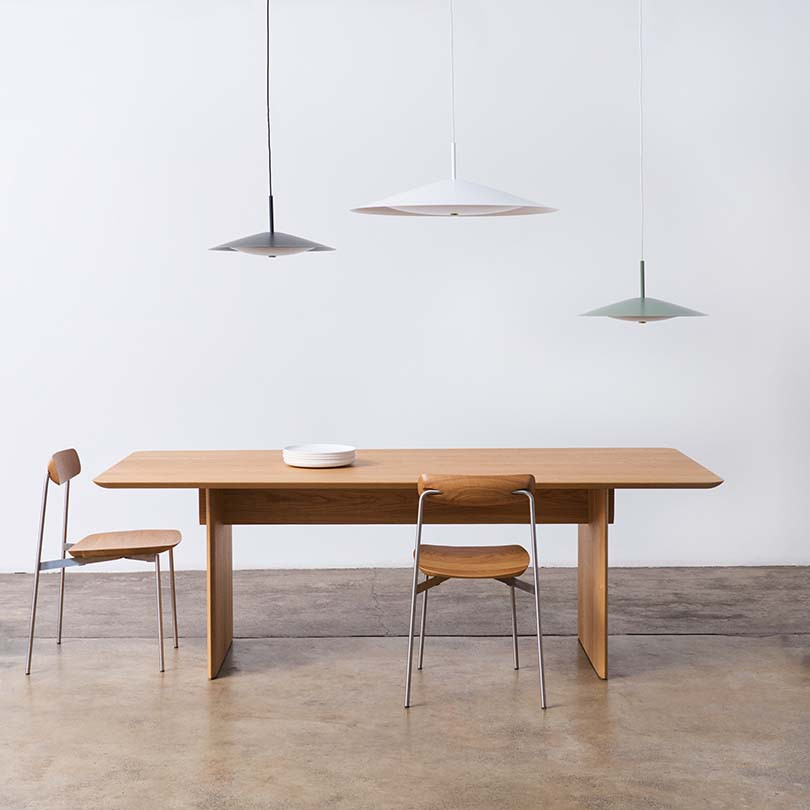 Broad is designed to sit low, casting a gentle wash of light across a table – the perfect accompaniment to friends, family and delicious food sitting around the dinner table. With this setting in mind, Broad includes an opaque acrylic base with brass button details, design considerations that ensure the right ambience is made without any bad angles.
A detail that Kate is really pleased with is the highly resolved stem – the elegant fitting above the shade that keeps the pendant sitting straight. "It helps to balance the light and keep it straight, which was quite a feat given how wide it is," she says. 
From beginning to end, Kate collaborated closely with the team at Nau, refining the product variations to take to market. Broad is available in both a large 800-millimetre and 500-millimetre size, and three colours including black, white or eucalypt.   
Broad brings a bold, modern form to life – all centred around ambience and atmosphere. 
Discover more about the new range at Nau. 
Nau
naudesign.com
Tags: cult, Cult Design, kate stokes, Lighting design, lighting designer, NAU, Pendant Light
---