In a world where the transient, the fleeting and the insubstantial occupy minds and screens, objects that express timeless authenticity provide an anchor point in our lives. They create space to rest, connect and nourish our relationships. Where colours, forms and textures echo the landscape in which we live, there arises a tangible sense of belonging to place that is deeply comforting.
In bringing to life designs that celebrate and embody the natural environment of Australia, King takes a stewardship approach to the source of its inspiration. Careful consideration is given not only to the way a piece will occupy space, but also to the footprint that lies behind it.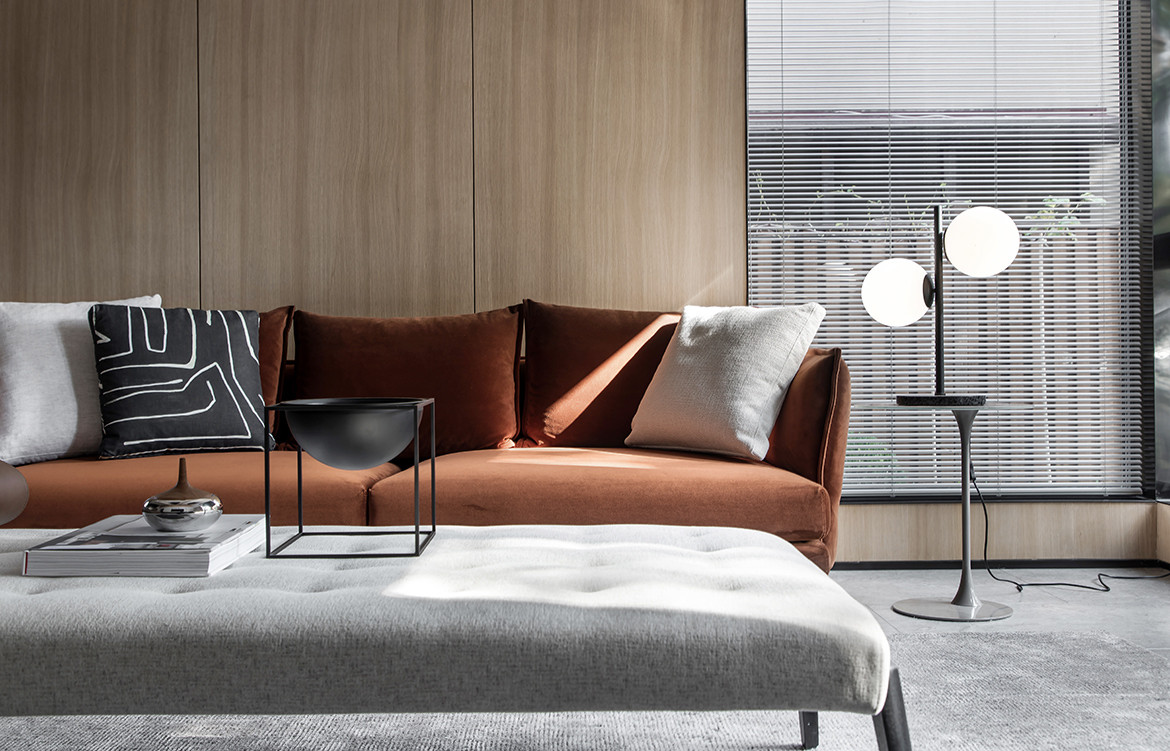 Sustainability has always been front of mind for King, with an approach that prioritises longevity and durability, and a minimised ecological impact. The work of the hands is elevated, the eye of the artisan is emphasised, and a custodianship ethos prevails in materials curation.
King takes a responsible approach to design, materiality and manufacture so its items can be cherished for a lifetime – and beyond.
"We always endeavour to specify materials that will last and that we know will perform for years, ageing gracefully," David Hardwick, King Global Head of Product, says.
"Further to that, we look for low environmental impact in production, minimal waste in manufacturing and the ability to be re-purposed or recycled at end of life."
When a customer falls in love with a King item it is a relationship for life, as the company commits to repairing and refurbishing its furniture even from generation to generation of owners, and if necessary, taking it back at end-of-life.
Design always considers the lifespans of each material or component, ensuring those parts likely to endure the hardest wear can be easily replaced.
The fundamental values of the business permeate every facet of the decision-making process. King has intimate knowledge of all the inputs involved in each item and pursues ongoing innovation in the areas of sourcing and ecologically benign production processes. An example is the banana silk used in the  Lonsdale range of hand-loomed rugs.
"Banana silk came from working with our artisan rug-makers," Hardwick explains. "Its lovely sheen, luxurious touch and the way the light plays off the fibres across different weaving styles made it immediately attractive."
Respect for the materials extends into tailoring the product development process, with the King designers working closely with the production team to ensure raw material is optimised wherever possible. King recognises waste has both an environmental cost and a financial cost.
"We take the position that a product is never finished. We insist on continual improvement of each item to optimise material use and improve performance with feedback loops from both customers and production teams," Hardwick says.
"We're also constantly analysing the waste streams in production, seeking opportunities to re-use or re-purpose where possible."
An illustration of this deep ecological consideration is a current project designing a range of tableware that will use offcuts from large porcelain sheets used in manufacturing the King Dining Table collection.
King uses feedback from customers to continually advance its understanding of how materials and components perform. This also feeds into the innovation mindset that is fundamental to its business. There is a research and development workshop connected to the Sydney design studio and an R&D team within the Shanghai manufacturing facility.
A rite of passage for young designers joining the company is working under the stewardship of senior designers and fabricators in the Sydney studio. This sharing of experience ensures the emerging generation of master craftspeople continue the proud lineage of artisan skills.
"The work of skilled artisans is crucial to the quality of the final piece, not just in refinement but informing the product development process," Hardwick says.
"Experimentation is always a key part of the development process. An artisan's innate understanding of materials allows us to push the boundaries and innovate but still stay true to the qualities and capabilities of the materials we work with."
King has always been ahead of its times in its sustainability ethos – and the wider society is now becoming attuned.
"There is definitely a developing sense of the impacts of consumerism and fast fashion on an environmental and also social level," Hardwick says. "I think businesses that are not just conscious of this but pro-actively demonstrate tangible initiatives to address this positively will have a better chance of success."
King often hears stories from customers about having their first King piece handed down from their parents.
"Creating furniture that lasts is at the foundation of the business and is carried through everything we do," Hardwick says. "The furniture is often seen as part of the family and has so much history imbued in the product."
Tags: Banana Silk, David Hardwick, King, materiality, sustainability
---