The conventional boundaries between indoors and out are disintegrating around us. In a first since the iconic furniture design brand's beginnings in 1927, Cassina has unveiled a collection of designer outdoor furniture at imm cologne 2020.
The inimitable and expansive collection offers complete furnishings for alfresco living and dining settings with designs from some of the most celebrated contemporaries in the industry: Rodolfo Dordoni, Philippe Starck, and Patricia Urquiola. Accompanying this fresh take on outdoor living are the fit-for-outdoor-purpose relaunches of modernist masterpieces from the likes of Charlotte Perriand and Le Corbusier.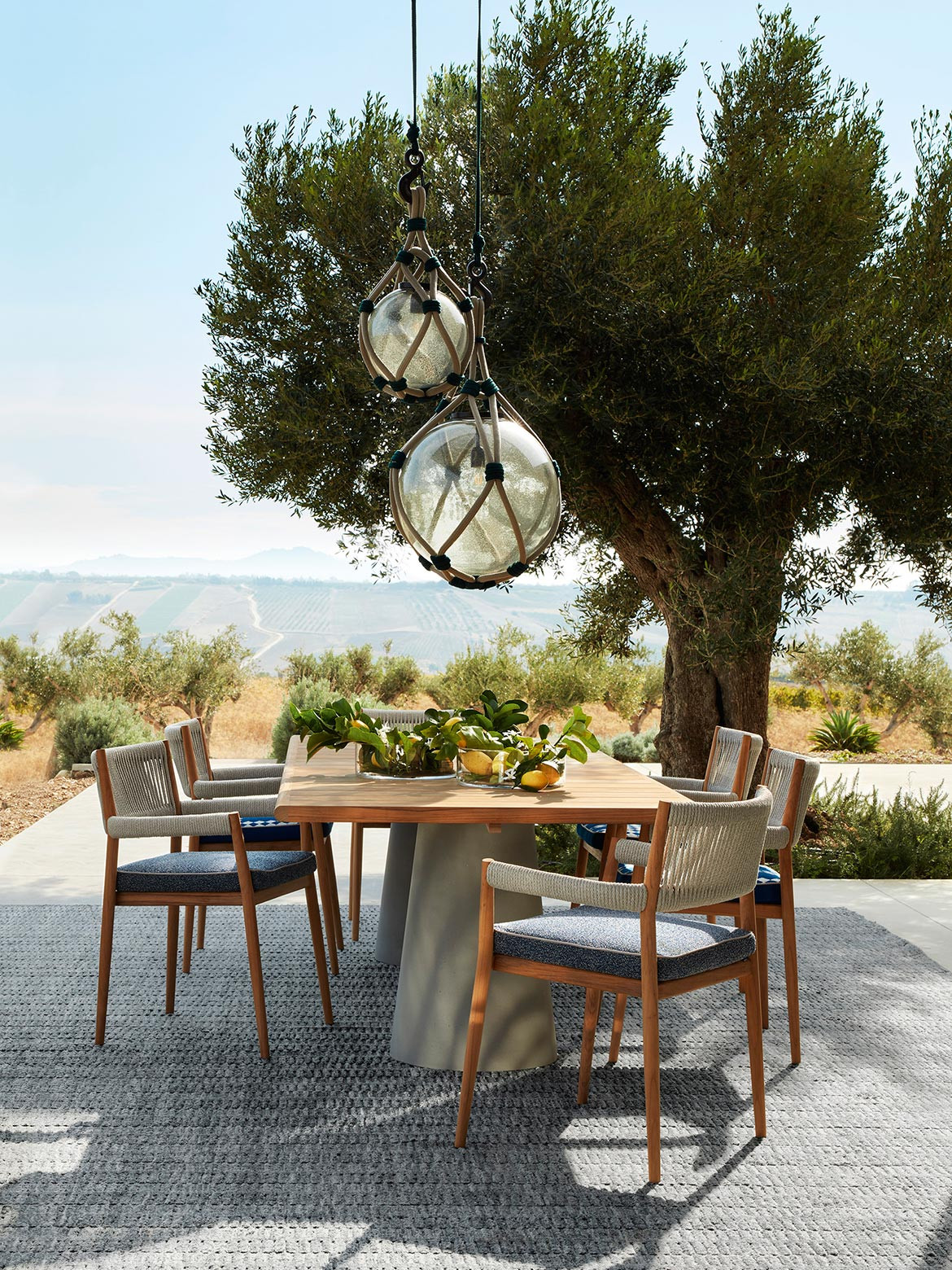 Dine Out alfresco dining furniture designed by Rodolfo Dordoni for Cassina
From Rodolfo Dordoni comes Sail Out, a modular sofa with such character, sophistication and quality that it would be equally as at home indoors as it is out. Sail Out is accompanied by a round, flamboyantly upholstered pouf, and a single low table, available in concrete, yellow and white terrazzo, or green and white terrazzo.
"Today, outdoor furniture doesn't only need to perform. It also requires aesthetics," Rodolfo acknowledges the diminishing gap between interior design and outdoor styling. Taking inspiration from the spirit of the holiday resorts of the fifties, Rodolfo's contributions bring sophistication and charisma to Cassina's debut outdoor furniture collection.
Bringing further joie de vivre to the range is Trampoline by Patricia Urquiola. Inspired by the little trampolines she frequently noticed outside the houses of locals during a trip to Greenland, Trampoline is designed to be "a friendly haven to enjoy the outdoors in great comfort," says Patricia. The love bed is available as a simple island or with a spectacular canopy to shelter from the sun.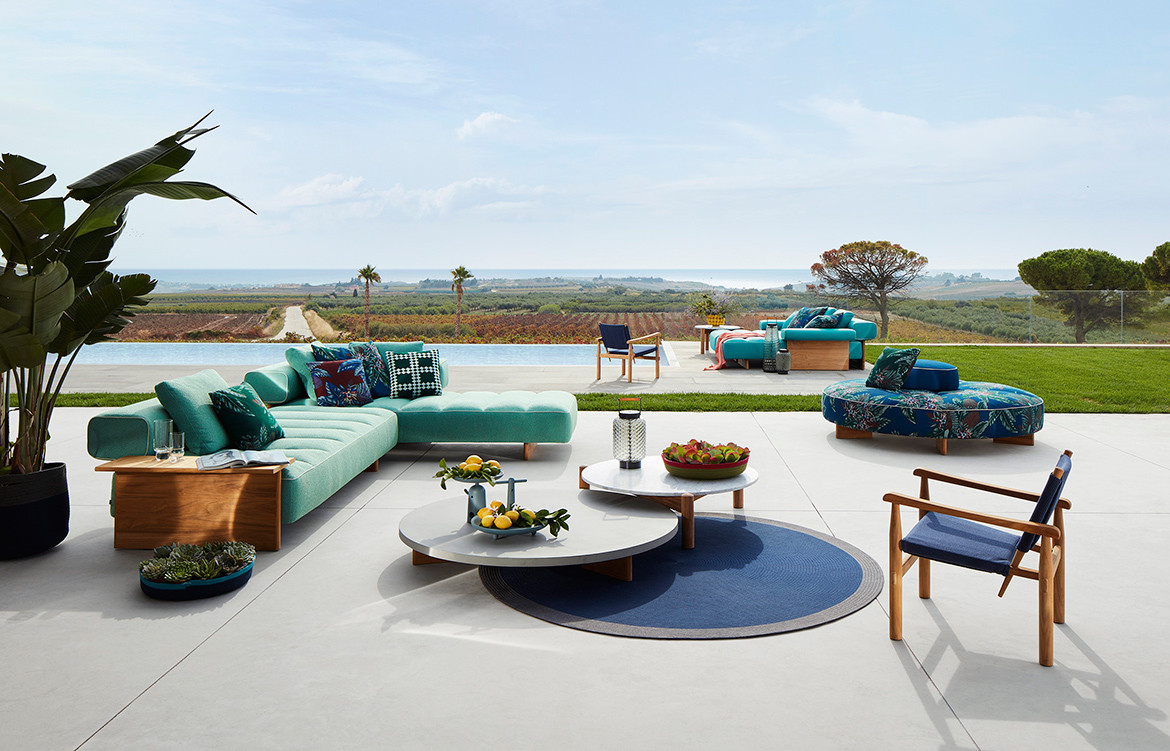 Sail Out sofa, low coffee table, and pouf designed by Rodolfo Dordoni for Cassina
With Fenc-e Nature, Philippe Starck offers a slightly more subdued yet equally as luxurious perspective on outdoor furniture design. Described by Philippe as a "lifestyle collection of laid-back elegance", Fenc-e Nature is characterised by organic forms and tactile elements intended to evoke a sense of osmosis with nature.
"It doesn't seem to come out of a factory, and brings humanity, charm, poetry, creativity and nature to your home," says Philippe. Fenc-e Nature is comprised of an armchair, a two and a three-seater sofa, and a coffee table available in two different heights.
From the archives of iconic modernist designs, the Cassina outdoor collection also includes pieces from Charlotte Perriand and Le Corbusier, redeveloped and reissued to suit life outdoors. The outdoor iteration of the Doron Hotel armchair, originally designed by Charlotte in 1947, has been forged in collaboration with the iconic designer's daughter, Pernette Parriand Barsac. Meanwhile, pieces from the LC Collection have been relaunched with a new range of fabrics and finishes to elevate any alfresco living or dining space.
Pieces from the Cassina outdoor collection are available in Australia exclusively through Space Furniture.
Space Furniture
spacefurniture.com.au
Cassina
cassina.com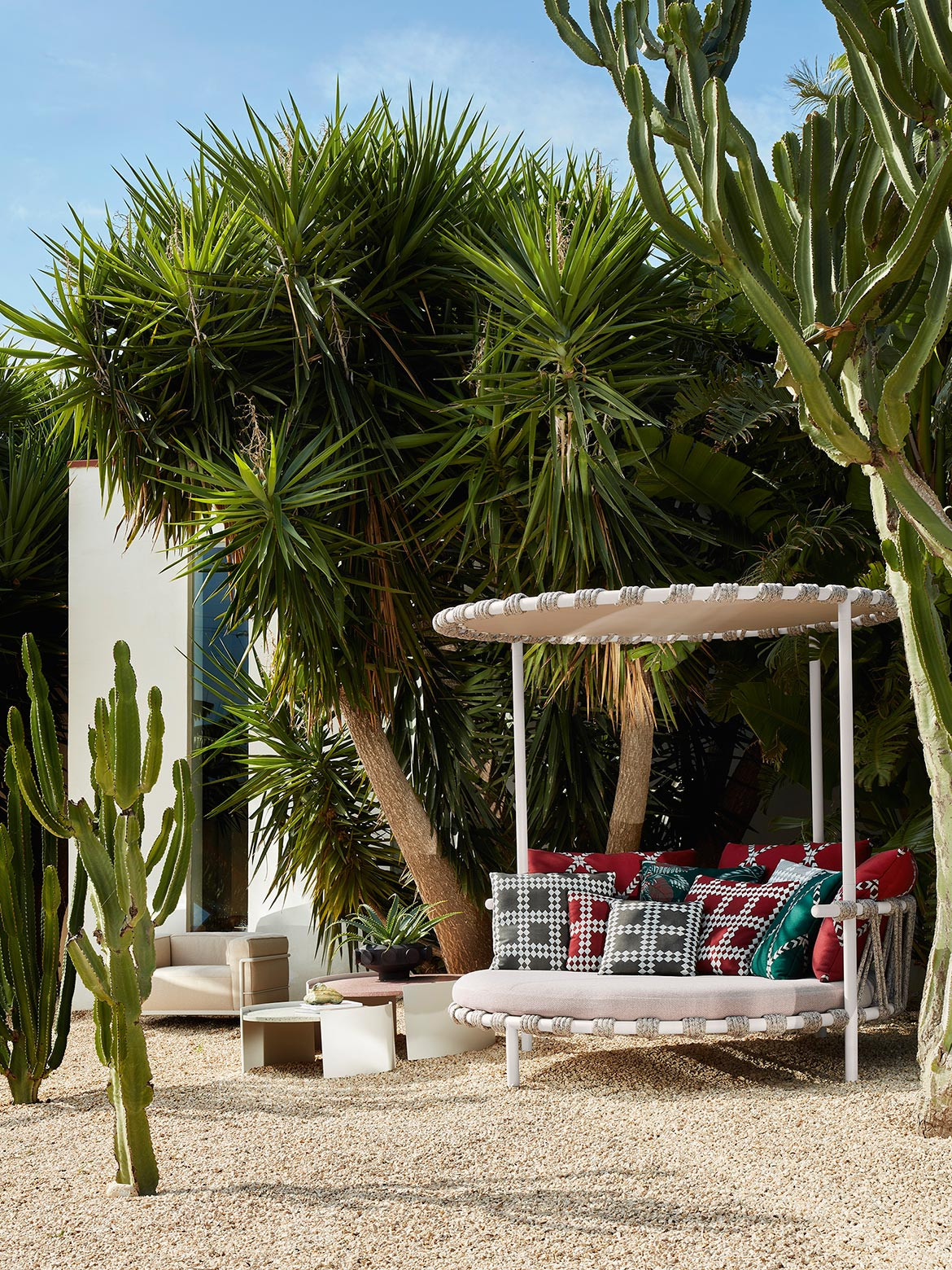 Trampoline 'love bed' designed by Patricia Urquiola for Cassina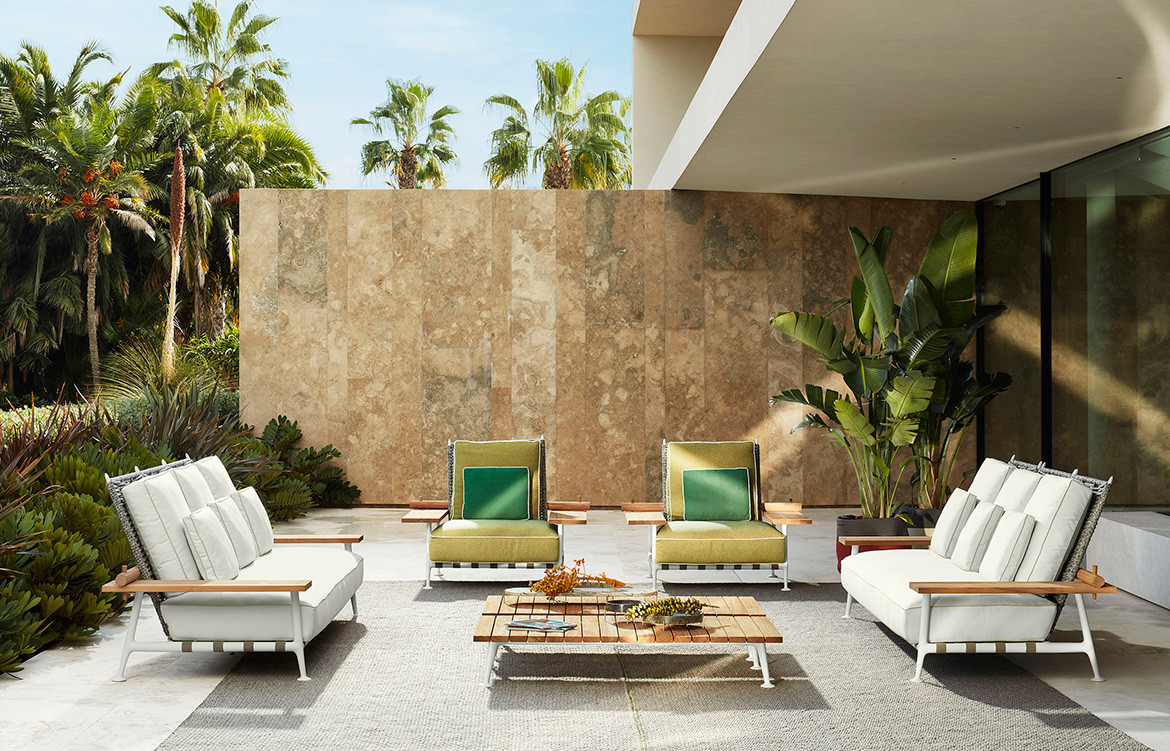 Fenc-e Nature outdoor furniture designed by Philippe Starck for Cassina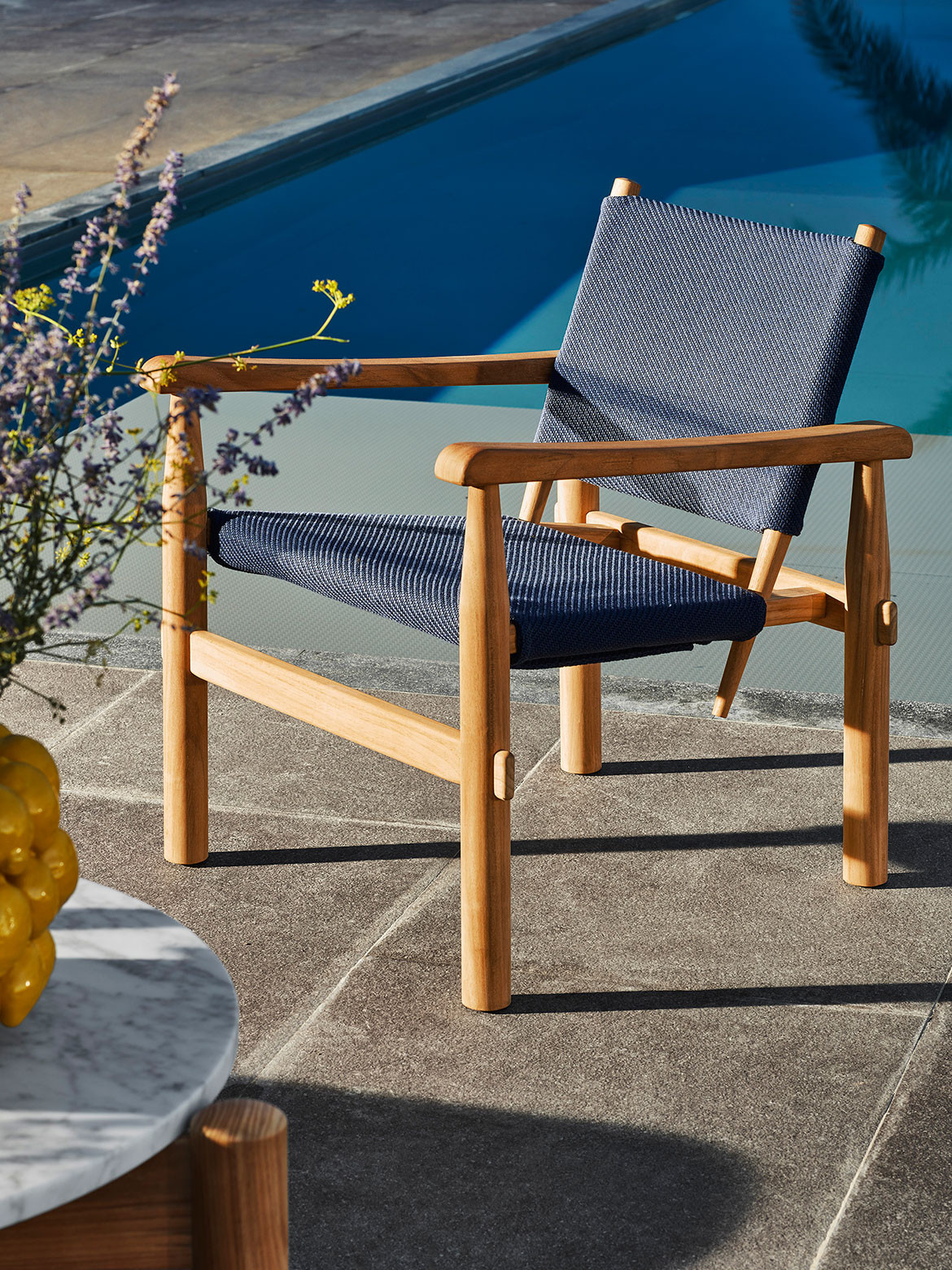 Doron Hotel armchair designed by Charlotte Perriand (1947) redeveloped for outdoor use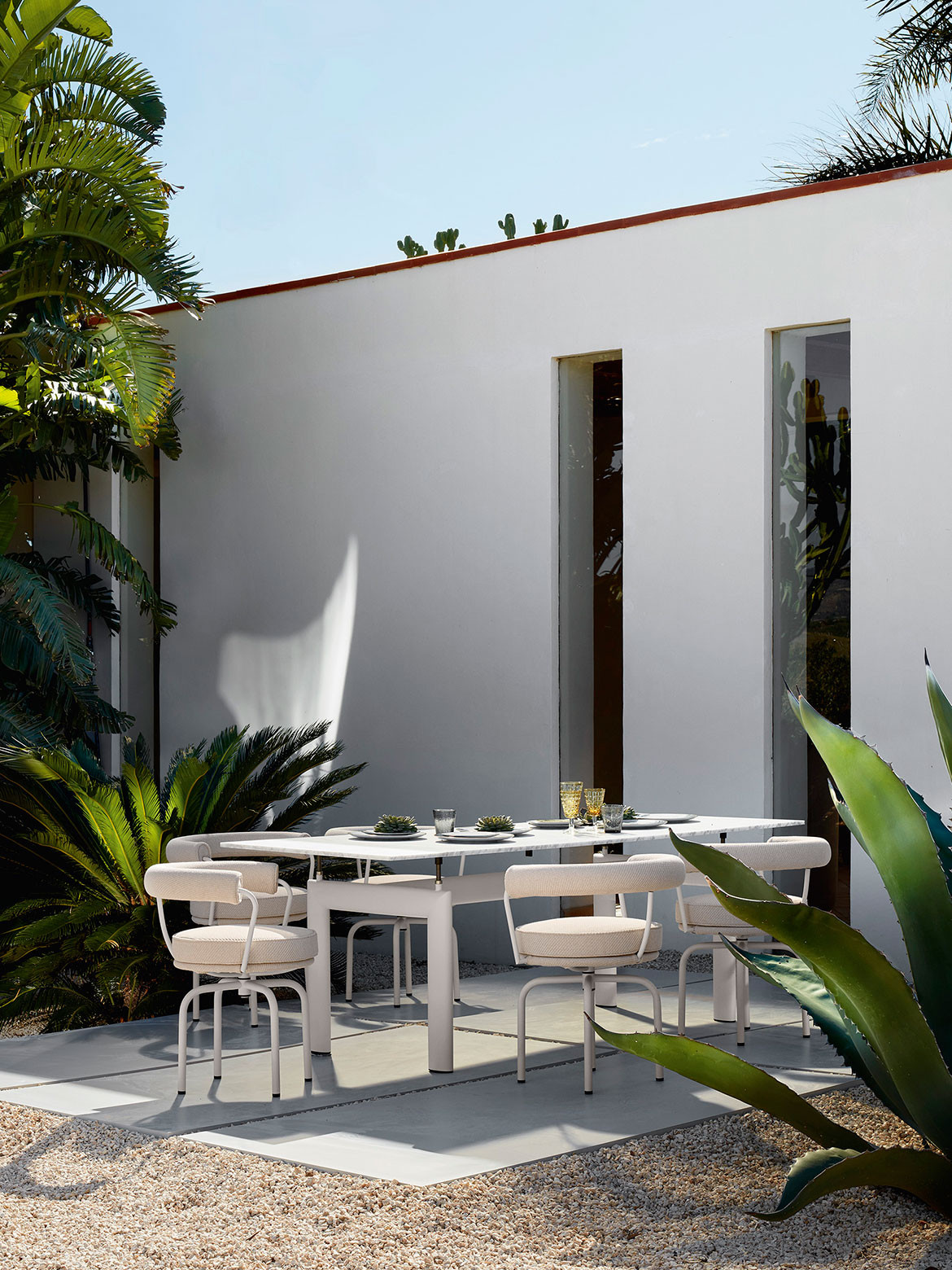 LC Collection dining table and chairs designed by Le Corbusier redeveloped for outdoor use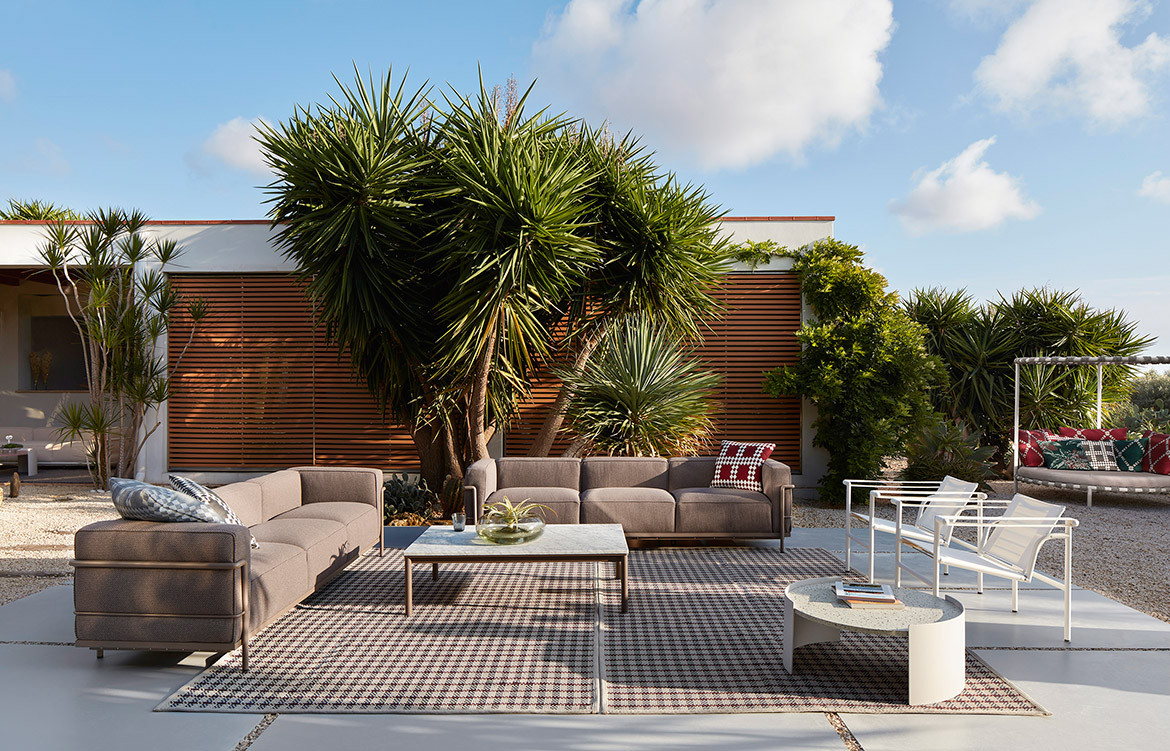 LC Collection furniture designed by Le Corbusier redeveloped for outdoor use
We think you might also like this outdoor furniture collaboration from Tait and Mokum
Tags: Cassina, Charlotte Perriand, Le Corbusier, modern icons, modernist design, Outdoor Design, outdoor dining, outdoor furniture, outdoor living, patricia urquiola, philippe starck, Rodolfo Dondoni, Space Furniture
---