Iconic designs leave a lasting impression on the design industry, often with their ability to both serve a purpose and be visually appealing. When Skorpio first launched in 2014, it launched a new concept for dining room tables with its dramatic geometric table base, functional features and world-class craftsmanship. Today, Andrea Lucatello's innovative design has become synonymous with the Cattelan Italia brand.
While the Skorpio table is an icon of the modern living room, you are free to choose every detail to create a piece that is truly your own. First available in a glass or wooden top, the Skorpio family has grown over the years, and now consists of eight variants, each available in a range of sizes, shapes, finishes and materials.
Skorpio, with glass top
A popular choice for interior designers and furniture lovers, the Skorpio table with an elegant glass top allows you to see the magical origami of its sculptural base. The contrast between the steel geometrical legs and the transparent, light top is a captivating presence in any space without being excessively audacious. This model can be rectangular, barrel shaped, squared or round.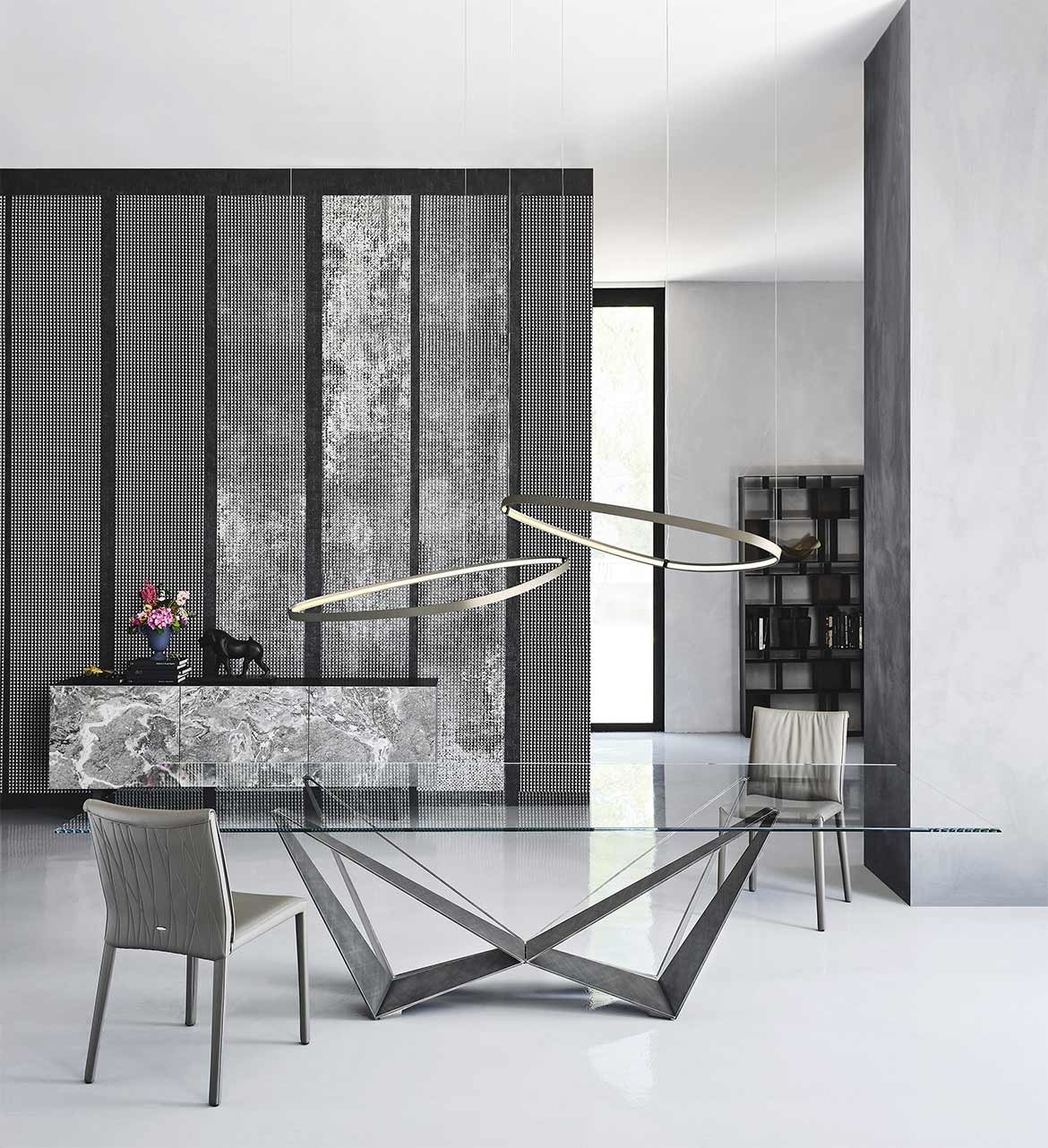 Skorpio Keramik
Born from a need for an innovative material that offered both high performance and great aesthetic impact, the Keramik Collection, with its Marmi ceramic tops, represents the best in manufacturing and decoration techniques. Adding to its natural marble effect, the collection ranges from the brightest and most delicate shades to the darkest and most intense ones. Cutting-edge technology grants the table top with stability and durability, ensuring a long-lasting premium appearance.
The first product to feature the ceramic top, the Skorpio Keramik table is Cattelan Italia's symbol for a new era. The offering has expanded to include the Skorpio Keramik Round with a three-leg spiral base; the Skorpio Ker-Wood Round with a fascinating half-wood, half-ceramic top; and Skorpio Keramik Premium, whose ceramic top is framed by a rounded wooden lower edge elevated by a brushed finish, handmade by expert manufacturers.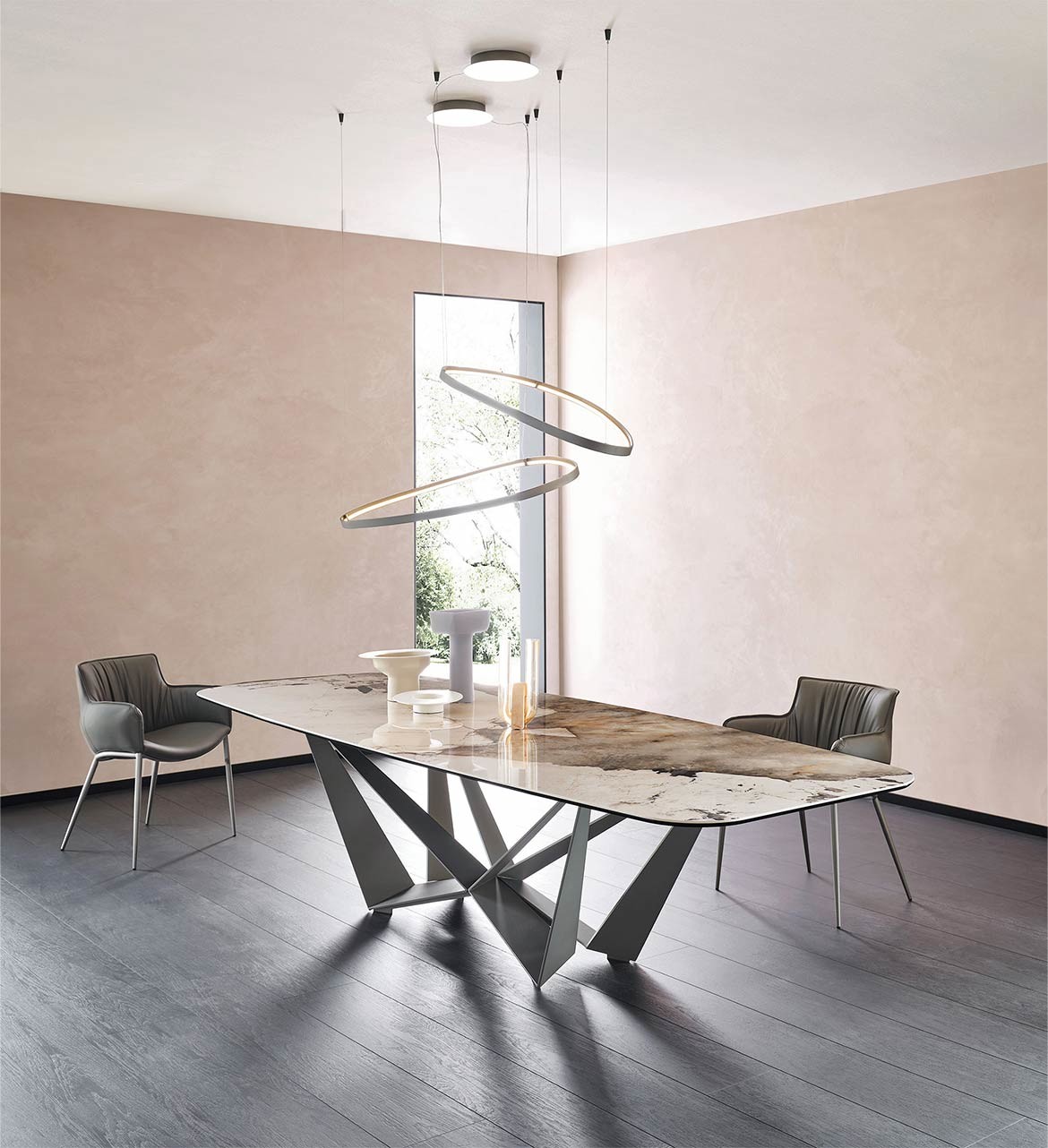 Skorpio Wood
A high-end furnishing brand with a long heritage, Cattelan Italia's roots lie in a deep respect for raw materials, especially wood. The Skorpio Wood model continues this tradition, comprising six edge variants and seven essences or finishes. The newest wood variant is the innovative Masterwood top, which is created with diagonally-positioned slats of differing sizes.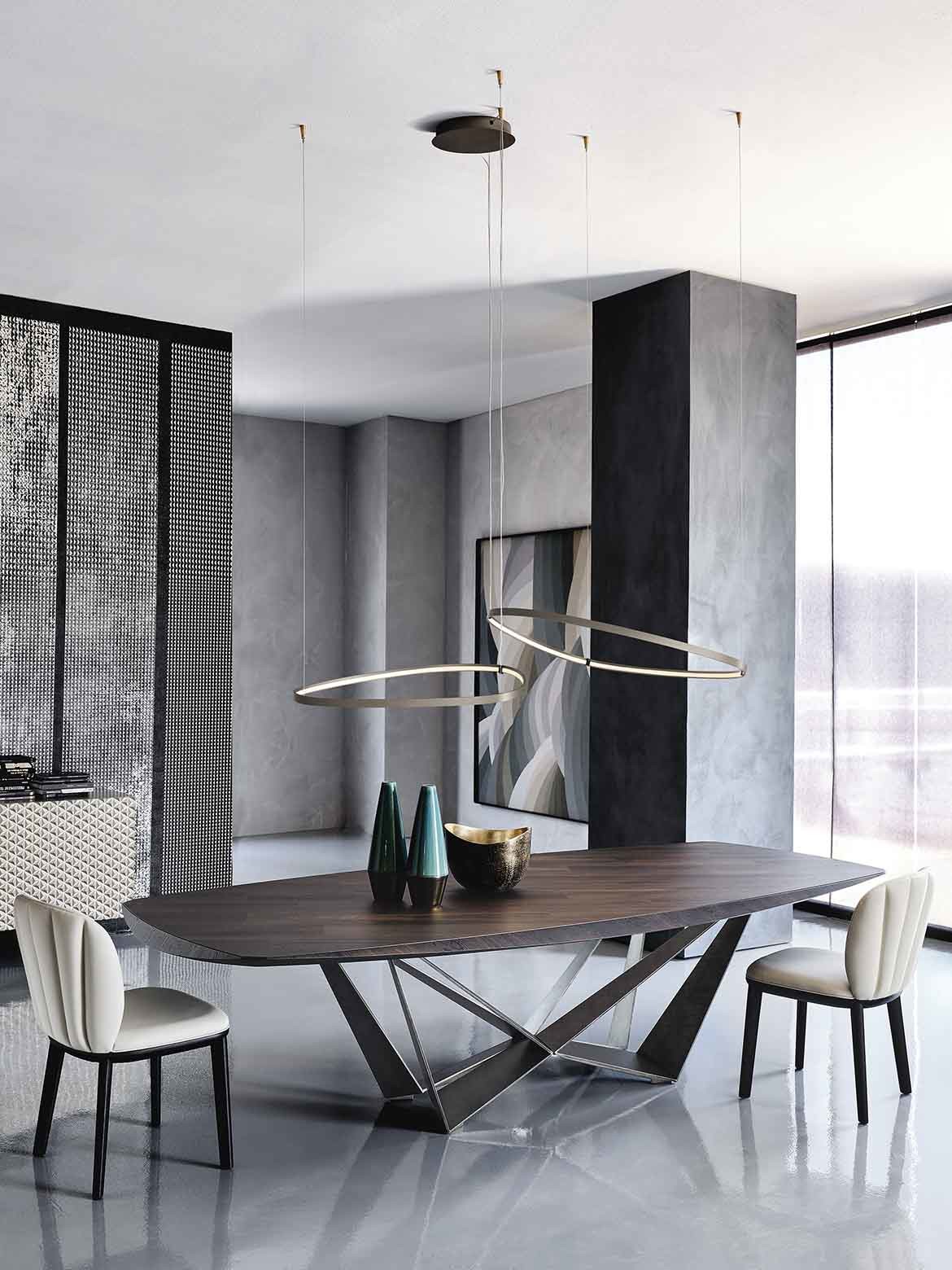 Skorpio CrystalArt
The CrystalArt finish gives a new life to the glass table top using an exclusive printing technique that enhances the natural brightness of the glass with a refined decorative effect. The innovative print transforms a simple transparent glass top into a work of art made of fascinating shades and moving nuances.
There are two variants of the Skorpio CrystalArt table, both inspired by the elemental forces found in nature. The first variant recalls the calming qualities of the seashore with its array of cooler tones, from optical white to dusty grey, passing through endless shades. The second variant showcases warmer and brighter tones, and horizontal shades that are evocative of a sunny land dotted by rocks that have been eroded by the forces of an impetuous wind.
To view Cattelan Italia's full collection, visit their website.
Cattelan Italia
---