Gucci flouts the rulebook once again, clashing heavy velvets, tassels, graphic insect prints and decorative porcelain in the release of their extravagant décor range. The homewares collection is drawn straight from the catwalk, incorporating an inventory of the brand's signature prints and motifs from current and previous seasons.
The inclusion of furnishings and home accessories into the gold gilded stores comes as part of Creative Director, Alessandro Michele's, efforts to expand the Gucci universe into your own. And following Alessandro's DIY design ethos, the collection offers a broad range of pieces that can be incorporated into the character of any home space.
With a heavy emphasis on vivid colour, contrasting materials and graphic prints, the collection exudes a sense of joy that will surely liven up any Nordic minimalist warehouse. Cushions come in a mix of shapes and thicknesses. Some with tassels, others with a bolder trim, and all with a contrasting decorated velvet front and jacquard back. Boldly decorated screen partitions fuse a lost, old-world glamour with energetic prints of pineapples, geometrics and octopuses. And, for the daring, unconventional wallpapers in silk, vinyl and paper dresses the home in Gucci's Postcard design (pre-fall 2017) and Floral pattern (fall-winter 2015-16).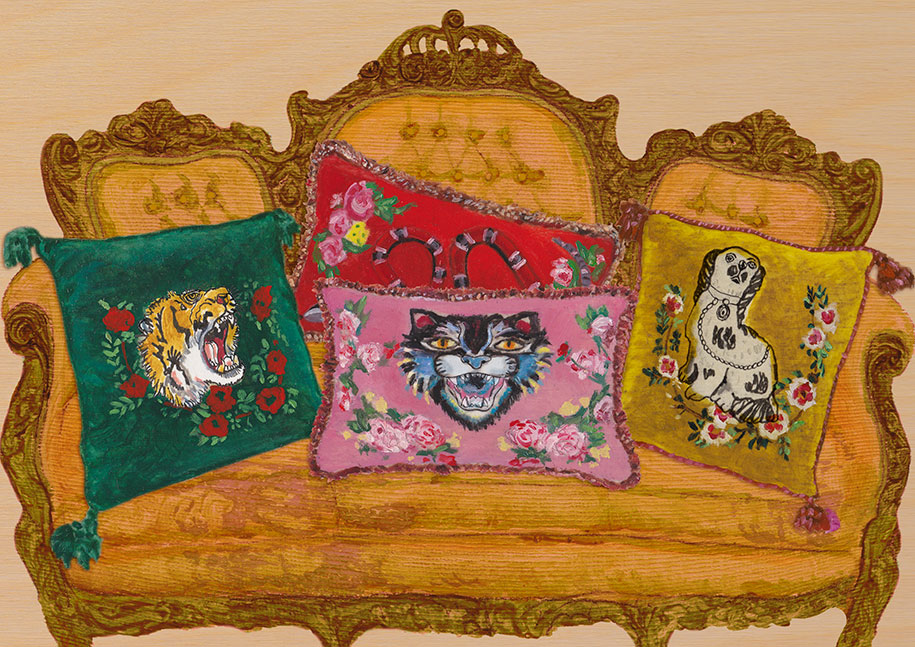 Chairs come in an upholstered vanity seat in floral and silver details. As well as high-backed colourful lacquered timber dining chairs, with padded seats adorning classic Gucci motifs such as the roaring tiger, bee and moth. Metalwork also makes an appearance in ornamental trays, decorated in snakes and chintzy florals, as well as folding side tables.
Historical Florentine crockery brand Richard Ginori was enlisted to produce a distinctive range of fine porcelain pieces to compliment the collection. Plates, lidded pots and incense and candleholders boast a green and white Herbarium decoration, geometric chevrons and a unique 'eye' design.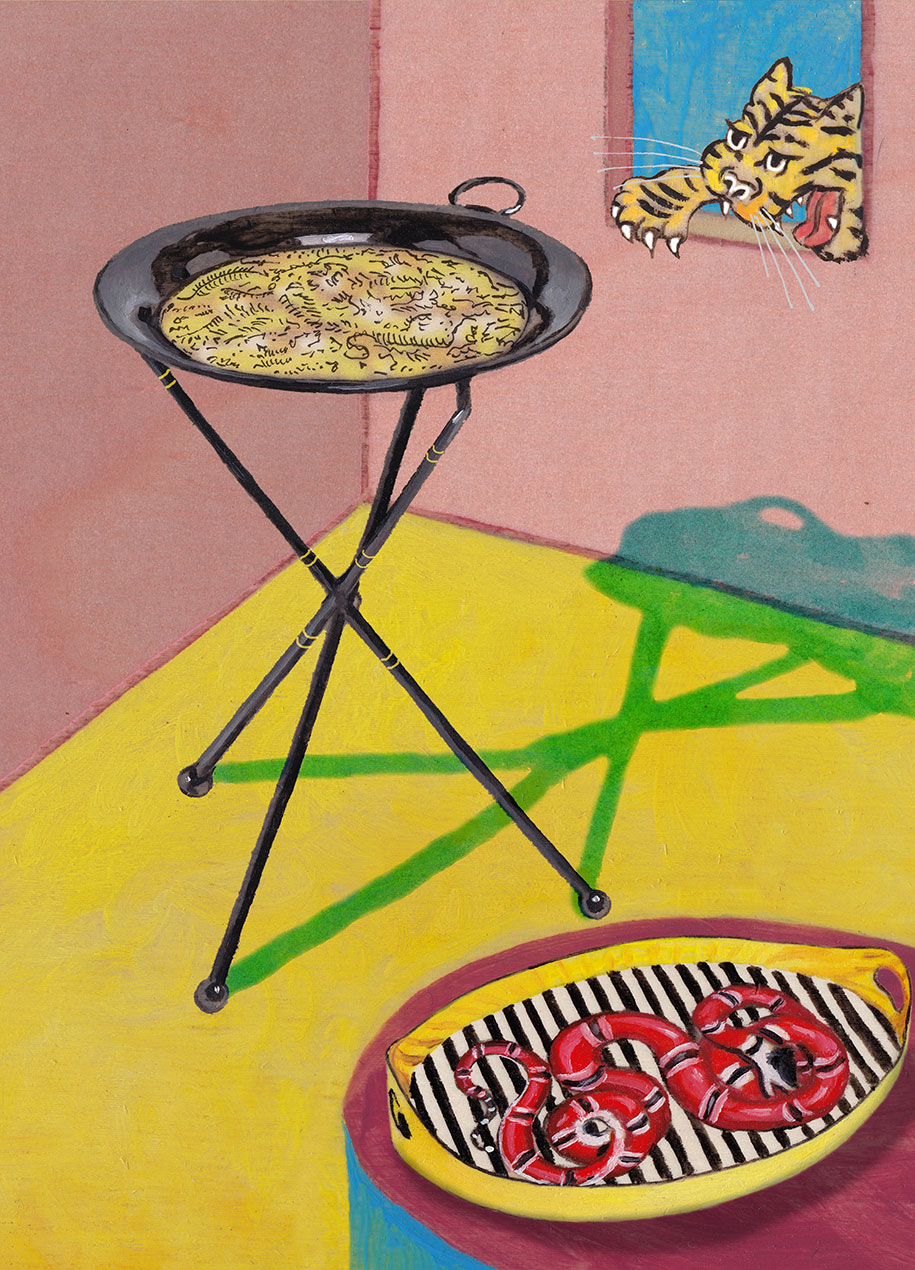 Four scents for both incense and candles have been imagined for the collection. Inventum, with ancient damask, rose and Taif rose; Fumus, with birch, orange leaves and beeswax; Herbosum, with tomato leaves, long grass, lemongrass and basil; and Esotericum, with Seville oranges, jasmine, leather and salt.
Gucci's décor collection will be released from September, offering the brand's ostentatious interpretation of contemporary romanticism into our homes and into our hearts.
Gucci
gucci.com/au
Words by Ella McDougall
Illustrations by Alex Merry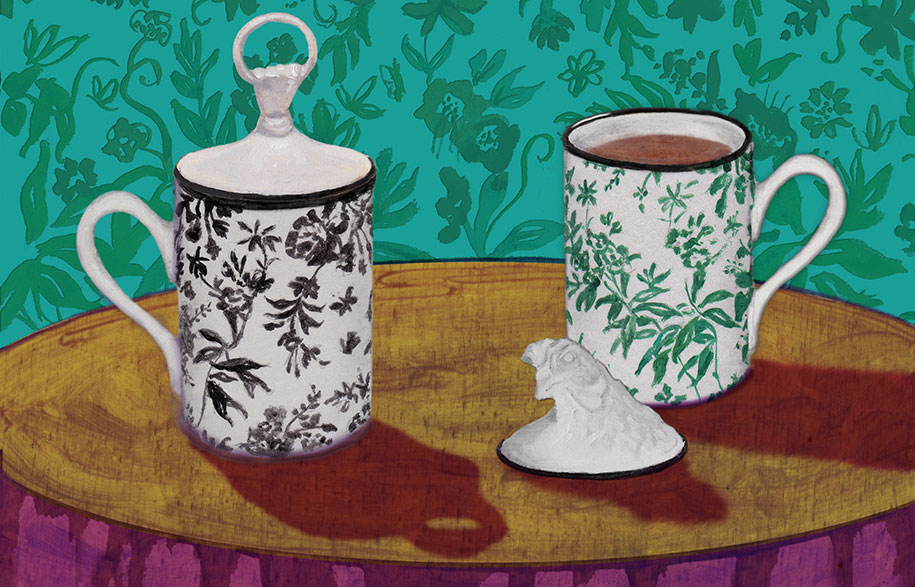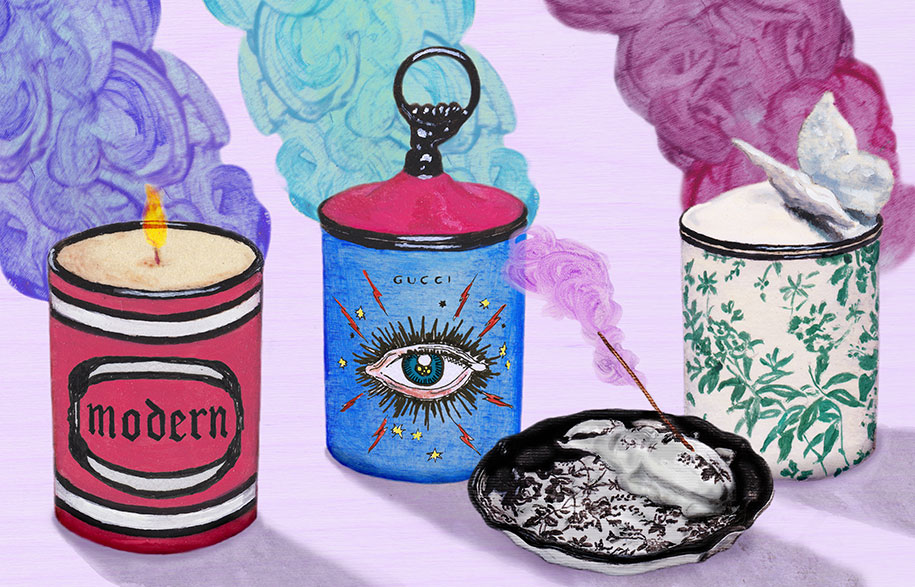 ---