Above: Milano by Greg Natale
High design and the hand-made is nothing new. Most of the output from the original Bauhaus in the 1920s saw furniture made by hand. However Designer Rugs is taking this concept to a new level, bringing some of the Australia's greatest designers to a craft dating back centuries.
Hand-knotting has been practiced in Tibet for hundreds if not thousands of years. The rugs themselves were traditionally made as a seating carpet (khadan) as well as for wall hangings and even horse saddles. The knotting method used in Tibetan rug making is different from that used in other rug making traditions worldwide.
Five years ago Designer Rugs embarked on a bold new program to invite some of Australia's greatest designers to arrive at a signature collection utilising this ancient craft.
Interior design superstar Greg Natale was one who came on board. His New Modern collection featured bold sophisticated patterns and striking graphics.
Another was Meryl Hare and her team (of Hare + Klein) who came up with a stunning series of designs based around texture and using a combination of hemp, wool and silk. Indeed, one of the benefits of hand-knotting is the ability to juxtapose different materials in interesting ways to create texture and sheen.
"Tibetan hand-knotting is a look that is impossible to achieve any other way and it's a look that designers and our customers really like," says Yosi Tal, Designer Rugs' Managing Director. "You look at a hand-knotted rug and you immediately know it has been touched by human hands."
Tal and Designer Rugs' senior designer Lia Pielli travelled to Nepal two months ago to view the Tibetan craftspeople at work and oversee the production of new hand knot ranges. "We were absolutely fascinated," says Tal. "It's such a long process, and it's important to work closely with the artisans and be attentive to the finer details."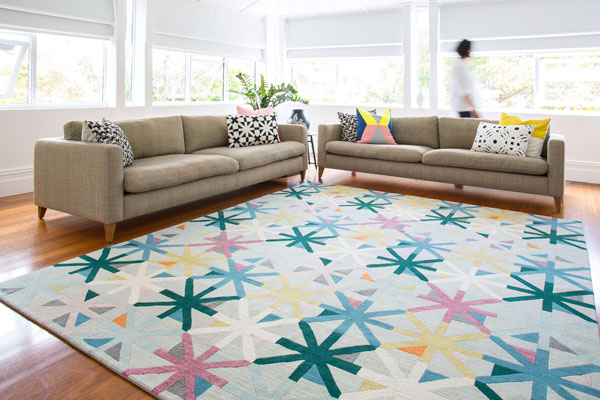 Criss Cross by Bernabeifreeman
Amongst the range were two new hand-knot designs – Crisscross and Checkered – created by industrial design duo Rina Bernabei and Kelly Freeman of Bernabeifreeman.
Crisscrossis characterised by a bold repeating triangular geometric design that takes inspiration from Spanish floor tiles. While Checkered is a modern digital tartan that combines old world tradition with a contemporary visual language.
"These two rugs are welcome additions to our ever expanding Tibetan hand-knotted collection," says Tal.
Designer Rugs
designerrugs.com.au

---