Compelling design echoes who we are and captures the spirit of where we are. In the Australian context, there has been a growing maturity in expressing the unique characteristics that define 'Australian design'. The evolution of this aesthetic has involved soul-searching on the part of creators. The kitsch of the 20th century with its emphasis on gum leaf motifs, kangaroos and koalas has been transcended as the essence of landscape and climate became the font of inspiration.
The quality of our light, the hues of stones and bushland and the elements that define the Australian lifestyle are foregrounded, offering a rich palette of colour and form to nourish an authentic localised identity. King Global Head of Product, David Hardwick, says that as designers become more comfortable and even confident with the expression of an Australian aesthetic, an increasing sense of confidence in what they do emerges.
"Our design team and collaborators are beginning to embrace , drawing on the multifaceted nature of Australia's cultural identities conceptually to create exciting opportunities for new ideas, forms and finishes." Hardwick says the 21st century scene is coming of age and the international community is beginning to take notice. "The rise of Australia as a lifestyle superpower is helping to move the spotlight beyond the icons and clichés that were previously the limit of an outsider's knowledge," Hardwick says.
While a melange of influences including the Indigenous and geological of this continent, and the influences from European and American cultures make it difficult to state a defined character or design culture – something unique is emerging. "What we have is a very distinctive environment, socially and physically, which designers are beginning to translate into an original expression through their work.  It's an exciting time be a part of the industry and to hopefully play a part in what could be a definitive period in Australian design culture." Hardwick observes that design of spaces and the objects we curate within those spaces are drawing from a similar source in capturing this localised identity.
"In architecture, light and space play a big part in defining form, and this has helped create a unique or common thread through iconic Australian houses and buildings.  With furniture, spatial and lifestyle factors more readily inform our design. "We like to think Australians know how to relax, which is why we place so much emphasis on comfort and the notion of personalised comfort."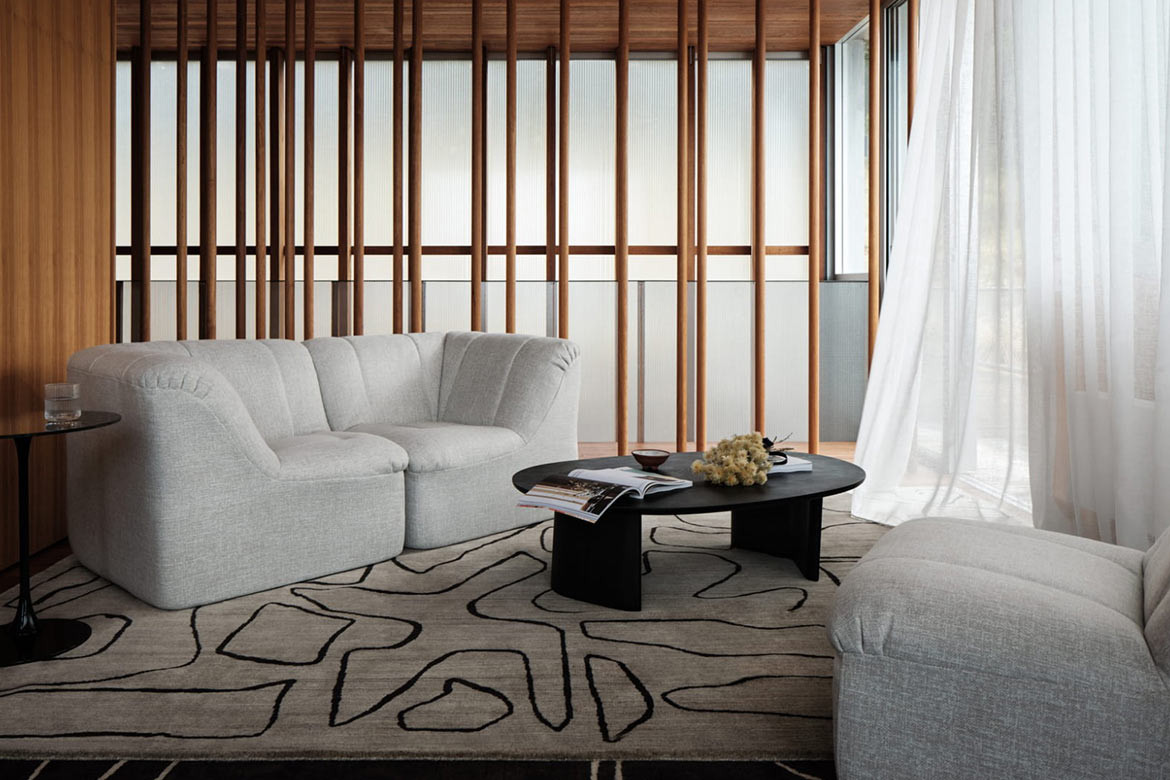 King manifests this in functional qualities, such as seamlessly integrating adjustable elements for anthropomorphic allowances, making a sofa as comfortable to lie on as it is to lounge in. "A sense of space is also a unique feature of our landscape. This is reflected in the scale of our furniture, which interestingly resonates strongly in international markets where living space is more compact. "Love of the outdoors and landscape also informs our approach, drawing inspiration from the colours and textures of the diverse natural environment." Cues from this rich living tapestry find their expression in the development of the Collection and textile range. It also translates into innovative, tactile geometries, "As technology improves and new production techniques develop, this allows us to push more fluid and organic forms inspired by our natural environment," Hardwick explains.
"The Issho Dining Table is another stunning example of combining this organic expression through a series of repeatable elements." King deliberately blurs the line between indoor and outdoor furniture, embracing our love of spaces that are permeable to the external environment and the elements. This connection to an unmediated experience of local climate is also a dynamic influence for King. "We often reflect the colour of the seasons with our images and fabric selections in our Showrooms. This approach seems to resonate subconsciously with our audience, creating warm sanctuaries or light and airy settings as the seasons change." The quality of Australian light is also carefully considered. "Natural light is so important when photographing our collections," Hardwick says. "When selecting homes and locations, this is the primary consideration as it provides a distinct character and brings the landscape and product to life."
Maintaining a conversation with customers over decades has also given the King team insights into the Australian lifestyle that continue to enhance its designs. They observe how the furniture is used, how it meets customer wishes and needs, and how it melds with both place and the narratives of people's lives. "Designing as a response to the Australian lifestyle defines the aesthetic, function and enduring performance of our collections." Hardwick says perhaps this resonates intuitively with those who own and interact with King pieces. "We know that often our sofas become a part of the home and are often handed down to future generations. It is perhaps this enduring quality in aesthetic and performance that develops this sense of emotional attachment."
Tags: Australia Design, King, King Furniture
---