"I have my little studio and house up in Blackheath in the Blue Mountains and all this week the bush fires have been raging near by.
So close to destruction and so lucky to be spared. Others are not so lucky. The native wildlife has had a particularly hard time of it so I decided I would create a series of tea towels to raise money for the local organisations that are there helping the animals out. The Foundation for National Parks and Wildlife is a charity set up to distribute funds to just where they are needed most.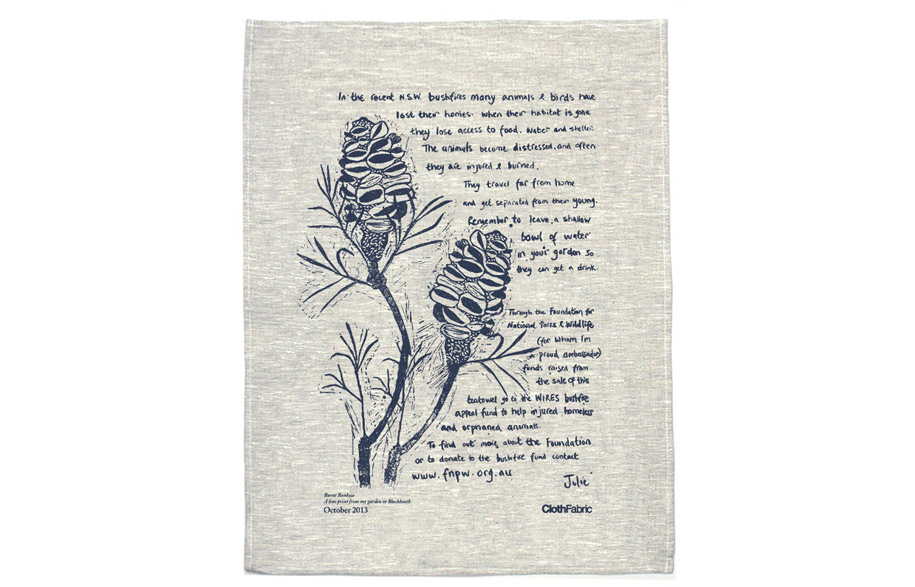 And I am an ambassador to this fabulous organisation so it makes sense that the money raised will go to them.
This is the second design in the Bushfire tea towel series. I've chosen to draw an echidna because these animals are slow and vulnerable. They can't run fast. All they can do is curl up into a ball so there may well be injured ones around. The words on the tea towel tell you what to do if you come across and echidna needing your help."
-Julie Paterson
director of ideas & design, ClothFabic
clothfabric.com/products-page/haberdashery/echidna-tea-towel/
---