Fashion Designer Georgia McCorkill wants to change the world one dress at a time.
Using plant dyes, up-cycling and decorative hand stitching, Georgia McCorkill is taking the notions of re-use and recycle into her own hands. She is just one of three designers who have their work on display at Object Gallery in Sydney show called Evergreen.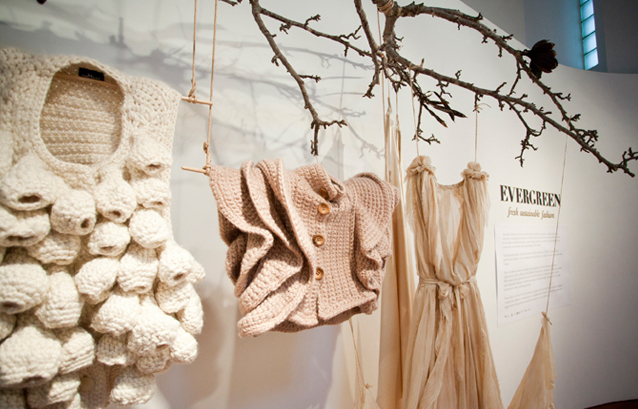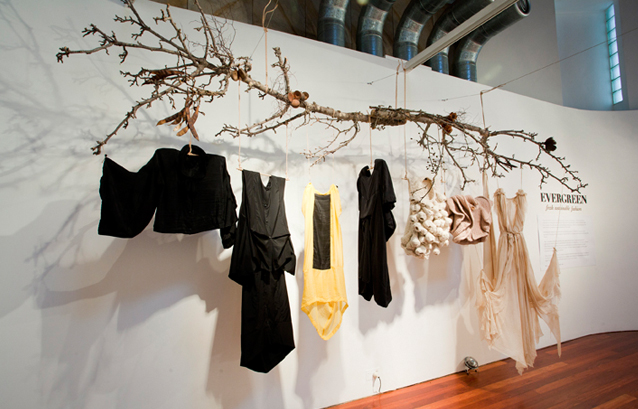 Evergreen exhibition
Evergreen launched at Object Gallery in Sydney (27 January-25 March) is an attempt to draw our attention to clothes that are made with sustainable fibres and in an ethical manner. Georgia McCorkill has three pieces on display
Since commencing her Phd at RMIT University two years ago, she has been using the world of fashion and celebrity to promote sustainable special occasion wear. Using her own creative blogging platform (The Red Carpet Project) she taking her environmental messages to a more mainstream audience.
"The Red Carpet Project is part of PhD at RMIT University in the school of Architecture and Design," explains Georgia, "You know everyone loves a pretty dress, so I'm wondering about the captivating qualities of special occasion ware and am looking at how I can use that spectacle to promote messages around sustainability" she says.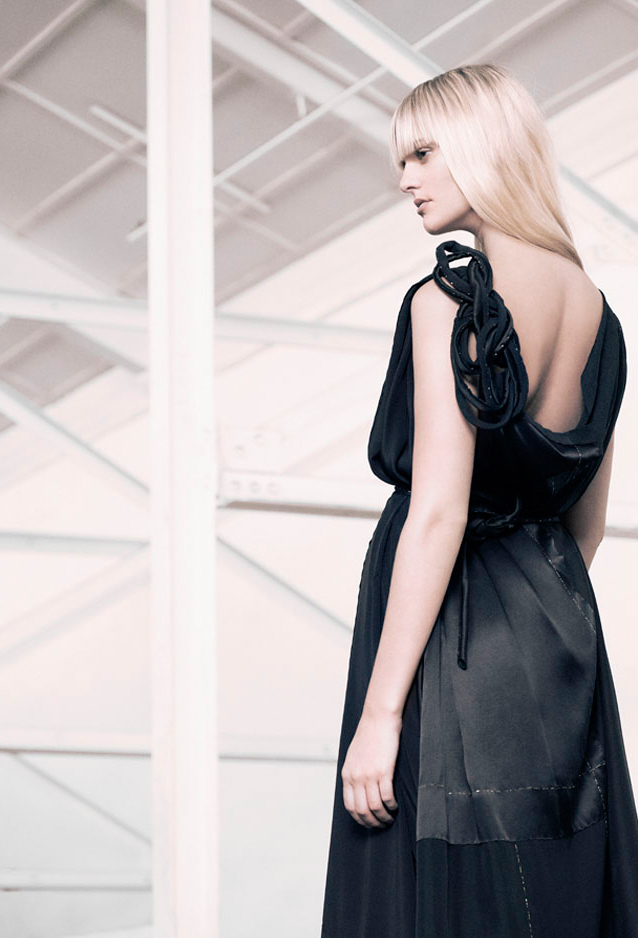 Photograph by Peter Ryle from Spirit of the Black Dress exhibition, 2011
Gown by Georgia McCorkill
When Georgia found herself reflecting on the vain, vapid and downright banal dialogue occurring on most red carpets around the world, she saw an opportunity to inject some more earth-speak into the limelight.
"Last year I did a project for the Logies and I dressed Zoe Tuckwell-Smith who is an actress on Winners and Losers on Channel 7. I made a gown for her," says Georgia.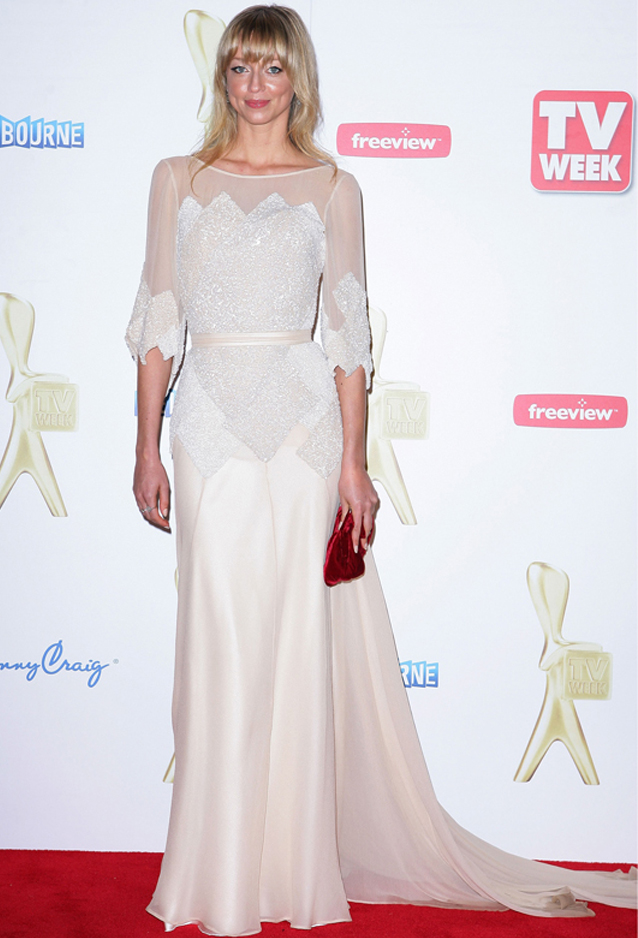 Up-cycled Logies gown by Georgia McCorkill
"So if I am making a dress for someone, the only criteria, is that they are interested in the ideals of the project," she says. One of the key challenges for Georgia is finding celebrities who are sympathetic to her environmental ideals and will take a risk on the gowns.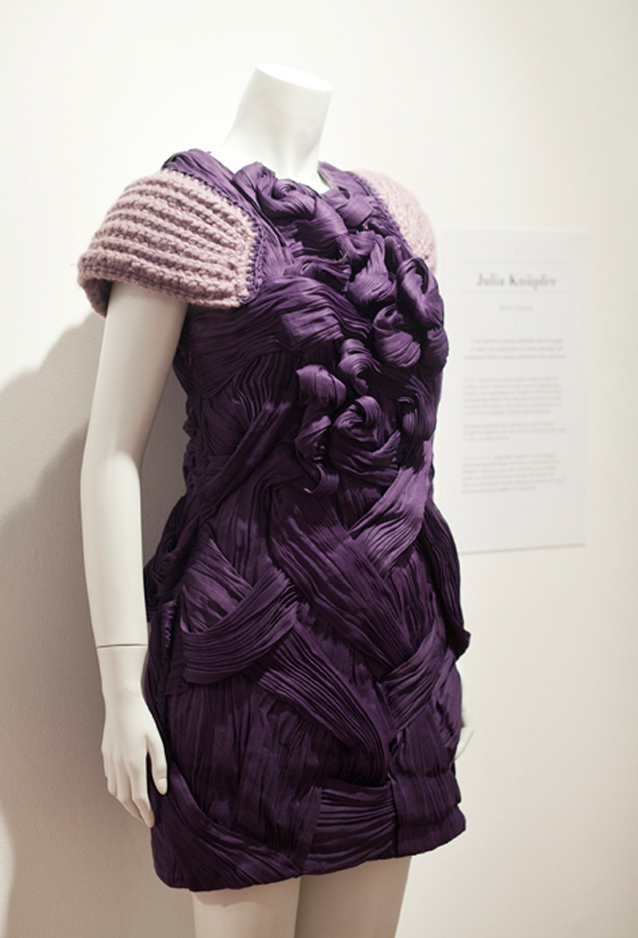 Dress by Julia Knüpfer 
"If you imagine a red carpet scenario – people are talking about their clothes, the designer, obviously promoting the designer or the jeweler who made what they are wearing. But it is sort of this very banal conversation that happens and it is important for fashion, but it's never the less a very mundane conversation," she says.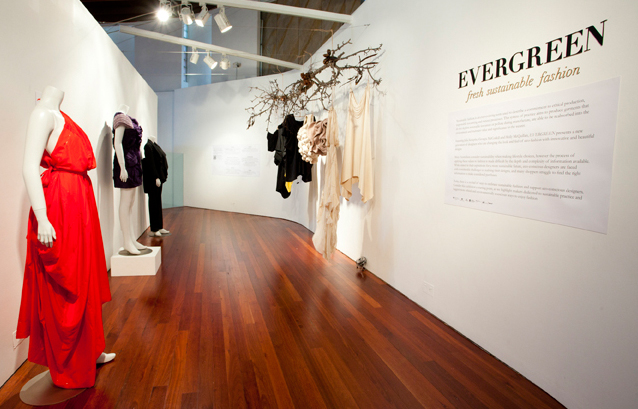 Three key methodologies inform Georgia's work. First is the up-cycling of fabric remnants, that she gets from other designers cutting room floor. The second is the use of plant dyes to stain and treat the fabrics, and the third is the reuse and re-imagining of dresses or gowns after they have been worn.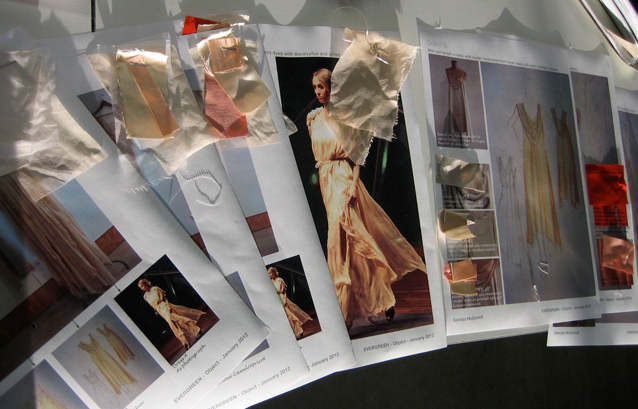 Three pieces of Georgia's work is currently on display at Evergreen gallery – where an exhibition of sutainable fashion includes work from Julia Knüpfer and Holly McQuillan.
To find out more about the exhibition click here.
---