Art and design are powerful signifiers of emotion. More than something nice to look at, when just right combination of colours, textures and forms coalesce, the result is something more akin to an
experience. It can be all encompassing.
Yasmine Ghoniem, principal of YSG, is motivated to create from this place and the output speaks for itself with interiors that set alight all the senses simultaneously. The Fantales Kitchen, the latest collaboration with Laminex stands as the embodiment of this philosophy. "My end goal is always about evoking feelings rather than a fixed visual conclusion," she says.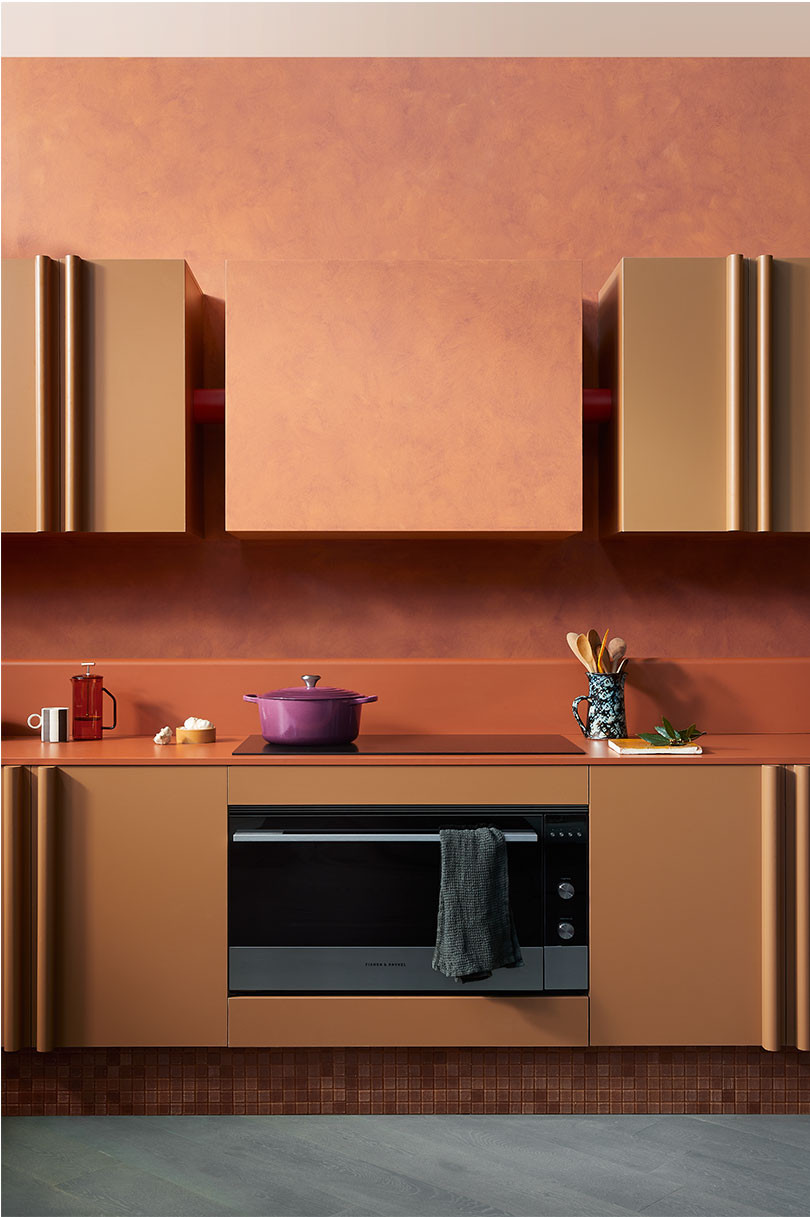 As our kitchens have continued to be the centre of family, particularly throughout the pandemic, they need to work even harder, now becoming places of nourishment but also a zone to work and learn. With a completely open creative brief and access to the entire Laminex Colour Collection, Ghoniem's design centres on the kitchen, with a complementary living and study to be revealed in early 2022.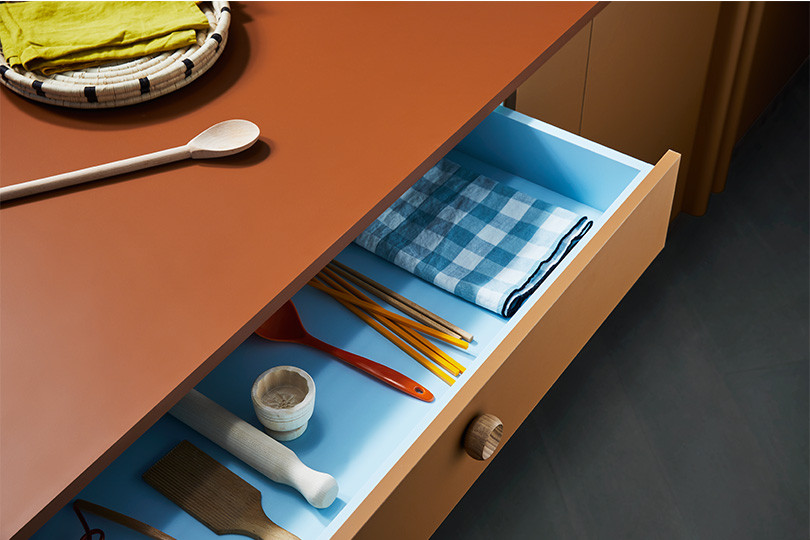 For the Fantales Kitchen, Ghoniem was instantly drawn to the earthy tones of two new Laminex colours – Burnt Ochre and Moroccan Clay. Using colour blocking as the core tenet behind her design approach, Ghoniem's creation uses "colour fields" with similar tones contrasted to elicit a dramatic and emotional effect. Ghoniem cites the paintings of Mark Rothko as an influence for the kitchen, and in the same way that colour is used in the two-dimensional, she brings it life in the three-dimensional. "It's like looking at a painting, flat on, going, "oh, it needs a bit of red out here in the corner'. That's literally how I look at an interior, more like a piece of art. You're placing the colours where you think your eye's going to jump next," Ghoniem elaborates.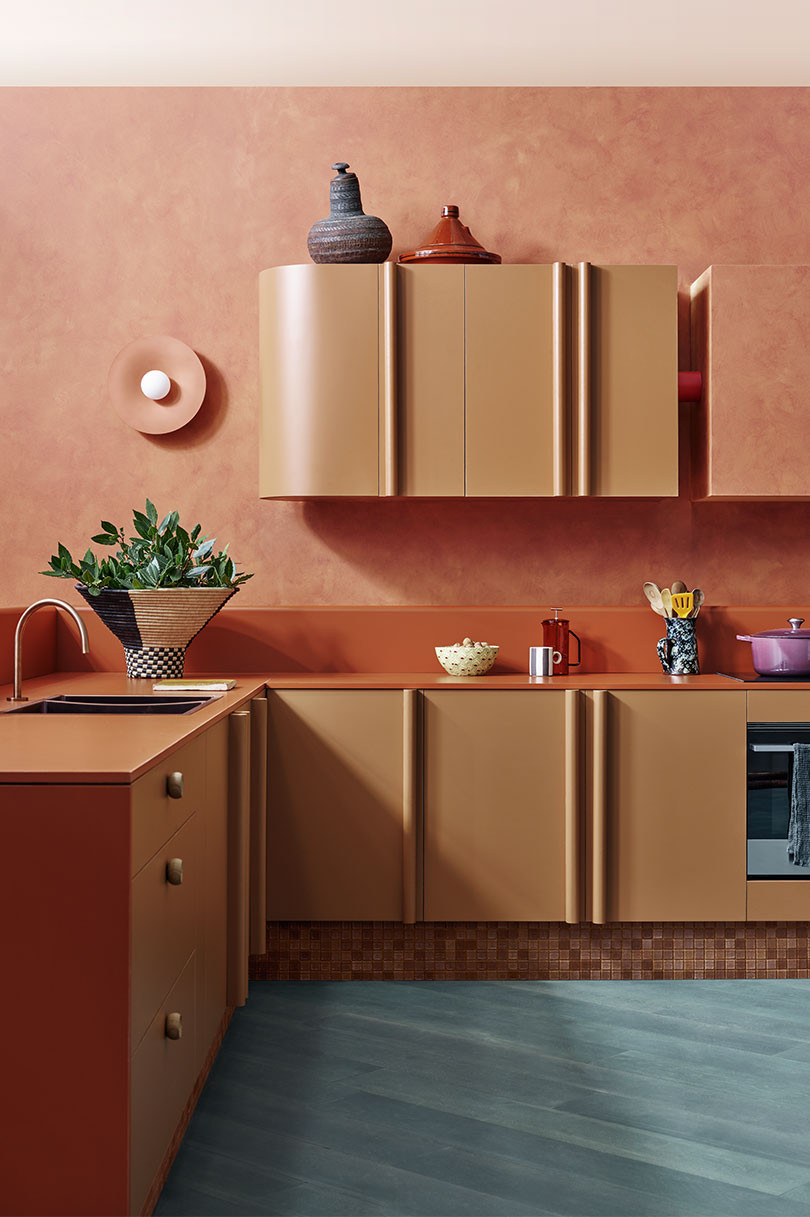 The execution in the Fantales Kitchen follows this line of thinking. The Laminex Burnt Ochre has been applied to all the kitchen's front-facing cabinets. Intricate details add interest where striking linear door pulls in the same finish have been post-formed into curved custom handles, which creates an integrated seamlessness. A subtle tonal shift can be seen with Laminex Moroccan Clay applied to the rear benchtop and splashback, with a paint colour matched and used with a textured application. The sense of being drenched in warmth is a powerful provocation, "like being dipped into a pot of sweet, warm caramel!" Not one to shy away from the bold and unexpected, a pop of Laminex Fresh Spring – a soft blue tone – has been used for the internal drawers and cabinetry.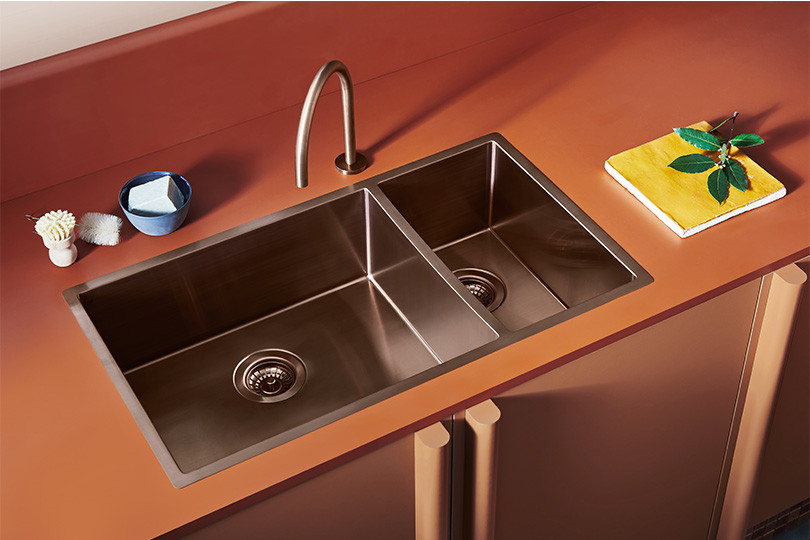 Curves and softened edges dominate. A row of overhead cabinets merge into the wall with a sweeping arc, also created by cold-forming Laminex laminate in Burnt Ochre. The island bench is an incredible statement in its expression of texture and form. Appearing more akin to the piece of furniture, the island is defined by a series of opposing curves coupled with contrasting finishes. Two of Laminex's woodgrains – a darker Danish Walnut in the low gloss Chalk Finish and Milkwood in a Natural Finish texture.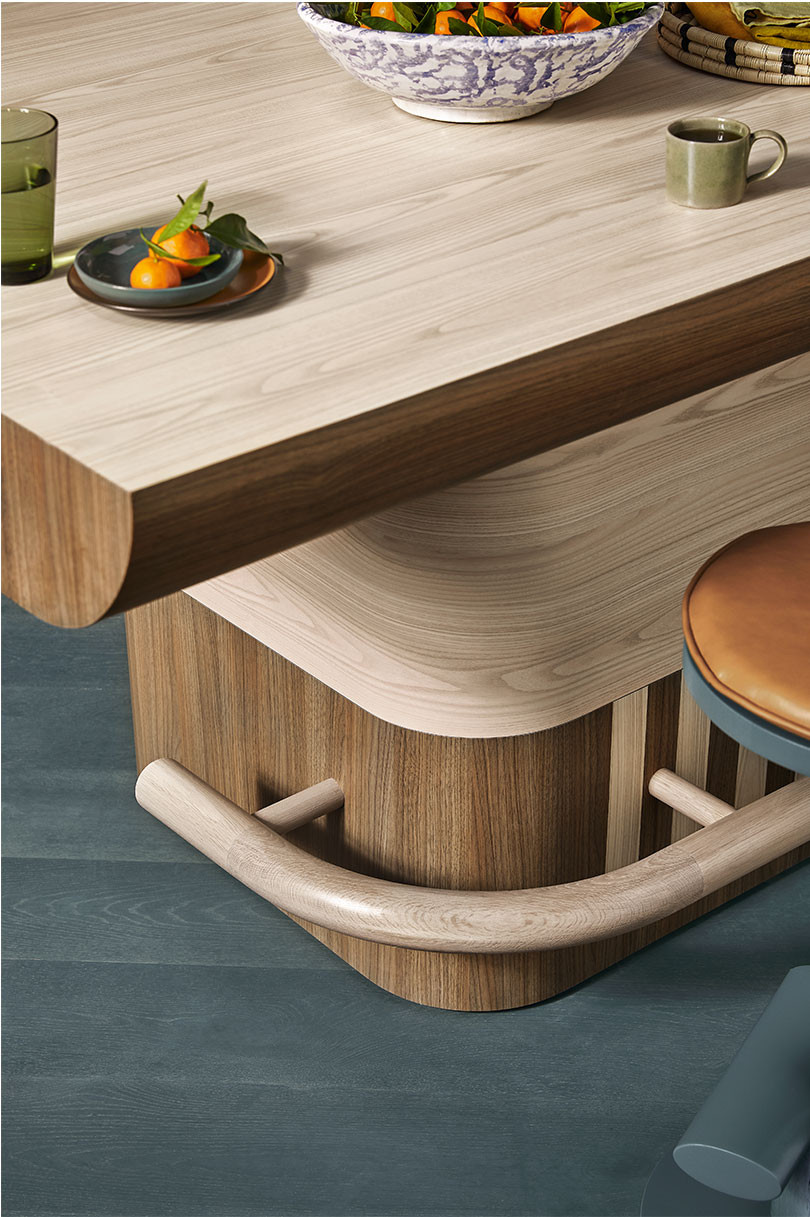 Playing up the variation of colour and texture, the base of the island is inlaid with a series of stripes, while a solid timber footrail grounds the object in space. Other textural materials – the mottled paint, small tiles on the kickboard, diagonally laid floorboards – all come together with a startling effect. This is a kitchen where intricate details and clever blocks of colour have created a space that envelopes the senses. "I wanted to capture the essence of 'afternoon delight', that warm, cosy time of day when the sun filters into the home and there's nowhere else you'd rather be, because the world seems to stop in that golden moment," says Ghoniem. And she has more than delivered.
---