With her refreshing approach to fashion design, Grace Tan tests the limits of the fashion industry in Singapore as she stitches up her version of 'anti-fashion'. By using abstract notions such as the mathematics of the patterning and stitching, methodology and cross- disciplinary influences as the starting points for her work, Grace rejects traditional forms of tailoring and creates fashion that is visually and conceptually unique.
This young, intellectual designer moved to Singapore when she was 13 years old. With her mixed heritage of Taiwanese and Malaysian, Grace laughingly describes herself as 'rojak' –- a Malay term that refers to a haphazard mix of vegetables in a peanut-based sauce. Far from being haphazard, Grace's work displays a creativity achieved through a highly disciplined and focused concentration of the methodology in her work.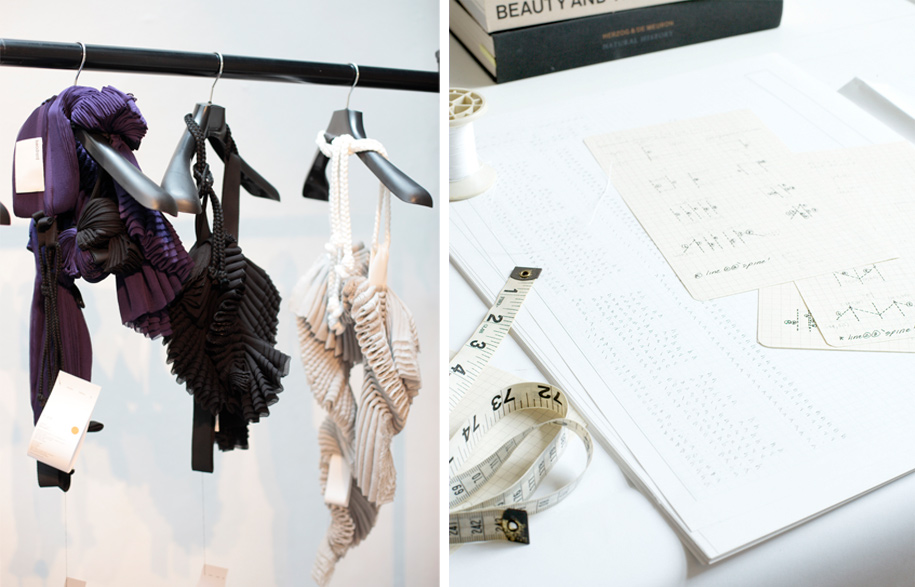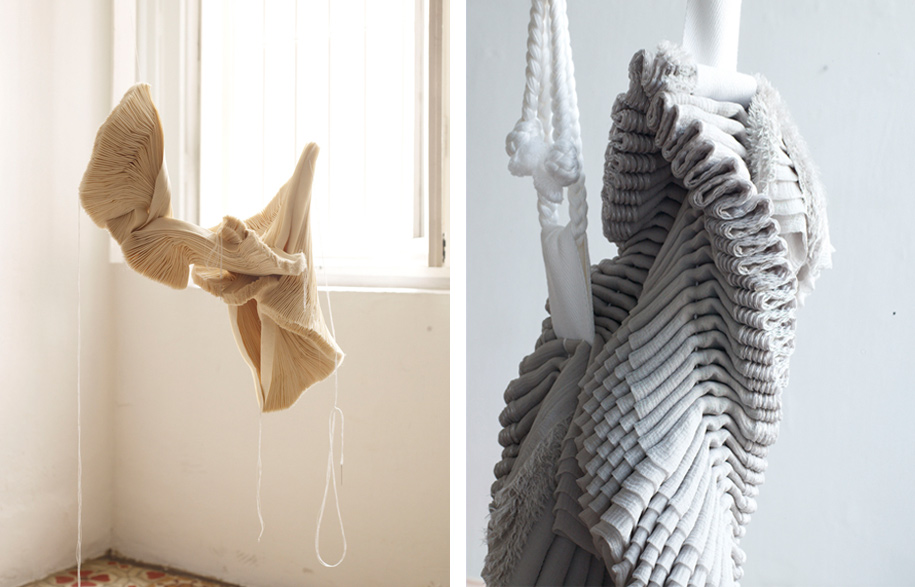 Grace received her Diploma in Apparel Design and Merchandising from Temasek Polytechnic in Singapore where she became fascinated by books on architecture and how to express herself using other disciplines.
After graduation, Grace worked for esteemed local design firm, Song & Kelly from 1999, where she designed and developed the womenswear line. Her struggles with the role of concept in her work led her to start up her own company, kwodrent, in 2003. At that time, she was focussed on the idea of how to construct clothing out of rectangular pieces of fabric – how to take two-dimensional angular pieces of fabric and make them into three-dimensional design which follows the soft curves of the human body. "I wanted to challenge the structure of clothing," she explains, "…how to construct clothing out of geometric shapes, how the clothing reacts on different bodies." One of her early inspirations was the work of Japanese architect, Tadao Ando. The abstraction of his philosophy into geometric forms that are in themselves devoid of emotive meaning inspired Grace to test out a similar thinking in her work.
One trademark piece of her early collection was a shirt made from two simple pieces of rectangular fabric with angular cuts for the armholes and two stitches up the sides. A further development of Grace's interest in rectangles is a series of giant neckpieces. She explains that the idea of the twisting of the fabric in these neckpieces originated when she would be making temporary stitches and then pull out the stitches quickly and the fabric would start to fold. The neckpieces are constructed using highly structured methods and patterns with intricate folding and twisting of rectangular pieces of fabric. She examined the effects of using different fabrics to see how they behave as they twist. She rigorously experimented with variations in the arrangement of the folds to see what sculptural forms could be created. She added coloured fabric as well as altering the scale of the neckpieces to see how all of these variations behave as they interact with the human body.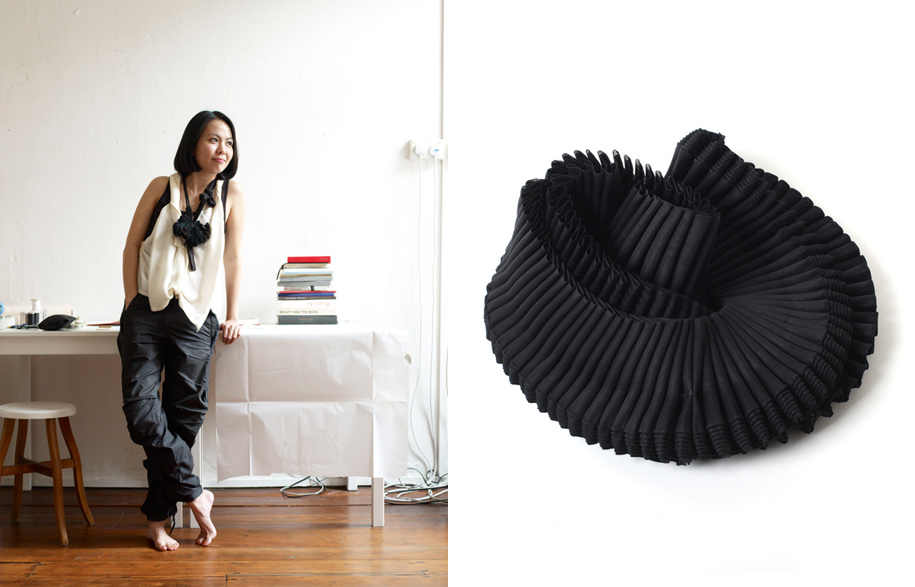 This intensity and rigour in this series of Grace's work reflects her belief that to master something is to study the methods and techniques of the craft, but after mastering them, to discard them. "I think this was a revelation that I had, how not to be constrained by a set of rules," she reflects. Grace explains that she is greatly inspired by nature. She looks at the variations in her work in the same way as she observes how natural light can alter a landscape, how the growth of plants can change your perception of them, and how the budding, blooming and decaying of flowers can inspire the way she manipulates the organic forms of her design pieces.
A third inspiration for Grace's work is the philosophy and aesthetic of the art of the Bonsai. Bonsai philosophy is based on diligence and reverence by following and mastering a technique, often through learning the technique of a master and adopting it to your own trade. Her rigorous exploration of the folding of her fabric to create organic forms is influenced by this art form. The notion in the art of Bonsai of constructing something that is organic out of a technique that is calculated and precise also bears similarities to Grace's design and approach to her neckpieces.
Another, similarly lovingly constructed art form that replicates nature and has served as a form of inspiration to Grace is the beautifully crafted Japanese confection. One particular book, Wagashi, has influenced her thinking as well as her presentation with its luscious images of Japanese confections that replicate or make reference to nature. The influence of these colorful and delicate confections that reflect the colours of changing nature, encapsulated into an intricate overlapping form, can be seen in a few of Grace's more sweetly coloured pink and peach works in French silk chiffon. Grace's works, called 'Rakugan', were completed in 2007 and through their visual lightness and freshness bear a sensory and visual connection with the Japanese confections.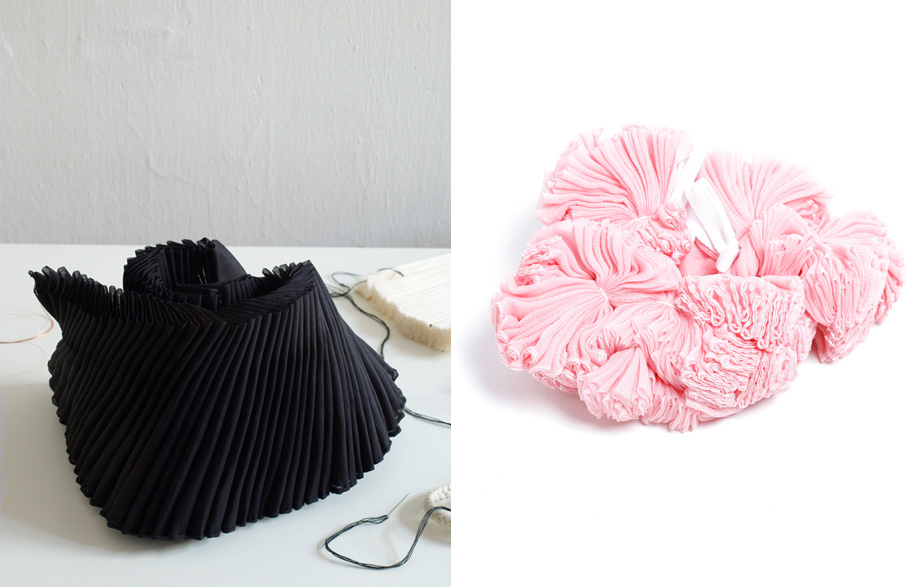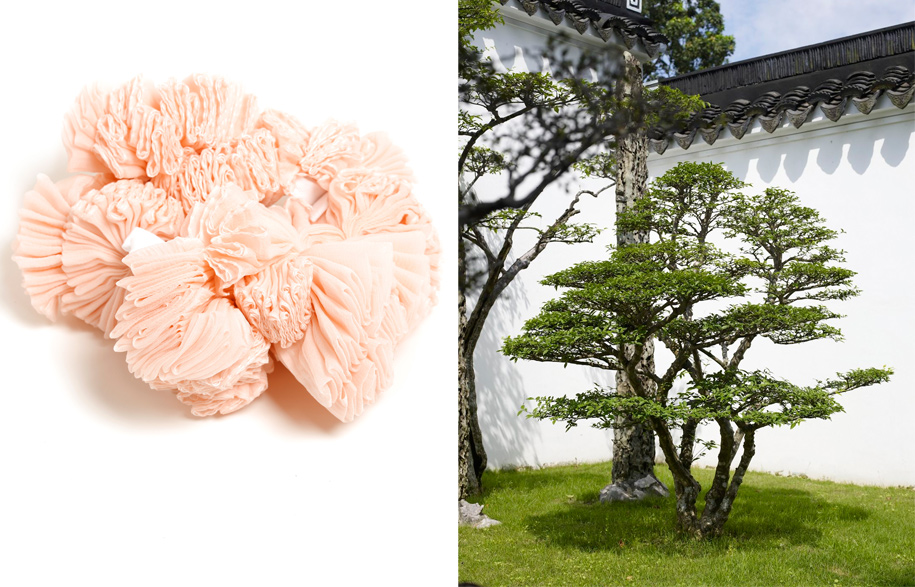 An interesting dichotomy in Grace's design is a highly tactile hands-on emphasis versus an abstract mathematical strategy. She finds that "when you rely on machines and tools, you tend to lose your physical connection with the fabric." Grace prefers to hand-make all her pieces. In fact, she admits that she now rarely works graphically. She experiments with the fabric physically and lets the fabric tell her what it wants to be, how it wants to behave. Grace explains that many of her inspirations are cross-disciplinary influences which are visual as well as theoretical, such as Sori Yanagi's philosophy of "Design by Hands". This hands-on approach seems to contrast with her obsession with mathematics. This started last year with an exhibition called Dual City Sessions in which she displayed a graphic representation of the stitch points in the folding fabric of her neckpieces. Each stitch was given a value and represented in a graphic where the coordinates of the stitch points created patterns. Her intention in graphically representing her work as a set of coordinates was to display the work at its structural core in order to see the forms in a different way.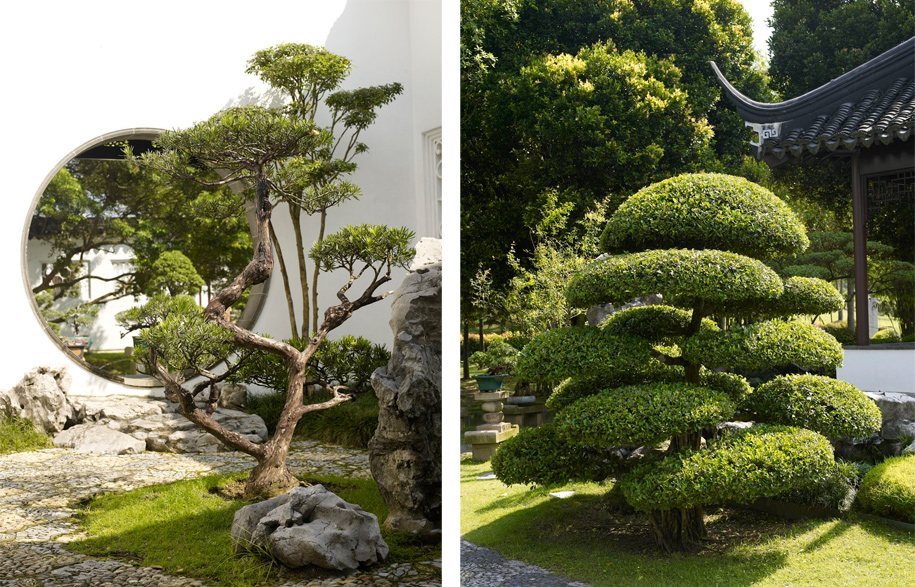 In a further development of this mathematical strategy, Grace did a collaborative work with a Singapore-based theatre company, Theatre Works, in a production named 'V.I.S.T.A. Lab.'. Grace designed the dress for the dance performance and the coordinates for the stitches in the dress were given a tonal value by the musical composer. The result was a musical composition based on the mathematics of the dress construction. The dancers then performed to this music as the audience, in a sense, "listened" to the dress.
Since then, Grace has engaged in further cross-disciplinary collaborations that have allowed her works to cross the line between fashion and art. In a recent exhibition, 'Envelop', she collaborated with Farmwork, a Singapore-based design studio. The result was an organic art piece constructed from 2,492 parts of folded A4-sized sheets of paper suspended from the ceiling above a display of Grace's fabric creations.
From her emphasis on the mathematics of a stitch, to her love of architecture and her natural hands-on approach to the fabric, Grace Tan's multi-disciplinary approach to her designs put into question the definition of the boundaries between artistic disciplines. Out of these explorations, she creates highly novel and thought-provoking work.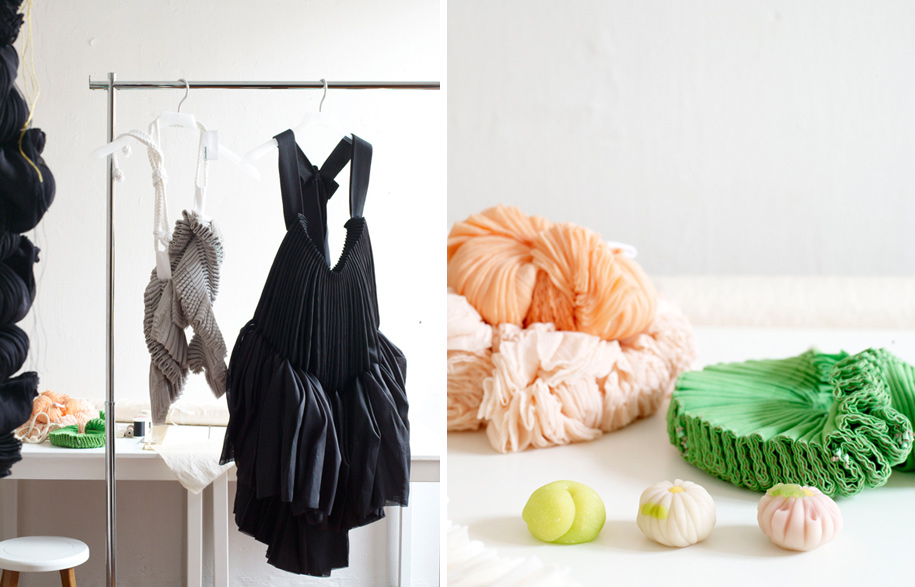 Photography by Darren Soh and Derek Swalwell
kwodrent
kwodrent.com
Tags: Fashion, Malaysia, Singapore
---