Christopher Elliott has specified Royal Oak Floors French Oak timber in Pale Grey for the application of cladding on work stations and reception counters at Egg Unlimited.
Royal Oak Floors French Oak timber in Pale Grey was chosen by Christopher Elliott for the project to bring a natural and rustic element to the space. The French Oak in Pale Grey provides a compliment to the clinical surfaces such as the polished concrete, glass and aluminium to balance the palette and create softer feel.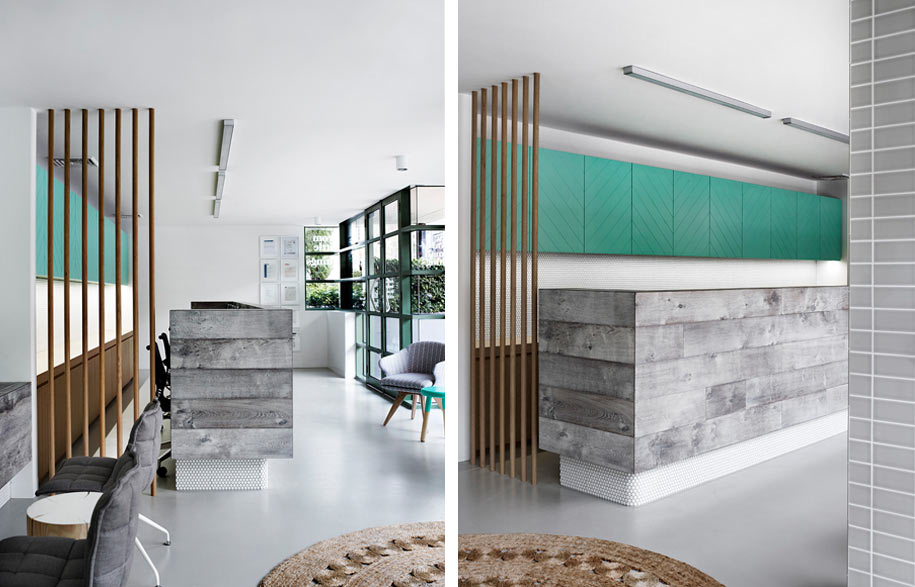 ''Raw natural materials inspired me to design the work stations and reception counters using rustic oak timber flooring material from Royal Oak Floors, as cladding. I wanted the application to look contemporary in contrast to the organic finish of the timber which evokes a provincial Charm, reminiscent of old world bakeries''- Christopher Elliott of Christopher Elliott Design
Royal Oak Floors Pale Grey is composed of a French Oak timber top layer bonded on to an engineered base and has a characteristic grain swirl around large knots. The colour is chemically created then hand worked to create a finish reminiscent of perfect off-form concrete but soft and liveable.
The versatility of Royal Oak Floors product is displayed here in Egg Unlimited. Royal Oak Floors timber engineered boards can be used for not only floor application but wall cladding, ceiling cladding and joinery & cabinetry applications.
Pale Grey French Oak is now available in six different board sizes – 260x2200x21mm, 260x2200x15mm, 190x1900x21mm, 190x1900x15mm, 158x1900x10mm and a 150x900x15mm (Herringbone).
Harper & Sandilands
royaloakfloors.com.au/
---