The big three things when it comes to the storage of wine are light, humidity, and temperature. Strong light, too much or too little moisture in the surrounding air, and too hot or too cool an environment, and that precious stored bottle saved for a special occasion could be ruined.
The Gaggenau wine climate cabinets are the ultimate in wine storage – coming in a variety of sizes, all with light-up showcase areas and multiple climate zones to ensure the right temperature for a range of wine varieties.
These cabinets are designed with the full suite of intelligent technological flourishes for the discerning wine lover: the bottles are shielded from the vibration of the motor whilst extendable beech and aluminium shelving protects wine from any errant aromas. Conveniently, the multiple temperature zones allow you to store wines of different types at the same time, while you bring other wines to drinking temperature.
The Vario wine cabinet RW 464 offers space for up to 98 bottles, while the RW 404 houses a more modest collection of 34 bottles. Both have been designed with luxury apartment and designer living in mind, suiting prize placement in the kitchen itself, a butler's pantry, or even an outdoor terrace.
The under bench RW 404 wine climate cabinet offers two independent climate zones, with exact temperature control, UV protection, LED lighting, stainless steel framed glass and lockable door. The smaller unit makes a design statement on its own, drawing the eye to the full-bodied collection within.
This fully integrated, built-in, modular family of climate control cooling appliances from Gaggenau, is complemented by Vario refrigerators and freezers; all of which can be partnered in countless ways in a contemporary designer kitchen. With multiple controllable climate zones, different food and drinks are kept fresh, and healthier, for longer.
Gaggenau offers exact degree cooling technology that leaves nothing to be desired. It's the aesthetic design, solid aluminium door racks, LED light pillars and ceiling spot lights that set the Vario 400 series apart from the pack.
Gaggenau
gaggenau.com/au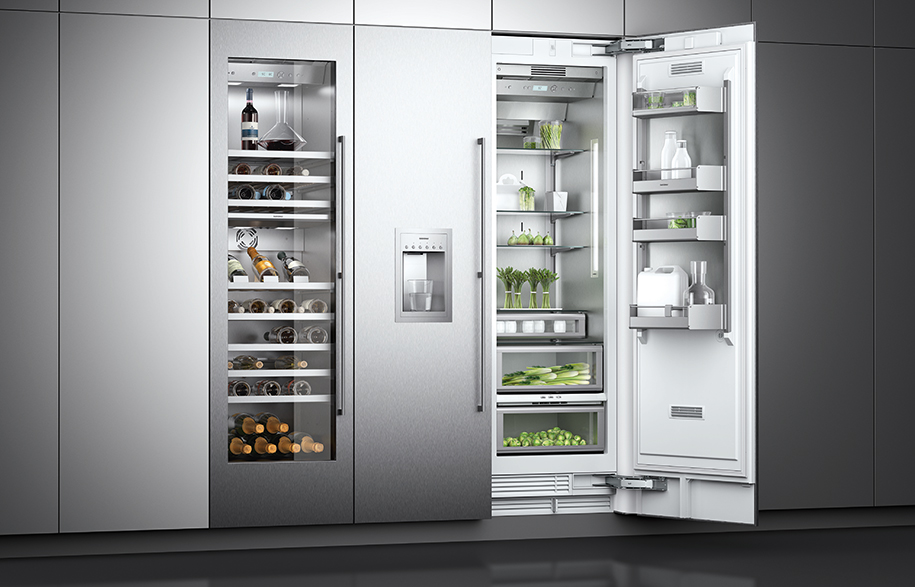 Tags: gaggenau
---