How important are authenticity and integrity to the Grazia & Co brand? 
It's always disappointing to see Australian importers and select local manufacturers produce replicas. This theft of ideas for commercial gain is totally unacceptable. We can admire and be influenced by other designers, but when deliberate and unashamed replication occurs, it just makes us work harder to be authentic. We need to keep looking forward, focusing on what we can do better. We learn and improve by listening to our clients, our contractors and our production team, and at Grazia & Co, we aim to produce pieces that are made in a sustainable way, using premium quality materials that will have longevity.
What was the biggest challenge involved in designing and manufacturing the Goldie sun lounger and the Etta outdoor ottoman and outdoor coffee table?
Designing and manufacturing outdoor furniture is very different to designing and manufacturing interior pieces. Every element must be carefully considered to ensure suitability to withstand the sun, rain, wind and often corrosive salt air, including components such as the frame, as well as the welding, fittings, foam and upholstery detailing. We also focus on maximising material yield to minimise wastage to keep the cost of manufacturing to a minimum.
Where did you draw your inspiration for the Goldie sun lounger?
The internal brief was to design a sun lounger that was simpler in its manufacturing process and therefore less labour intensive to make than our existing Palm Springs sun lounger. We developed the 'magnet' shaped leg system first as we needed a lounger that could be moved without wheels. As well as being an aesthetic design feature, the raw magnet shaped detail on the leg ensures the frame's powdercoat is not chipped and damaged if the lounger's moved. The signature semi-circle backrest shape evolved from this leg design.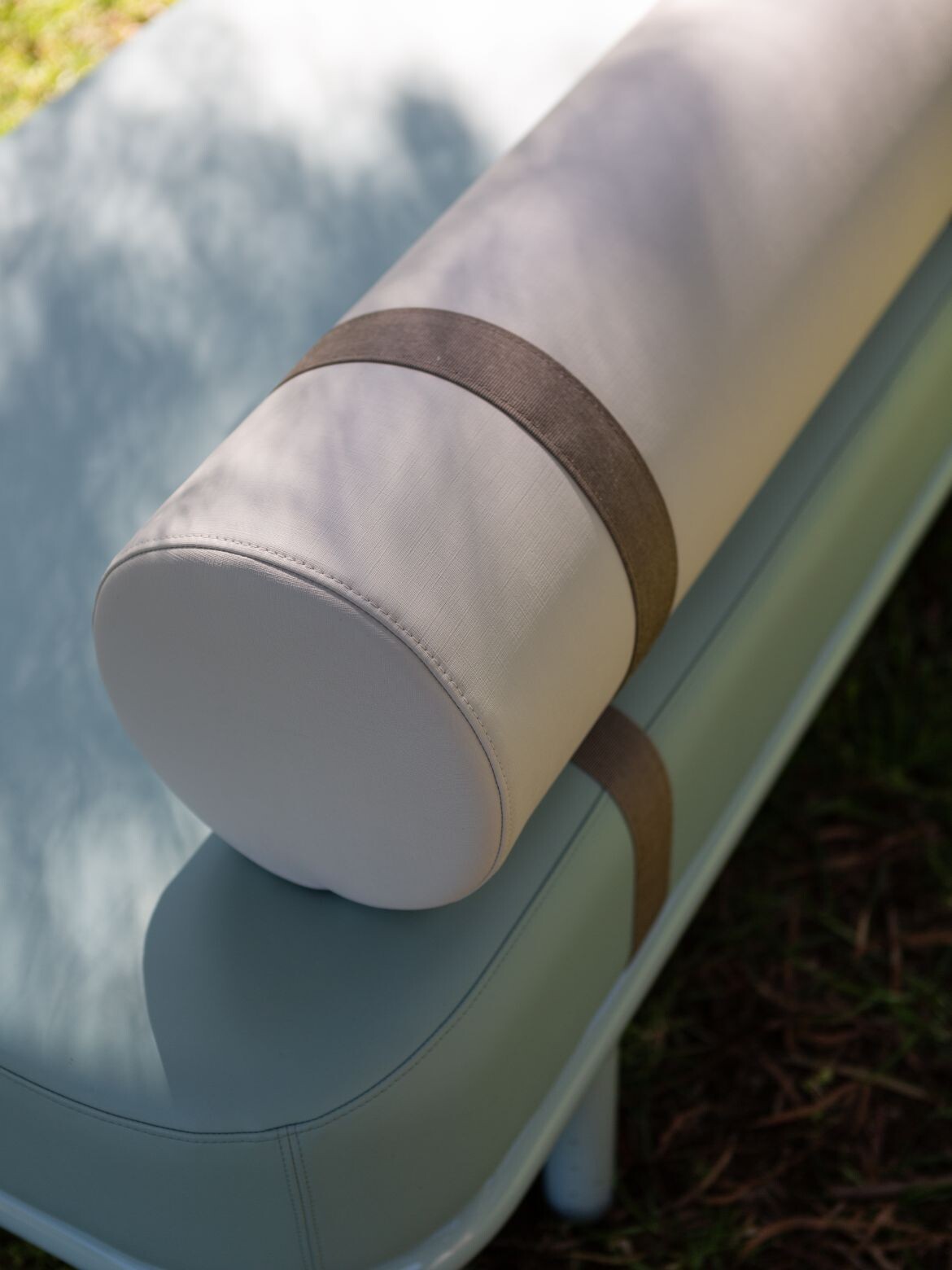 How did you arrive at the idea for the new edition of the Etta outdoor ottoman?
When we launched the indoor version of this ottoman it was exceptionally well received. We could see a gap in the outdoor furniture market for a fixed upholstered ottoman, so we began researching how to modify the materials and construction to ensure it could withstand the outdoors. Commercial and residential projects are placing greater consideration on outdoor spaces that may have previously been overlooked, so we took the opportunity to offer the market a premium quality product.
Can you tell me about the concept behind the Etta outdoor coffee table?
These tables are an evolution from the Etta ottoman. The large tubular steel used on the ottoman allowed us to develop the range of tables to partner with the Etta upholstered pieces and offer a complete outdoor lounge setting.
Have you witnessed an increased demand for outdoor furniture in recent years?
Absolutely. Outdoor entertaining and lounging spaces are increasingly acknowledged as an important part of a residential space. Vistas into gardens are considered and the design elements in them need to reflect the interiors. 
What is most innovative about these three new designs?
Our R&D team are always on the search for new, innovative and more sustainable materials to incorporate into our designs. For this range, we introduced a recycled plastic that we haven't worked with previously. Sourcing more sustainable and environmentally responsible materials is part of our mission statement and something we strive to achieve with every design. We also ensured the finishes of all elements are fully customisable, so the powdercoat colour on the frames, upholstery selections and stones on the table tops all allow designers to create a unique furniture piece that will reflect their project's aesthetic.
---