Take a drive east of the Big Apple along Route 27 and pretty soon you'll find a string of hamlets known collectively as The Hamptons. It's along this stretch of wind swept ocean dunes that New York's rich and famous come to spend the summer.
Nowadays The Hamptons doesn't just define a physical place, but an entire way of life and a certain look that folks are keen to adopt. Think of it as a sophisticated take on country meets the seaside.
---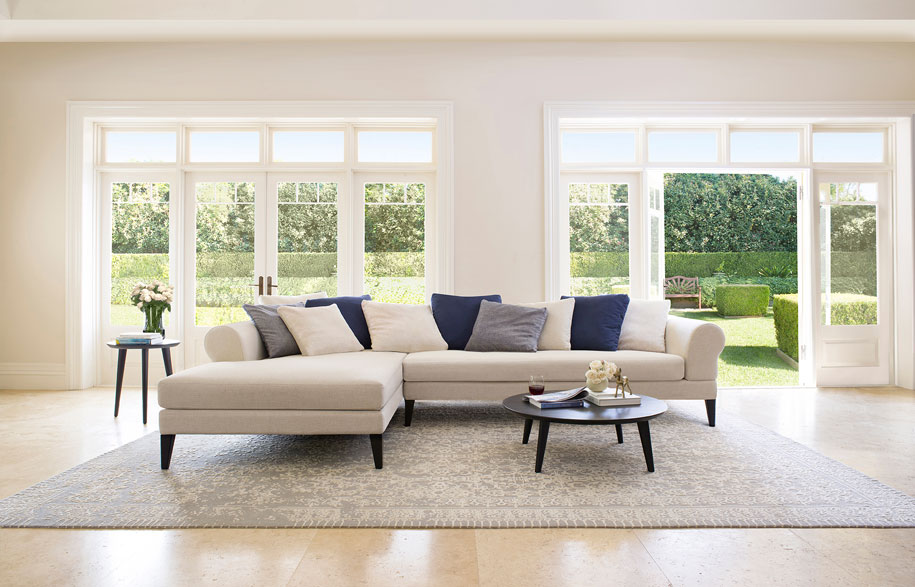 Sonata Sofa
Created by: King Furniture Design Team
Why we love it: Not only is the Sonata King Furniture's latest release (launched only this week) it's also one of the Australian company's most cohesive designs. Given a brief to create a comfortable, elegant sofa that puts a modern twist on Hampton's style, the team utilised traditional design cues such as rolled arms and turned timber legs, within a modular construction. This flexibility, all built on King's durable steel-frame system, allows the Sonata to be arranged in a number of configurations, including a chaise.
Where you can get it? King Furniture showrooms nationwide or online.
---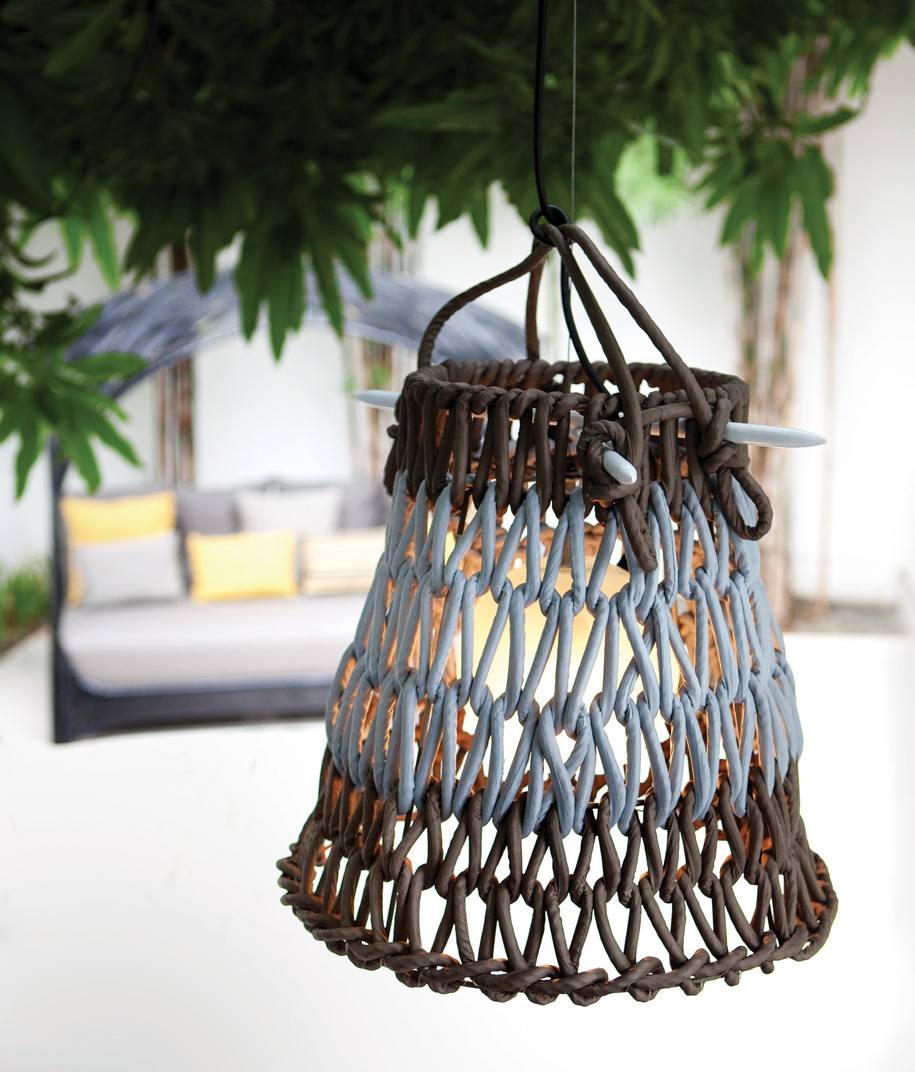 Knottee Outdoor Suspension Lamp
Created by: Kenneth Cobonpue for Hive
Why we love it: Well, to be honest there's not much we don't love by Kenneth. Ditto when it comes to HIVE. And this quirky knitted shade is no exception. Made from synthetic fibre in olive and grey, it houses a sturdy frosted glass diffuser and is topped off with two knitting needles, in a typically Cobonpue flourish. The Knottee is a whimsical take on a Hamptons outdoor light.
Where you can get it: Kezu
---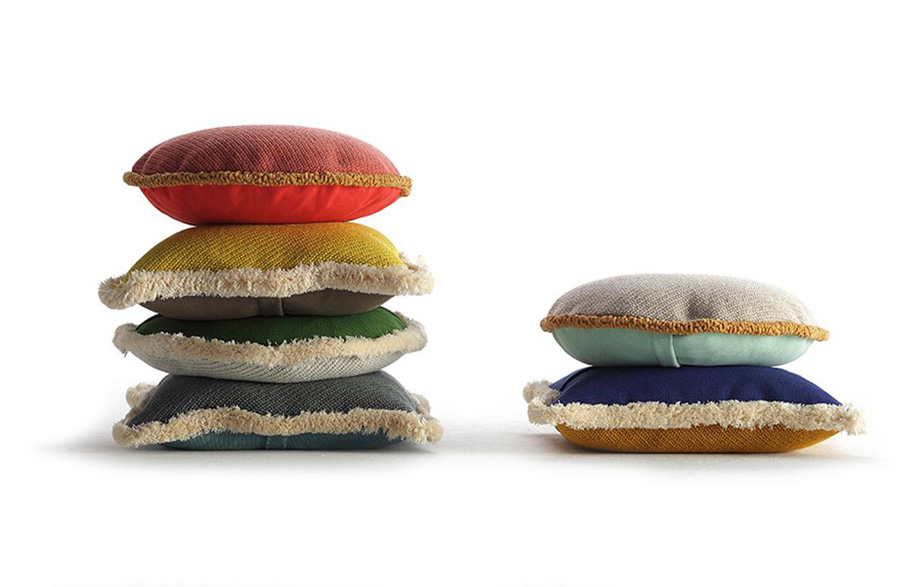 Bang Cushion
Created by: Elena Castano-Lopez
Why we love it: Because Bang cushions by Sancal utilise some of cleverest juxtapositions of colours you could ever imagine. Castano-Lopez's background in fine art shines through in every dazzling piece, a world away from the predictable blue and cream we've come to expect from the Hamptons. Indeed who else could come up with a cushion in khaki and purple, or toffee and turquoise, adorned with classic edge trim?
Where you can get it: HG Furniture Solutions
---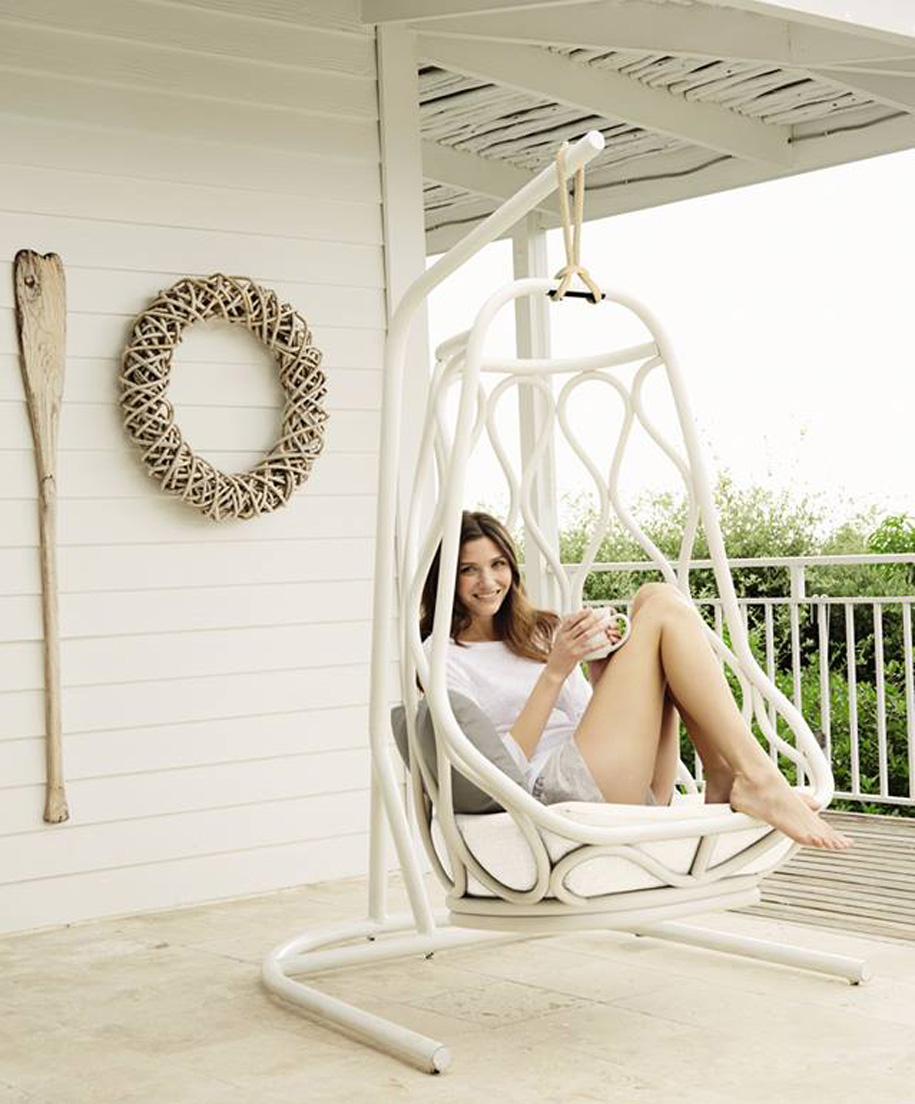 Nautica Swing Chair
Created By: Alberto Sanchez for Mut Design
Why we love it: Who wouldn't? There may be a lot of swing chairs on the market, but none are as well resolved as this one. The Nautica was awarded the Red Dot 2014 for the best product design and pays homage to the original 1970s swing chairs created by Expormim. Featuring a structure of natural, peeled and tinted rattan, the Nautica is the only place you'll want to sway away the summer days in Lorne. Available in a range of natural cane colours, including black and white. An identical aluminium version is also available for permanent outdoor use.
Where you can get it: Kezu (Sydney) or Ajar (Melbourne).
---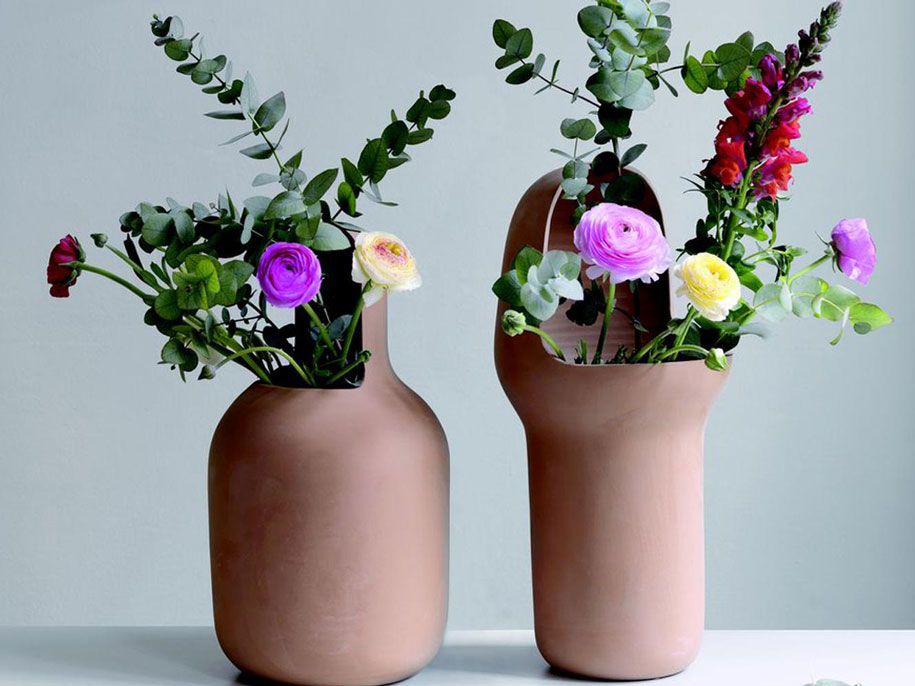 Gardenia Pots
Created By: Jaime Hayon
Why we love it: Because these ceramic pots manage to blend old world craftsmanship with modern form in a seamless and pleasing manner. Gardenia are unmistakably Hayon with their organic, almost feminine form that is both sculpture and functional object. Place a couple on the verandah of your Palm Beach home. Nice.
Where you can get it: Living Edge
---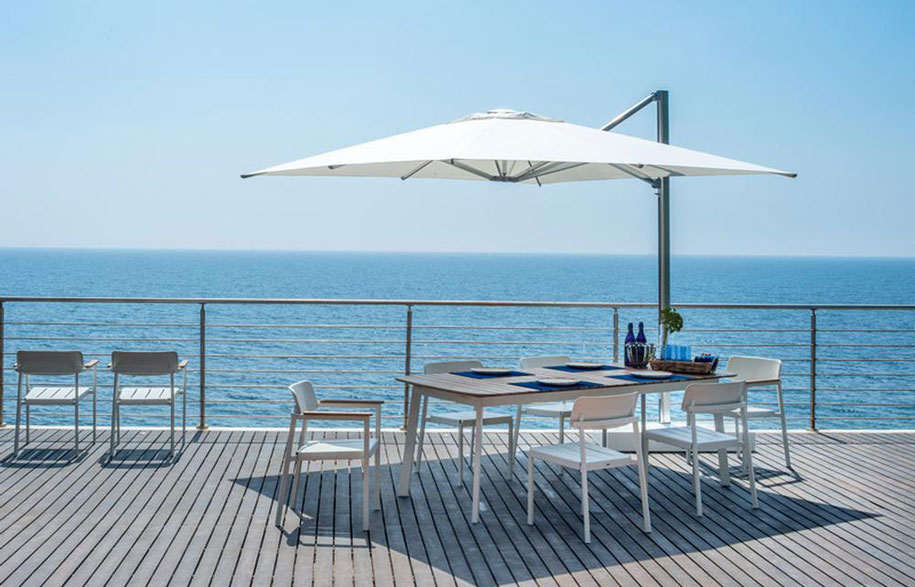 Emu Shine table
Created by: Arik Levy
Why we love it: Because so many outdoor settings are so heavy you need to be a weight-lifter to move them around. Not the Emu. Manufactured from high-grade aluminium (with a teak top) this elegant dining table is not only light as a feather, it's also extremely weather resistant, making it perfect for coastal areas.
Where you can get it: Kezu
---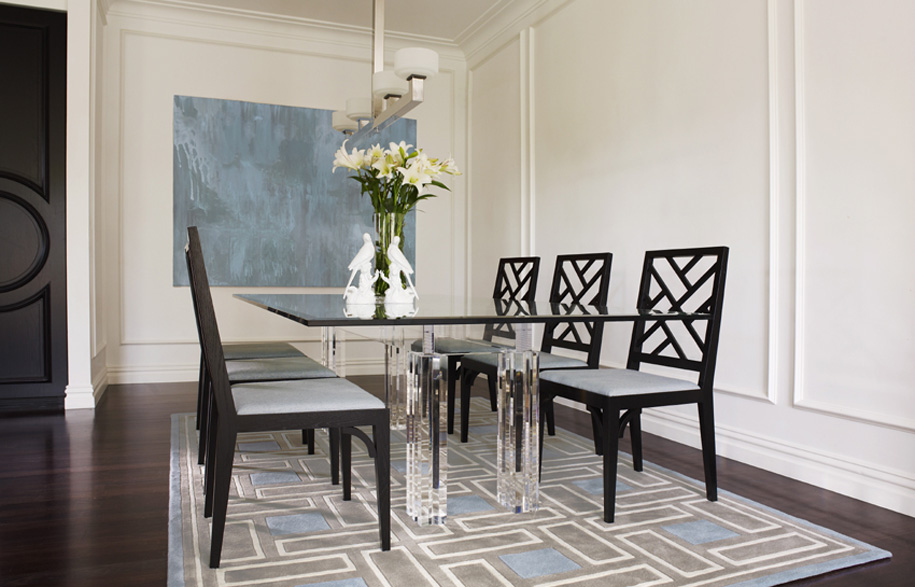 Malibu floor rug
Created by: Greg Natale
Why we love it: Basically because Mr Natale can do no wrong in our eyes. One of Australia's greatest interior designers teamed up with Designer Rugs to produce one of the mot sophisticated collections on the planet. With the Malibu rug, Natale has created a stong geometrical design in putty and blue, demonstrating once again that traditional doesn't have to be stuffy. Made from 100% New Zealand wool, stock size is 200 x 300cm, however custom sizes are available.
Where you can get it: Designer Rugs
---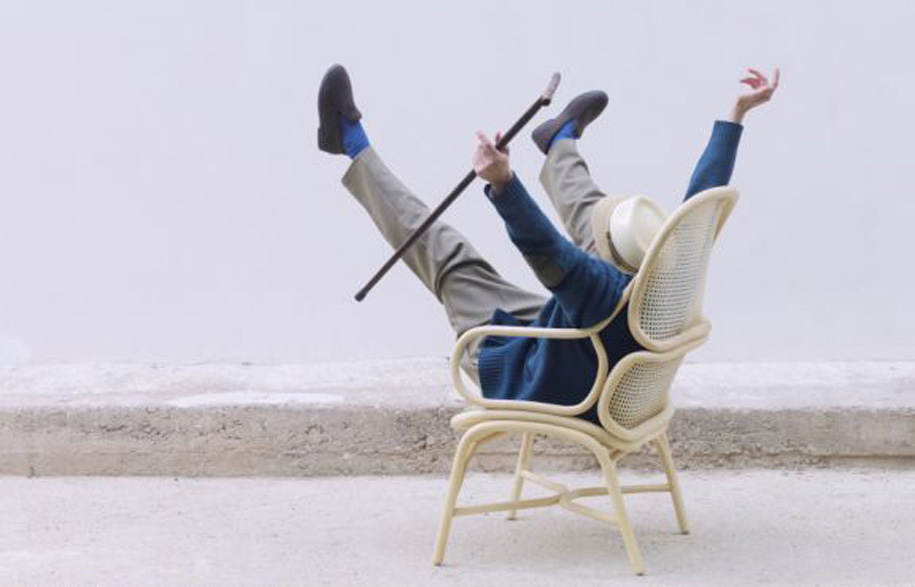 Frames
Created by: Jaime Hayon for Expormim
Why we love it: The sales pitch says that FRAMES has all the properties of a contemporary classic, and for once that might not be hyperbole. Released at the salone del mobile 2014, the FRAMES range comprises an armchair, side-table and room divider. Hayon has brought rattan into the home, adding a layer of glamour and rustic charm and ensuring it can be used all year around, not just when the sun shines. Made from natural, peeled and tinted wicker.
Where you can get it: Kezu
Tags: furniture, product design
---