Rocky Stool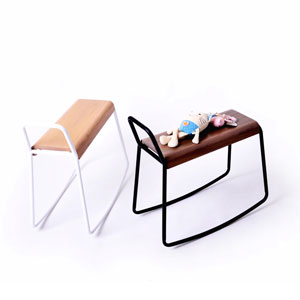 Created by: Everyday
Why we love it: Our inner-child has wish-listed this stool inspired by the youthful rocking horse. A wooden seat in oak or walnut, on steel tube can rekindle the playful spirit in any room to keep your smile childish.
Where you can get it: Everyday Studio
Tree Top multi-purpose Stand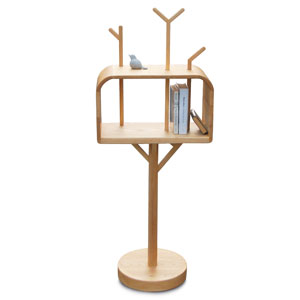 Created by: Skog
Why we love it: The latest piece from Skog's Naturally Collection is a reminder of the natural world around us. Its sleek design in organic solid ash wood is one to grow old with. Every tree tells a tale and this definitely one worth sharing.
Where you can get it: Skog Studio & Café
Stride Mat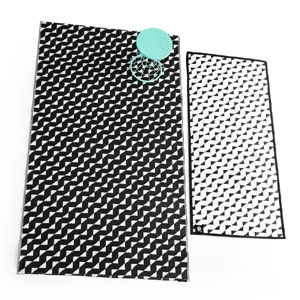 Created by: Sini Henttonen
Why we love it: A combination of Scandinavian prints and techniques of Thai weaving speak a new design language. Made of recycled polypropylene, its properties deem the product water and dirt proof for practical use both indoor and outdoor. Its double-sided graphic is bold and contemporary as a statement piece that turns any picnic into an effortless display of art and culture.
Where you can get it: PDM
Tofu Shoe Storage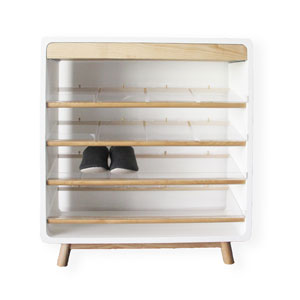 Created by: Niyahm
Why we love it: In world where shoes are an expression of one's individuality, it seems rather uncomplimentary for them to be stored in anything other than style. Niyahm's Tofu Shoe storage stages a spectacle in its white plywood body with ash wood trim framing your shoes into objet d'art.
Where you can get it: Niyahm
Capsule Daybed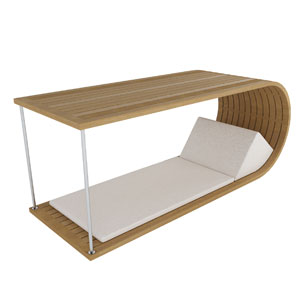 Created by: Mahasamut
Why we love it: Maximising space is the key to good design as Mahasamut makes it easy for one to create their own individual space regardless of dwelling size. Its arched formation is made in solid teakwood acting as a roof to shade outdoor living and creates a cosy statement piece for designer interiors.
Where you can get it: Mahasamut
Diamond Hanging Lamp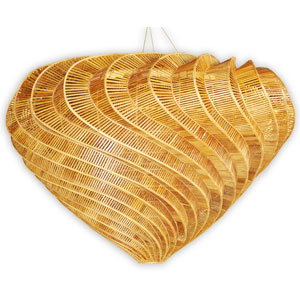 Created by: Korakot Aromdee
Why we love it: After his art was exhibited in New York, we were drawn to its soft ambience embodied in masculine sculptural form. Each piece of bamboo is skillfully handcrafted with techniques of traditional kite making – a skill that is slowly disappearing in Thailand today. This product revives customary methods with modern day technology to create a total work of art.
Where you can get it: Korakot International
Gagarin Gazebo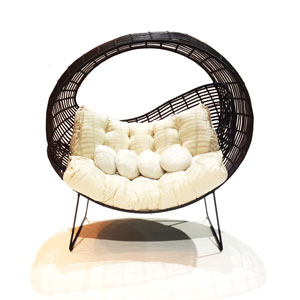 Created by: Plato
Why we love it: Playfully inspired from the pandan leaf, a common edible leaf for wrap-around food, this similarly wrapped seat is enough of an excuse to snug up. For those that enjoy an outdoor moment under the sun or the night sky, an embrace under a giant leaf made from German synthetic rattan creates comfort that is definitely an experience in itself.
Where you can get it: Plato
Foldo Desk Lamp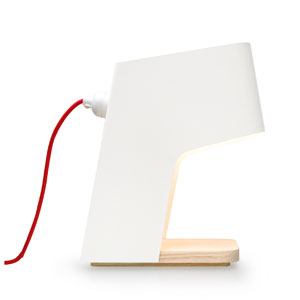 Created by: Thinnk
Why we love it: Bauhaus has met Japanese minimalism. Each component is in complete harmony executed in clean-line simplicity. A bold utilitarian display of blood-red fabric-wrapped cord, onto the folded lampshade made from white powder-coated steel makes it a fitting choice for minimalistic design, while the ash wood base serves to enhance illumination.
Where you can get it: Thinnk
---