On the one hand, there is a blatant yearning to get back to basics permeating throughout almost every facet of design. Far and wide, design is embracing imperfection. In 2020 interior design trends taking on the Japanese aesthetic principles of Wabi Sabi. Likewise, our search for simplicity is being reflected in our spaces through material palettes – which are increasingly mono in nature.
Meanwhile, interior design remains a critical vehicle for self-expression, at a time in which opportunities for individuality and personalisation are more valued – and expected – than ever. As we enter 2020, interior design trends are boasting playful palettes and indulgent inclinations, expressed in sumptuous forms and fabrics.
Without further ado, here are six 2020 interior design trends destined to flourish in the year ahead.
Wabi Sabi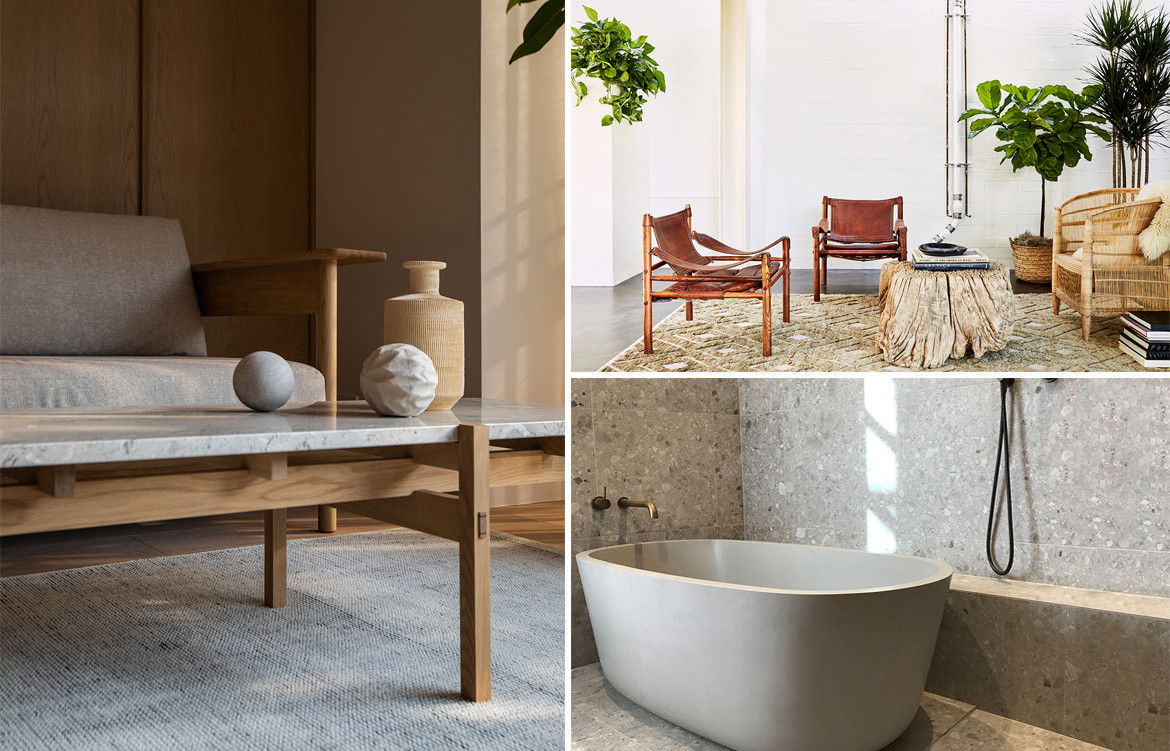 Left: Kinuta N-CT01 coffee table by Karimoku Case Study
With its construction being based on the many facades and doors that you find in shrines, temples and traditional architecture all over Japan, the various wooden parts of the sofa table are intentionally spaced and levelled with high precision, making the furniture piece light in its appearance.
Above right: Cairo Rug from Armadillo & Co.
Handcrafted from natural and sustainable fibers, the Cairo Rug from the Armadillo & Co Classic Collection offers rich texture, inviting warmth and a timeless neutral palette to celebrate the weave itself.
Below right: Chi Bath from apaiser
Designed with balance and symmetry, the Chi bath is perfectly proportioned to complement any bathroom style. Presenting the pinnacle of tranquility with a contemporary touch.
Mono-Materiality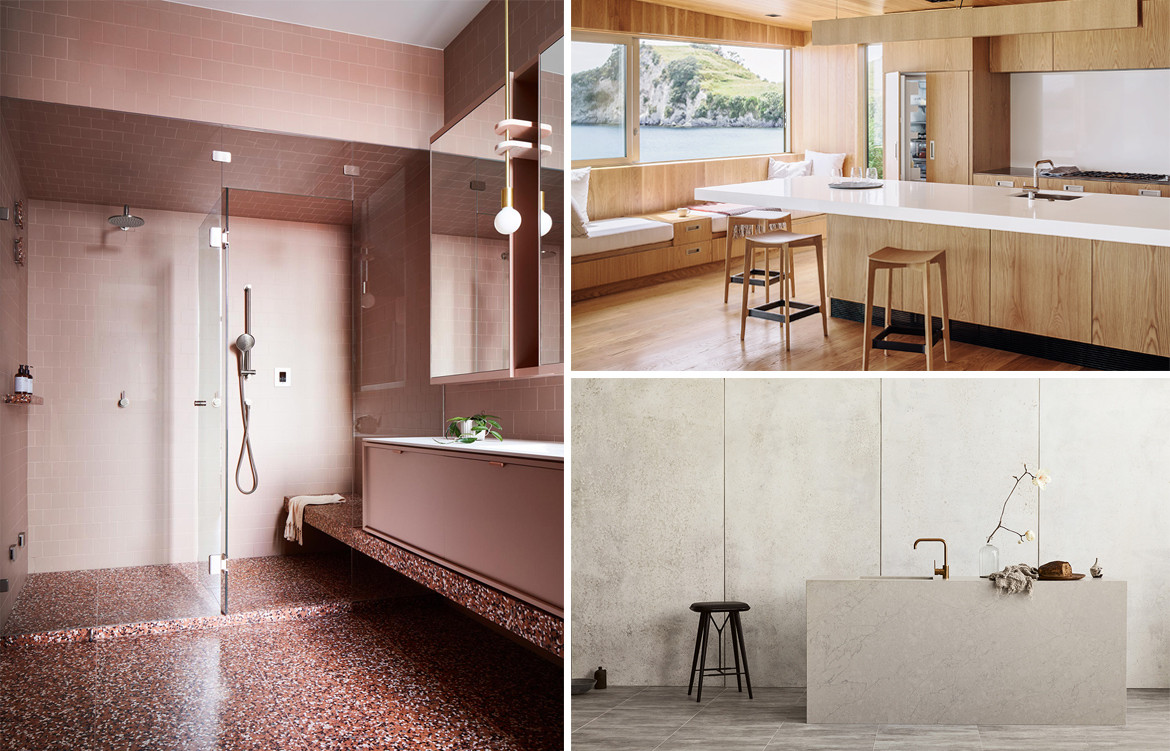 Left: Coloured Terrazzo Tiles from Signorino
Signorino's Coloured Collection of Terrazzo tiles includes styles ranging from soft pastels to bold aquas and pinks. Unmatched for quality and durability, each tile is crafted in Italy by true artisans of the product using the latest technology.
Above right: Integrated appliances from Fisher & Paykel
Designed to seamlessly integrate into the kitchen with minimal gaps and no visible hinges, the Fisher & Paykel Integrated French Door Fridge, as pictured in Hahei House designed by Paul Clarke of Studio2 Architects, allows for a cohesive, uncluttered aesthetic and is a delight to the eyes.
Below right: Pelle Grigio from Smartstone
With a beautiful mottled texture and fine vein on a soft grey background, sophisticated Pelle Grigio fits perfectly into the Paris Collection that draws inspiration from the perennially chic palette of the City of Light.
Tinted Glass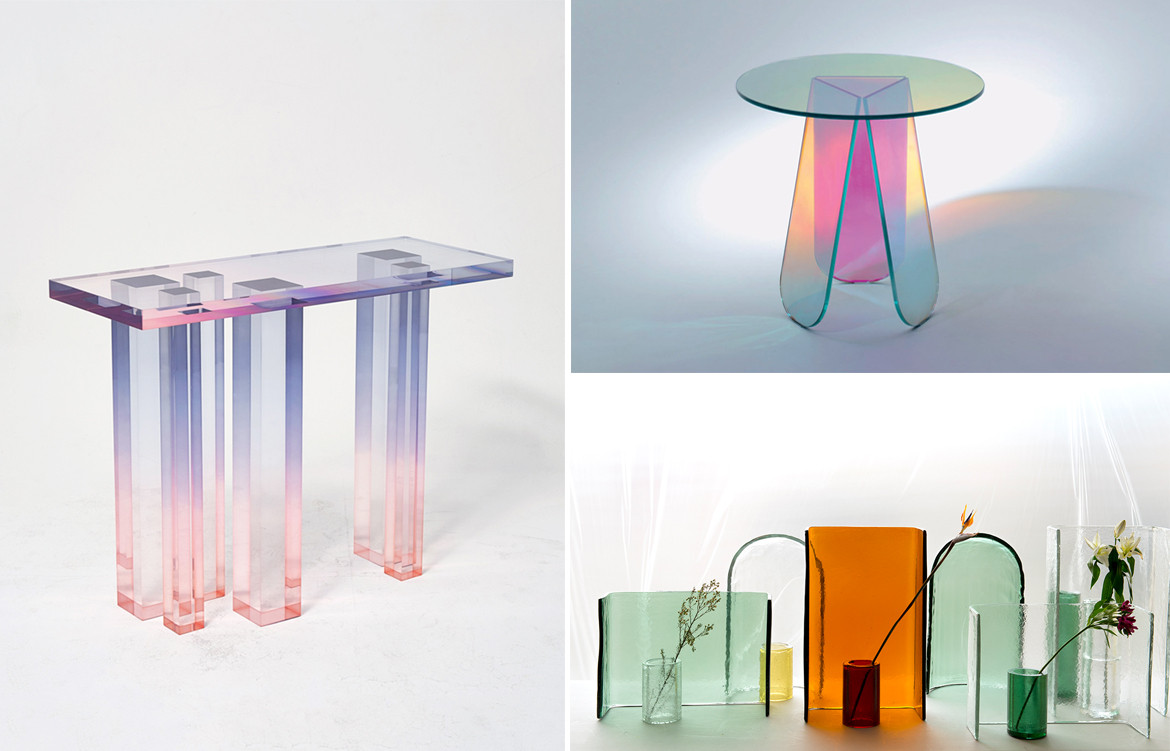 Left: Crystal Series console table by Saerom Yoon from 1stdibs
Inspired by the beauty and hues of sunrise and sunset, Saerom Yoon's Crystal Series is an articulation of the human experience of the sky as a concept of space and time.
Above right: Shimmer Table by Patricia Urquiola from Space Furniture
Characterised by a special iridescent multicoloured finish; the Shimmer Table's nuance varies according to the incidence angle of the light and to the vantage point.
Below right: WonderGlass Alcova Collection from Living Edge
Designed by the internationally renowned French duo Ronan and Erwan Bouroullec, the Alcova collection is comprised of handcrafted geometric objects made of cast glass that when grouped create intimate landscapes.
Indulgent Inclinations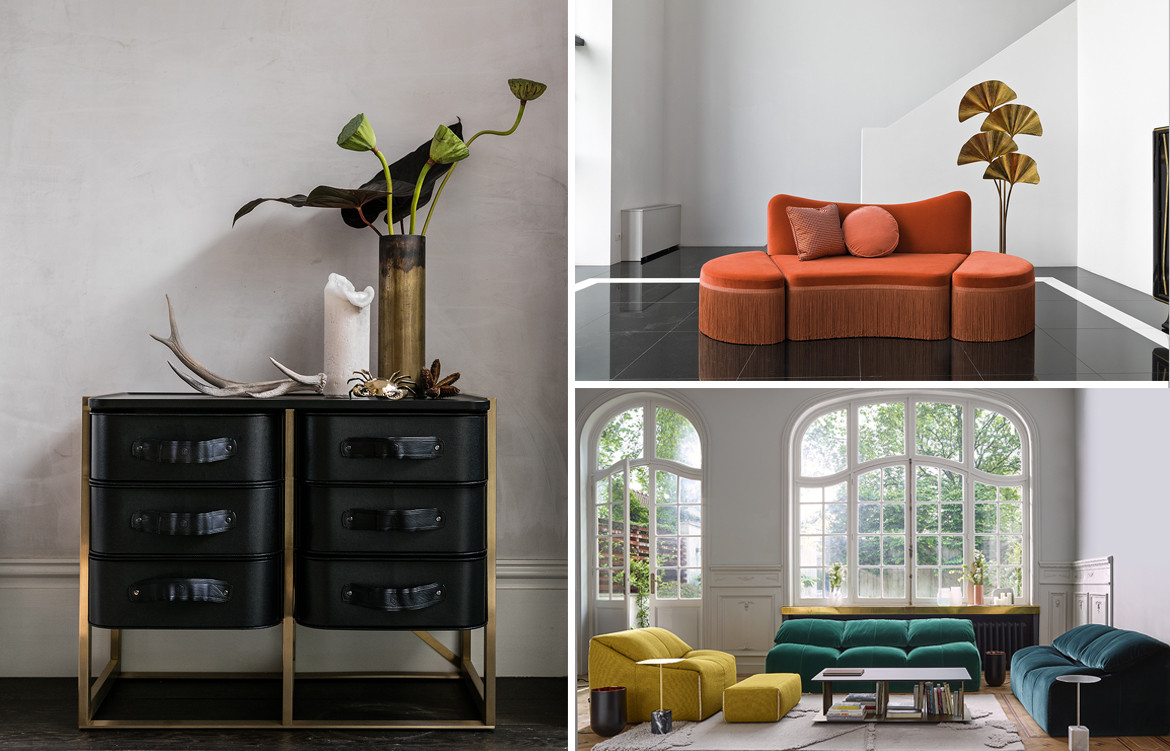 Left: Santiago 6 Box Stand from Sagitine
Comprising a range of voguish boxes and stands, the forms of Sagitine is nostalgic of the Art-Deco flavour. Curves not only reference the charm of the elegant Louis Vuitton travel trunk, but the choice of materials ensures that it is accessible for contemporary interiors.
Above right: Wave by Chiara Provasi from Artemest
Wave by Chiara Provasi is an evocatively curvaceous modular system that invites you to play with space in innovative ways. Elegant and freeform, this sectional piece can be configured to shape each unique environment, creating a sculptural centrepiece.
Below right: Plumy Sofa by Ligne Roset from DOMO
Inspired by the 1980s, the iconic Ligne Roset Plumy Collection was first designed by Annie Hiéronimus. Plumy's enveloping design is the epitome of comfort, relaxation and indulgence. All seat and backrest cushions are filled with goose feathers and can be folded into a chaise lounge position to create a customised experience.
Playful Palettes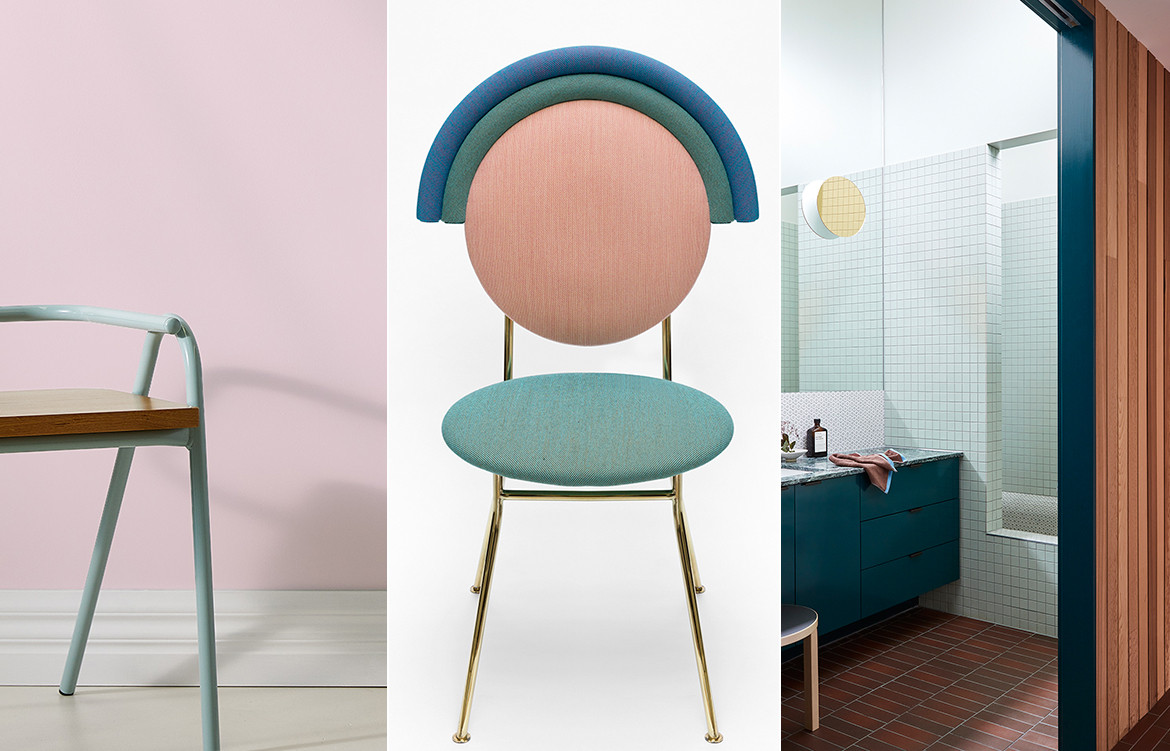 Left: Interior paint in Crush from Tint
Add a pop of playful colour to dull interiors and exteriors with Tint's range of eye-catching paint shades. Tint's Season One collection comprises of 70 coveted colours, including Bubble Bath and Crush. Tint takes the stress out of buying paint – simply browse, sample and purchase the paint online and have it conveniently delivered to your door.
Center: Iris Chair from Merve Kahraman
This minimal and elegant geometrical shaped chair can fit to any environment thanks to its contemporary attitude. Iris resembles a cartoon character with it's joyful colors and round shape.
Right: INAX Tiles from Artedomus
INAX has a long, rich history based in Japanese craftsmanship and expertise. INAX produces a vast range of handmade, extruded, sheeted mosaics and tiles, exclusive to Artedomus.
Slabs of Stone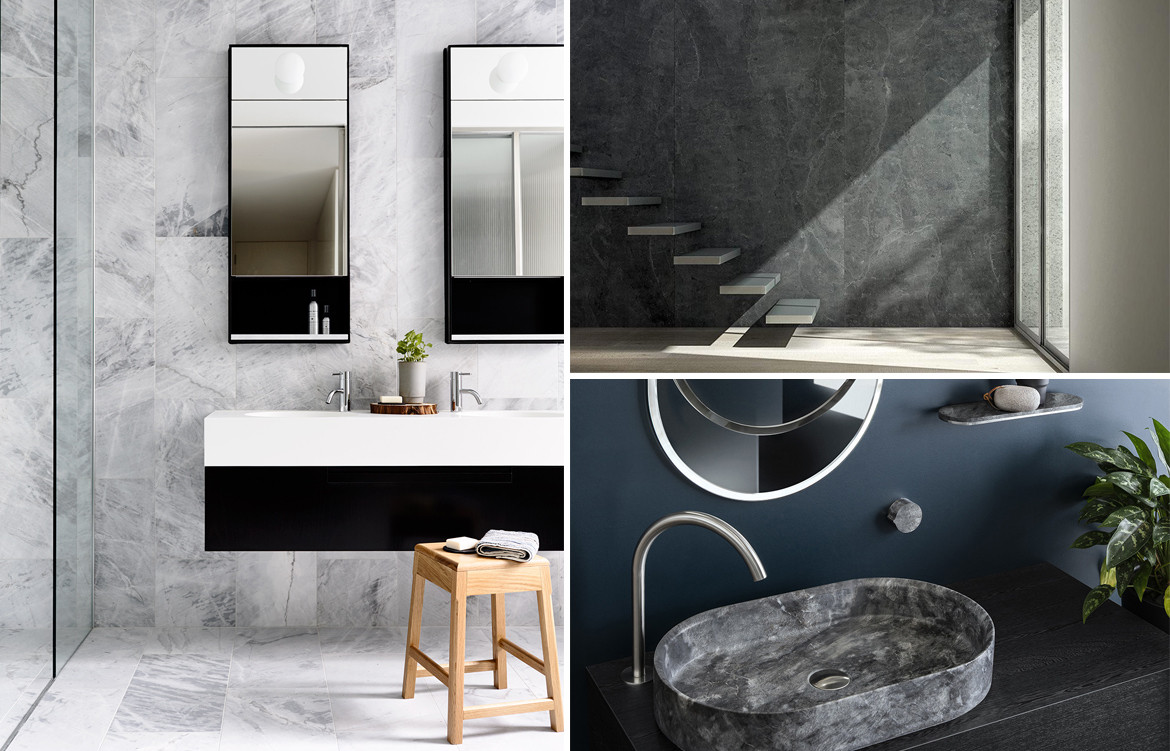 Left: Elba Stone tiles from Artedomus
Coveted for its cool grey tones with soft brown marking, Elba is ideal for kitchen benchtops, splash backs, bathroom wall and floors. Elba stone is exclusive to Artedomus.
Above right: Airslate stone surface from Earp Bros
Featuring a lightweight fibreglass backing it is highly flexible and can be installed on curved surfaces of 250mm in radius or more. Air Slate has the rough surface finish of real natural stone.
Below right: Eccentric Stone from Rogerseller
A celebration of the beauty in balance when two become one, Eccentric Stone is a new collection sculpted from natural stone and highlighted by hints of metal. In perfect harmony, these signature elements explore the power of duality; the raw and refined, subtle and strong, timeless and modern.
Tags: 2020 trends, apaiser, Armadillo & Co, Armadillo&Co, Artedomus, DOMO, earp bros, Fisher & Paykel, furniture, INAX, integrated appliances, Interior Design, Karimoku Case Study, ligne roset, Living Edge, Merve Kahraman, monochrome, Norm Architects, patricia urquiola, Provasi, rogerseller, Saerom Yoon, Sagitine, Signorino, smartstone, Space Furniture, stone surfaces, terrazzo, Tint, tinted glass, wabi sabi
---