Poolside glamour was the definite mood at this year's show, with hyped up colours and large scale prints slinging the 50's into the future. By combining their exquisite designs with candy coloured beehives and matching coloured brows, the styling by Renya Xydis, helped the show hit an ultra-contemporary chord. Borrowing brushstrokes from colonial Morrocco, the heavy piano soundtrack helped recall 50's housewives living 'in the lap'. Bright and breezy stripes of blue and orange opened the show with a Matisse like palette, while the sexy shorts and beaded mini's that followed were all fit for a post-Amy Winehouse present.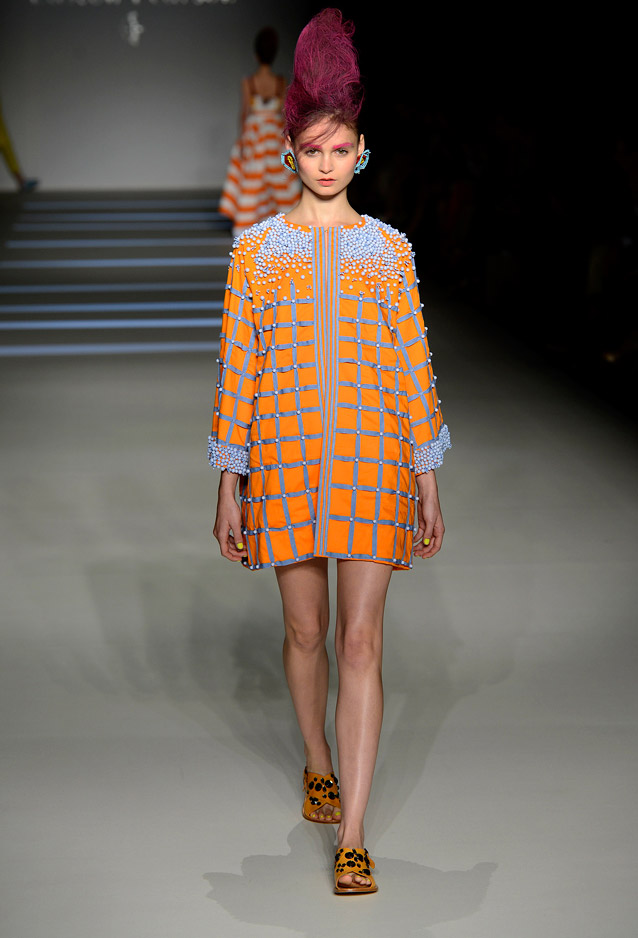 A clever layering of colour built the show step-by-step, with colours of orange, deep pea green and sherbet yellow as fresh as painted boats.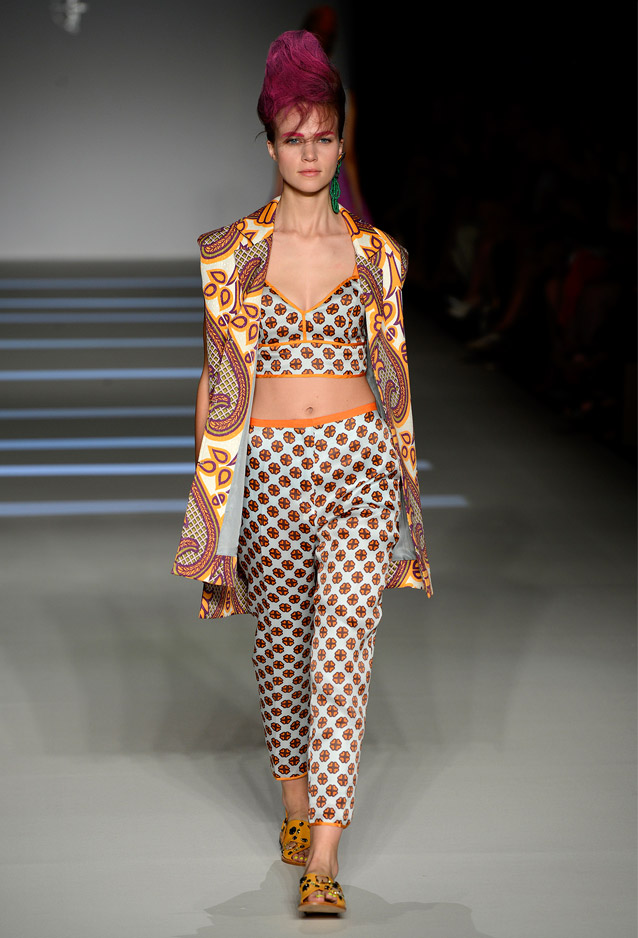 Eagerly anticipated by media and buyers alike, this final show in the MBFW program, marked the first time the Brisbane duo have shown on Australian soil in 5 years. With a legacy of showing in Paris, the Easton Pearson customer looks to France each year, for their timeless, cult collections.
This year did not disappoint.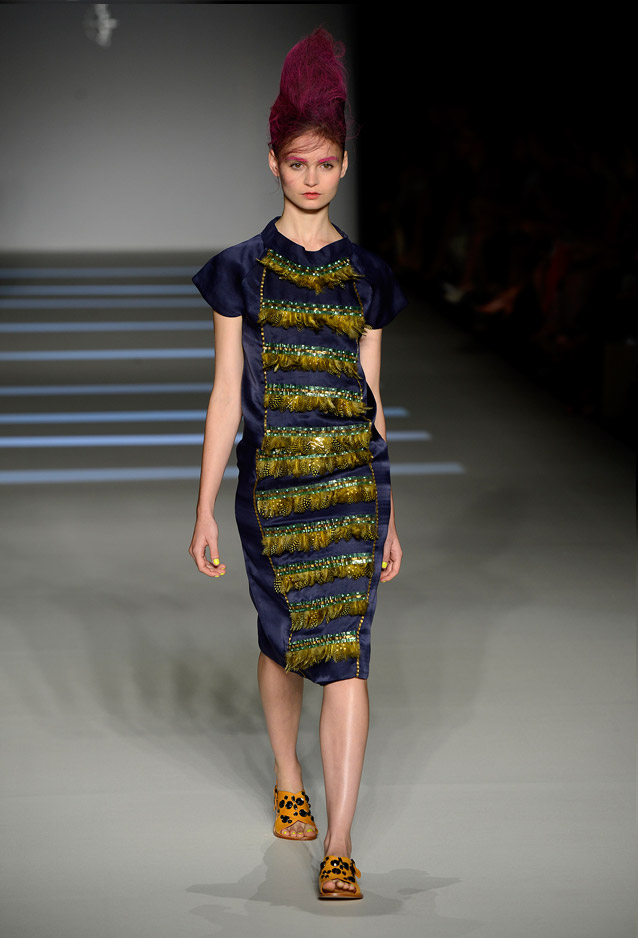 The feather, metallic and plastic fringing gave more than just nod to the lives of rock stars. Yet on the feet, bejeweled 'slip ons' added further to the distinctly laid back vibe.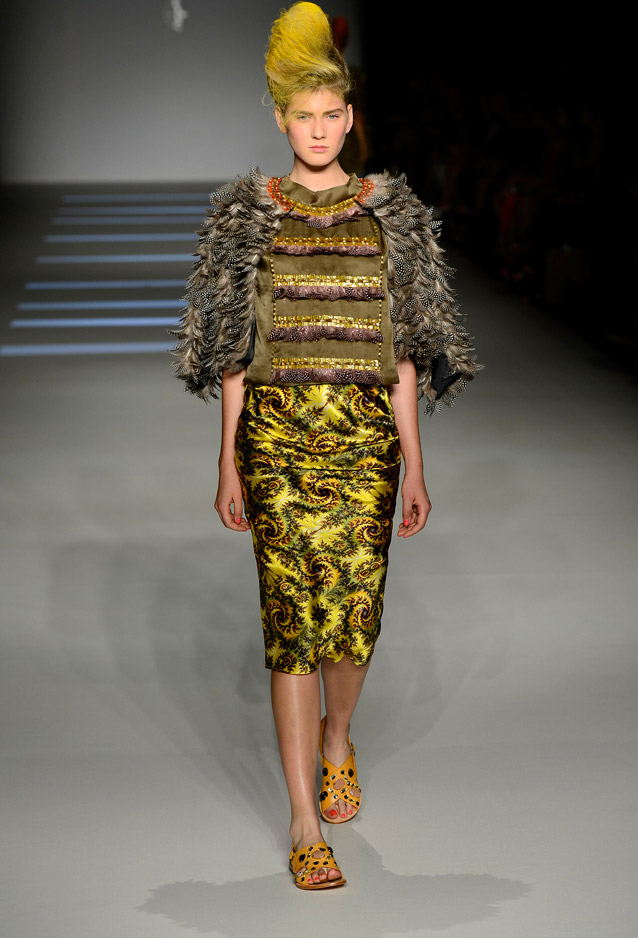 Pansy earrings in bird's eye sized beading were another leitmotif, an oversized partner to the excessive up-do. African decoration was never far from reach, until the show took a turn toward the exotic gardens of Alison Wonderland. Here Easton Pearson offered us lots of beading on beautiful, floating gowns. One dress looked like red fireworks on a pale blue silk chiffon sky, another in tinkling gold metallic was fit for a Bond girl sauntering into view.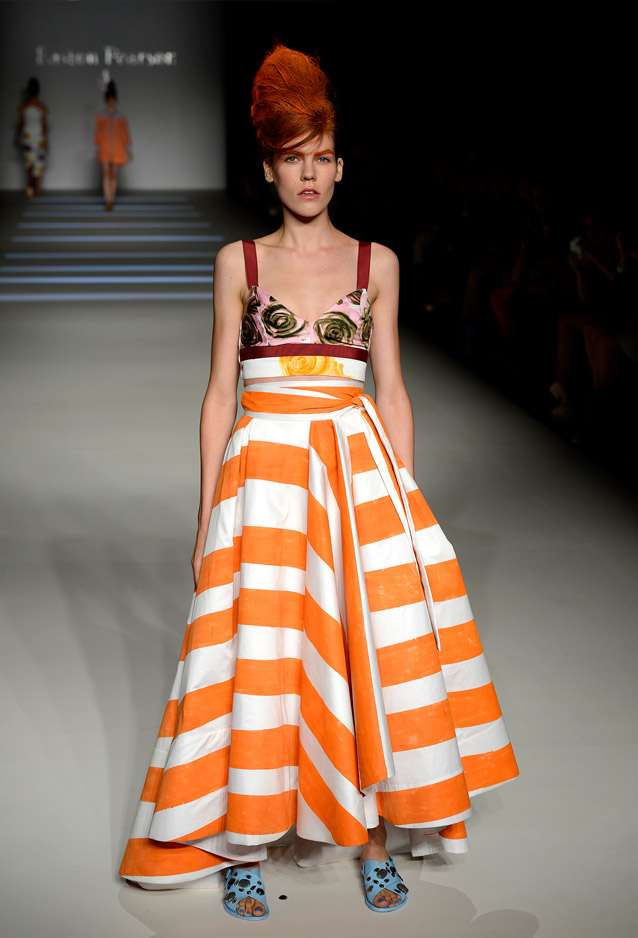 Obviously one of the strongest collections at fashion week, Eason Pearson brought more timeless brilliance to the catwalk once again. Each piece was visually sustainable, cerebral and astute. According to the designers – "50's inspired, but more like 2050".
Easton Pearson
eastonpearson.com
Renya Xydis City Salon
valonz.com.au/site/4/renya-xydis 
Tags: Easton Pearson
---