When Eugenio Perazza, the founder of the renowned Italian furniture brand, Magis, wanted to surprise his granddaughter with a drawing table to work on, there was nothing in the market that was offering him what he was looking for. Eugenio found that there was a lack of furniture specifically designed for kids of her age that met his creative standards, and that was also suitable and inspiring for the younger demographic. So, he wanted to create a special collection that celebrated a similar soul of "grown-up" furniture, while instilling a sense of simplicity and whimsy that was suitable and enjoyable for the younger generation.
In 2004, Magis established Me Too: an entire collection that offers fun, intelligent and inspiring furniture and accessories that redefine the way our children live, work and play. For over a decade, Me Too has enabled children to experience the creativity and sensations dreamt up by celebrated names in contemporary design.
When it comes to kids furniture, attention to detail and usability are paramount. This product range is curated with specified proportions, vibrant colours and basic functional matters – designed to view the world and the objects in it through the eyes of a child's imagination and curiosity.
Trotter is half chair, half wheelbarrow and as excitedly mobile as your little ones.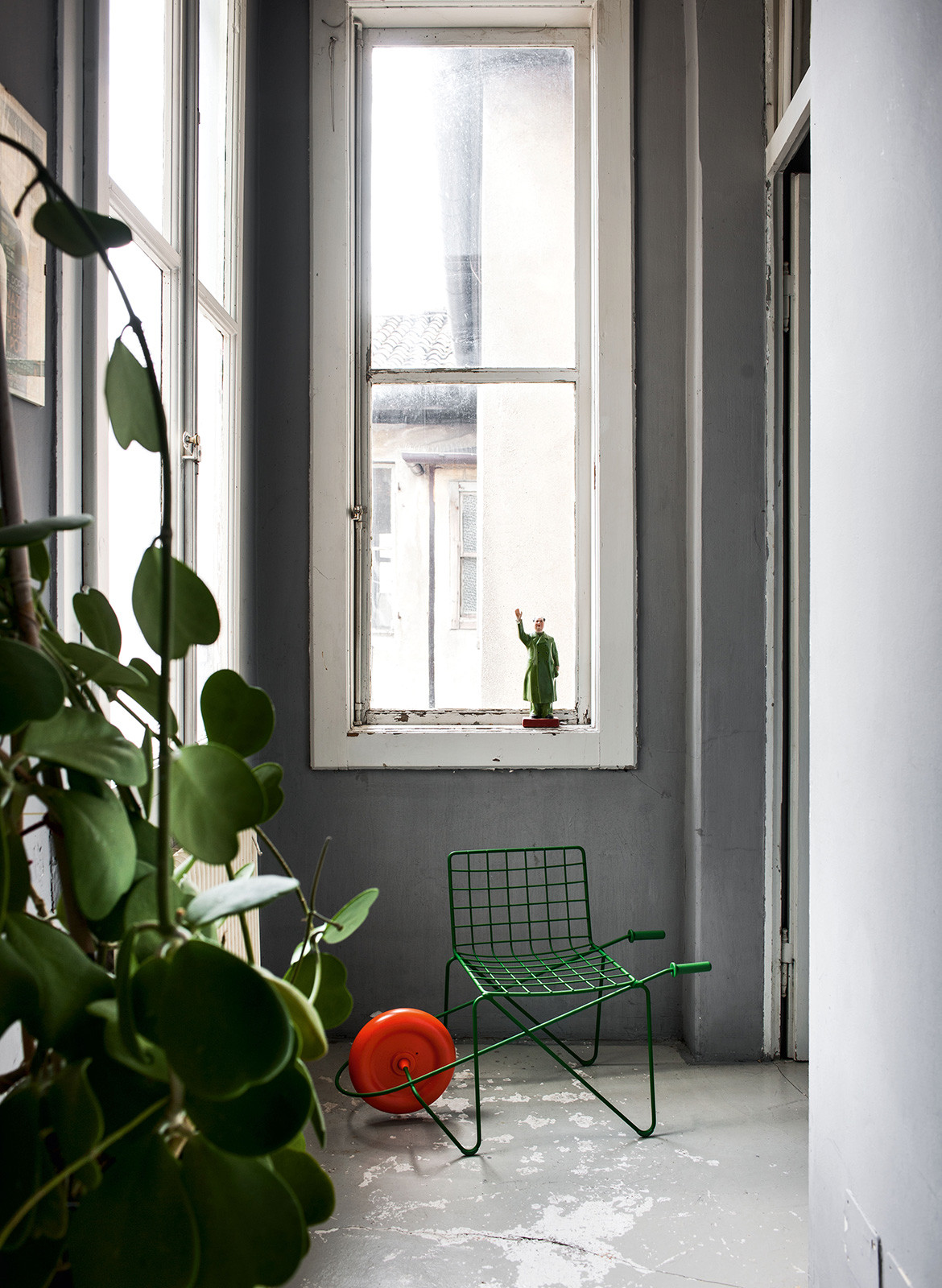 Designed by Rogier Martens, Trotter is half chair, half wheelbarrow and as excitedly mobile as your little ones. The playful object is defined by its conspicuous wheel structure – an invitation for children to push, pull and stay active. The lightweight structure of steel wire makes it easy to move the chair to every spot in the house and run free, over and over again.
The Little Big family features a chair that grows with the children. Designed by studio BIG-GAME, the simple system is height-adjustable, allowing the chair to be configured to three different heights as the years go on. Lightweight and comfortable, the chair combines the sturdy quality of solid ash and plastic shell for easy transport from the playroom to the dining table. As your child's first chair, Little Big is imbued with a personality your child can connect with – one that is inspired by the sophistication and charm of an "adult" chair.
The Little Big family features a chair that grows with the children.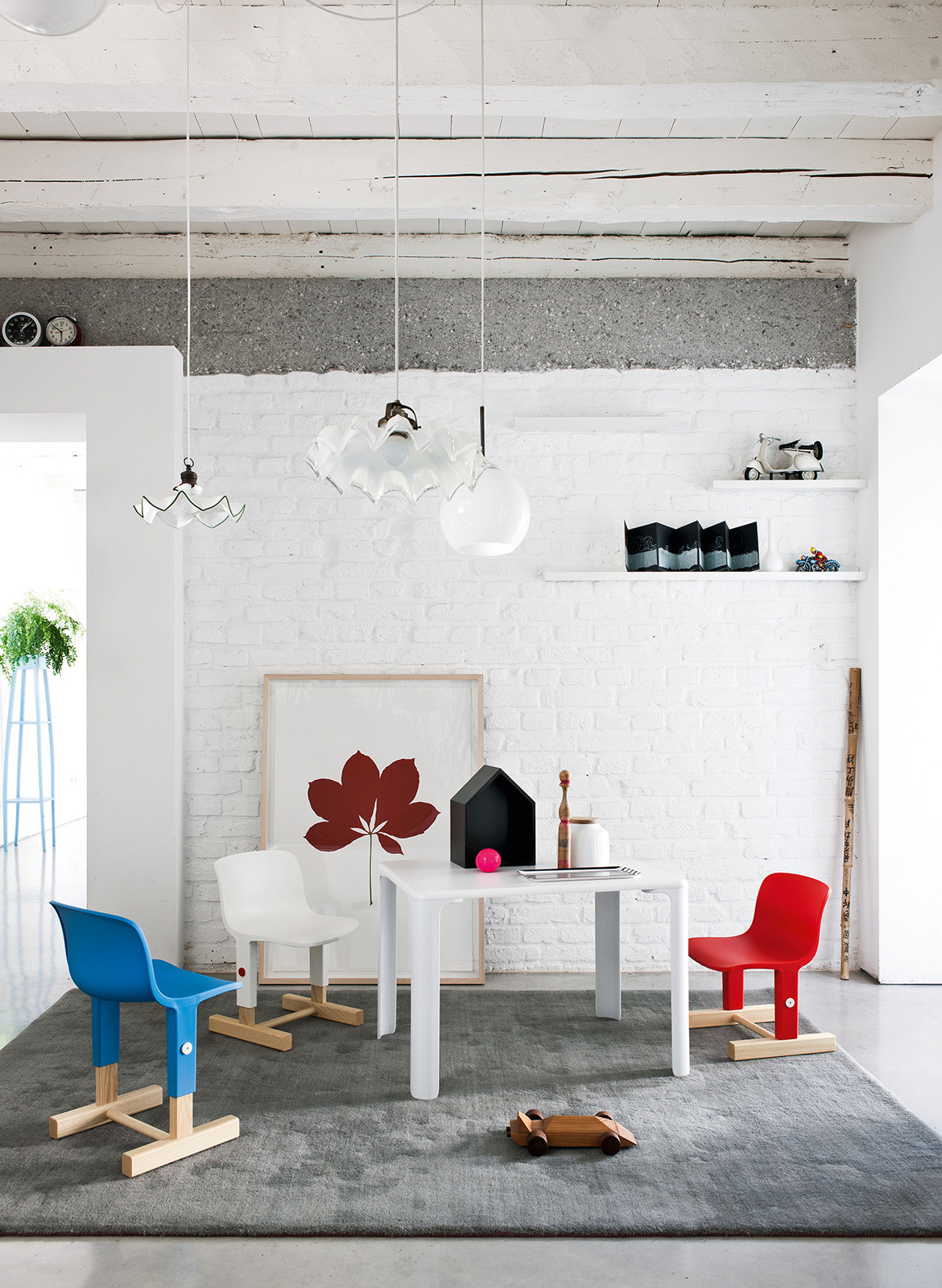 For a more dynamic type of seating, designer Eero Aarnio introduces Trioli: the multipurpose kids chair that will keep the little ones entertained for hours. Trioli is designed with two different seat height options – depending on which side is positioned upwards. Thanks to the chair's unique form and sideways-tilting facility, the backrest handle can easily transform Trioli into a rocker. Energetic, colourful and exciting, Trioli is the multifaceted chair that you didn't realise your child needed.
Every home needs a good storage system – especially when it comes to the copious amounts of toys that get thrown around the house. The joy of cleanliness can also be brought to the child's play area or bedroom with Eur. Designed by Giulio Lacchetti, Eur is a modular shelving system that can expand endlessly both upwards and sidewards. Perfect for storing hidden treasures and constructing building blocks, Eur puts the fun back into organisation.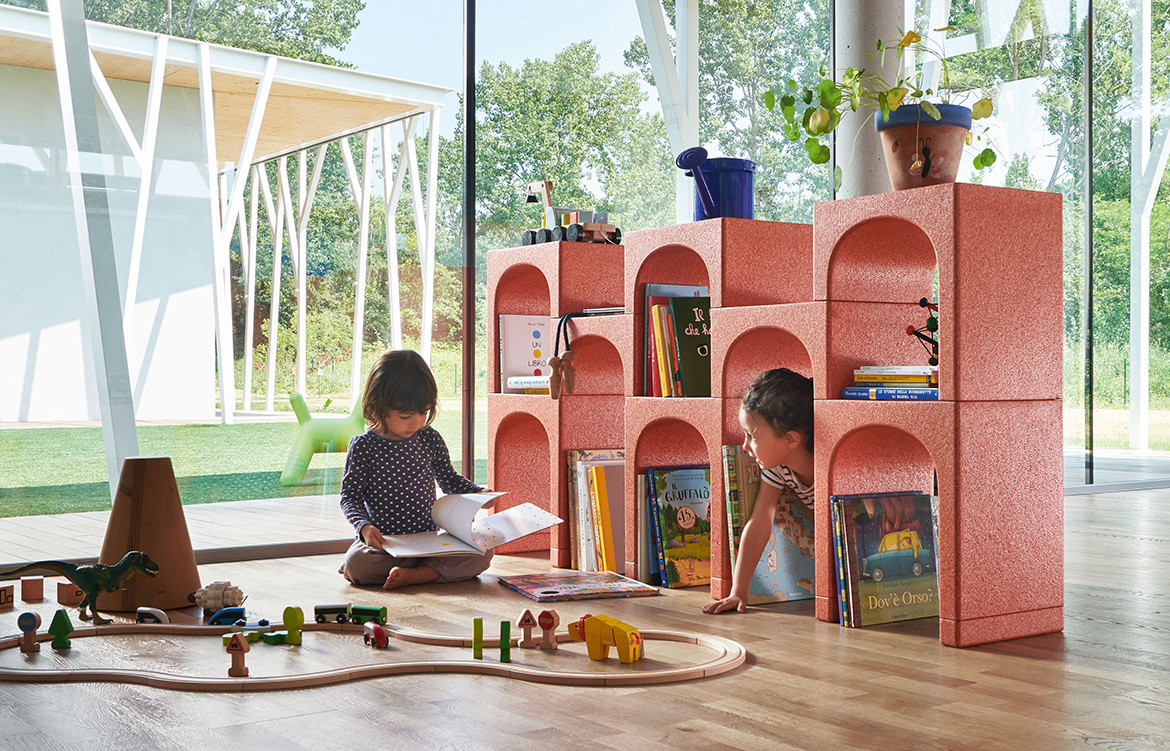 "Elements in expanded polypropylene are stacked and adjoined to compose a shelving system, creating a series of superimposed arches," says Lacchetti. Reminiscent of the famous "Square Colosseum," in the EUR quarter in Rome, Eur's sculptural form is a nod to the Rationalistic features of historic Italian architecture.
Ladrillos stores your child's books and toys on a shelf that establishes both a functional and artful relationship with the child. Designed by Javier Mariscal, Ladrillos is built up with eight different geometrical shapes in bold, bright colours. Each unit is designed with an amusing expression that's playful in tone to brighten up any room.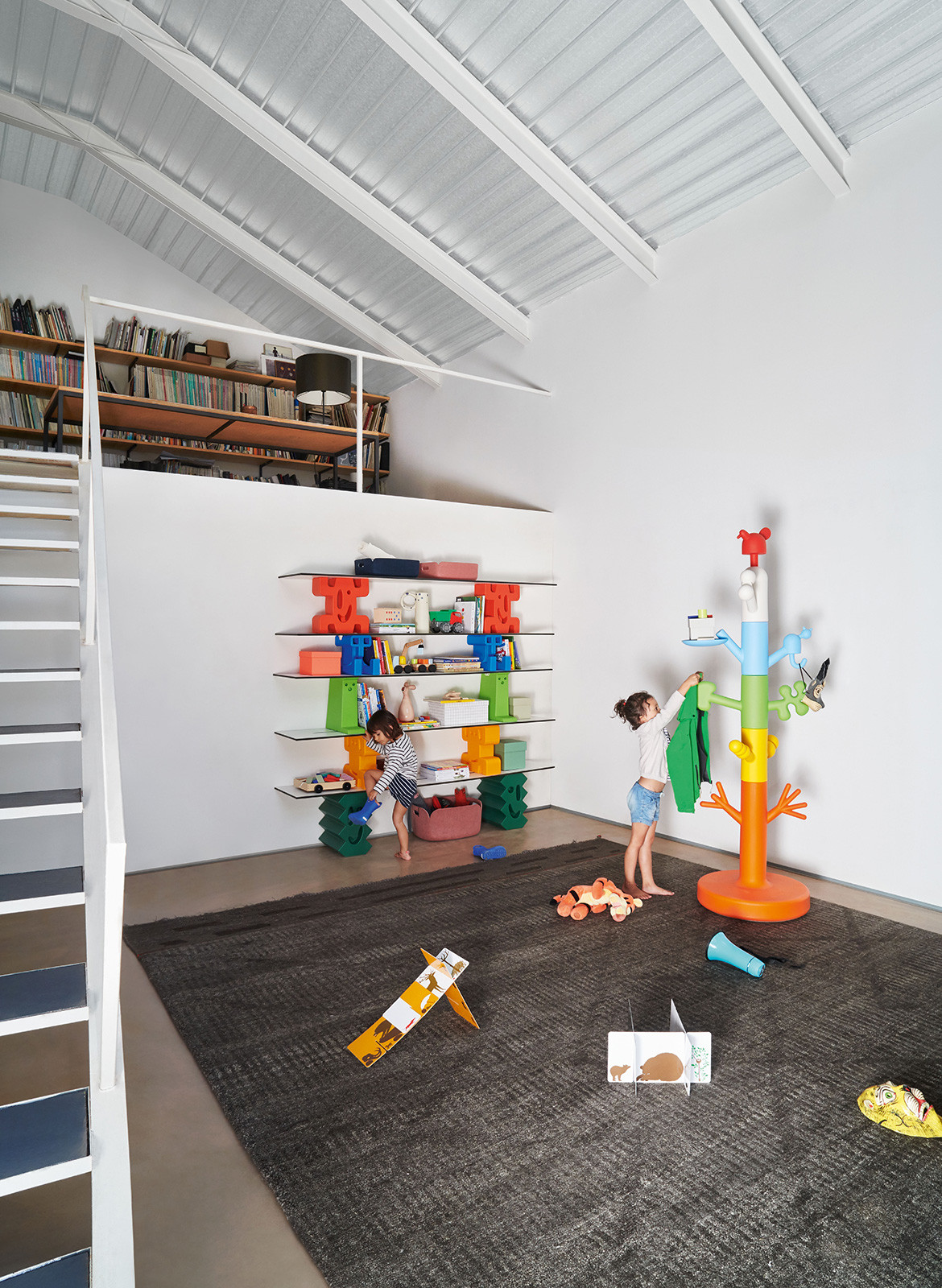 A notable addition to the Me Too collection is Villa Julia: a life-size playhouse to bring your child's dreams to life. Designed by Mariscal, Villa Julia is crafted from durable cardboard and adorned with illustrations of beautiful flowers and cartoon animals to bring the joy back into "playing house." This charming abode is built with large windows that span across Villa Julia, with a circular window on the front door to let them see the outside while enjoying their time indoors. The large cardboard structure acts as a canvas for the children's imagination and creativity to roam free, decorating it however they want – and ultimately, making it their own.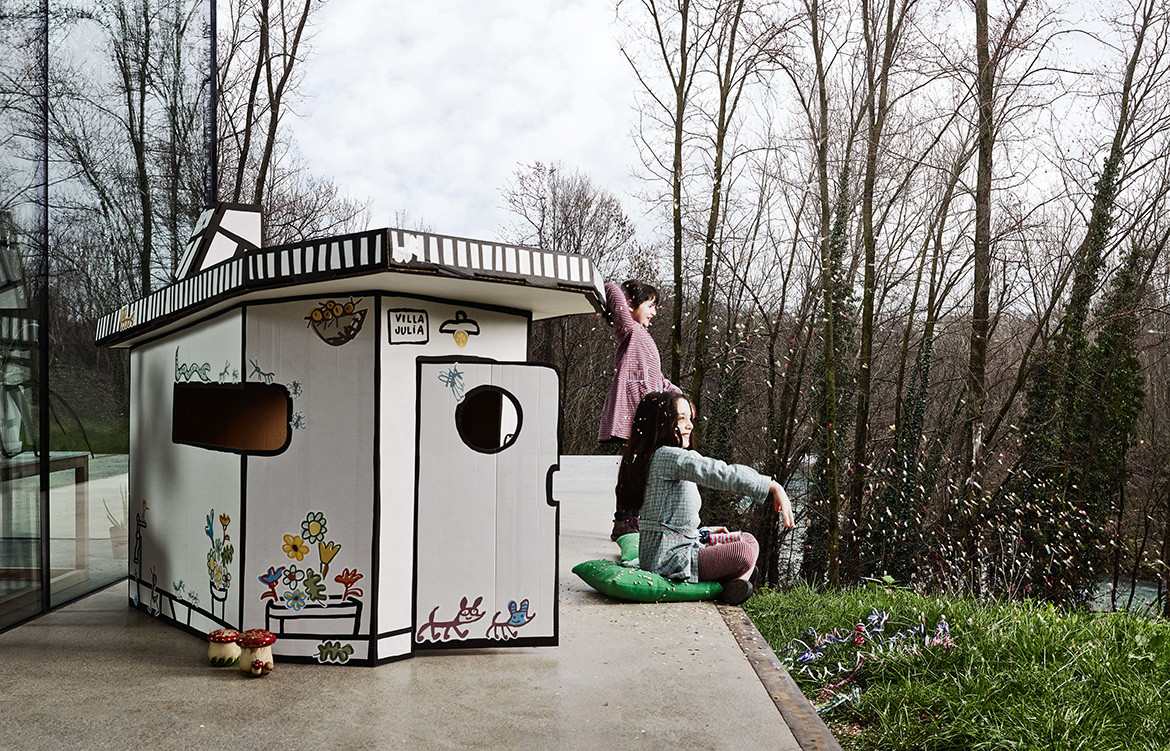 "One of a child's favourite games is to build themselves a house," says Mariscal. "The most important thing is to have a house in their own scale, a private space made to their measure, where children can hide and play sheltered by walls and a roof. Somewhere only children can be invited in."
Every product in the collection is thoughtfully designed to push the creative boundaries and transport us to a place where rocking horses, building blocks and transformable chairs are an everyday reality. The exciting, colourful and imaginative world of Me Too is filled with magic that your children will cherish for a very long time. Envisioned by the great designers and collaborators of Magis, this unique collection invites adults to explore nostalgia and whimsy; all through the eyes of the children.
Magis
magisdesign.com
dedece
dedece.com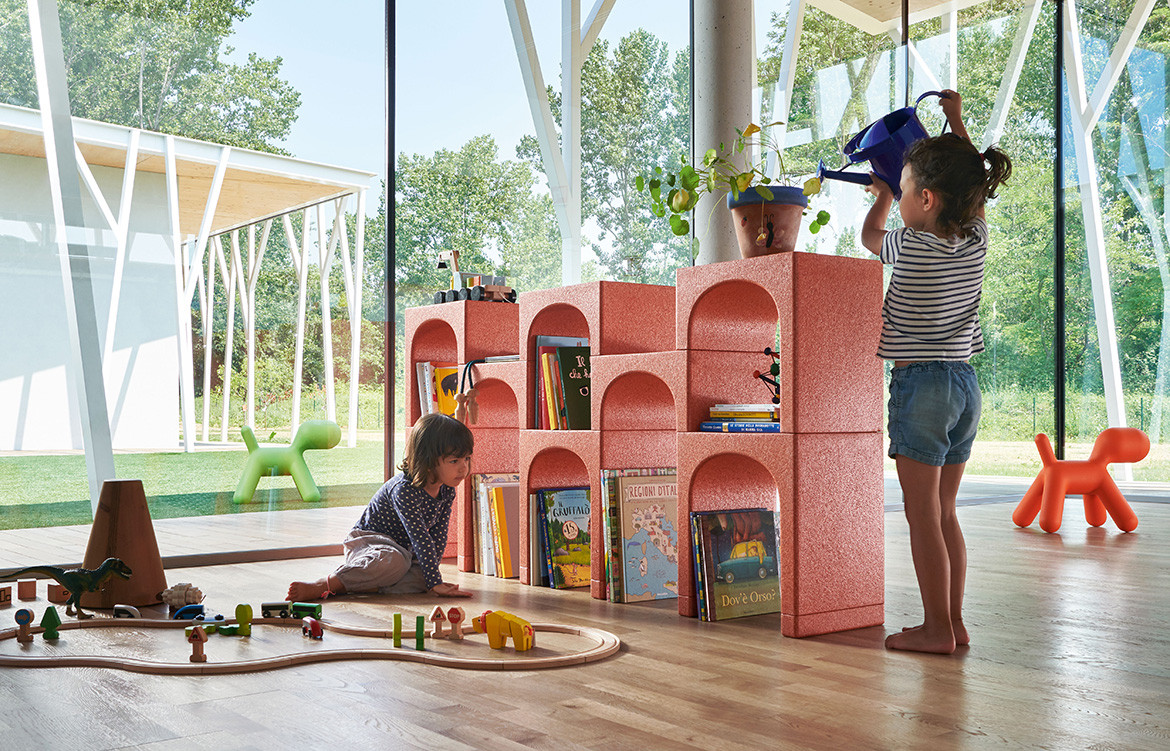 Tags: BIG-GAME, children's furniture, Dedece, Eero Aarnio, Italian design, Kids Furniture, magis, magis design, Mariscal, Me Too Magis, Rogier Martens
---