New Zealand born, Sydney based artists Michael O'Donovan & Keith Orchard's Exhibeo takes form from one flat panel of conjoining stainless steel triangles, laser-cut and folded into shape: a process by which chaos comes out of order. The designers share a fascination with 2D patterns that give the illusion of a third dimension, such as spirographs and hyperbolic tessellations.
The polished interior of the bowl enables its multifaceted surfaces to reflect light, in contrast to the matte finish of the exterior. This shallow vessel is multifunctional, in that it can be used as both a bowl and a platter, or a decorative piece in its own right.
Onda, meaning wave in Portuguese, is a most fitting name for this bowl by Polish-born, Sydney based designer Patryk Koca, who has moulded laser-cut aluminium to depict the unpredictability of the ocean.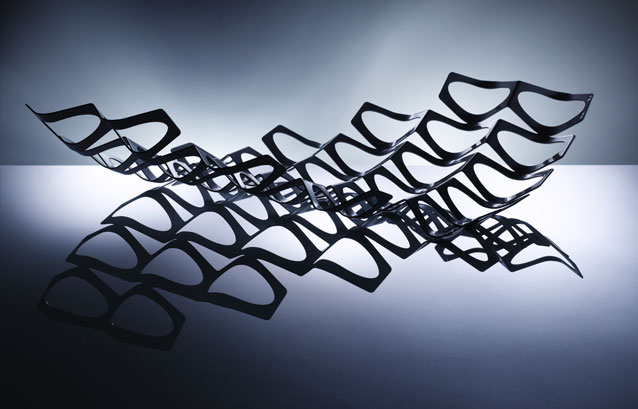 The aluminium has been anodised to give the bowl long-life and protect it from the oxidisation and corrosion of fruit acids. Onda can be found in natural grey, red, black and glossy white. 
Takeshi Iue, Furniture Design Associate at The Jam Factory, completes the collection with Fruit Bowl. This piece is a balancing act of engineered stability, where six flat laser-cut boards of natural wood petal from the base to form a hollow.  The bowl can be conveniently flat packed and re-erected with ease by simply slotting each wooden board into the next.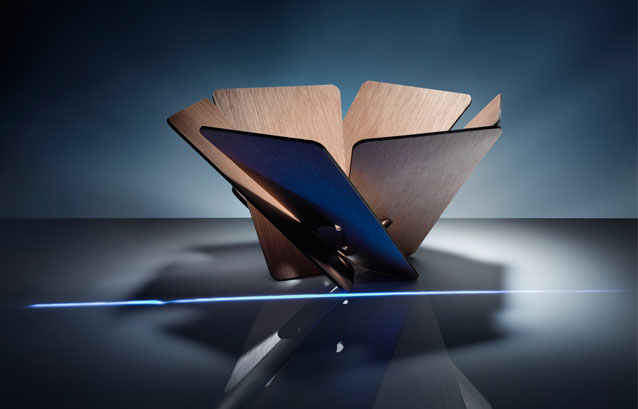 "I believe in the beauty of subtlety of natural randomness and mathematical proportions and repeated patterns found in both natural and man-made environments" comments Iue, "My designs feature a balanced chaos, emphasizing the contrasts between negative and positive spaces, proportions, colours and materials."
Photography: Florian Groehan.
Tags: Florian Groehan, Keith Orchard, Michael O'Donovan, Patryk Koca, Takeshi Iue, workshopped
---