a:         Store Jars by Established & Sons.
Established & Sons was launched in Milan 2005 with a mission to produce products at the vanguard of design and become a name that is recognised as an innovator in the industry.  
Established & Sons is committed to quality UK-based production and fostering the best of British design talent on an international platform. From extraordinary and ambitious domestic pieces to functional workspace solutions, the collection is a reflection of the creativity and skill of the best contemporary design has to offer.
b:         Sharp Series by Craig Bassam
Craig Bassam is an Australian-born designer and co-owner of BassamFellows, who made their interionational debut in Milan 2003. Warm, graphic and organic, their work celebrates traditional materials and techniques and displays superb craftsmanship.
c:         Leather Desk by Craig Bassam
d:         Soft pad Chair by Charles and Ray Eames
With a grand sense of adventure, Charles and Ray Eames turned their curiosity and boundless enthusiasm into creations that established them as a truly great husband-and-wife design team. Their unique synergy led to a whole new look in furniture. Lean and modern. Playful and functional. Sleek, sophisticated, and beautifully simple. That was and is the "Eames look."
e:         Showtime Vases by Jaime Hayon
Born in Madrid in 1974, Jaime Hayon can boast one of the most glittering careers to be seen in the recent history of contemporary design. Although born and trained in Madrid, he was forged as a designer with Fabrica, the breeding ground of creativity run by Benetton near the Italian city of Treviso, where he arrived in 1997, when he had barely turned 24, to work under Oliviero Toscani, who would soon put him in charge of the design department. It was at Fabrica that he first worked with BD on the Mail Me project. 
In 2004, Hayon decided to branch out on his own, so he settled in Barcelona and began working on a number of projects while also exhibiting his more personal work in art galleries.
f:          Tray Rack Side Table by Craig Bassam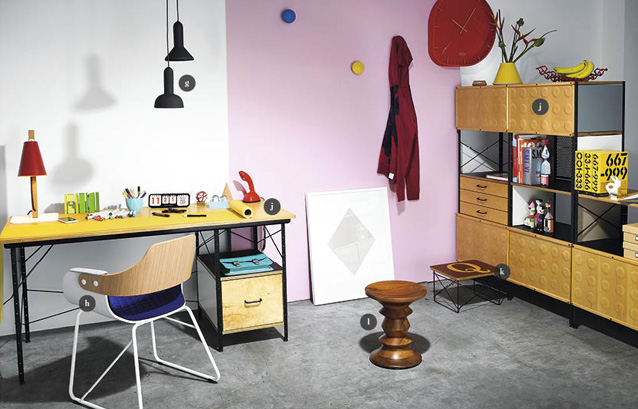 g:         Torch Lights by Sylvain Willenz
Sylvain Willenz is one of Belgium's leading designers. After graduating from the Royal College of Art in 2003 and having lived in the UK for seven years, Willenz set up his studio in Brussels in 2004. Willenz's work deals with projects from lighting to product design and furniture. His approach to design is characterized by a clear love for materials and processes. The work-spirit is straightforward and frank. Whilst remaining simple, design solutions are relevant, innovative and powerful. Projects celebrate design, archetypes and industry.
h:         Showtime Chair by Jaime Hayon
i:          Two Time Clock by Sam Hecht
Sam Hecht, born in London 1969, British industrial designer. Sam Hecht and Kim Colin are retained designers of Muji. Sam Hecht and Kim Colin founded Industrial Facility in 2002, a design studio based in London.  
j:          Desk and Storage Unit by Charles and Ray Eames
k:         Limited Edition Wire Base Table by House Industries
Known throughout the world as a prolific type foundry, House Industries has made a considerable impact on the world of design. In their illustrious career, House artists have mastered a large cross-section of design disciplines. Their typography deftly melds cultural, musical and graphic elements. 
From early forays into distressed digital alphabets to sophisticated type and lettering systems, House Industries' work transcends graphic conventions and reaches out to a broad audience. What ultimately shines in the House Industries oeuvre is what always conquers mediocrity: a genuine love for their subject matter.
l:          Walnut Stool by Charles and Ray Eames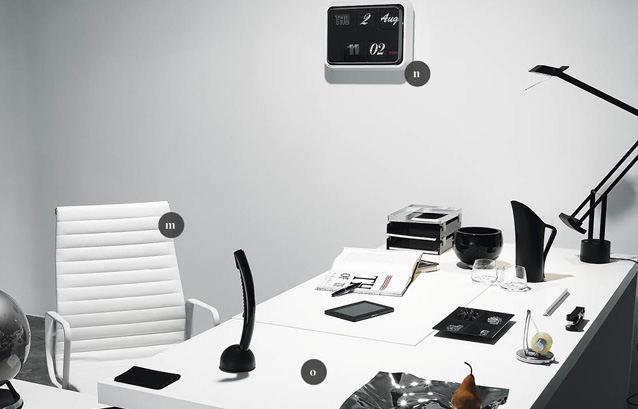 m:        Executive Task Chair by Charles and Ray Eames
n:         Font Clock by Sebastian Wrong
Sebastian Wrong's ten-year career in the manufacturing sector has accumulated in an impressive array of technical skills. Wrong first studied sculpture before going on to establish his own successful manufacturing company.
The Spun lamp, designed by Wrong in 2002 and produced by Flos, won the prestigious Red Dot Design Award. Wrong is also a founding member and currently the Design Development Director of Established & Sons.
o:         Mono Executive Desk by Wolfgang CR Mezger
Wolfgang C. R. Mezger, born in 1951, is one of the world's most renowned specialists for executive offices and was a lecturer in London, Berlin and Schwäbisch Gmünd. Harmonious concepts and intelligent details are the hallmark of Mezger's aesthetic philosophy. He finds the answers to complex questions with ingeniously simple solutions. His feeling for the spirit of the times speaks to the customer. This can be seen in products for names such as Renz, Artifort and Davis. At Walter Knoll, it can be seen in the office lines Icon, Headoffice 3200 and Frame, as well as the Lipse chair.
Photography: Tim Robinson
Tags: Living Edge
---