Top: (Left to right) Cocoon by Campana Brothers and Concertina Table, Lamp Shade and Chair by Raw Edges at Louis Vuitton Island Maison, Marina Bay Sands

Louis Vuitton's Objets Nomades, a collection of foldable furniture and travel accessories previously presented in Miami, Milan and Brazil has arrived in Singapore, marking its first presentation in Asia. Set within the Louis Vuitton Island Maison, which features a travel room and an outdoor loggia that recalls the deck of a luxury yacht, Objets Nomades celebrates wanderlust and the romance of travel. A project that started back in 2012, Objets Nomades has expanded into a collection of 17 objects today, created by a stellar line-up of international designers, including Atelier Oï, Campana Brothers, Gwenaël Nicolas, Marcel Wanders, Patricia Urquiola and Raw Edges.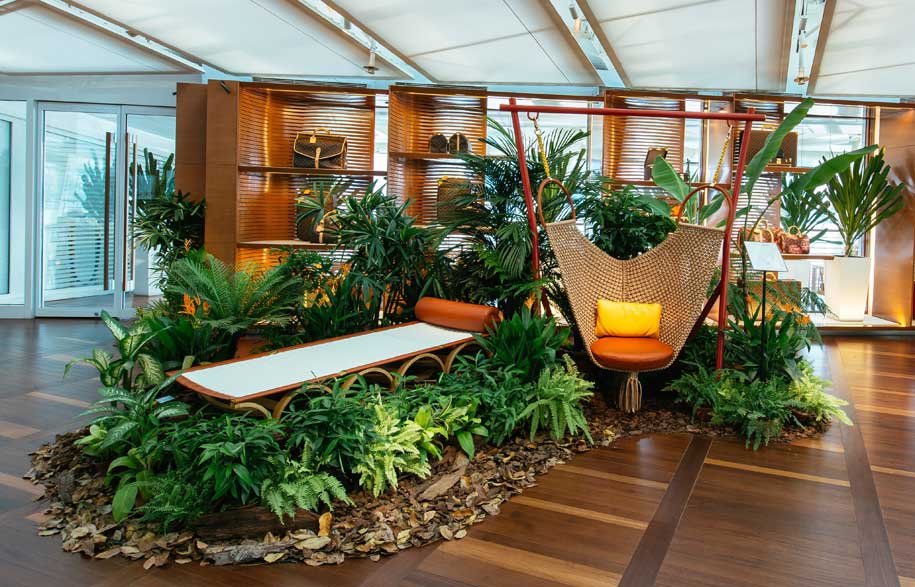 (Left to right) Ernest Bed by Gwenaël Nicolas and Swing Chair by Patricia Urquiola at Louis Vuitton Island Maison, Marina Bay Sands
The designers drew inspiration from the 'Art of Travel,' a theme synonymous with the House since its inception in 1854, as well as Louis Vuitton's Special Orders department, a creative laboratory that has led to iconic inventions, such as the Bed-Trunk(1880) commissioned by the explorer Pierre de Brazza, the Library Trunk (1923) and the Wardrobe Trunk (1875).
New perspectives of travel objects, such as the hammock and lounge bed are presented. Each creation represents a contemporary spirit, while being painstaking perfected by the artisans of Louis Vuitton's ateliers, using age-old techniques and fine materials, such as the House's signature Nomade leather, which is prominently featured in the collection.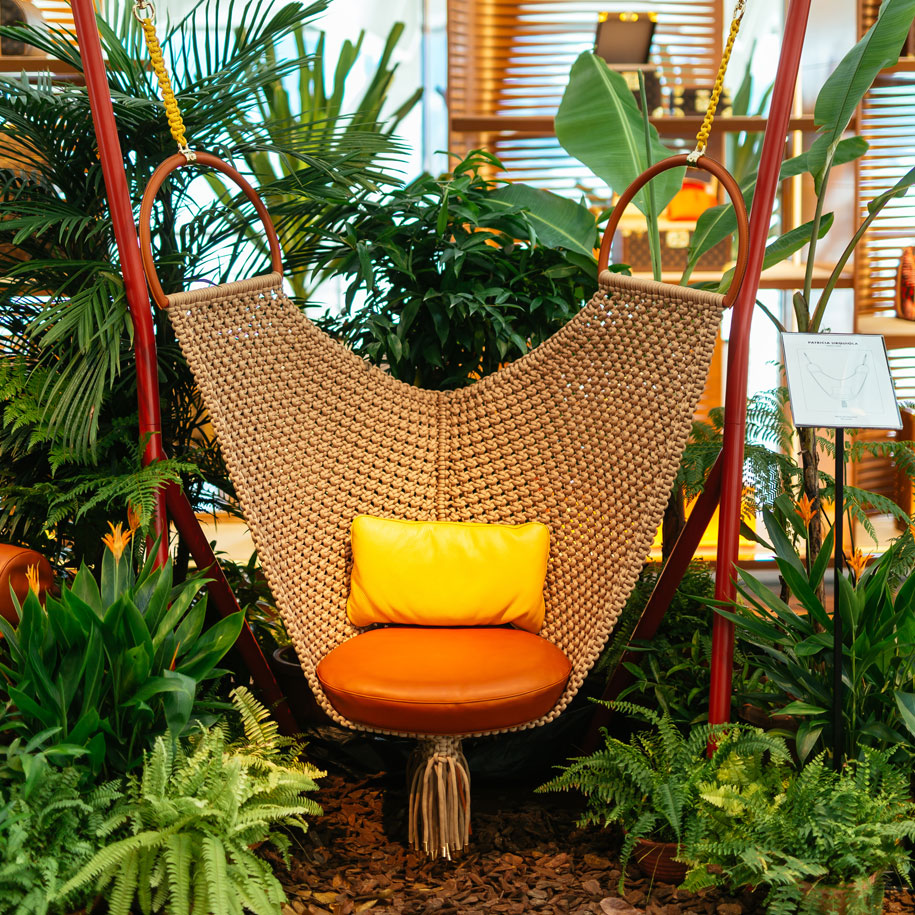 Swing Chair by Patricia Urquiola at Louis Vuitton Island Maison, Marina Bay Sands

There are pieces that bear subtle features inspired by details seen in the House's iconic fashion pieces. For instance, Patricia Urquiola's Swing Chair is secured by two large metallic handles and a woven mesh inspired by a handbag.
Atelier Oï's Hammock features a weave pattern made using leather strips and gilded rivets. The team wanted to impart leather with "a sense of softness and three-dimensionality". Hammock was inspired by the structure of the farfalle pasta, which spots a ribbon-like shape derived from an original flat format. "We were inspired by the technical know-how of Louis Vuitton and the materials they use," said Patrick Reymond, one of the three founders of Atelier Oï, during an in-store presentation. Atelier Oï visited the family house, atelier and workshop of Louis Vuitton as part of their design process. "This is how we work in our office. It is important to understand the material before designing something. We want to 'taste' materials, like how cooks taste ingredients before cooking," he added.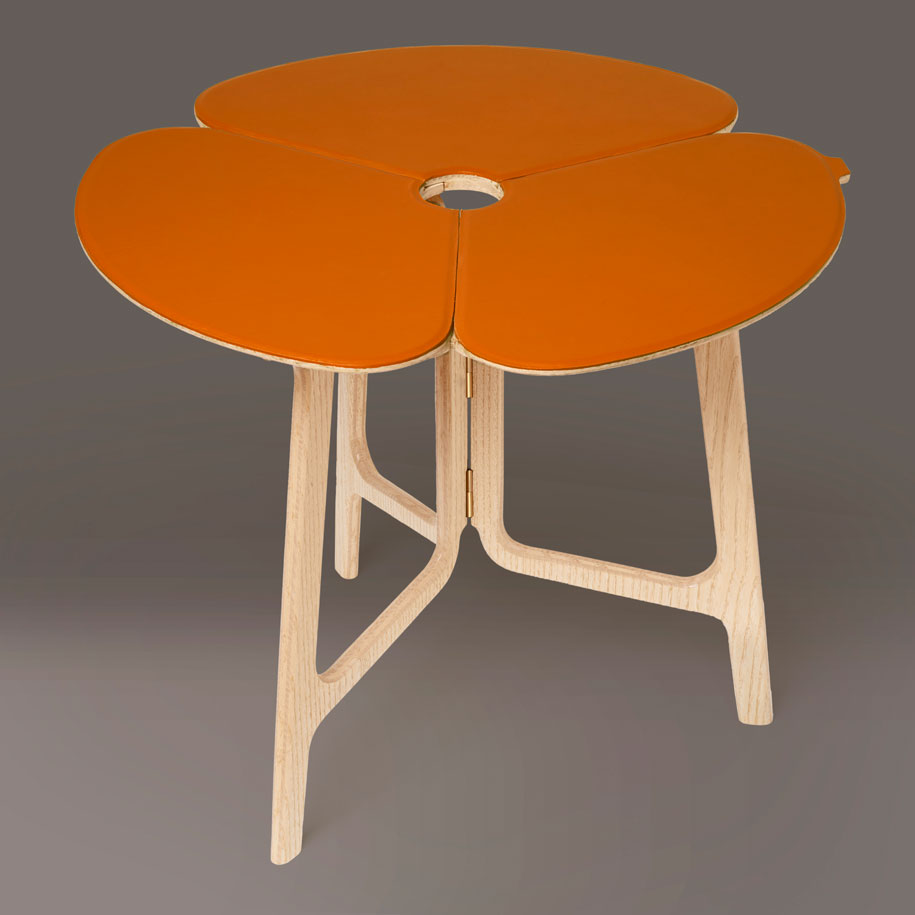 Concertina Table by Raw Edges
London-based studio Raw Edges created the Concertina Chair, Table and Lamp Shade, which are collapsible, inspired by accordion folds. The Concertina Table draws from the flower that has been featured on the House's signature Monogram pattern since 1896.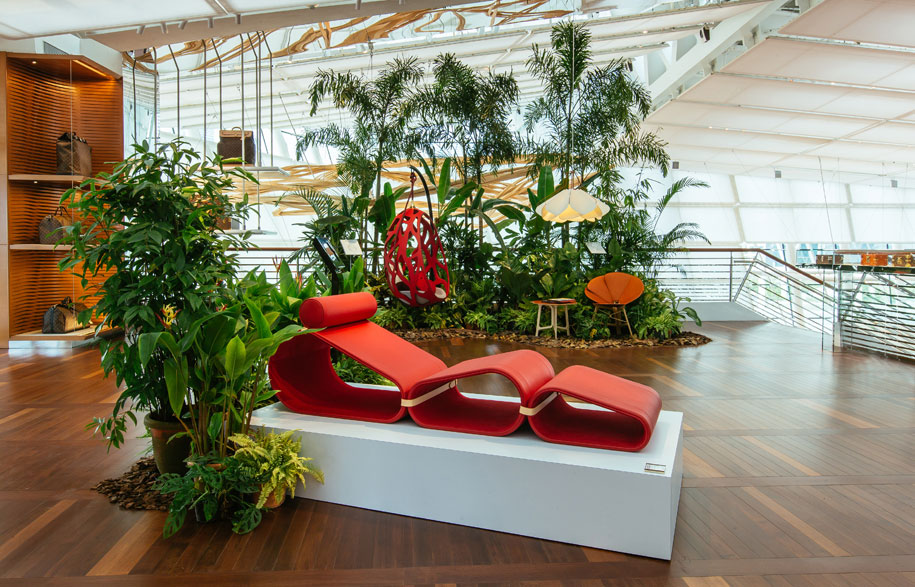 Lounge Chair by Marcel Wanders
The Lounge Chair by Marcel Wanders is composed of three modules that can be easily fitted into one another for portability, or unfolded for relaxation.
Objets Nomades is presented from 18 May to 30 June 2016 at the Louis Vuitton Island Maison at Marina Bay Sands. 
Tags: Designer Furniture
---