Building on the strong trend for geometry in interiors, these cutting edge patterns are inspired by tangrams, an ancient Chinese puzzle that interchanges seven angular forms to create a range of different shapes and structures, as well as a reference to the architectural style of Dutch fashion designer Iris Van Herpen.
Quiz and Zip are produced from 100% solution-dyed polyolefin, allowing for excellent performance characteristics including outstanding colour fastness to light, UV stability as well as easy care and maintenance with a bleach solution. From an environmental perspective, solution dyed textiles are considered to be optimal as this method allows for reduced water usage and emissions compared to conventional dyeing processes. Quiz and Zip are also produced using certified green energy (100% renewable resources) and the yarn holds an Oeko-Tex certification.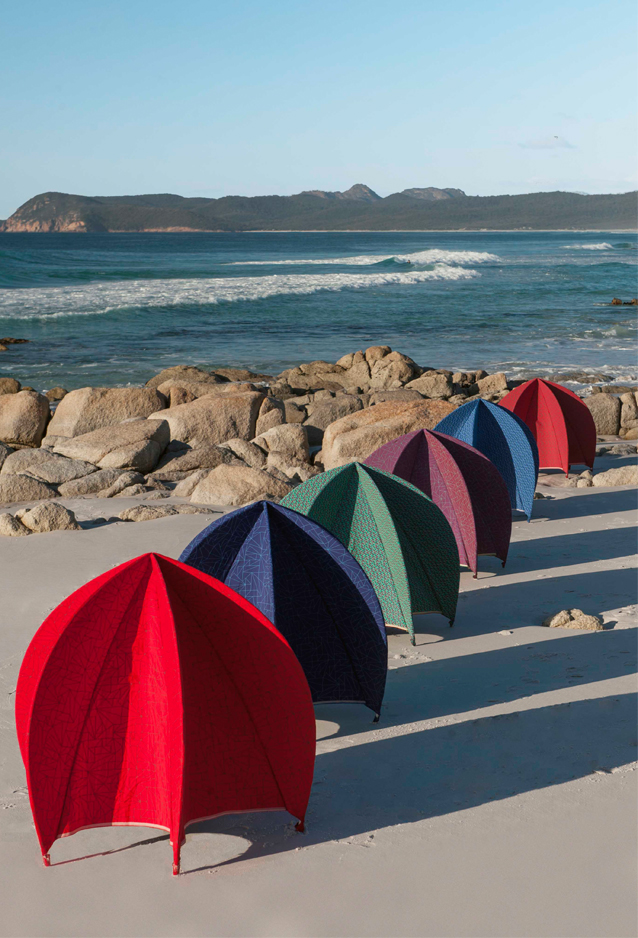 Zip is the larger scale pattern of the two available in seven punchy, unique colourways, ranging from rich claret red, orange pop, caterpillar green, retro teal, marine blue, and classic black & white combinations. Featuring bold intersecting line-work, creating irregular, angular forms, Zip is sure to make a statement in any commercial fit-out from feature upholstery in break out areas to trendy poolside furniture.
Quiz is a smaller scale pattern available in seven bold, contrasting colourways. For the first time in the Woven Image high performance upholstery collection, many of the Quiz colourways feature a third colour allowing the textile to easily co-ordinate with an array of plain colours and textures. Complementing the colourways of Zip, Quiz is available in a contemporary trend driven palette saluting the retro era whilst maintaining a classic black & white combination.
Referencing the strong trend towards angular shapes and bold colour combinations Zip and Quiz have been added to the Woven Image high performance upholstery collection. Inspired by Tangrams and fashion designer Iris Van Herpen these two textiles combine easy-care, price competitive characteristics with trend driven design.
Tags: Woven Image
---