From the many materials available today roof shingles are becoming a much admired and often-used material that are exponentially taking market share in Australia. Roof shingles are the most popular form of roofing in the USA with some 75 per cent of the market using this form of material, and it looks as if Australia is following suit.
Although shingles, in many guises, have been used the world over for centuries, the invention of the modern roof shingle is credited to a roofing contractor named Henry Reynolds from Grand Rapids, Michigan. Reynolds' shingles were made by hand cutting individual squares of asphalt saturated rolls that had been surfaced by stone. Asphalt shingles first came to prominence in 1903, spreading throughout the US until, in 1939, an astounding 11 million squares of shingles were being produced for national consumption.
Material, Colour and Installation
Shingle roof tiles come in a variety of materials that include timber, plastic, terracotta, aluminium, slate and copper and various composite materials such as fibre cement, asphalt and bitumen. Roof shingles are also available in many colours ranging from black, light and dark brown, red, blue, green, sand and cream depending on the material.
Roof shingles are laid in an overlapping pattern, installed in courses that commence at the bottom edge of a roof and move upwards until the final course is completed and covered by a ridge cap. With a pitch lower than 20 degrees, a form of underlayment or sarking is required and this adds a protection that sits under the shingle roof tiles to help combat water leakage. A sleek and professional roofing finish does take skill. Thus it would be recommended to hire experienced professionals. Given the nature of roof shingle installation, however, DIY is definitely not out of the question.
Longevity and Cost
Shingles are versatile and are not only used on roofs but employed as wall shingles as well. Of course roof shingles, by their position, are closer to the elements and if made of timber, will weather faster than wall shingles. However roof shingles can last for a few decades or even a couple of centuries. Meaning, if well maintained, cedar shingles have a life expectancy of some 30 years whereas stone or slate shingles have warranties of some 75 years and have been known to last up to 200 years.
This of course will also be dependant on the quality of the buildings construction, particularly the flashing used. As a critical construction component, the effectiveness of the flashing (i.e. it's ability to seal and drain water away from a building) will directly effect the longevity of roof shingles.
Roof shingles prices vary and are sold by the square and by the bundle. The cost is between $100 – $1800 per square metre and anywhere between $30 ­– $600 for the smaller amount of shingles that make up a bundle. Asphalt shingles average approximately $100 to $150 per square while slate shingles can cost more than $1000
Roof Shingles Australia – Types of Shingle Roof Tiles
Asphalt Shingles
Asphalt shingles are in great demand in the US and gaining favour in Australia. They are affordable, easy to install and come in a variety of colours with many brands offering warranties between 20 to 60 years.
Asphalt shingles are made to imitate natural products such as slate or timber and with many styles the asphalt shingle is adaptable to many architectural designs.
There are three types of asphalt shingle, the first is the three-tab asphalt shingle which consists of three separate tabs that have been coated with asphalt and have a consistent shape and size. The second are architectural shingles that are dimensional or laminated and come in a variety of shapes and sizes. These shingles are at least fifty per cent heavier than three-tab asphalt shingles and are extremely durable. Finally there is the luxury shingle that has a multi-dimensional appearance but is more affordable than cedar or slate shingles. In the UK asphalt shingles are known as bitumen shingles
Asphalt shingles cost as little as $70-$160 per square and are available in a variety of colours that including, black, brown, grey, green, blue and beige. They have a lifespan of 10 to 30 years, depending on the company and how well the roof is maintained.
Stone shingles
Stone shingles are authentic and have a singular appearance and are desired for the aesthetic they bring to a design. Slate shingles are relatively expensive to install but have longevity and can last between 80 to 400 years.
Slate Shingles
Slate is hard wearing, deteriorates slowly and is also a material that can be recycled however slate shingles can be heavy and may weaken a roof line causing problems to a timber structure beneath. With a variety of colours available and the opportunity for slate shingles to be cut into various decorative patterns, they are in demand as roofing shingles.
Glendyne slate shingles are particularly popular. With a blue/grey colour these shingles are middle of the range in terms of cost and sit well upon a roof when laid correctly.
Slate is perhaps one of the most expensive materials to use and the cost can vary between $200 and $500 per square metre, price is dependant on the quality of the slate.
Wood shingles
Wood shingles are highly desirable as they present a particular aesthetic for lovers of a traditional shingle roof. The cladding of roofs with wood shingles has been employed in Scandinavia and Central and Eastern Europe where timber buildings are customary.
There are two different types of wood shingles, shingles and shakes. The main difference is that shakes are thicker and longer than shingles and made by splitting the timber to leave a textural side. Wood shingles, on the other other hand, are always sawn cut tapered with a smooth face on both sides of the wood. Although timber is combustible, these days wood shingles are impregnated with a fire retardant treatment for greater safety.
Cedar shingles
Cedar is a preferred timber for roof shingles as the timber is resistant to rot and the warmth of the natural wood can greatly enhance the appearance of a home. The colour of the cedar shingle fades to a mellow silver tone and so gains a new patina over time. Cedar shingles are very popular in North America and no Hampton's house or Californian bungalow would be complete without cedar shingles.
As cedar shingles are an authentic and a natural material they are much desired with most cedar shingles in Australian made from western red cedar that is sustainably harvested, kiln dried and durable. Their popularity is such that they are also available at Bunnings. If well maintained, cedar shingles will last upwards of 30 years however using cedar shingles can also increase the value of a house.
Wooden shingles can also be used as wall shingles to great effect – Tower House by Austin Maynard Architects. Photography Peter Bennetts
Metal Shingles
Metal shingles come in a variety of materials that includes, brass, aluminium, copper, titanium zinc and Colorbond steel. Due to their extreme fire resistance metal shingles are used in fire prone areas.
(Case and point – see this Australian developed metal roofing system made from specially roll formed Colorbond Steel)
Aluminium shingles
Aluminium shingles should last a lifetime and have the added advantage of being lightweight and extremely durable. Aluminium is also energy efficient with surveys conducted by manufacturers estimating a saving of some twenty per cent on heating and cooling per year. Aluminium shingles can be installed over asphalt roofs and can be made to resemble other materials such as cedar, slate and clay. Aluminium shingles will not rust or rot, are often made of recycled aluminium products and also carry a Class A fire rating.
Aluminium shingle roofs can last for 100 years, when well maintained, and although cost can vary widely, supply and installation per square metre can be $50 – $70 for metal roofing.
Copper shingles
Copper shingles are ideal for roof and wall cladding and are much favoured for their singular appearance. They can be folded to create a scale or diamond pattern and due to oxidization the patina of the material will change over time from a bright copper colour to green then dark brown and sometimes black. Copper shingles become a feature to enhance a house design and architects often specify this shingle material.
Fiber Cement Shingles
The material composition of fiber cement shingles is cement reinforced with cellulose fibers. Fiber cement shingles originally contained asbestos however the removal of this material due to health concerns saw cellulose introduced in its place in the 1980s.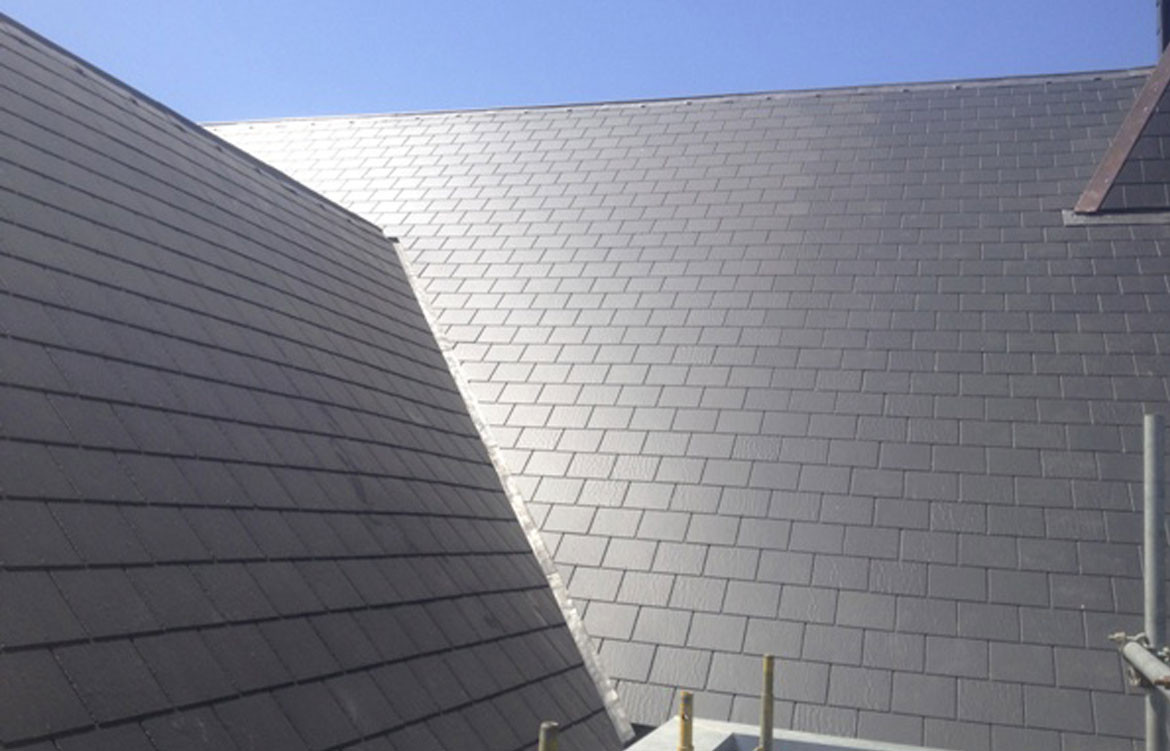 Fiber cement shingles are often made to replicate the appearance of slate, with a textured face, sized as rectangular or diamonds and a stone appropriate colour palette. Fiber cement shingles are man-made and finished with a double layer of acrylic coating that make them resistant to moss and ensure a low rate of water absorption.
Plastic Shingles
Plastic shingles are lightweight, colourfast and one of the cheapest shingles to install. Extremely strong, plastic shingles and are often produced to imitate slate and companies such as Barrington Roof Tiles Australia make a faux slate product that has achieved much success.
A roof with plastic or composite shingles can have a 40-year warranty and cost from $85 to $105 per square metre depending on the complexity of the roof and the pitch.
Solar shingles
Solar shingles or tiles are fast becoming todays sustainable option for roofing. Solar shingles are integrated within a section of a roof and products such as Monier's InlineSOLAR™ panels are recess-mounted and blend seamlessly with most rooflines. Through the interlocking of the panels the roof remains strong and watertight.
Solar shingles can resemble slate and terracotta and come in a variety of colours. The initial expense to purchase solar roofing tiles is high and can cost approximately $230 per square metre however with more competition prices should be pushed down. There are long warranties on solar roofing tiles – from 25 and 30 years – and in the case of Tesla roof tiles, the lifetime of the house. Solar roof tiles require very little maintenance, just the occasional washing to retain the ability to gather the sun's rays, and they can withstand wind and hail.
Terracotta Shingles
Terracotta shingles or tiles are as prized for their natural texture and colour and for the charm that they bring to a design. Terracotta shingles have long encapsulated the classic idea of the Mediterranean as they are much used on the roofs of houses along the coastlines of France, Italy and Spain. Made of clay and available glazed or unglazed, terracotta shingles can enjoy a 50-year lifespan if properly installed. The cost for replacing a roof can vary between $18,000 to $44,000 or more depending on the style and complexity of the roof design.
Tags: aluminium shingles, asbestos, asphalt shingles, bitumen shingles, cedar shingles, fiber cement shingles, plastic shingles, roof shingles, roof shingles australia, shingle roof tiles, solar shingles, wood shingles
---