How do you approach your projects? Do you find a site and see it as a potential place to work with, or do you have an idea and search for a space?
I am currently undertaking my Masters at VCA to further investigate enquiries into spatial practice, which has enabled me to experiment and push the limits of my painting practice into new dimensions.
Through my practice I'm exploring the boundaries between painting and the built environment through a series of spatial works, which involves the manipulation of two and three dimensional surfaces.
Each new spatial project is about responding directly to the site; a unique opportunity to respond to the inherent characteristics, and existing constraints. Through painting I reconstruct the space; deconstructing what exists, drawing out important aspects, whilst reducing others; altering spatial encounters and the perception of these; reinterpreting the outcome through adaptation.
Embedded in the site specific work is the language of my practice. Predominantly I'm working with hard edge geometry and my hue and chroma choice is very deliberate. Working from a range of set colours that I have refined over time, the adjacency, proportion and placement of hues most often determines how the outcome of the work is perceived. The colour relationships exist in a metaphysical space, resonating their own intangible sensibilities.
I am always thinking about ways to engage with the space around me; interesting unused buildings, vacant shopfronts… empty transitory spaces…disused stairwells; old and new, I'm not discriminatory, space is space and it all excites me as an opportunity to be reinvented.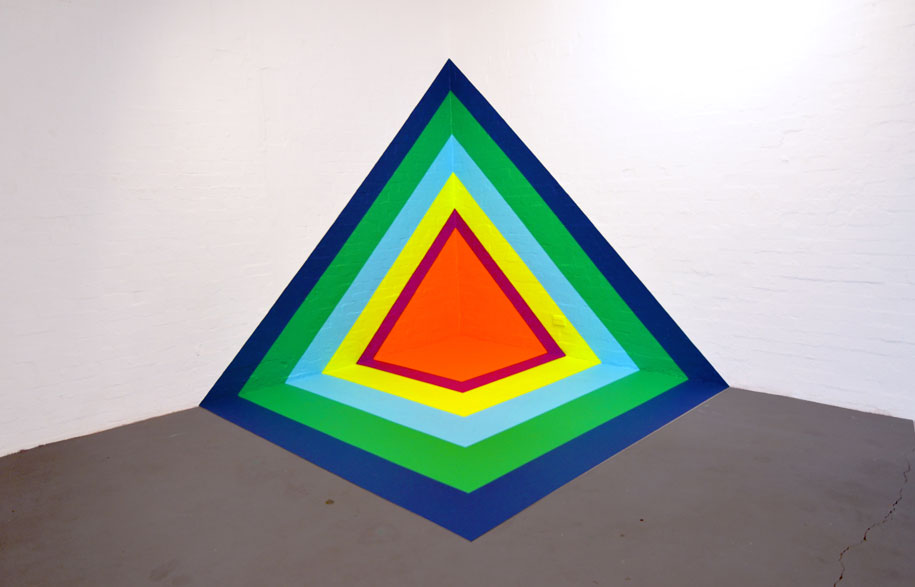 What interests you about art that is built into a landscape?
I think for a long time I kept my practices quite separate; having a background in both interior architecture and painting, they each had their own parallel trajectories, but recently I started exploring this idea of something that exists between painting and space.
The idea manifested itself last year with my exhibition, 'transposition' at pieces of eight gallery in Melbourne CBD. The unique double height circular façade presented an opportunity to develop works specifically for the space, and so began this journey of exploring the area between the built environment and painting.
Can you tell us a little bit about how the viewer plays into your art?
My spatial installations have a relationship to the body as they are human scale, and they are also about the phenomenological experience of space, so engagement with the viewer is an important aspect of the work. The participation takes the work to a whole new level.
And whilst precision is a critical part of the work, I don't see the work as being precious. I invite the users to inhabit my installations. Often people tell me that they'd like, 'to sit in the corner' and experience the work, and if they do, that's ok with me.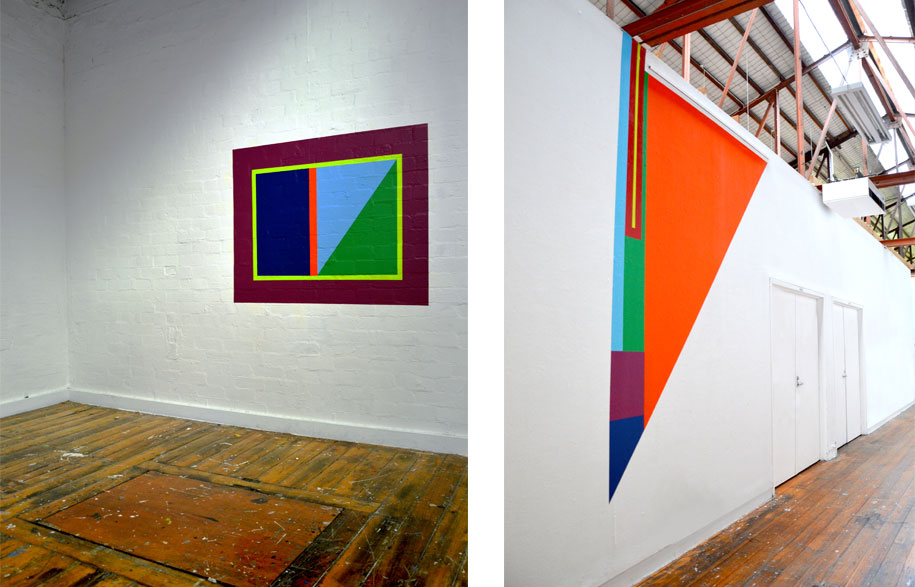 What is most challenging about your kind of art and how do you combat that?
The biggest challenge is the tight time constraints involved for installation; decisions need to be made quickly, and the creative process is organic. Whilst I typically have an initial idea about how I might respond to a space that can change on site, in the making of the work. The process is very much a large component of the work and the physical testing of ideas can change the final outcome.
I guess the only real way to deal with that challenge it to be flexible in the approach to the work. Understand that it may take more time planned, or that if something doesn't work it will need to be readdressed and reworked. The only way to get the best outcome is to have this adaptive approach. Otherwise, you have to be happy to settle for a less resolved solution, which doesn't really fit with my expectations.
What is most rewarding?
Audience engagement with the work is really rewarding. There is also something really satisfying for me in this process of making the work; that is the intuitive aspect of responding to space, and the rationale of applying logic and shifting a white empty shell into a sublime fourth dimension.
---
Read our Design Hunter Q + A with Emma
See Emma's site-specific installation for Melbourne Indesign , 22-23 August.
Her exhibition 'Threshold' will run from September 5-27 at Five Walls in Footscray.
Emma Coulter
emmacoulter.com.au
See me at  

Tags: art, Australia, installation, Melbourne, Melbourne Indesign
---