Hero Image: Vitra Ball Clock
Space provide the highest quality product and proud to be the exclusive Australian supplier of leading international design houses including Architect Made, Anna Torfs, Joe Cariati and Tse Tse.
Joe Cariati produces the highest quality hand-blown glass out of his Los Angles studio.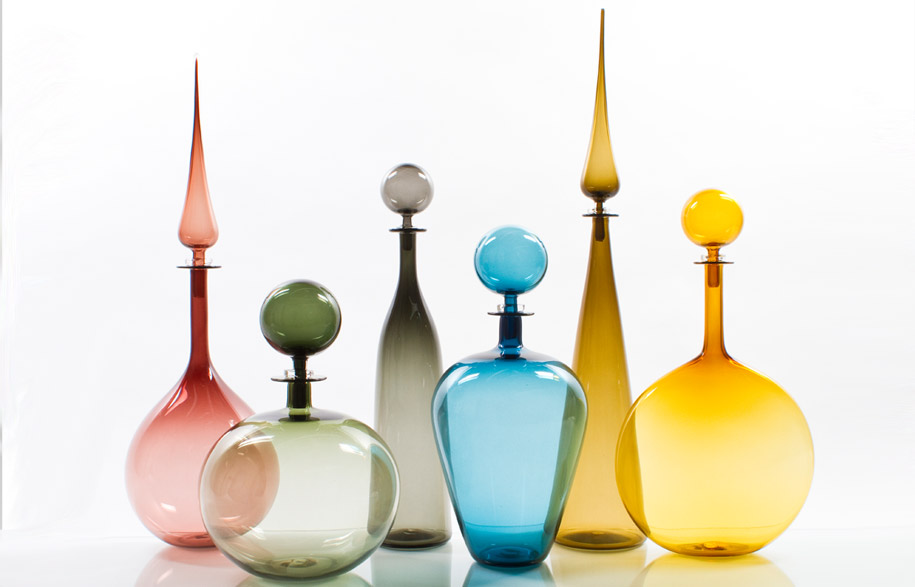 Joe Cariati Glass Bottles
Trained in the skills of Venetian glass-blowing, Cariati is highly regarded in the industry having received numerous scholarships, awards and residencies. Cariati uses a relentless 'less is more' approach to his work and sees his work from a unique viewpoint. "If I had to choose one word to describe my work it would be 'Air!" says Cariati. "I love to blow the glass out very thin, I'd love to see it float off the table!"
Tse Tse create beautiful, unique pieces straight out of France. Started over twenty years ago, designers Catherine Levy and Sigolene Prebois pride themselves on making timeless pieces that steer away from the current fashion, meaning these pieces are impossible to date and forever special.
Since their inception in 2001, Dutch design house Moooi has been impressing the world with their signature pieces that are as quirky asthey are beautiful. The Moooi collections are based on the key principles of being exclusive, daring, playful, exquisite and based on the belief that design is a question of love, making every piece a collector's item.
Perfect for gifting, here are the Top Ten Gift Ideas from Space
1. Alessi La Stanza Basket
2. Vitra Clocks
3. Tse Tse Igloo & Crockery
4. Tse Tse D'avril Vase
5. Avec Soft Furnishings
6. Praxis Soft Grip Torch
7. Moooi Delft Blue Collection
8. Kose Porcelain Bottle
9. Joe Cariati Petite Small Decanters Vase
10. The Dots Coat Hooks
Space Furniture
spacefurniture.com.au
Tags: space
---