Luxury has well and truly moved on from the classic idea of expensive possessions and experiences for a small, indulgent elite. Technology and globalism have quickly democratised these old notions, and in place of gilded lilies the new signposts of luxury are changing how we think about it. Yes, aesthetics, location and heritage will always be important, but other factors are now in the mix such as creativity, sustainability, innovation, performance and that ultimate luxury – time.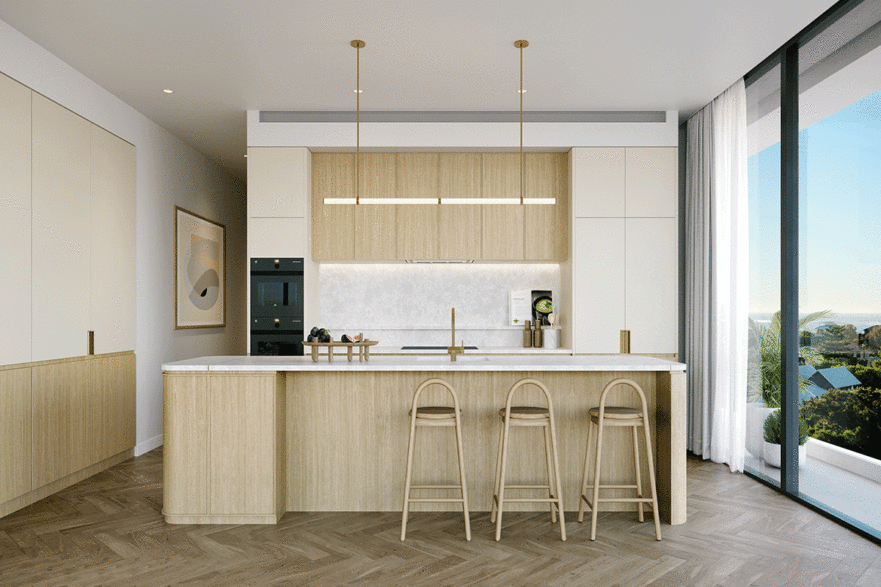 It's an evolution that the project team at Maraboo Island understand well and utilised to maximum effect in the development of this elegant line of three storey residences on a rare ocean frontage south of Perth. Jamie Clarke, Director of Megara Developments, and Felipe de Soto, Design Director at Space Collective Architects, both name-checked location, sustainability and performance in addition to refined aesthetics and finishes when discussing their vision for the project. These shared values made superior Swiss manufacturer V-ZUG a natural choice as appliance partner.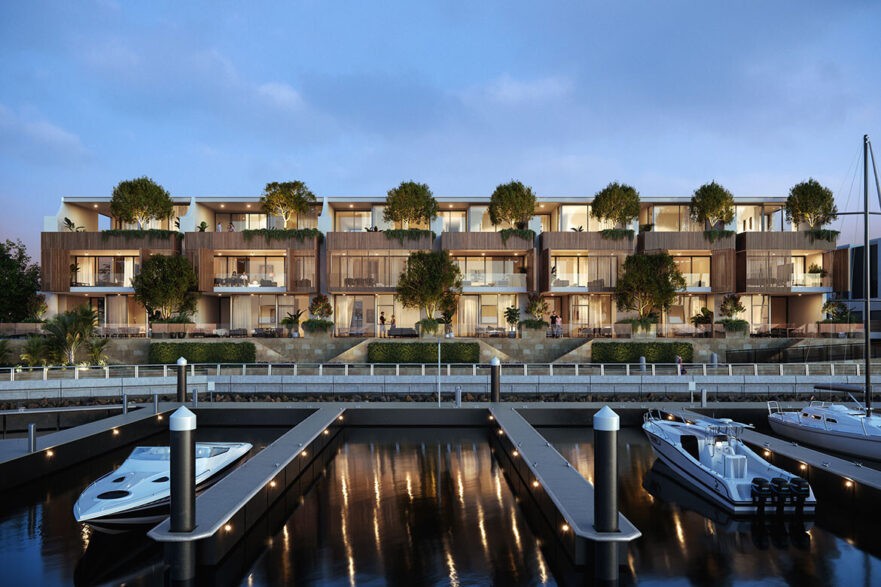 "For luxury living our big focus for all our projects is on location," says Clarke. "With a unique location, you can then build the product around it. So clearly the uniqueness of an island inside of marina captures what we wanted from a location perspective. And then luxury is about the way people live within their home environment. So it's that feeling that wherever you are within your home, you've got that integration with your environment and the outlook of the things that you value about that location."
However, with the unusual site came certain challenges around responding to the WA climate, including the harsh afternoon sun and Perth's infamous winds. Generously setback verandas, louvred screens and bifold doors allow residents to moderate the environment to suit, while still feeling connected to the outside and the spectacular location.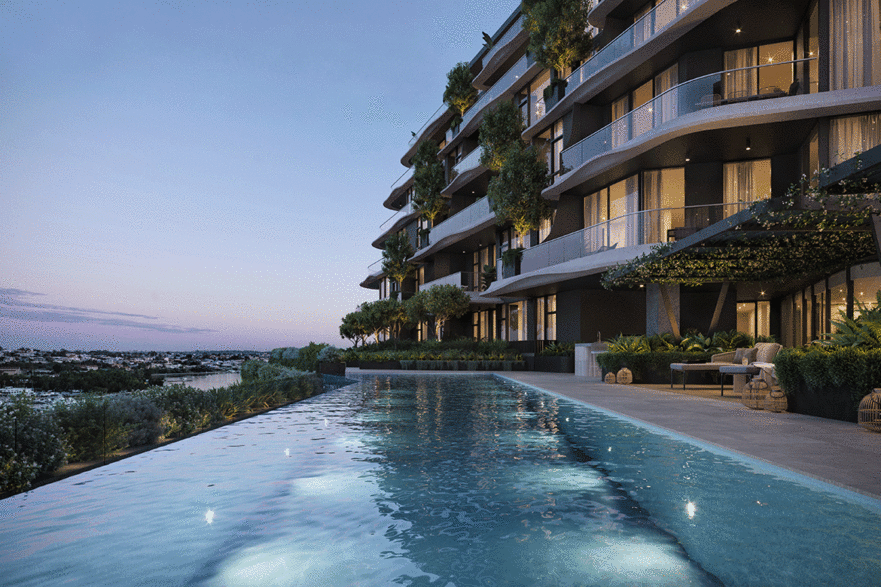 "People are getting more and more sophisticated when they're buying these sort of [premium] properties to ensure that elements like these ones have been considered as part of the design and the aesthetics of the building," adds De Soto. "They're actually asking about not only the sort of specifications about glass and window treatments, but they also want to know what the weather protection for the building is."
Buyer expectations around the ease and quality of the living spaces were no less discerning and the design offered some creative takes on these high-use areas which instantly appealed and helped the release quickly sell out. The open plan living-dining-kitchen was pulled up onto the middle level to take full advantage of the view, while the kitchen is divided in two: a more focused cooking area and island bench facing the dining area and a scullery tucked behind it for the more functional tasks. V-ZUG features in both zones; an induction cooktop and rangehood in the former, and Combi-Steam oven, Combair pyrolytic oven, Adora dishwasher, warming drawer and coffee centre in the latter.
"We keep finding more and more in this part of the market that people want to use the kitchen more as a gathering space rather than a functional space," says De Soto. "So what we were pursuing in this project is that perhaps all the prep cooking could happen separately in a scullery-pantry that sits behind the main kitchen area. And then the island bench becomes the centre point in the living and dining space that allows people just to sit around, have a glass of wine, enjoy the view."
De Soto is effusive about V-ZUG's signature black mirror glass and subtle aesthetics. "Timeless, clean lines is something that is really important for us [in appliance selection]. We were looking for something sophisticated and contemporary, that was easy to marry to the interior design, the architecture of the building and the different textures. You don't want bulky appliances. […] One of the ways to define [V-ZUG] is that the products actually complement the interior design, rather than becoming an element that you have to resolve or have to work with."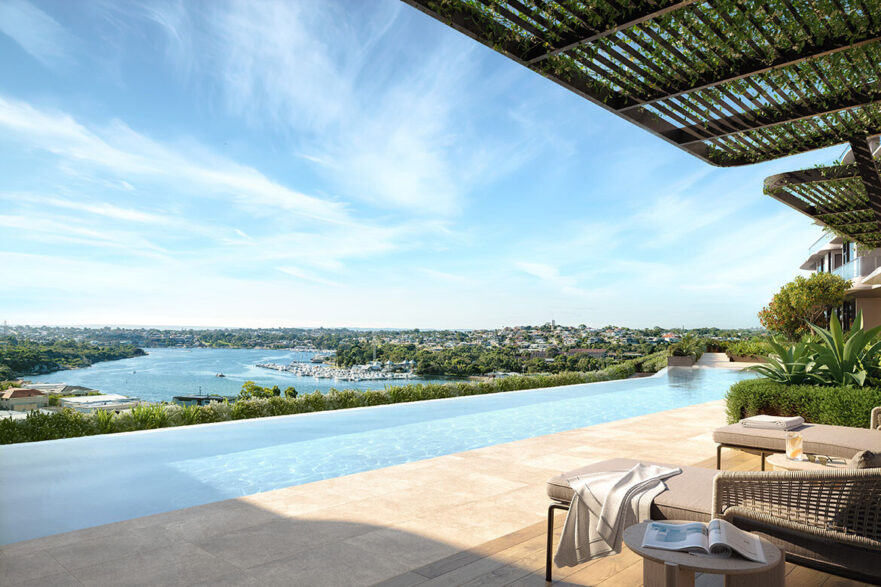 Clarke is similarly expansive in highlighting the appeal of V-ZUG for this particular development and its residents. "The combination of functionality, design aesthetic and then the story behind the brand and company we really liked. It was a big part of our selection that it's a privately-owned Swiss company, the appliances are made in Switzerland, and they have a very genuine sustainability story as well. The V-ZUG brand matched where we wanted the brand of the project to be; it gave the project something unique."
With Maraboo Island nearing completion, Clarke is back collaborating with De Soto on the Serai development of 105 apartments and townhouses in North Fremantle, where V-ZUG has again been specified based on the success of Maraboo and with reference to V-ZUG's recent announcement of its sector-leading 10 year warranty period. It's a winning combination of skills and passion that is re-defining luxury living in the West.
V-Zug
We think you might like this article about V-Zug addition to the Winning Culinary Experts team
---