Co-Founders and industrial designers Sarah Gibson and Nicholas Karlovasitis began DesignByThem in 2007. Today, they represent a stellar cohort of Australian designers.
Offering a curated collection of furniture, accessories, and lighting, DesignByThem products are characterised by a timeless aesthetic, distinct playfulness, and fresh Australian perspective. Having gained global recognition, the products now adorn various establishments worldwide including Google, Dropbox, Nike, Spotify, and the Sydney Opera House.
"When we graduated from industrial design, we realised that our teachers, well-known Australian furniture designers, were chasing royalties from furniture companies overseas to support themselves. So we set out to create a unified Australian design brand that represented Australian design under one umbrella and promote it to the world" share Gibson and Karlovasitis.
Inspired by everyday objects, DesignByThem products contemplate past, present and future spaces from fresh perspectives. The company's upbeat approach to design is underpinned by a firm commitment to sustainability and durability which ensures its products withstand the test of time.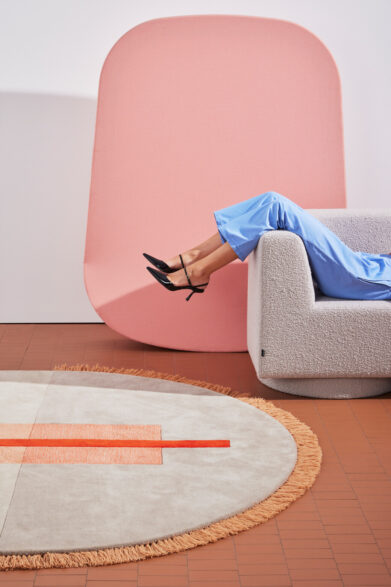 At the heart of DesignByThem lies a passionate commitment to the power of collaboration. The name itself symbolises not only the diverse community of designers they represent but also the collective effort of everyone involved. The company's success in the global marketplace rests on the shoulders of a passionate team of individuals who love their work, inspire and support each other, and continuously seek growth and innovation.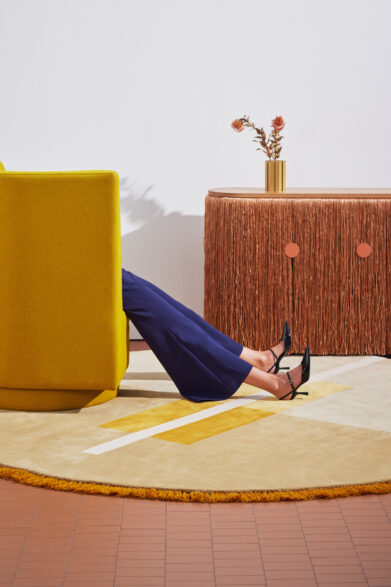 One such collaborator is Sydney-based multidisciplinary designer and design academic Danielah Martinez. DesignByThem's first specialist in rugs and textiles, she has applied her extensive expertise and knowledge to enrich the DesignByThem offering with the creation of Overlay Rugs.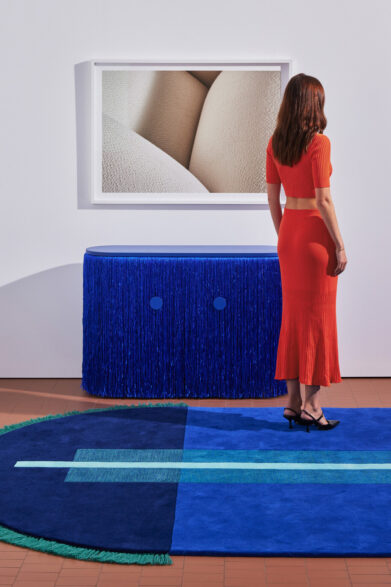 Overlay Rugs
Overlay Rugs, a captivating collection of geometric designs, combines bold block shapes with luxurious textures, created in India using a stellar combination of meticulous hand-tufting techniques and premium New Zealand wool. With a range of five styles showcasing vibrant and neutral colour palettes, these rugs infuse homes with effortless comfort and energetic charm.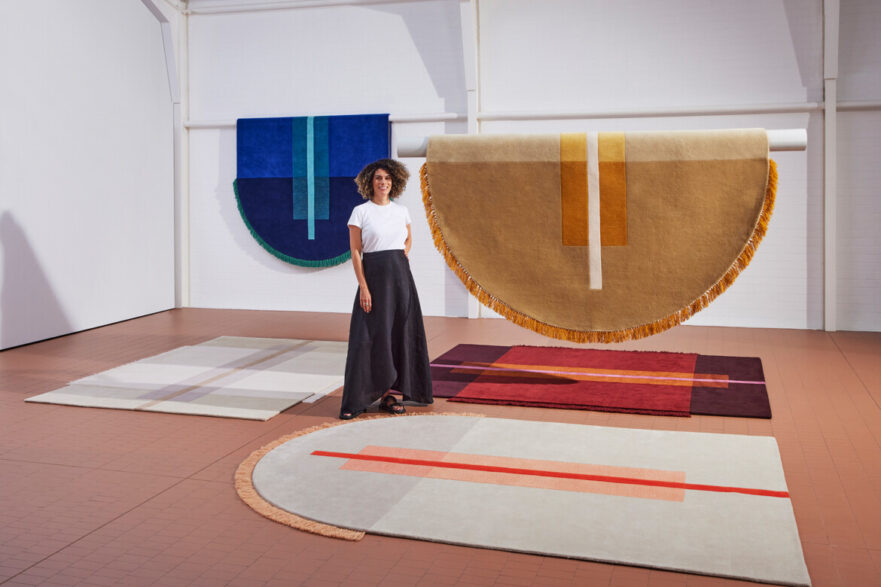 Danielah Martinez explains, "This design is inspired by the textures and colours that result from overlaying sheets of transparent material, then working to achieve this effect through the careful blending of colour, which I find the most intriguing and emotive skill to master in rug design. The focus on colour for this collection is intentionally bold and arranged by a comparatively minimalist set of 'components' that flow across a series of geometric shapes."
Crafted from 100 per cent New Zealand wool, the Overlay Rugs boast a dense tufted construction which guarantees plushness, resilience, and durability. The rugs, produced in small batches in India, embody DesignByThem's holistic commitment to exceptional quality, minimal waste, and ethical working conditions.
Weaver Cabinet
Another pioneer of DesignByThem's collaborative ethos is Elliat Rich, an artist and designer based in Mparntwe Alice Springs. Working with distinguished clients and collaborators, Rich's practice encompasses cross-cultural resources, public art, and object and furniture design for local and national endeavours. She engages in various modes of practice including art production, research, experimentation, and resource development.
Recently, Rich joined with DesignByThem to create a thoughtful new piece known as 'Weaver'. The Weaver Cabinet is an animated sculptural design which explores the boundaries between order and chaos. The design has an otherworldly quality, which makes it feel slightly more like a creature than an object – and yet its friendliness and charm are undeniable.
"Weaver incorporates tactility, colour and unconventional combinations of materials as a way of perforating through the confines and expectations of the every day," says Rich. "Weaver exists at multiple scales and times, continuously weaving together all the patterns that make up our planet."
Available in Copper and Ultra Blue, the design conveys a sense of old-world curiosity crafted by solid timber joinery and a mysterious veil of hand-woven tassel locks. DesignByThem has made an indelible global impact, with unique and playful products like the above gracing renowned establishments around the world.
Explore DesignByThem's curated selection of eclectic designs here and experience Australian design like never before.
DesignByThem
designbythem.com
---