My laundry has to be the hardest working zone in my house. Three loads a day, minimum. It's also the smallest, least enjoyable space and, by virtue of its workload, the top consumer of electricity and water. Sound familiar?
A well-planned laundry would have to be the dream of anyone who places fabric care up there alongside cooking and home entertainment. And it really is about fabric care. Not just dirty washing. There is a quality of vision involved that transforms the hum-drum laundry space into a highly efficient and aesthetically appealing zone – one that brings joy rather than eliciting an apologetic wince.
Kirstin Charlesworth, a working mother of three, considers her laundry to be the lynchpin in her busy family life. "Given how much time a family spends processing their dirty clothes, I think it's something that can be a make or break," she comments.
As a highly visual person, she approached the renovation of her home – a 1903 Victorian – with the laundry as a key priority. "I really wanted to have a space that looked beautiful, sparked joy", and contained all the paraphernalia of fabric care (that is, washing and drying), in one neat, well-planned zone.
Drip-dry clothes are assigned to a large drying cupboard and each family member receives their own designated washing basket, (there's also one for the ironing). A swathe of marble, left over from the kitchen renovation, has been used to finish the benchtops – a durable choice that brings a generous touch of luxe to a hard-working space.
But the centre of operations? Well, that's the V-ZUG washing machine and dryer. Kirstin notes the "high quality" of these appliances, boutique designed and manufactured in Switzerland, and extremely sustainable to run. In fact, V-ZUG's V6000 Washer is the only laundry appliance in Australia with a 5.5 Star energy rating, consuming just 148kWh per year.
Kirstin also credits her V-ZUG laundry appliances with clever 'simplexity'. "Behind the [user-friendly] touch screen it's complex," she says, referencing the ingenious Wet Clean dry-cleaning function. V-ZUG developed this to allow users to care for delicate fabrics such as silk and evening wear – all from the closeted convenience of their own laundry. For Kirstin this "wow" function has already helped remove a nasty red wine stain from a beloved silk top.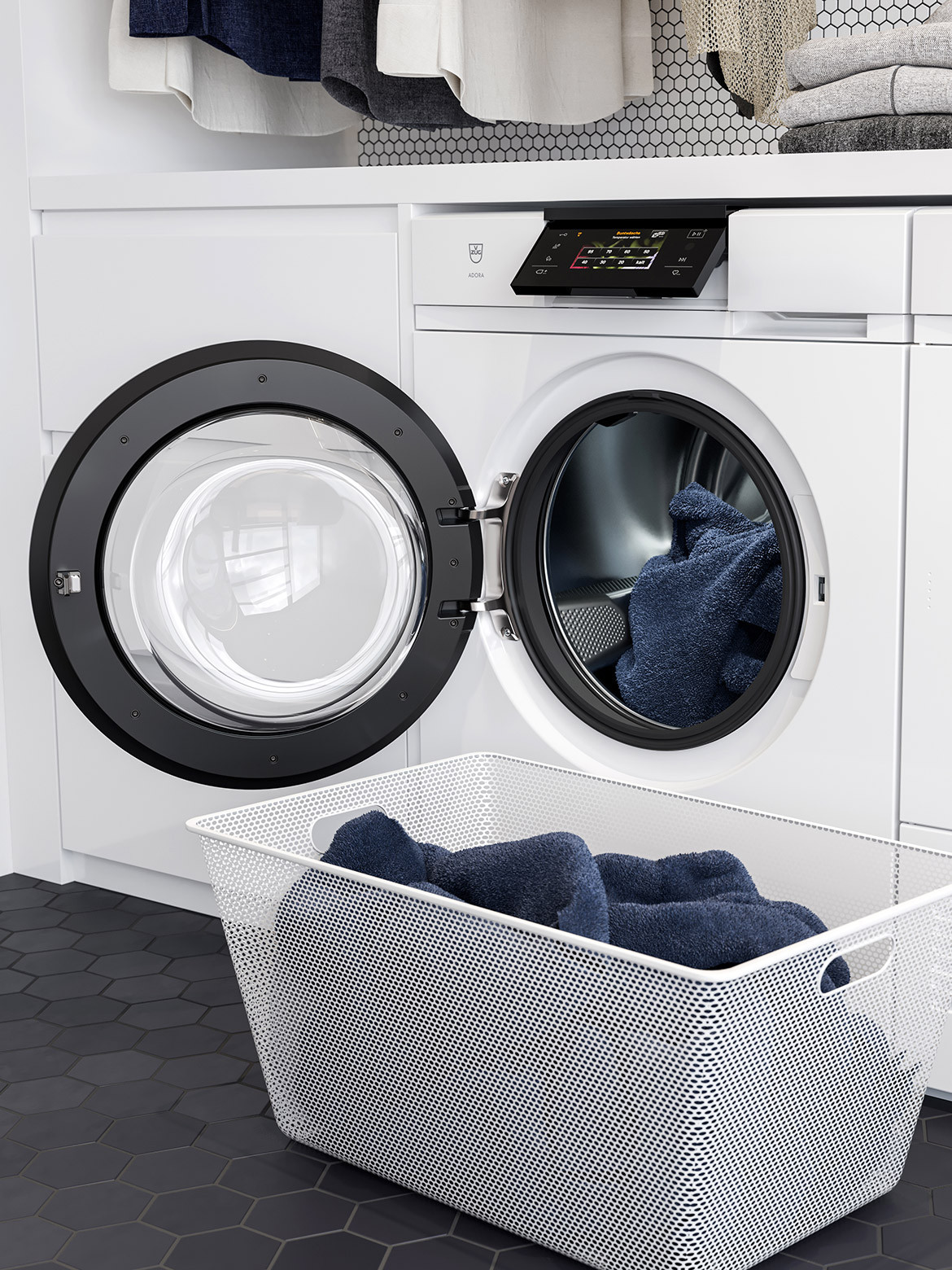 Other innovative features include V-ZUG's Easy Care Drum technology. Here, 14,000 holes punctured into the inner drum provide maximum suds with minimal use of detergent; effortless drainage to remove all detergent residue so fabrics last longer; and an improved spin cycle so clothes require less time in the dryer. All subtle improvements which contribute to great longevity.
"The sustainability aspect is a core piece of the fabric puzzle for us," says V-ZUG's head of brand communication and gourmet academy, Sally Lukey. She points to the V-ZUG dryer, which, thanks to V-ZUG's heat pump technology, makes it the most energy efficient in the world. "I think Swiss quality speaks to the fact that these are products that are designed and built to last."
For Kirstin, who also chose V-ZUG for her new kitchen, the high-quality nature of the appliances is "sustainable in its own right". Their boutique manufacture and the care with which they've been designed makes them an extremely worthy investment. And if that's not recommendation enough, we have one more parent willing to go on the record: "My Mum says her V-ZUG washer and dryer has changed her laundry life," says Sally.
V-ZUG
vzug.com
We think you might also like to Make Yourself A Masterchef
Tags: Fixed & Fitted, sustainability, sustainable living, V-ZUG
---