Aesthetics. Function. Variability. These are the terms thought of when you think of VOLA. For Birthe Tofting, these ideas inform every aspect of the design process – from conception, to drafting, to execution and even to the marketing of the tapware.
This process is one that the VOLA team treats with respect, reflecting the original ideas from designer Arne Jacobsen, and the philosophy on which the company was founded.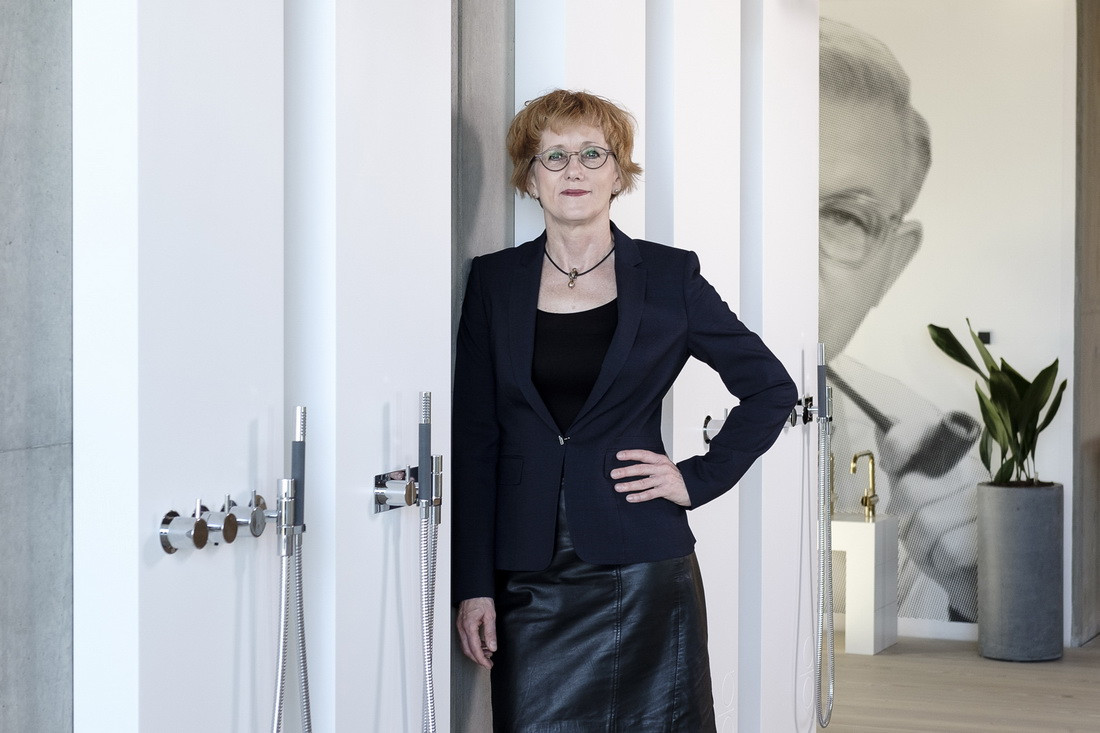 "The first VOLA taps were designed more than 50 years ago – in 1968," says Birthe Tofting. "At that time the world-famous Danish architect and designer Arne Jacobsen created the first VOLA taps for the National Bank of Denmark. All the VOLA products launched ever since carry the same VOLA DNA. All VOLA products must have the potential to become timeless design classics. Therefore, only a few design ideas pass the critical eyes of the VOLA product committee. In the past ten years, VOLA has launched 12 new products for the bathroom. VOLA was one of the first companies to produce taps in colours. The first colour was grey, because Arne Jacobsen wanted taps with the colour of concrete for the National Bank of Denmark. During the seventies, colours like brown and olive green were very popular."
Beloved around the world, VOLA taps are designed and produced in Denmark's VOLA factory, where classical craft disciplines still today inform and shape the creative process, and are married with the latest in high tech production equipment, which results in a tap that will not only suit any home, but will function flawlessly, every time. Take the soldering process where the spout and the body are fused, this is done in an advanced process with high attention to precision, resulting in a perfect finish no matter which design.
As Birthe noted, VOLA was a trailblazer in creating different colours of tapware for a variety of different bathroom styles, and their latest creation of matte white tapware comes following recent trends in modern home design.
"During 2017 – 2018 we saw a dramatic increase in demand for matt black worldwide, where we saw many black and white interior designs," says Birthe. "When we talked to architects and interior designers they were also very interested in a matt white finish to combine with concrete or other raw materials."
No matter which colour or design you're after, you can be sure that the tap itself will stand the test of time in terms of both design, as well as function. All VOLA taps are made from the finest selected materials and last for generations. As Birthe notes, "We still deliver spare parts for taps that are 50 years old!"
Turning 50 years old is worthy of celebration, as VOLA did last year, but the VOLA DNA and philosophy continues to be the backbone of the company, even as it grows and the team continue to develop new aesthetics in design, and technical prowess in engineering.
This technicality will become all the more important, Birthe believes, "I think that it will make sense in the future that taps in hotels are fitted with devices that tell the hotel owner how much water each taps is using and if some wearable parts need replacement."
Regardless of what specifics are needed in future tapware design, it's an exciting time to be a designer, and with VOLA helping steer the conversation of bathroom aesthetics with solutions for any style or need, it's a great time to be a design lover too.
VOLA
en.vola.com
Tags: arne jacobsen, Birthe Tofting, Denmark, timeless design classics, Vola
---