Hero: Yves
It's taken more than 25 years for Designer Rugs to launch its first range of carpet, but it's been well worth the wait. Never one to do things by halves, the company enlisted Australia's most acclaimed interior designer Greg Natale to come up with a range of Axminster carpets made from a rich, 80/20 New Zealand wool blend.
"This is our first foray into Axminster carpet and we're very proud of it," says Designer Rugs managing director Yosi Tal. "To be honest it was Greg's (Natale) idea, and we loved the opportunity to work with him again; especially after the incredible job he did designing a signature range of rugs for us last year."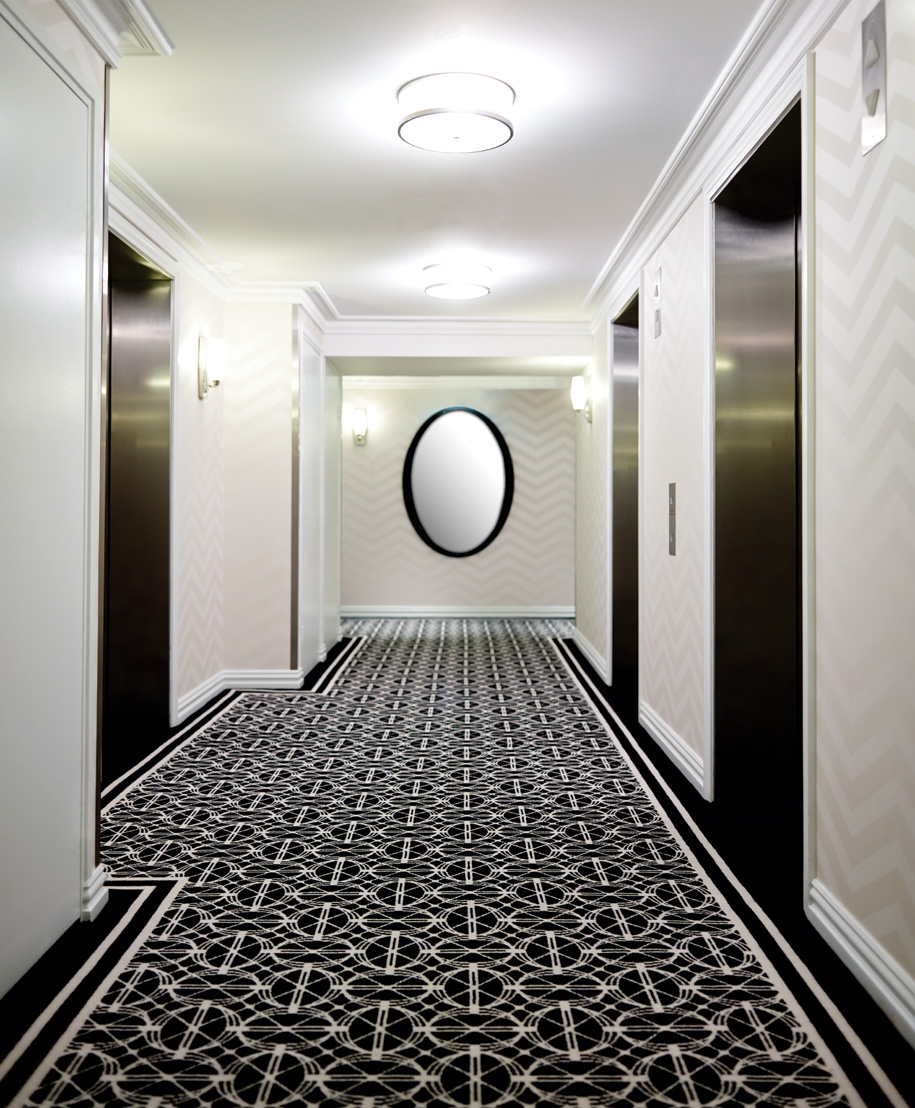 Quay West
Tal says that carpets from the Natale range have already appeared in several private homes, as well as in larger spaces such as Quay West in Sydney and Hayman Island in the Whitsundays. He is also quick to point out that Designer Rugs has the flexibility to custom-make the carpets to the customer's exact specifications; even tweaking the design. "Our carpet is a very cost effective way to have a bespoke product under your feet," he says.
Natale named each of the five designs in homage of his favourite fashion designers (Christian, Dianne, Emilio, Thierry, Tom, and Yves). From start to finish it was a three year project.
"The reason it took so long is because I like to use the designs in projects first; that way I can see that the colours and scale are working well," says Natale.
"I wanted to create a carpet range which was diverse, which could span from classic to modern interiors, and from commercial to residential. There's a pattern called Diane which is really contemporary, and then you have more classic patterns such as Yves. Carpet is something that you don't change every year. You have to live with it a long time, so I tried to keep the palette quite neutral."
Those who have been following Natale's stellar career will notice a distinctive aesthetic emerging, particularly his effective use of repeating geometric patterns. "I have a passion for repeat patterns," he admits.
Natale says the collection was inspired by many different things. "I was on holiday and walking up Lexington Avenue NYC and I noticed a beautiful detail on an art-deco building; that's where the pattern on Yves comes from.  Whereas with Tom, I wanted a simple square and rectangle pattern and I just came up with it."
The Greg Natale Carpet Collection is available from Designer Rugs nationally.
Designer Rugs
designerrugs.com.au
---