A tiny house is, as the name suggests, an extremely small home. Tiny houses are usually under 37 square metres. Tiny homes are also commonly placed on wheels, making them easily transportable and convenient. The tiny home movement has rapidly gained momentum over recent years, with many calling for a return to streamlined design over unnecessary space. As such, the tiny home movement emphasizes simplicity, necessity, and comfort.
This is partly what makes tiny homes such an excellent idea for holiday homes. Tiny homes are extremely common properties available for rent on Airbnb, the most popular online lodging marketplace. Other similar online rental marketplaces such as Stays, Homestay, Booking.com, Tripadvisor and Vrbo are also very likely to have tiny homes listed on their site.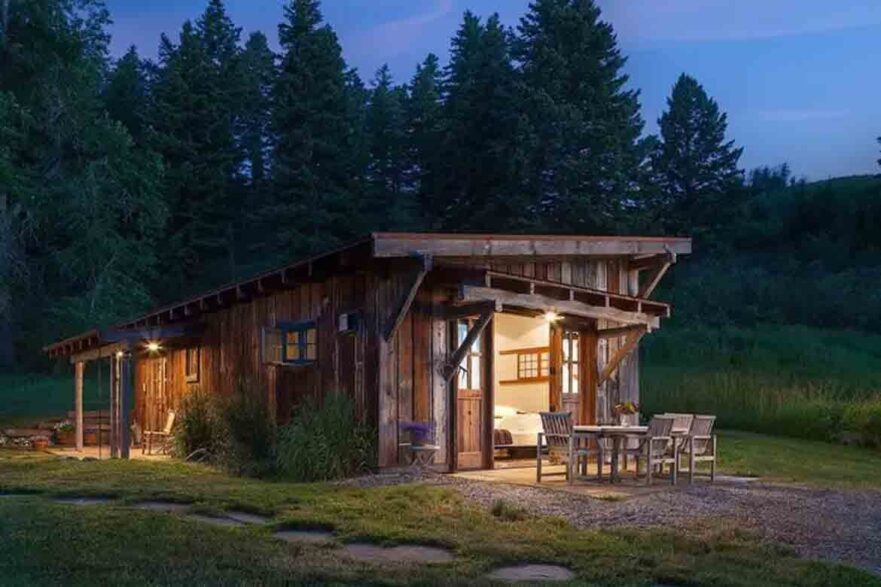 The popularity of tiny homes for private escapes is largely due to their practicality. A holiday home does not need to have the same level of storage or open space as a permanent house, because the chances are that you will not be staying there long-term. The lack of space is also unlikely to feel cramped over a short period of time, because you will almost always be out exploring the surroundings and enjoying the holiday during the days.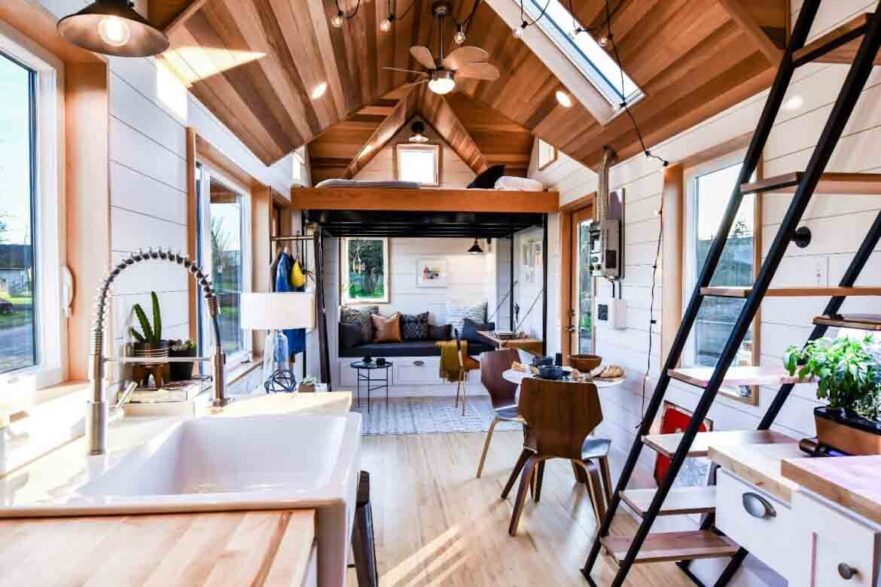 A good tiny home should have all of the necessities – such as a kitchen, bathroom and bedroom – without wasting space. Well-designed tiny homes will often have multiple hidden cabinets for storage, the perfect place to leave your luggage without cluttering up the area. They also should be designed to provide maximum comfort, with large beds in small rooms (rather than downsized beds and slightly more floorspace).
To minimize the visual effects of a tiny house, interior design elements should be primarily made from bright colours and natural light is very important – look for multiple large windows. This will also ensure that you choose the best tiny home possible for your holiday, as large windows will ensure that you have full access to the view of wherever you are staying at all times.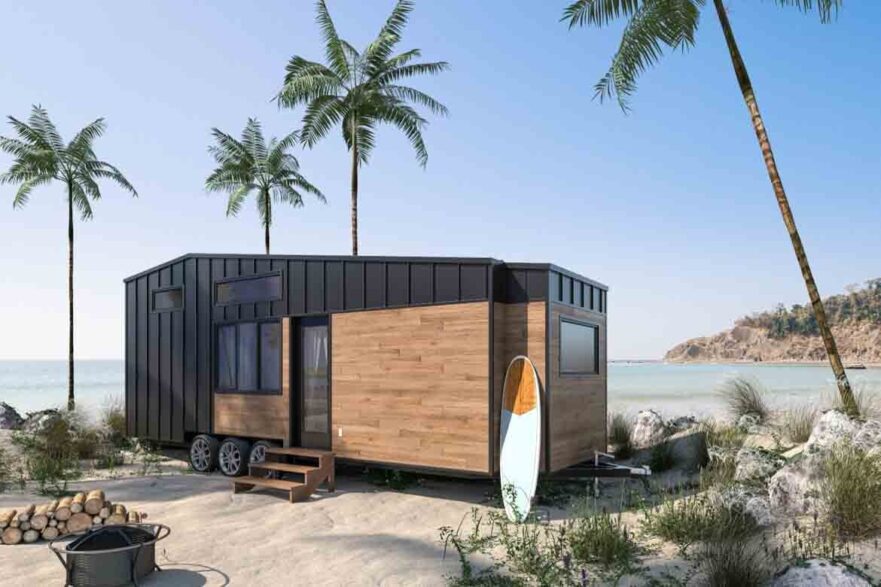 If you are hoping to find a tiny home for long term rent, you may want to search for slightly different features. In the long term, tiny home living can be a little difficult. A way to minimize this is to find a home with the most storage possible.
Hidden cupboards, sliding doors, and compartments under steps are a great way to make the most of the small space available and will make living in a tiny home over an extended period much easier. This is where you may also want to sacrifice a little bit of comfort for space, such as selecting slightly smaller beds to give you more room on the floor for couches, chairs, or even just walking space.
To help you gather an understanding of the tiny house rentals that will best suit your individual tastes and needs, below is a list of the five best tiny home Airbnbs in Australia.
Five tiny houses airbnb in Australia: Tiny homes for rent
5. The Wee Tiny, Austinville Valley, QLD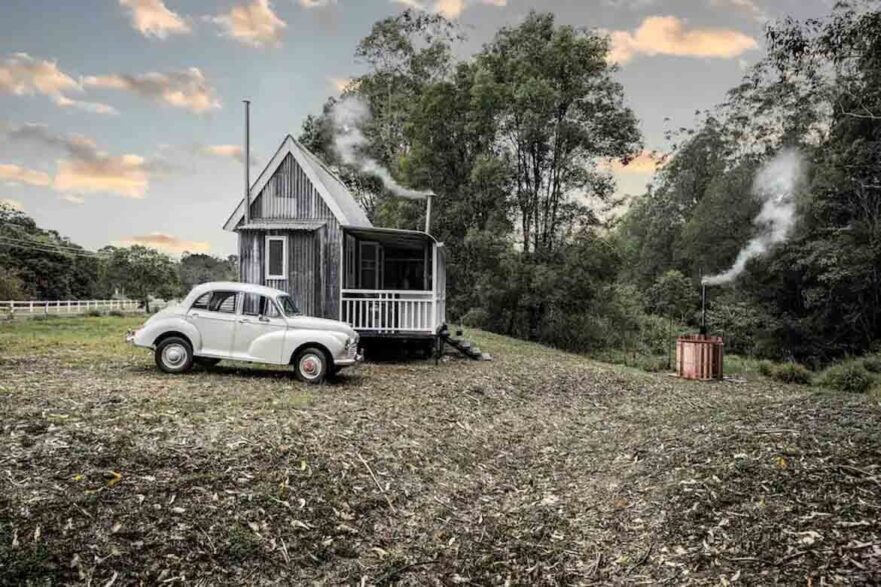 This rustic tiny home is situated on a farm in Austinville Valley, nestled near Springbrook National Park. It has waterfront views of the natural river by the window and you will be surrounded by nature at all times.
The house also has air conditioning, an outdoor kitchen and a woodfire plunge pool. It was build using sustainable materials and furnished with antique doors, windows and furniture to uphold the simple vintage atmosphere. You can book a night at this tiny home here for approximately $389.29.
4. Escape Pod, Foxground NSW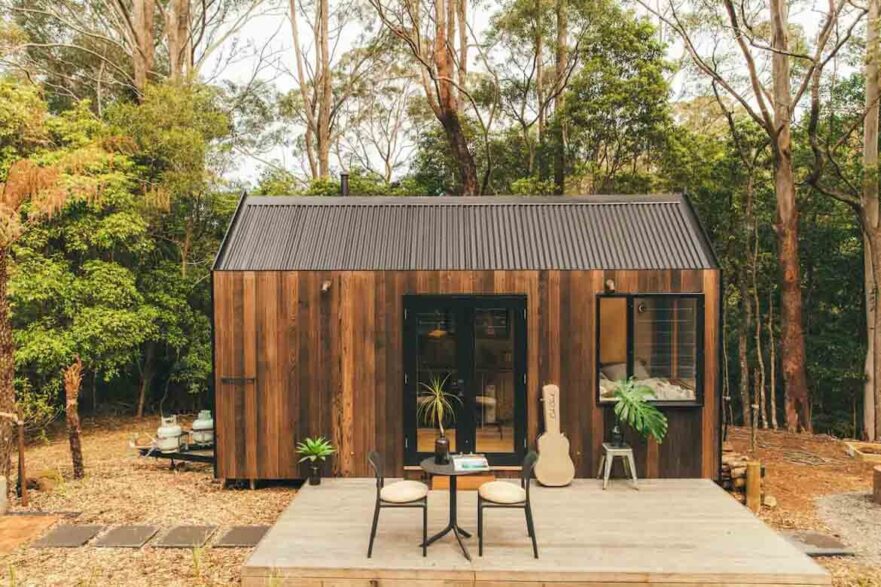 For a secluded forest vacation, look no further than this stunning creek side residence in one of NSW's most beautiful rainforests.
This 1 bed 1 bath home is perfect for a weekend escape, equipped with a fully functional kitchen, indoor fireplace, bathroom amenities, indoor and outdoor showers, BBQ area, and a firepit. It is the prime location for hiking, exploring the local beaches, or trekking into town to browse the local shops. Book a stay at this gorgeous home here for $228.57/night.
3. Hideout Cabin, Moss Vale, NSW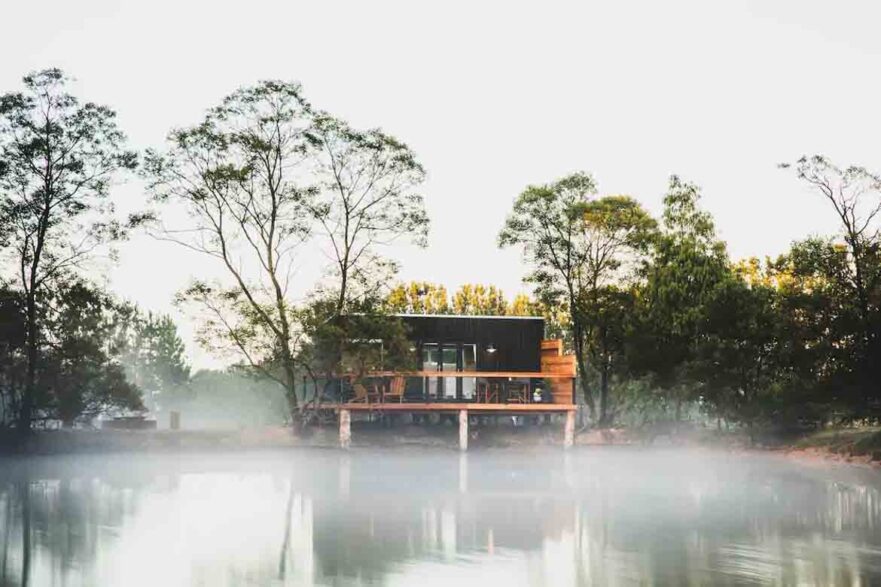 Hideout cabin is a beautiful tiny home in the Southern Highlands set on a 150 acre working horse farm. The picturesque farm setting is made all the more beautiful by the positioning of this tiny home on the natural dam, providing gorgeous views of the water from the balcony and major windows. This is a truly breathtaking home offering serenity unlike any other. Book a stay here for $463.29/night.
2. Byron Hinterland Tiny House, Byron Bay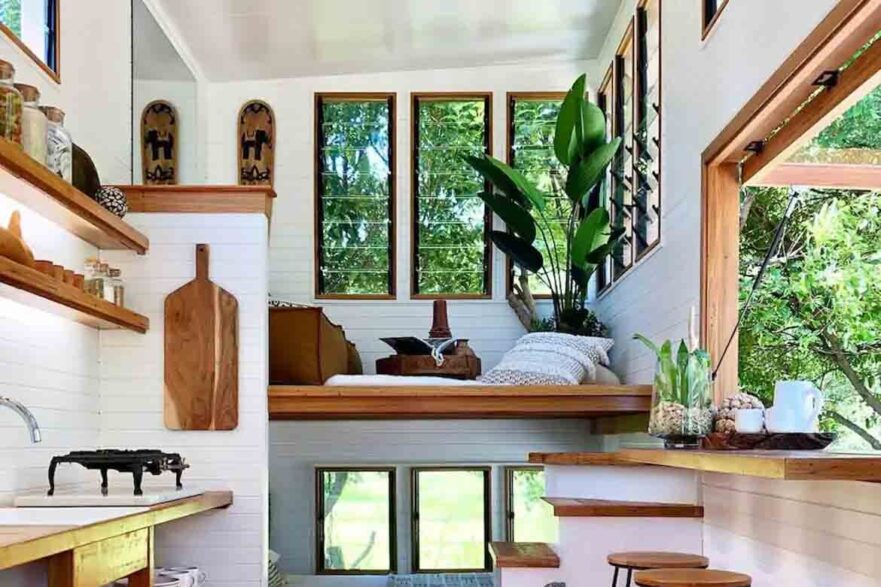 This gorgeous tiny home is the perfect place to stay during your beach vacation. Set on 5 acres of luscious grassland, this home is remote enough to ensure you will have peace and quiet while still only a 20 minute drive to the main street of Byron Bay.
This one bed, one bath property is entirely off the grid and guaranteed to provide you with a taste of modern rural luxury. You can book a stay at this tiny home here, starting at $227.14/night.
1. The Pod, Fredrick Henry Bay, Tasmania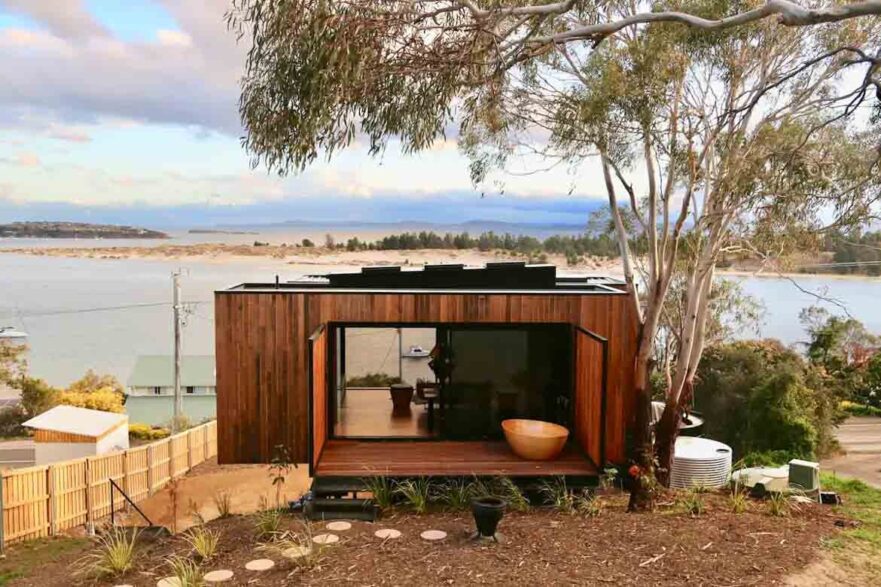 This home is the number one most Wishlisted Airbnb property in Tasmania, barely an hour and a half's flight from Victoria. Commended by the Grand Designs Australia host Peter Madison as 'a love letter to Tasmania,' this 40 square meter home is one of the highest quality tiny houses in Australia.
Comprised of the finest materials and with timber sourced from the depths of Lake Pieman, every inch of this home was lovingly constructed by the finest craftsmen Australia has to offer. This home features superb views of the dunes, Frederick Henry Bay and the Southern Ocean on one side, rivalled only by the gorgeous landscape of Mount Kunanyi on the west. You can book a stay at The Pod here for only $290 per night.
---