A house on wheels: it's exactly what it says on the tin. A tiny house on wheels (known in the industry as THOW) is a small home built on a registerable trailer which can be transported with ease wherever desired by the owner. A tiny house is a dwelling with a floor space of less than 37 sqm, though some argue that tiny houses are anything up to 50 m2. To be a tiny house, it must be fit for residential use.
How to build a tiny house on wheels: legal responsibilities for pop up home builders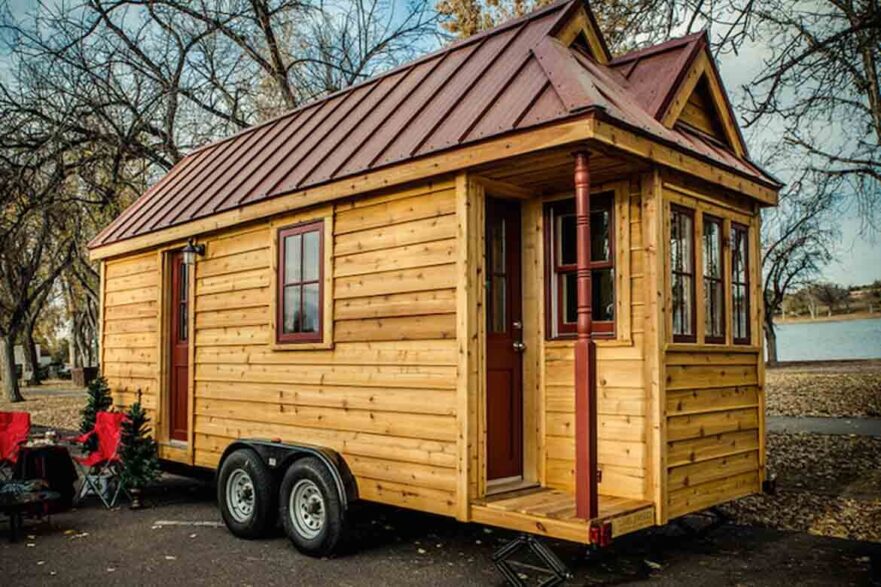 Tiny houses on wheels are not legally recognized as dwellings, meaning they do not have to follow Australia's National Construction Guide nor the Building Code of Australia. Legally, a THOW is classified as a caravan. This means that they fall under the same regulations and building codes as any regular sized caravan.
Rules vary from state to state, so be sure to brush up on the caravan construction laws in your council area and to see if you need a planning permit. If you are considering building your own THOW – a great way to save money and completely legal in Australia – you will want to consult the Tiny House Construction Guide to ensure that every design feature is up to scratch.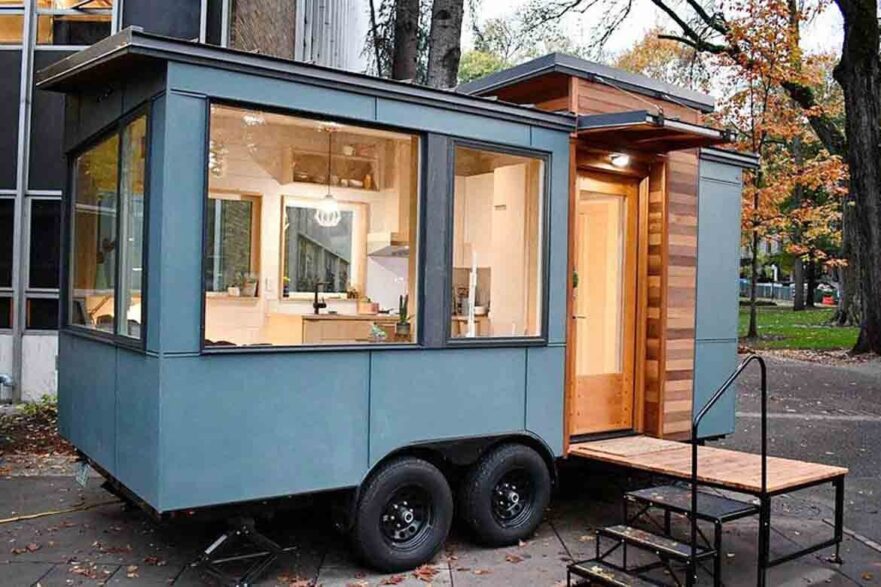 Tiny home trailers are becoming extremely popular, even among celebrities and public figures who could easily afford large caravans for travel. This is because a tiny home on wheels has a romantic coziness to it that is undeniable.
They are convenient for travel, easy to tow, and finding a park to leave them in during the day as you explore is much easier than lugging around a bulky caravan. They are also extremely cost effective and a great DIY project given that the regulations are not as strict as they are with permanent dwellings, so your house plans can be somewhat flexible.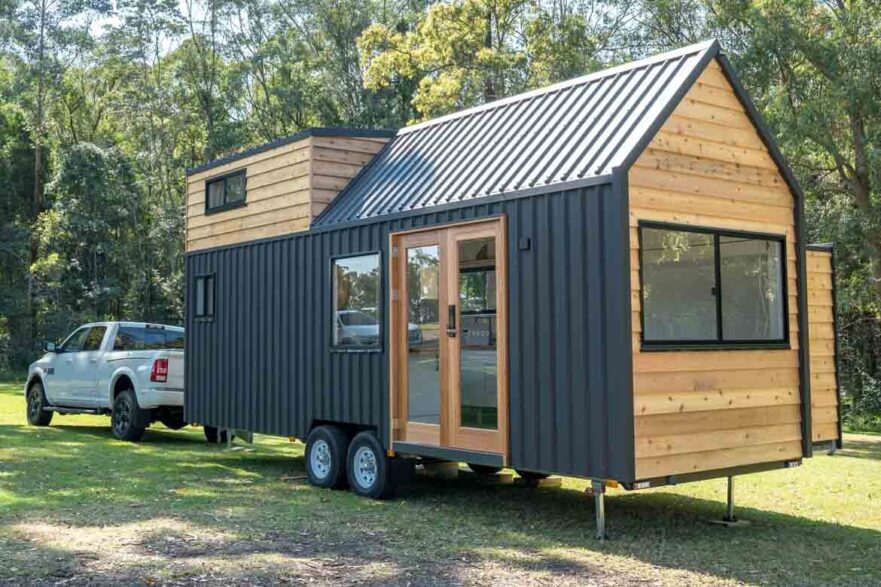 Decorating small spaces has become a fascination of modern interior design over the past decade, and tiny home owners are rising to the challenge.
Light and bright furnishings and colour schemes are very popular at the moment, with the boho whites and retro yellows taking center stage in a significant portion of tiny home décor. Raw, natural textures are a common feature of such houses and the general style seems to be emulating a rustic simplicity that compliments tiny spaces.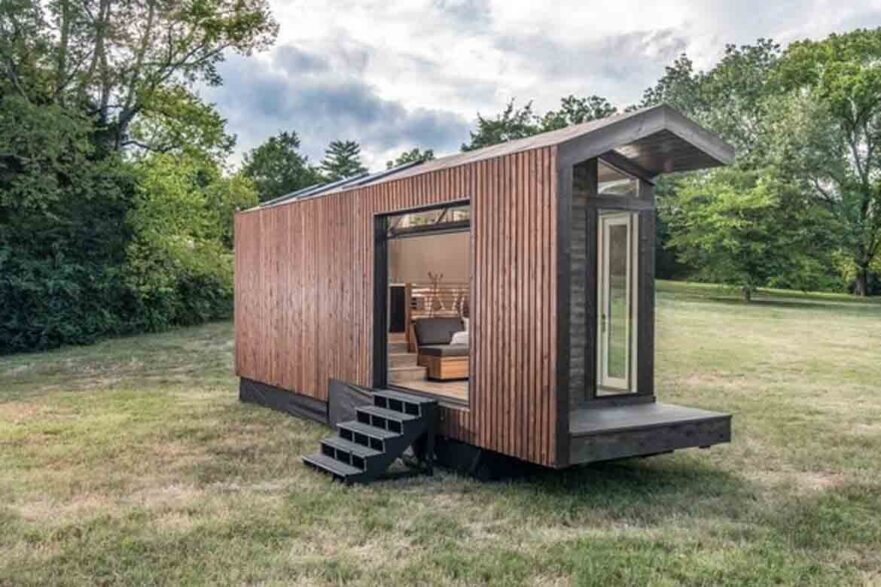 There are a multitude of different house designs for tiny homes on wheels. The easiest and most practical design is a simple, one story rectangular house. This design will help to cut down on the bulk of the house behind you and ensure that you have full mobility on the roads.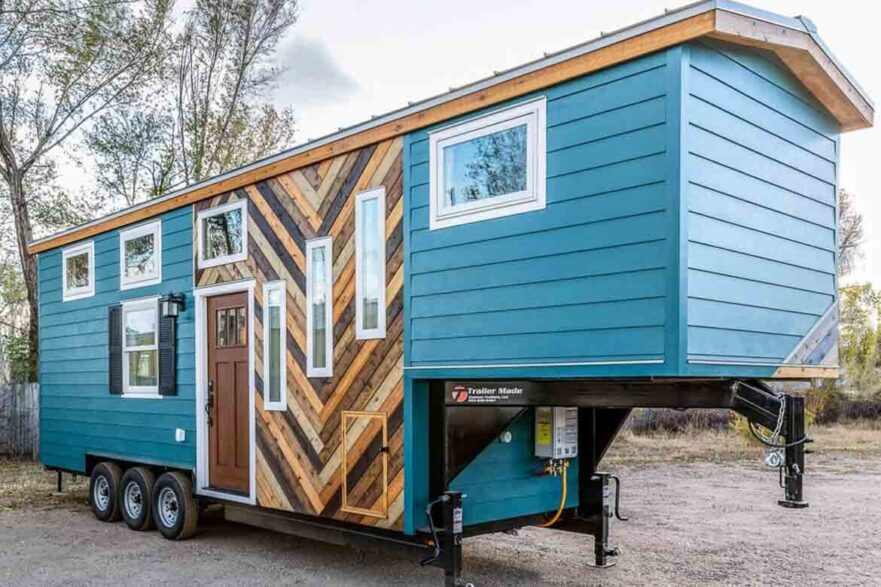 However, some people opt to make their tiny homes 2 stories because this doubles the available space. It may mean sacrificing a little ceiling space in the lower level, but this is a great way to make efficient use of the tiny structure. Generally the height limit for a tiny house trailer is around 14 feet tall.
There are a few ways to differentiate between different tiny homes on wheels. The first is trailer type, and the second is style. Read on for an outline of the most popular types of tiny home within each category.
Tiny house on Trailer: types and dimensions
1. Bumper-pull trailers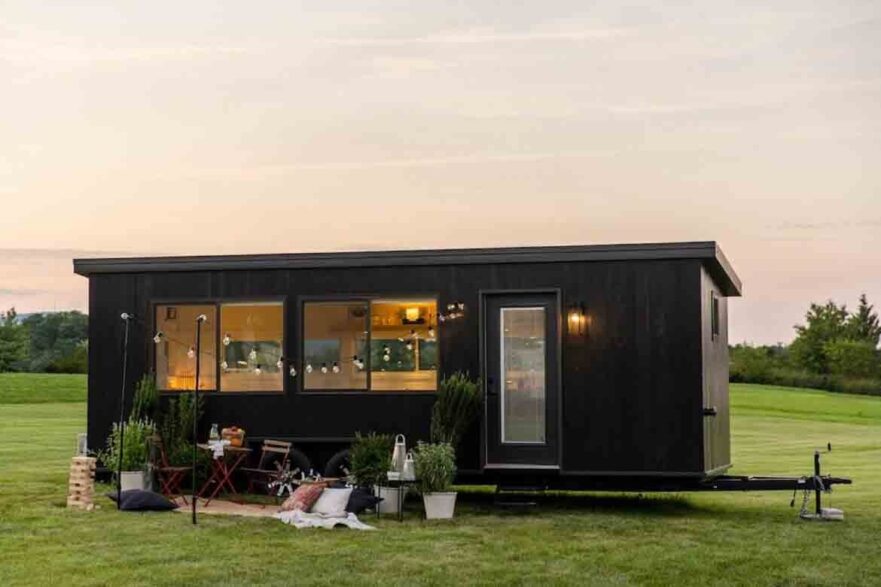 This is the most popular type of trailer for a standard tiny home on wheels. They are the most affordable option and provide a flat, rectangular space which supports all traditionally-shaped tiny houses.
The majority of vehicles are capable of pulling this type of trailer due to its popularity. However, non-heavy duty vehicles will require a hitch attached near the rear bumper in order to tow the weight of a tiny house.
2. Gooseneck trailers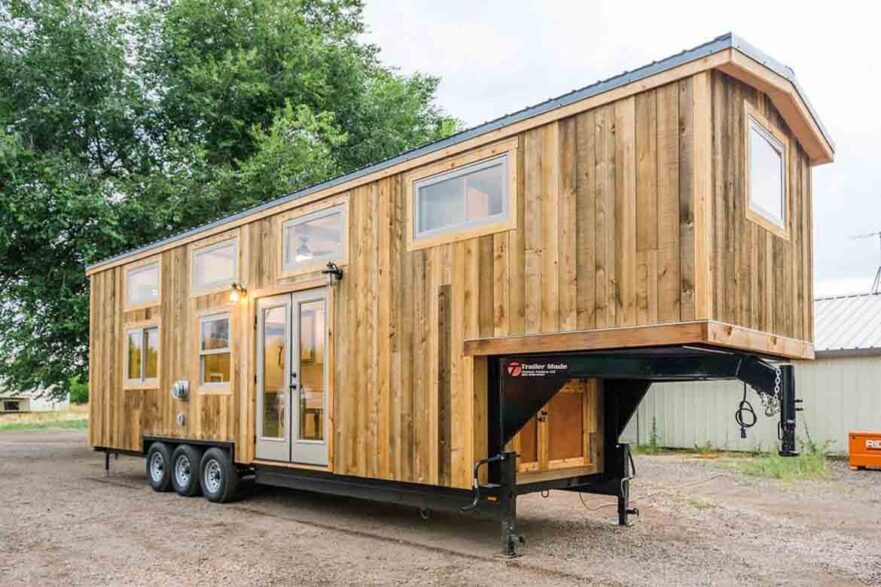 These trailers are more expensive, but they have recently started gaining popularity over bumper pull trailers due to their connecting power and convenience. The hitched necks of these trailers allow them to connect directly with the hitch receiver of the towing vehicle, minimizing the size of the mass during transportation but allowing for the trailer homes to be that little bit bigger.
Gooseneck trailers are particularly well suited for those who intend to travel often with their tiny home, as they are easily portable – if you expect that that your tiny trailer home will be sitting stationary for long periods of time, the bumper-pull trailer is probably a more practical choice.
3. Deckover Trailers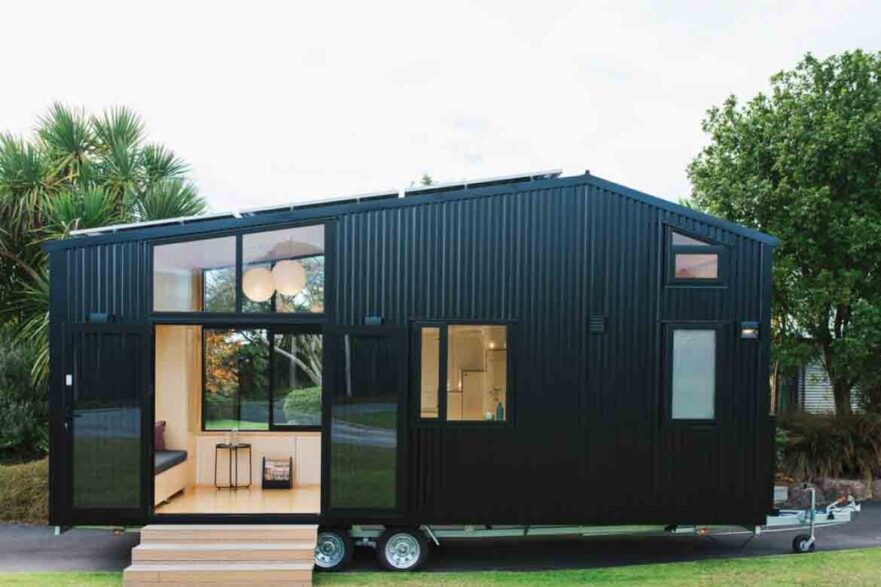 These are a version of bumper trailers that provide a flat surface on top of which the tiny home can be easily built. Unlike bumper trailers, these trailers have a raised deck. However, this will limit the potential height of your home as the rules dictate they must be no taller than 13 ½ feet.
Trailer Homes For Sale: 3 best mini houses available in Australia
3. Country Retreat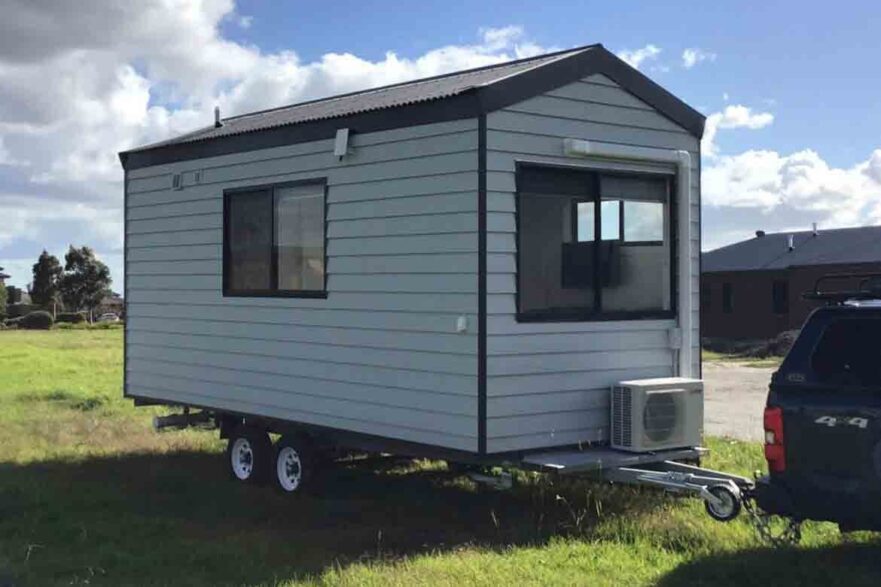 You can buy second hand THOW like the one pictured above here from Cabin Connect. They are generally much more affordable than building your own or purchasing brand new, but you should be wary that they are still in good condition as a rushed purchase could cost you far more in the long run.
2. Gunyah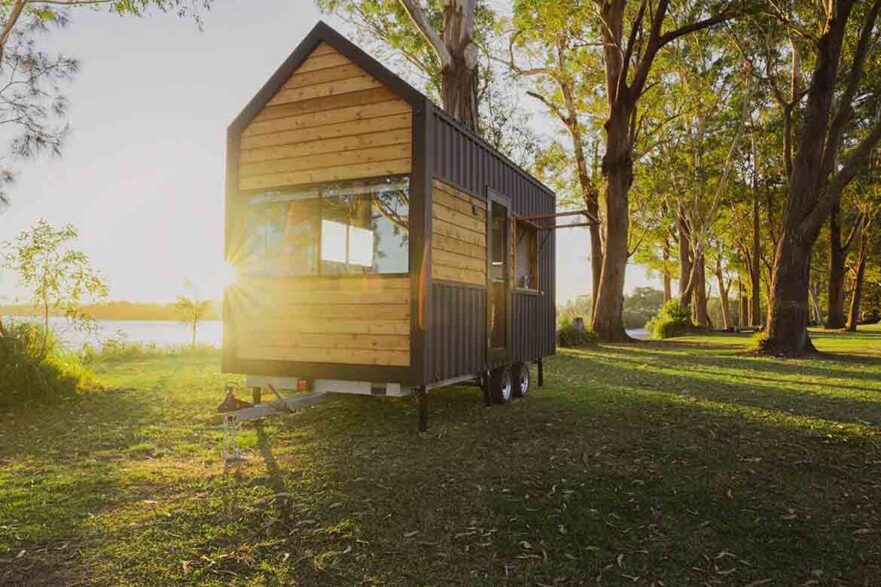 A well-loved product from the renowned tiny home manufacturer Hauslein, the Gunyah tiny house model pictured above packs a real punch in terms of value for money. At 18 square metres, this tiny home can comfortably sleep 2-4 people and comes in 2 layout options.
Prices start at $93,500 and additions such as an off-grid option will influence the final price. See here to purchase or request a personal quote.
1. Graduate Series 6000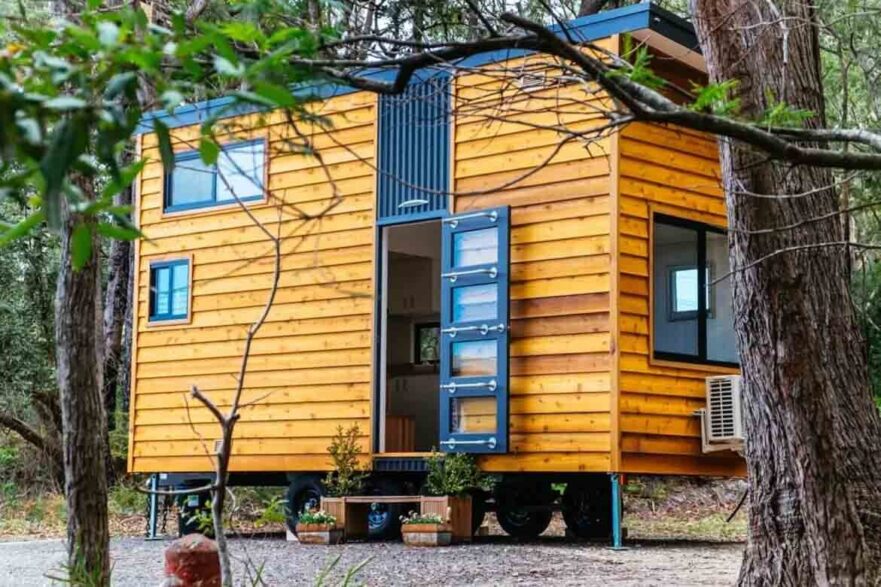 This model by designer eco tiny homes is gorgeous for use as a permanent or mobile home. There are many features on offer including stairs, kitchens, bathrooms, living rooms, dining rooms, and even customizable sized lofts (king and single).
This model sleeps 1-4 people comfortably and prices start at $89,900. You can make a purchase or read more about the list of available amenities here.
---