Cabin style is easy to identify in bedrooms, living rooms and kitchens. Cabin décor is characterized with a rustic, woodsy feel. Cabin interiors use raw, natural materials like wood in neutral colours. This is usually then offset by warm accents which add a pop of colour.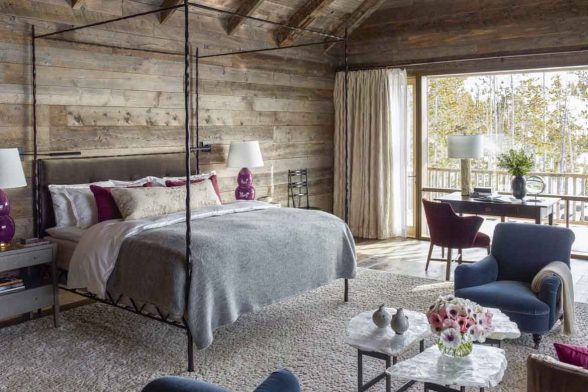 However, cabin-style bathrooms are a little harder to pin down as the porcelain of the sink/toilet/bath can often appear out of place among the rougher, more natural materials.
A classic cabin bathroom will typically have bold, colourful wood finish with white porcelain accents.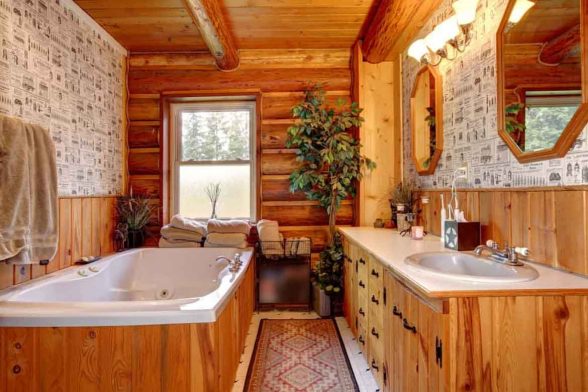 They are generally fairly small and use this limited space efficiently. Cabin bathrooms will often emphasise the bath as a focal feature, as the spirit of cabin living is about capturing small luxuries in simple ways.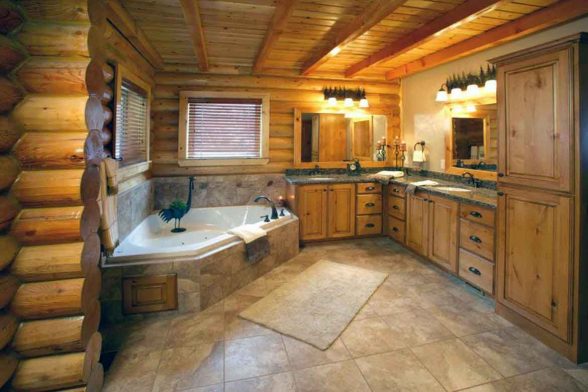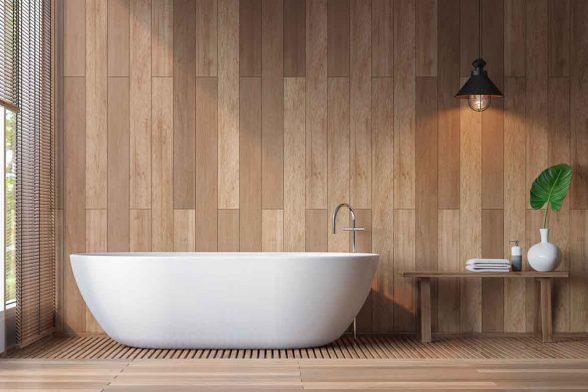 Feature walls and stone are also a common staple of cabin bathrooms,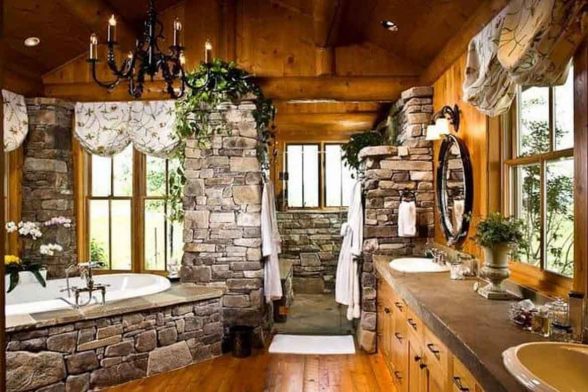 And in particular, walls like these give the bathroom the simple romanticism of a mountain log-cabin.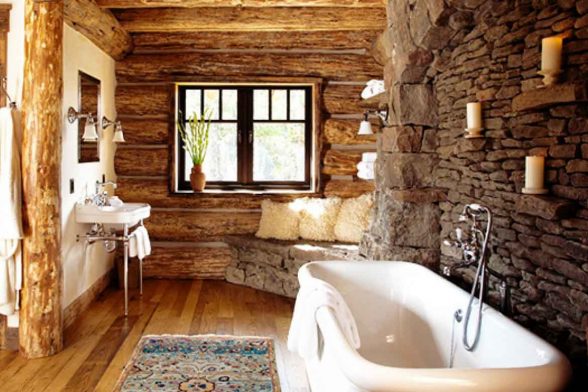 So, now that we are familiar with the classic log-cabin style; what are the best cabin bathroom designs?
Cabin bathroom ideas: top 5
Metal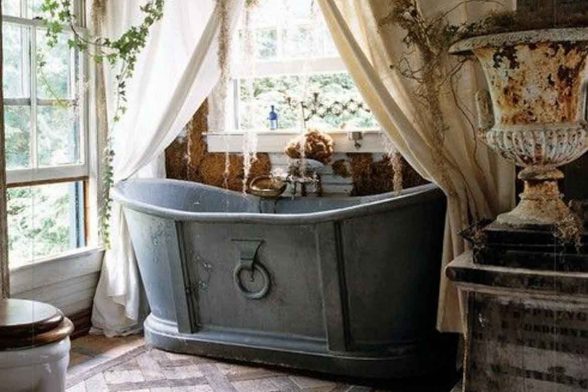 One of the best twists on the classic coziness of a cabin bathroom is the inclusion of metallic accents. Brass and iron are particularly effective here as they offset the natural look of the wood with an industrial edge.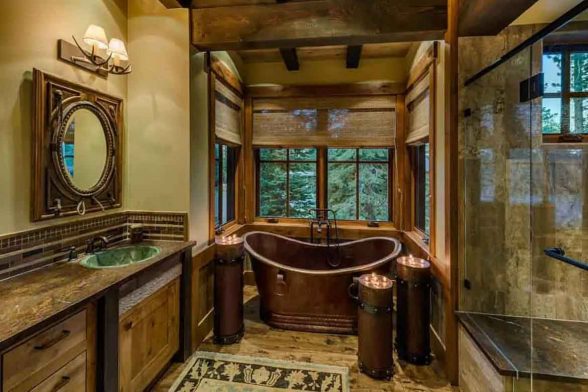 In particular, a simple metallic bath makes the two worlds meet, combining the coziness of log-cabin style with the artistic, steam-punk appeal of metal.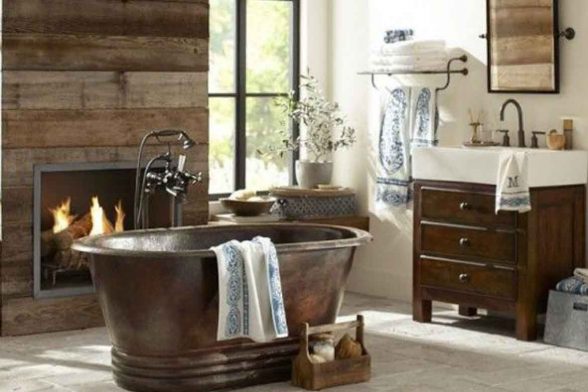 They are more easily portable than the alternative bath options such as stone, porcelain or enamel cast-iron. Metal accents are a subtle way to give your cabin bathroom a contemporary twist while maintaining the rustic simplicity.
Classic wood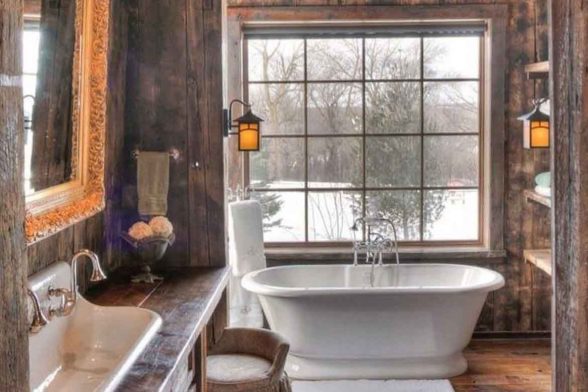 This style is completely beloved for a reason. A classic cabin bathroom has an undeniable aesthetic appeal which communicates peace and simplicity.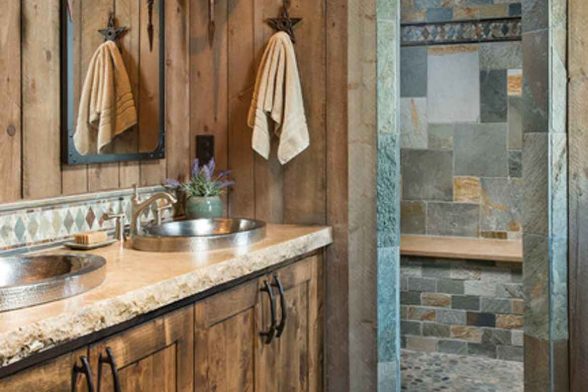 Reclaimed or new wood with gentle porcelain accents is soothing to the eye, whether it's logwood or regular timber planks.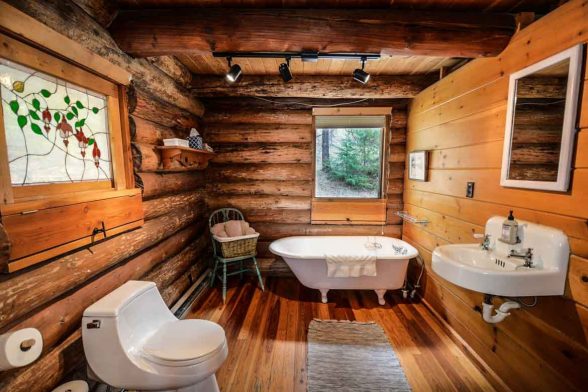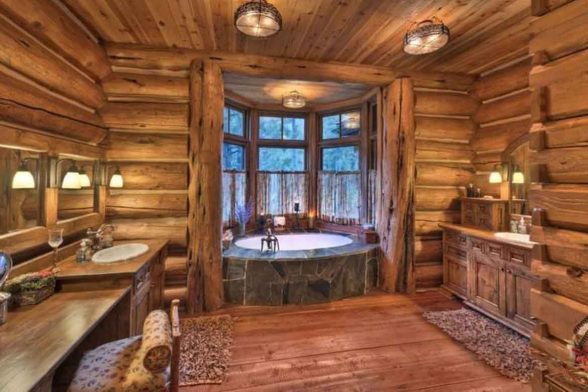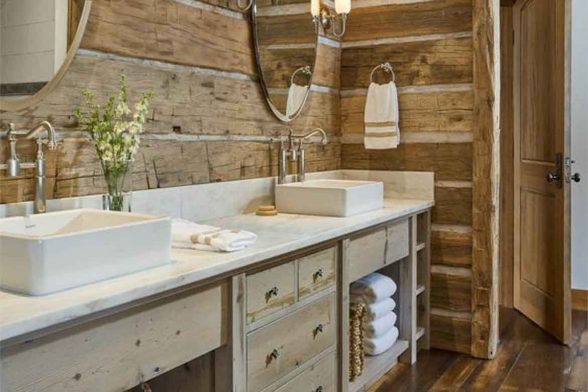 A cabin bathroom designed in the classic wooden style will never disappoint. It is also a cost efficient option as timber is one of the cheaper building materials on this list.
Stone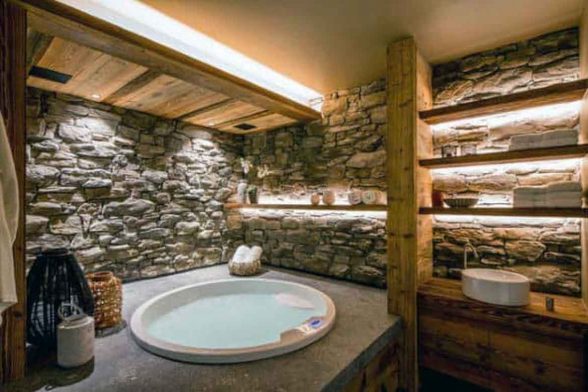 Stone is one of the more daring choices for a cabin-style bathroom, but it also has the best payoff. When done tastefully, a stone bathroom has an indescribable fairytale quality which breathes a little magic into the room.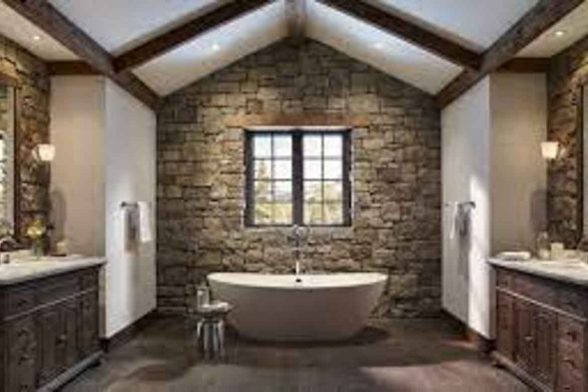 Stone bathtubs are particularly enchanting as they add to the already woodsy quality of the cabin bathroom, blurring the lines between the inside and outdoors.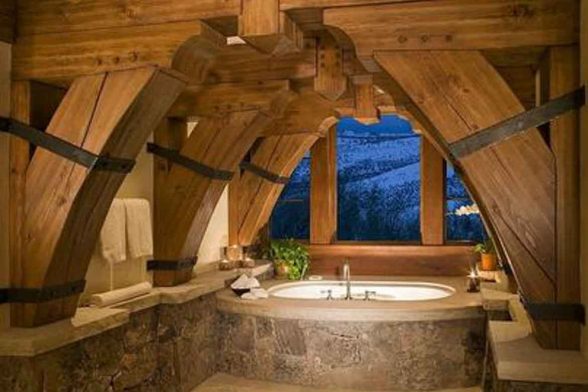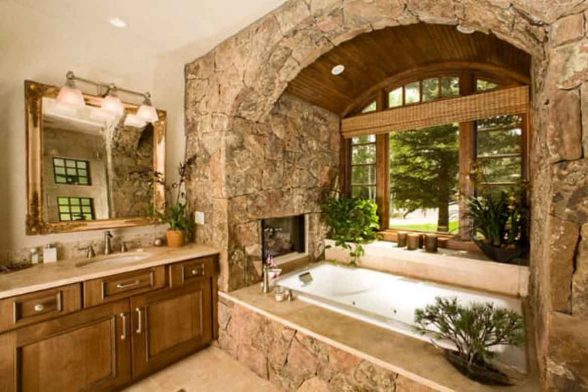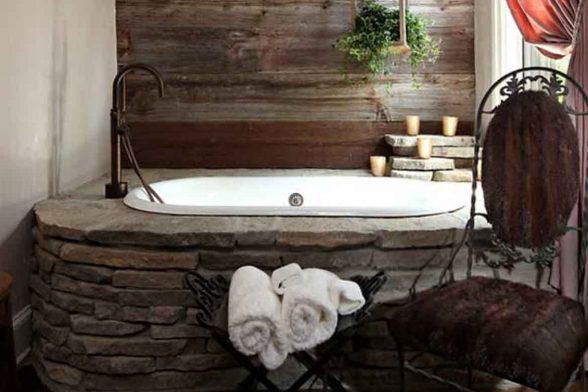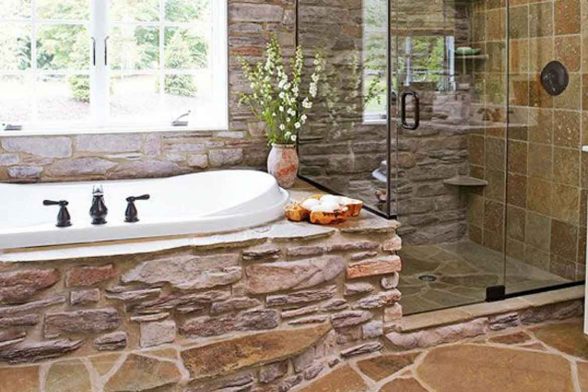 While genuine stone bathtubs like the ones above are some of the most expensive on the market, crushed and recycled stone or concrete baths achieve a similar feel for a significantly reduced price. See here for some breathtaking tub options.
Luxury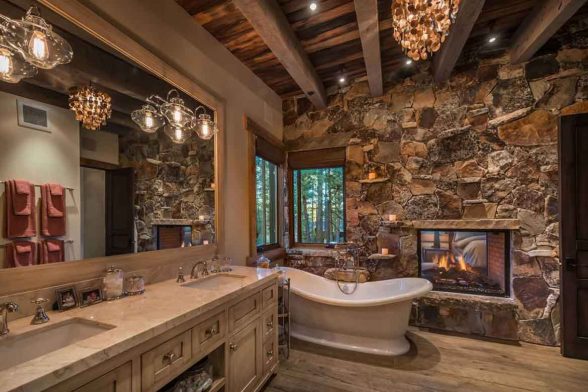 For those with the budget to truly splurge on their bathroom design, a luxury cabin bathroom has undeniable appeal. Taking the simplicity of a cabin bathroom décor and fusing it with bold touches of decadence gives the room a wonderful, playfully elegant atmosphere.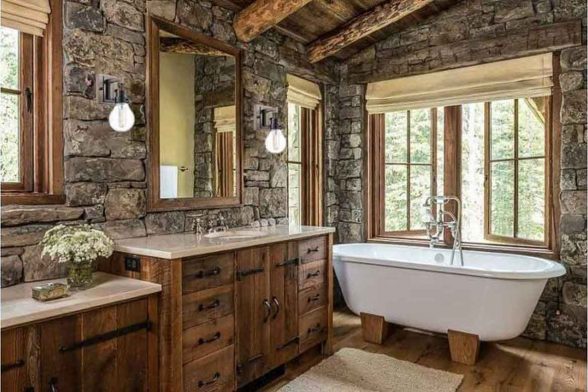 Neat accents of luxury such as an elegant mirror, vanity, extra lighting fixtures or a chandelier help to make the rest of the room's rustic personality pop. Particularly enjoyable are elements of luxury which keep to cabin theme, such as a fireplace.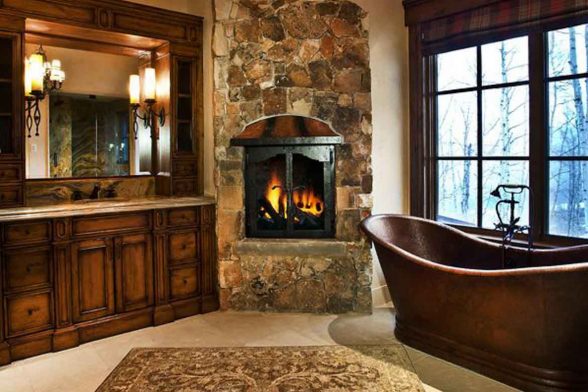 This playful addition to a bathroom maintains the coziness of cabin life while also expressing the joys of decadent living.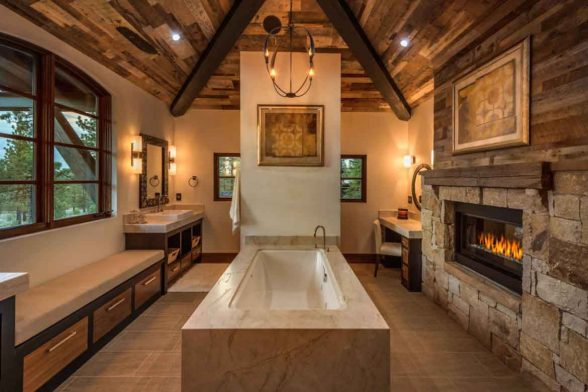 Some beautiful chandeliers which also match the natural simplicity of the log cabin can be found here.
Light & Open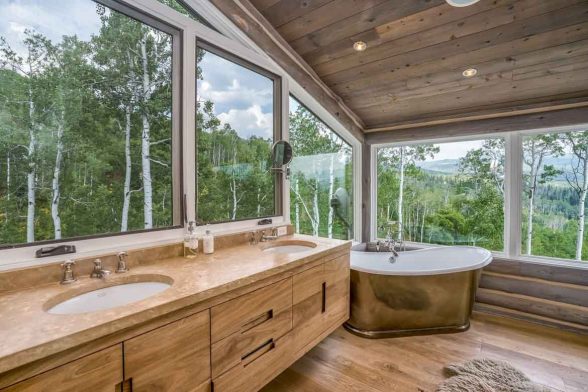 Nothing quite captures the romanticism of rural living so much as an open bathroom. Huge windows with streaming light are a natural feature of genuine cabin life, because neighbors are typically a rare species.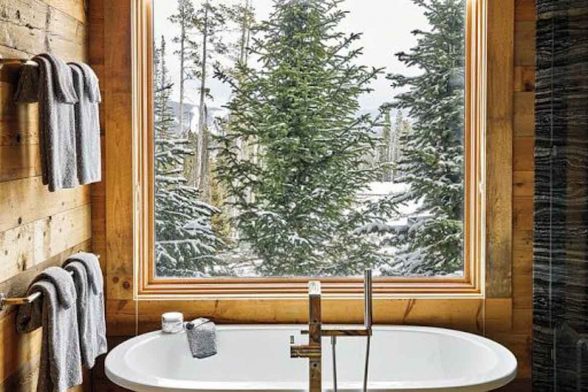 The natural privacy of a secluded cabin allows for creative freedom with the home design, and all of the best cabin bathrooms take advantage of this opportunity.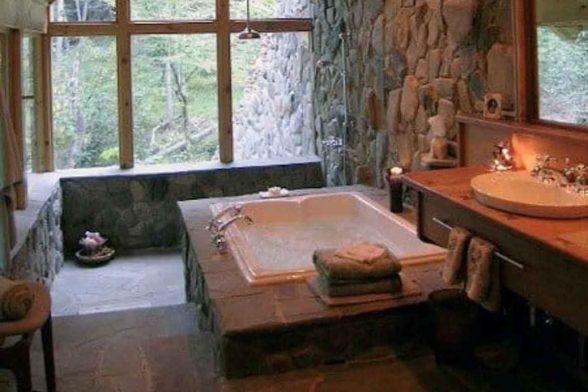 Light and open cabin bathrooms connect on a deeper level with the beauty of the natural landscape. The contrast of cozy indoors with the wild outside enhances the beauty of both.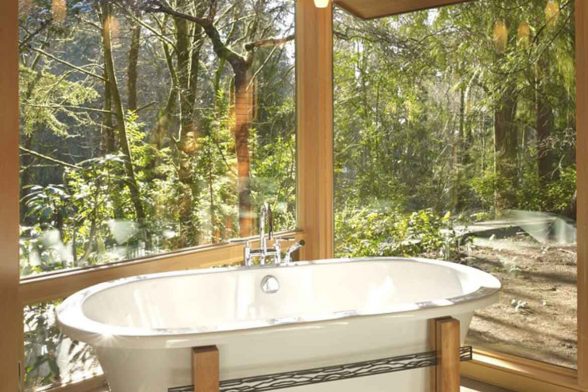 There is no greater design for genuine cabin bathrooms: bathrooms which utilize their seclusion to provide a unique experience.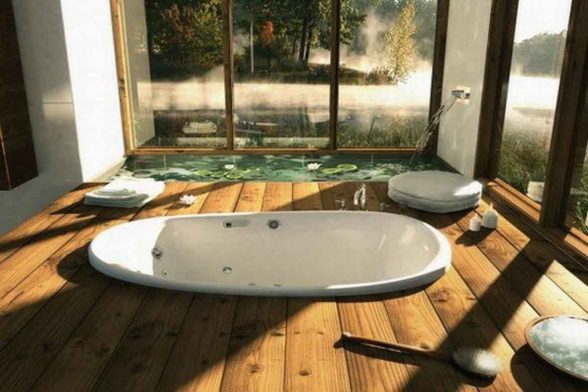 Part of the magic of this is in that it cannot really be replicated in an urban setting, where civilization presses too close against the bathroom windows for comfort, and the views are not quite as spectacular. However, an option for those who really enjoy the boldness of a light and open bathroom but cannot stomach the vulnerability it creates may be to look into one-way or frosted glass.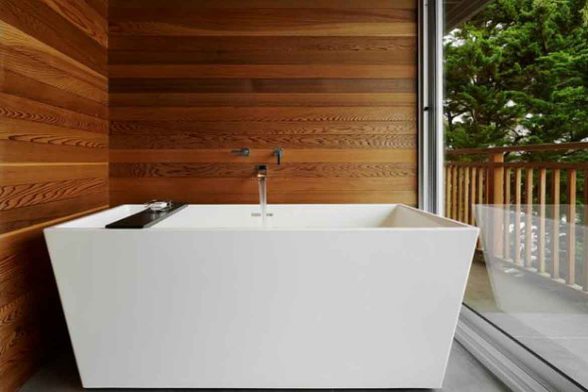 ---