There are a number of tools and tricks that can help to make a small living room appear larger. A small living room is generally considered to be around 12 square meters or less, usually 3m x 4m. Small living rooms are often found in apartments as lounge room space is commonly sacrificed when space constraints are tight.
They can be very difficult to style because the small space limits the ability of the decorator to comfortably create a theme or colour scheme. This has made small living rooms a popular design trend as interior decorators enjoy the challenge of expressing their style in a limited space.
The key to styling small living room décor is finding a balance between cozy and airy. This is difficult to manage because small living rooms often walk the line between cramped and cozy, but there are a number of interior design principles which can help you maximize the space in a visually appealing way. Not all small lounge rooms require renovation or rebuilding to make them feel bigger; following some of the small lounge room ideas below will help to make the most of your space.

Small lounge room designs: decorating ideas for small living rooms
Wall mounting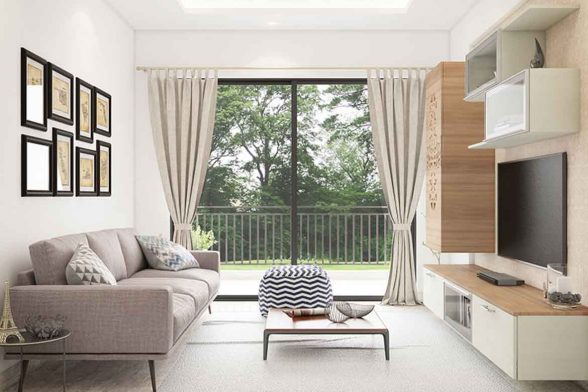 How to decorate small living room: One simple but ingenious way to take advantage of the small space is to use as much of the wall space as possible. Pushing furniture right up against the wall is always the first step and should create a cozy feel as well as opening up the floor space.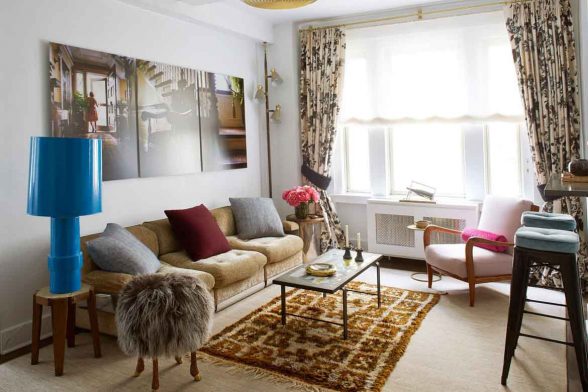 The next strategy is one of the best ideas to utilize a small living space: mounting attachments directly onto the walls. Floating shelves in particular are some of the best living room ideas for small apartments, as they have a contemporary, minimalist look while still allowing you to display your favourite books or plants.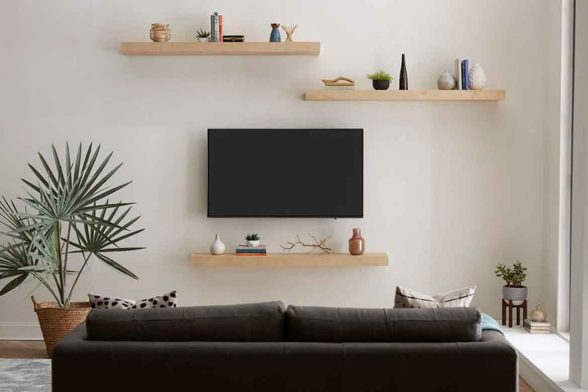 Wall-mounted televisions also open up the space, reducing from the bulk of storage units and creating horizontal visual lines which emphasize the length of the room.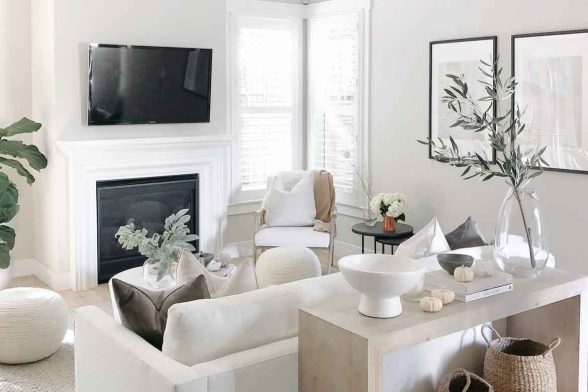 Even a tiny amount of additional space can give the impression of openness. This is why it is definitely worth the effort it would take to mount a cabinet, or shelves, or a tv – even ten centimeters extra will feel like a drastic change when you're actually standing in your living room.
Wall fixtures can usually be DIY projects and most modern TVs will have detailed installation instructions, but you obviously want to be very careful as mistakes in this process will lead to damaged property or possibly injury.
Be realistic when assessing your skills and consider hiring a professional if you have the means. If you decide that mounting wall fixtures isn't the right choice for your space, there are plenty of other small apartment living room ideas you can draw from to open up your lounge room.
Mirrors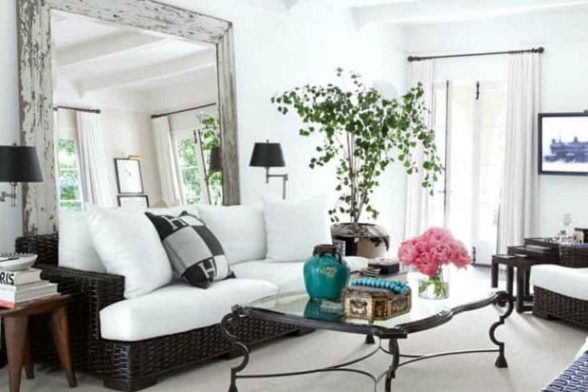 Mirrors are a classic strategy of space conscious décor. A single large mirror is the most effective way to make a room appear bigger as it brightens the room by reflecting the natural light without drawing too much attention.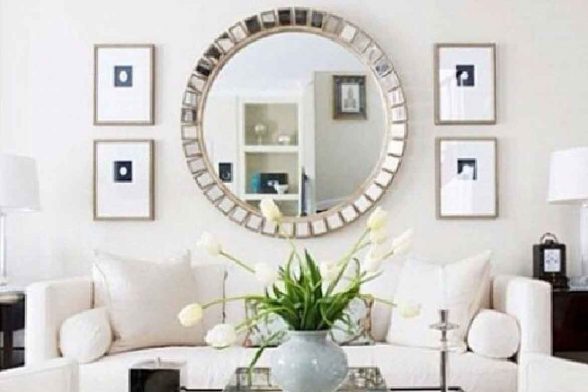 Ornate frames and multiple mirrors are more likely to make the room look crowded as they capture the eye without really reaping the benefits of large mirrors. It is important to determine the right height for your mirror by measuring the space – the average person's eye level is 1.5m, so the center of your mirror should be placed at roughly this point for maximum effect.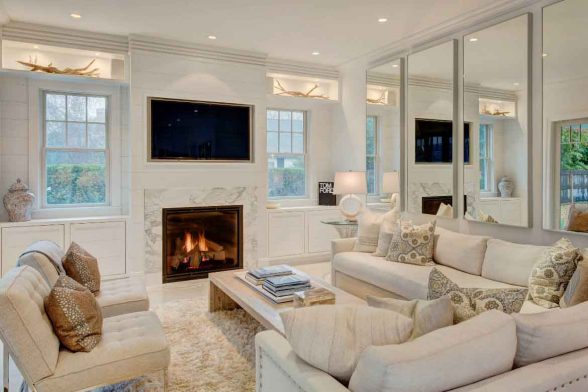 Another trick for decorating a small apartment living room with mirrors is to place the mirror near a light source such as a lamp or next to a window. This means that the mirror will reflect the light and make the room feel overall much brighter, making it seem bigger and adding an extra dimension of sunniness. Mirrors are one of the cheapest small apartment living room ideas as high quality mirrors can be purchased from most major furniture and homeware stores such as Bunnings or Temple and Webster.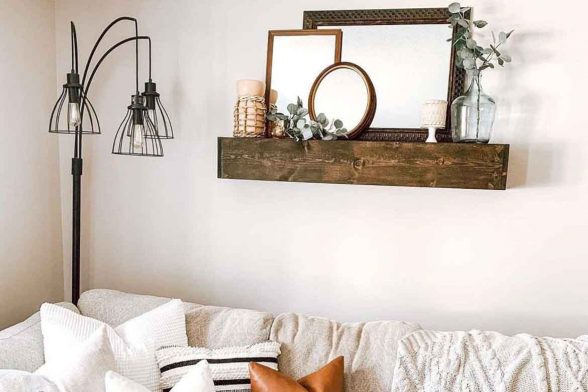 There is also a lot of opportunity to express your own style through mirrors, as the extensive range of different types and styles means that you will have the ability to choose the perfect mirror for your home décor.
Layout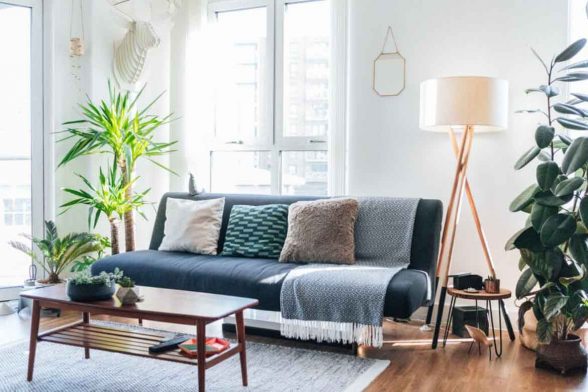 Principles of interior design can be extremely helpful in structuring your space.
The rule of three refers to the fact that arranging furniture in groups of three is more appealing and memorable than using even groups. This can help to make your space seem more organized and adds structure, capturing the sophistication of intelligent interior design in just a small space.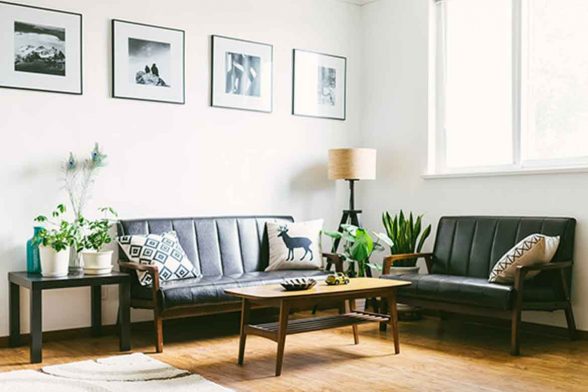 Another interior design trick is creating lines that draw the eye from piece to piece.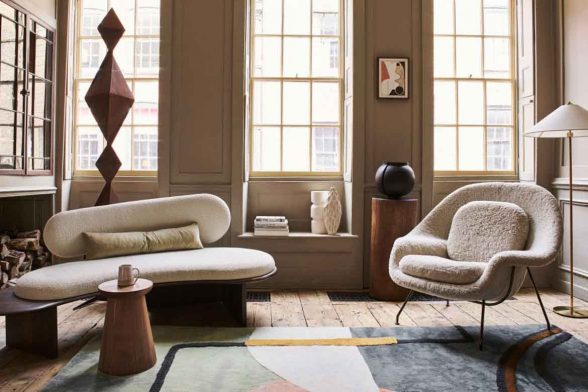 For small living rooms, it can help to elongate the space by placing long furniture pieces or a patterned feature wall across the room to guide the eye path. The horizontal lines will naturally make the room seem longer and can drastically extend the visual effect of the space.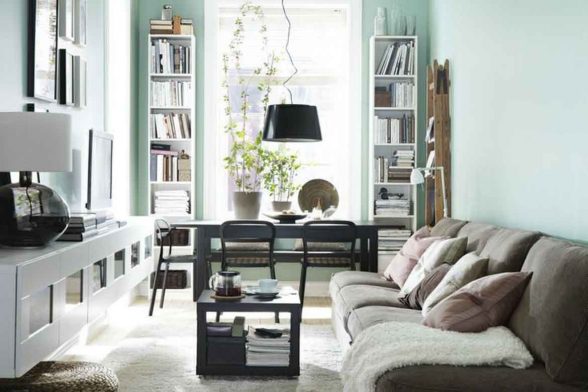 Finding suitable furniture to create this effect should not be too difficult and will involve measuring the space before searching various catalogues for the right style for you. Longer furniture should not cost much more than regular sizes, but if you wish to have something custom made for your space the price may climb.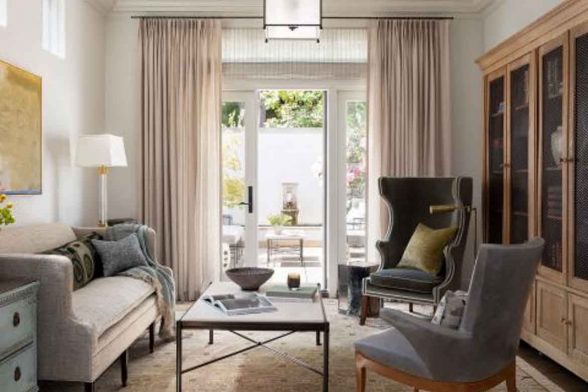 Space-smart décor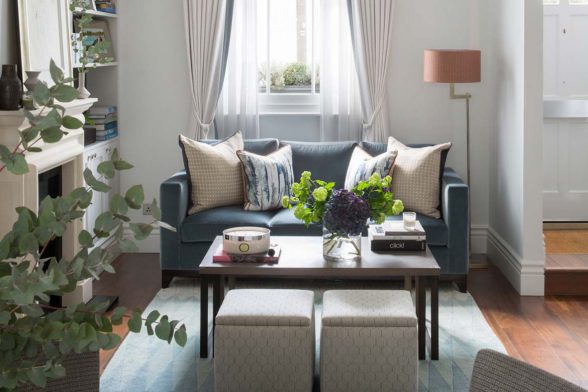 Taking advantage of the space for storage and display is a great way to make your living room seem neat and cozy, something that is often tricky with a very small or cluttered space. Some great small living room ideas for space-smart décor include:
Using the window sills as a shelf to display plants or books,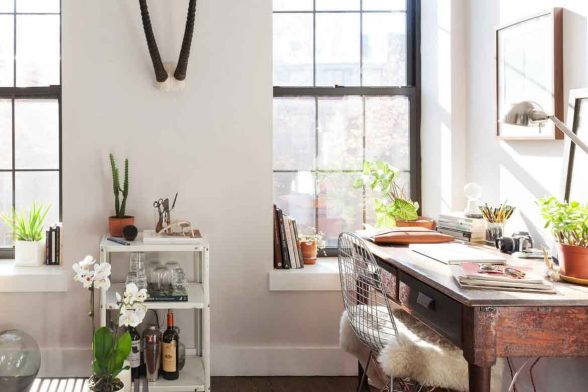 Hanging plants from the ceiling to save on shelf-space but keep the room looking stylish and well-decorated,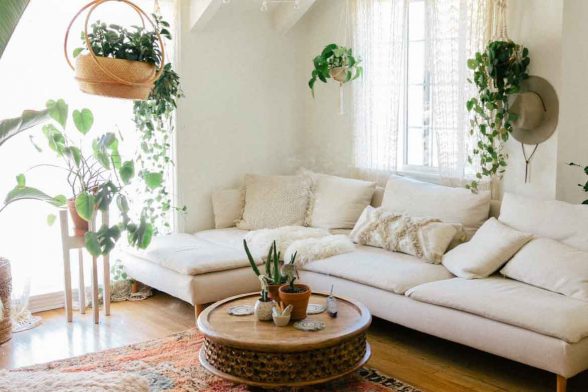 Making space-conscious furniture choices such as a sofa like this one with hidden storage compartments,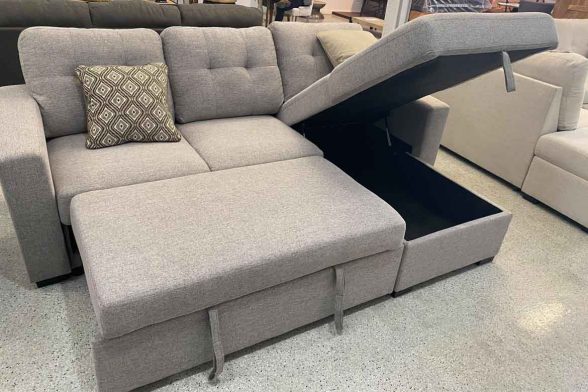 Or a coffee table under which you can tuck lesser used décor items such as a pouf or a magazine box.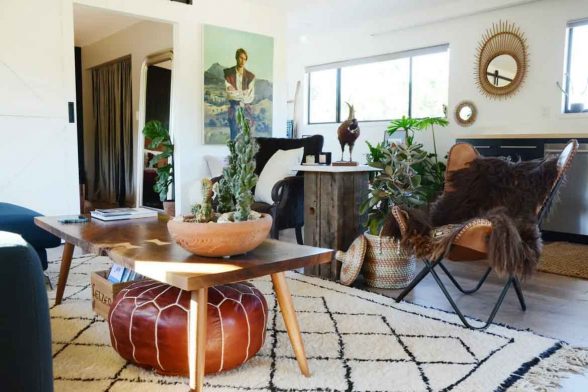 These options will all help to maximize the living room space and limit the clutter on the floor, keeping the room light and open. They are also particularly useful for family rooms which need the extra storage space.
White & bright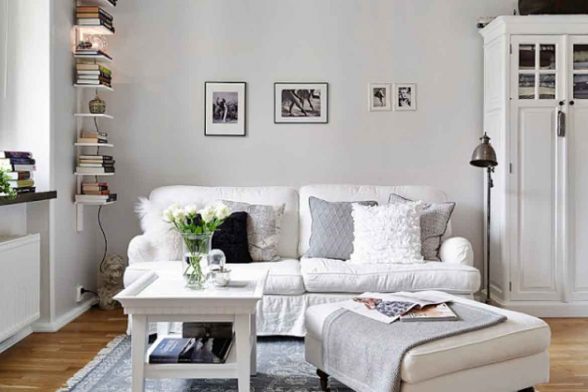 One of the best small living room ideas is the use of light colours to make the space feel brighter and more open. In particular, one of the best living room ideas for small apartments is to paint the walls white and keep the furniture a similar shade or use a monochrome palette.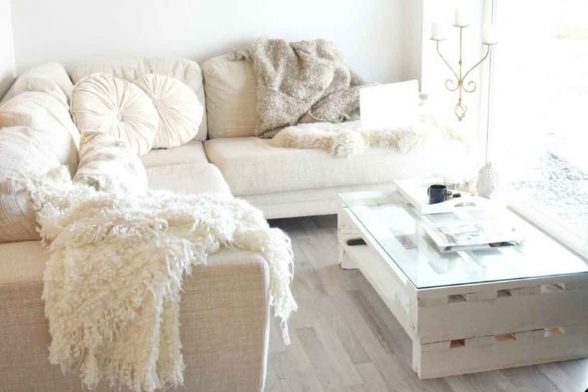 White décor and walls will reflect light around the room and make even a tiny space seem light and airy. It also allows for pops of colour in the décor such as flowers, rugs or pillows which create a sense of personality.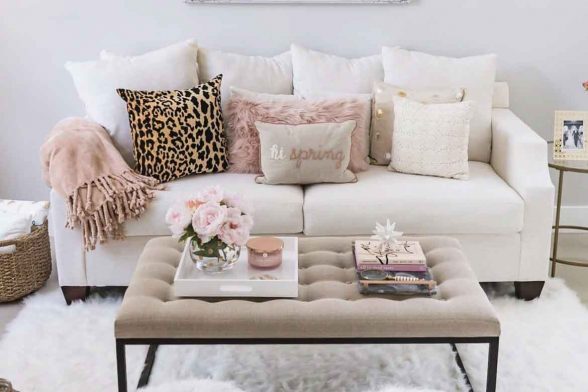 White is one of the most sophisticated colours to style a room with and has a lovely coastal feel that will undeniably brighten up your living room. It is also one of the cheapest ways to make a room seem instantly bigger, as white paint can be found in every major hardware chain for a reasonable price.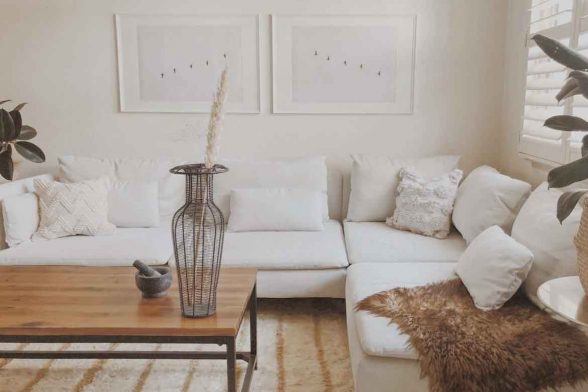 There are also many different tones and shades of white, which means you can choose the perfect one to tone with the rest of your apartment.
---