A shipping container home is a factory-manufactured prefabricated home which is made off-site. Shipping container homes can be assembled off-site and delivered intact, or some may require assembly upon arrival at the property.
Whether you have builders handle the assembly or you attempt it yourself – assuming that your particular container is a reasonably attemptable DIY project – will be up to you. Factors that should influence your choice are your budget, location, time frame, project specifications, your own skill level, and the difficulty of the assembly process.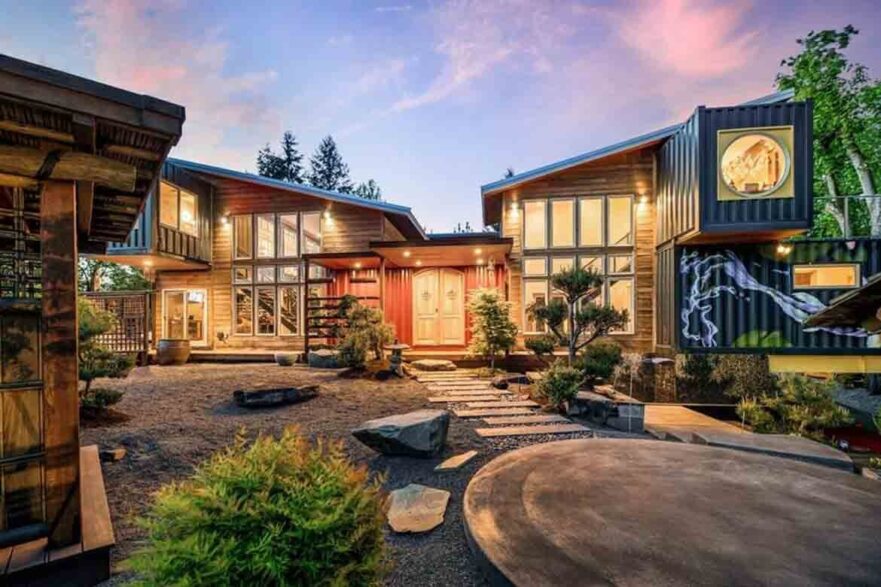 Like modular homes and kit homes, shipping containers belong to the prefab family. However, there are a few key differences which might affect your selection. For one, shipping container homes do not attempt to mimic a traditional house in the way that modular and home kits do.
Shipping containers have a standard size and shape, usually with little deviation. The standard size of a shipping container is approx. 2.4m wide x 6-12m long. Shipping containers will almost always be rectangular shaped with very little add-ons or extensions.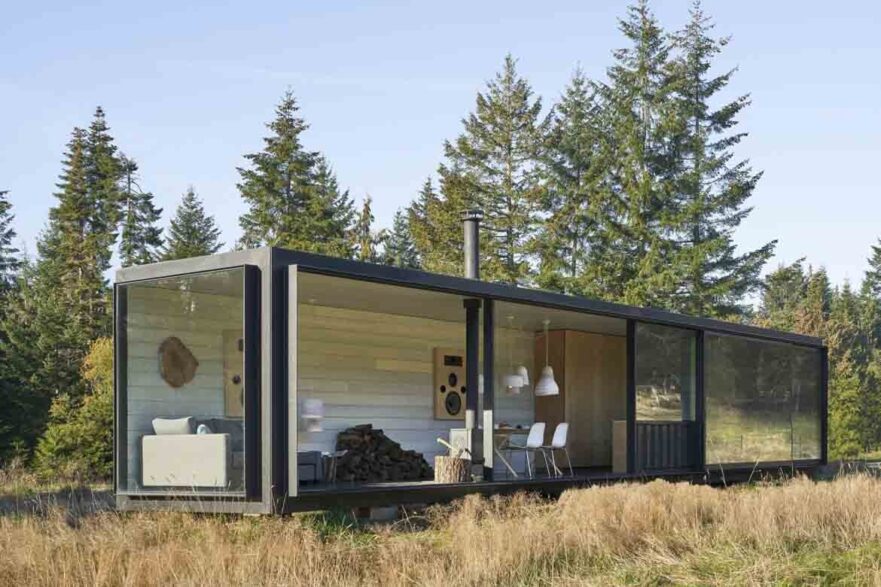 This is quite the contrast to modular and kit homes, as both are usually manufactured to look like traditional housing and as such there is no real standard shape or layout.
There are benefits and disadvantages to this: a lack of standard sizing makes it slightly harder to know exactly what you want, and the exterior of modular/kit homes does not always look like an authentic house. However, the variety offered by modular/kit homes is quite impressive and something that shipping container homes tend to lack.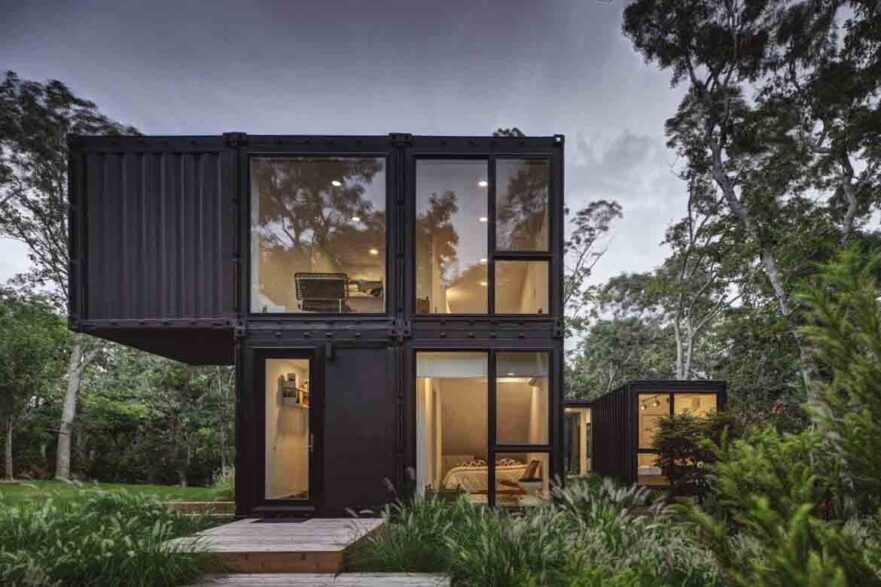 Shipping container homes do not attempt to emulate the look of a traditional house and are usually very recognizable for what they are. This is not to their detriment, as a well-styled shipping container home has an industrial chic that is sure to impress.
Shipping container homes have become more standard in recent years, with rising demand particularly with those who want a second shelter on their property for housing guests or to comfortably self-isolate. Another rising trend with shipping containers includes stacking multiple containers on top of one another to create a multi-storey shipping container home.
How much do shipping container homes cost?
Shipping container homes are far cheaper than traditional housing. Though the price depends on the size of the home, many shipping container homes work out to be half the price per square foot of a conventional home. The average price of a very basic shipping container home begins at about $15,000 for a new container with a simple fit-out and ranges to about $70,000 for a two bedroom.
When considering buying a shipping container home, try not to be too distracted by price. You may be able to find very cheap shipping container homes second hand, but that is not always the best option if the cheap container homes for sale are damaged or very old.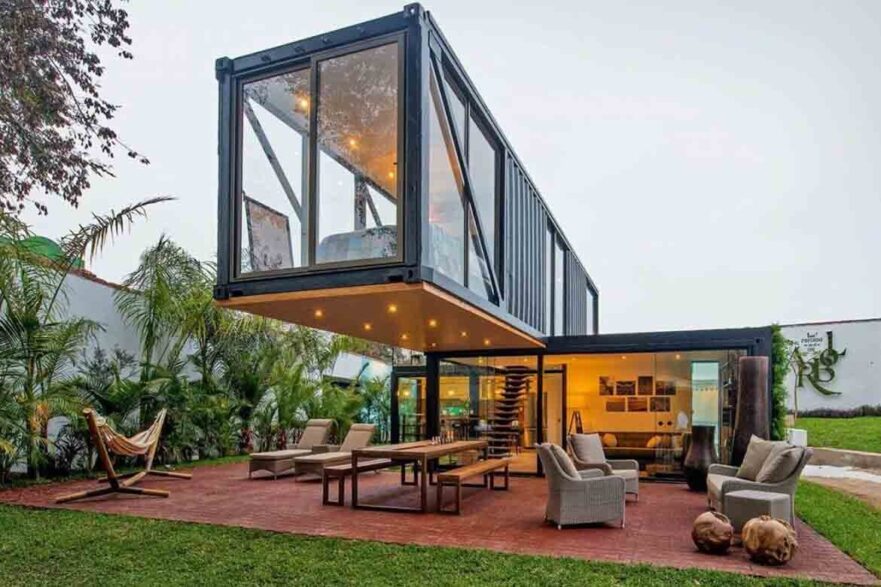 Shipping containers are practically indestructible, weather resistant, environmentally friendly (made from recycled steel) and quick to build/transport. You don't want to sacrifice any of these benefits just to save some money in the short term, as investing in a high quality shipping container from the beginning will likely save money in the long run.
When searching consider the use you want to get out of the shipping container home and the environment it will be placed in as well as your budget. Here is a list of the 5 best high quality cheap shipping container homes for sale in Australia.
Shipping Container Homes Cheap: 5 high quality Australian cheap container homes
Brand: Containered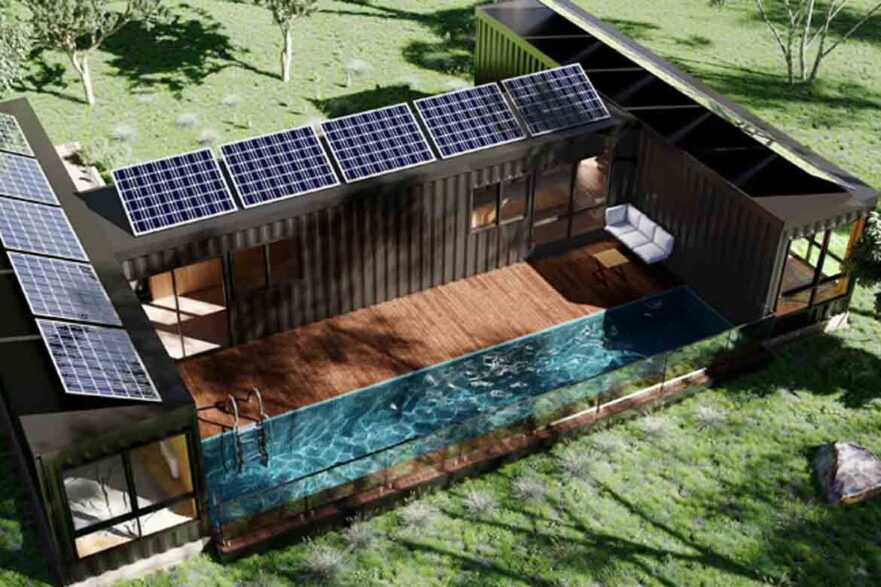 Containered is a Melbourne based designer prefab shipping container home manufacturer. Their projects are guaranteed to be high quality and fit for purpose, as well as fully customizable. However, they are more expensive than some of the other options.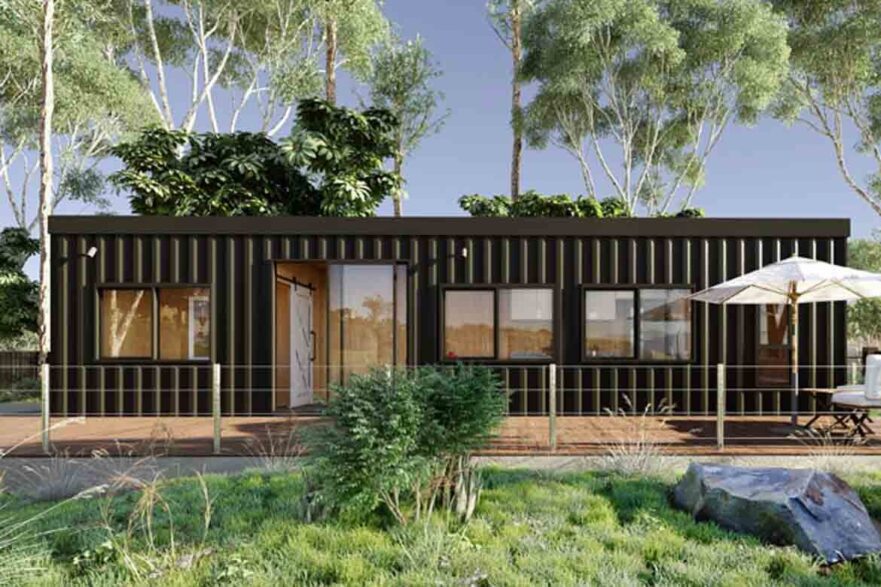 This 1 bedroom 1 bathroom shipping container home measures at 320 square feet and can be purchased here starting at $88,000.
Brand: Container Build Group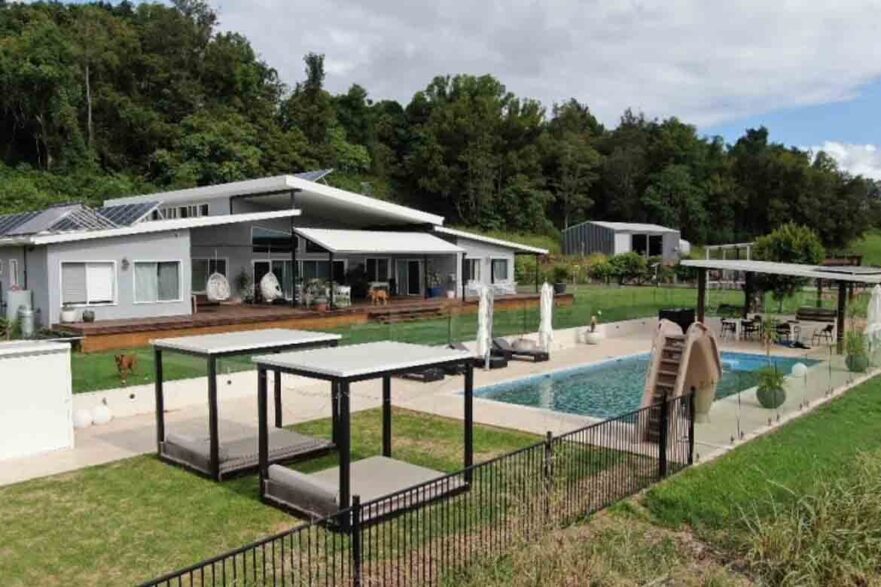 Best known for their work on luxury shipping container homes, Container Build Group also have a wide range of granny flats, cabins, and even commercial container options.
4. The Granny Cabin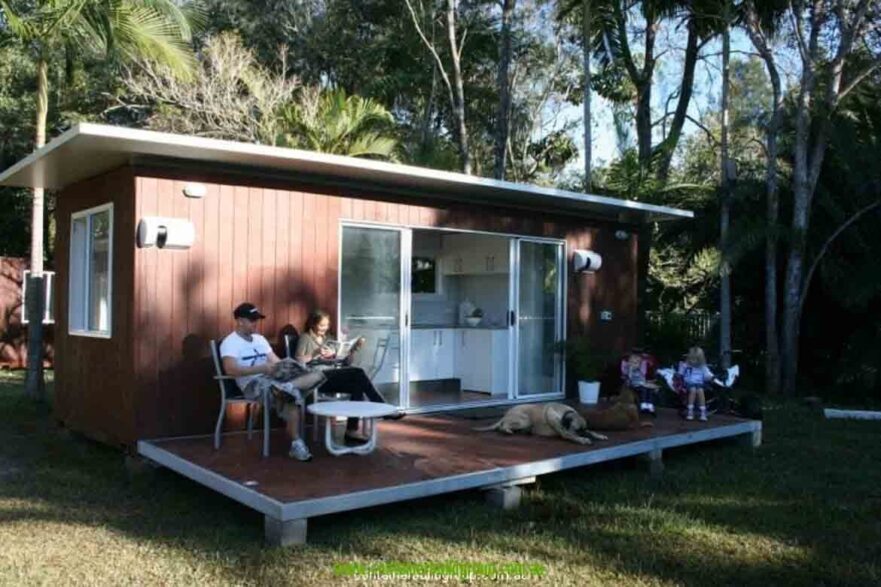 Container Build Group describe this cabin as their most cost effective self-contained cabin. It is easy to transport and despite its 29.16SQ M floor plan manages to feel bright and spacious due to the windows, layout, and sliding doors.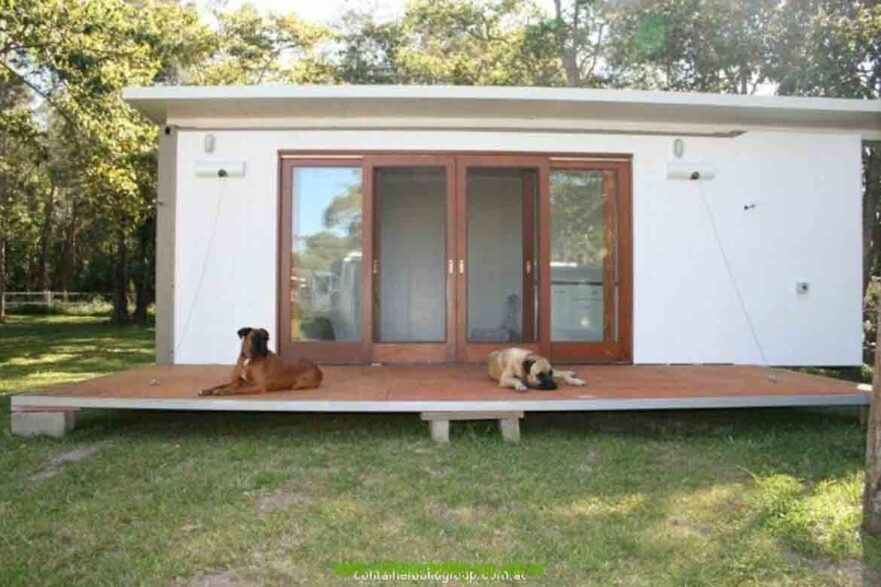 Contact sales@containerbuildgroup.com.au or browse here for more information.
3. Proserpine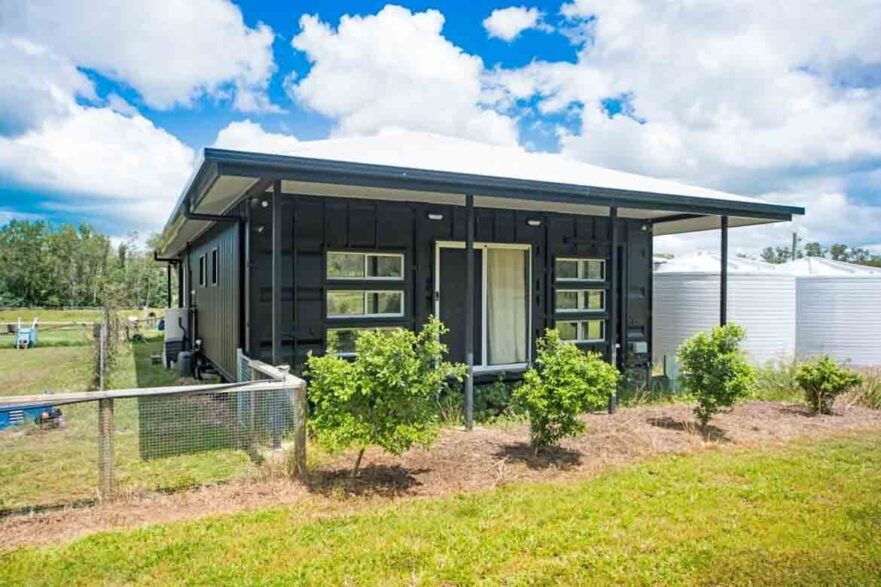 Comprised by three containers (40ft each) this is a 2 bed, 2 bathroom home fit for habitation immediately.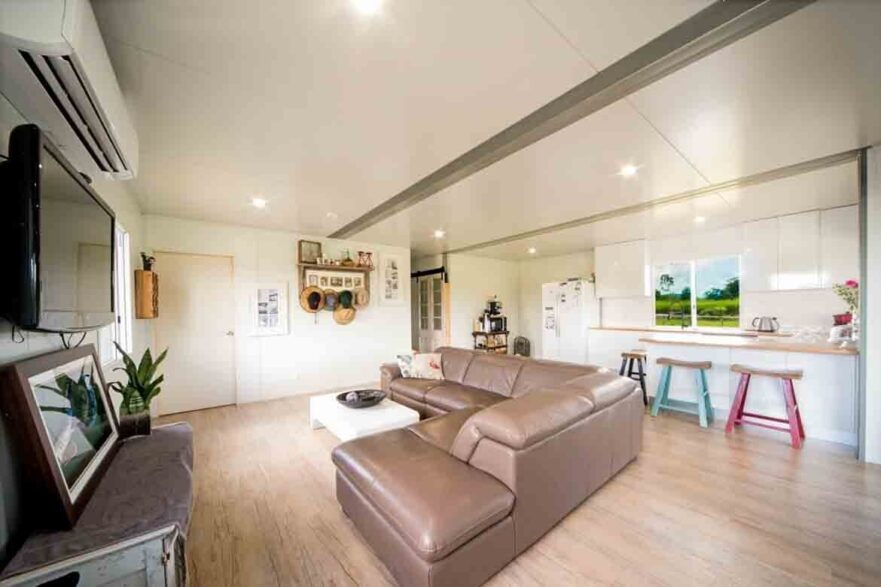 Spacious yet ergonomic, this is the perfect container for a family as a main or holiday home. Purchase information here.
Brand: Nook Tiny Homes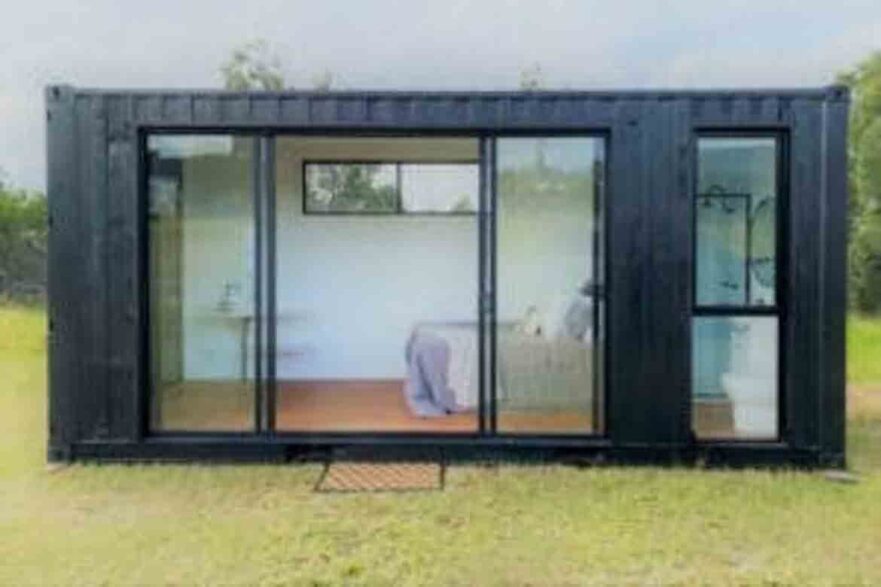 Nook Tiny Homes specializes in making converted shipping containers for home use. This means that they can follow custom designs, or you can simply choose one of their available styles. Nook Tiny Homes come with off grid systems and a number of add-ons that can make your shipping container home ready to go upon arrival.
2. Home Office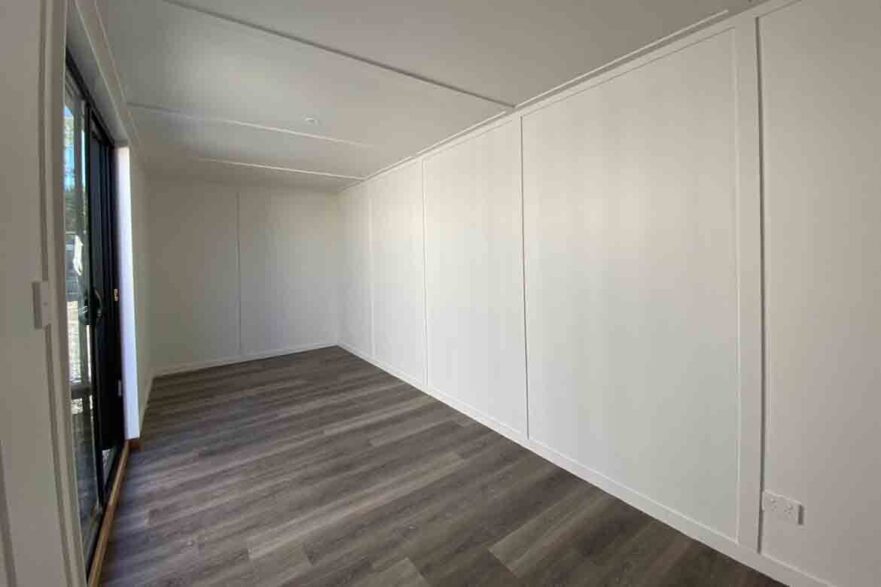 Their cheapest option is the home office studio, available here from $13,500. This container is fully insulated and ready to go with power points and an external weatherproof electrical connection point.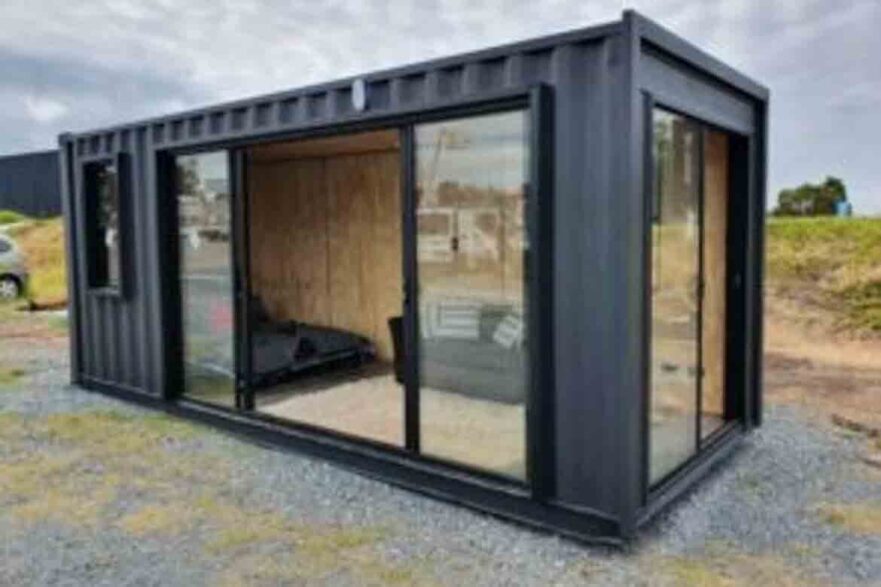 However, it is a very basic and you will have to install any fittings yourself. It is 6m x 2.4 – 14SQM and is best suited as a home office or a spare room (rather than a stand-alone home, as it has no internal walls for a bathroom or kitchen).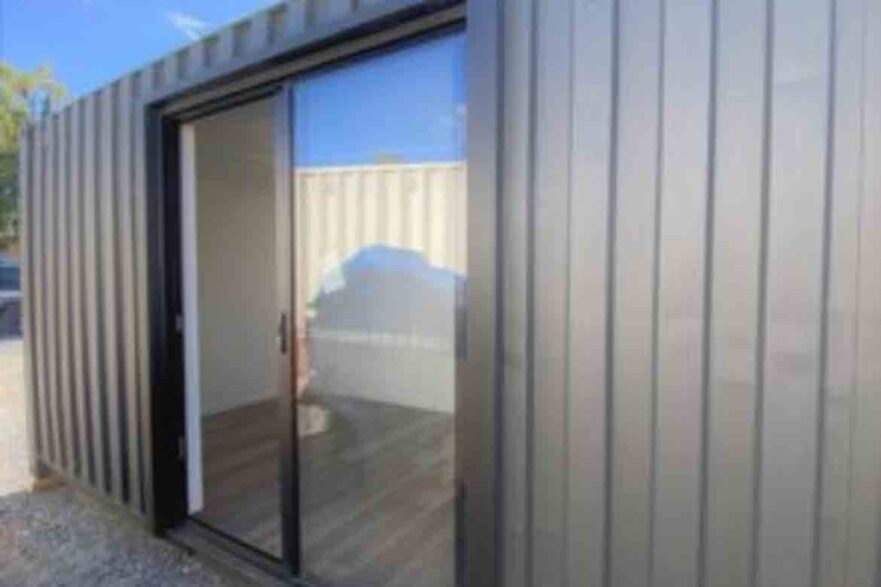 1. Hamptons Coastal Luxe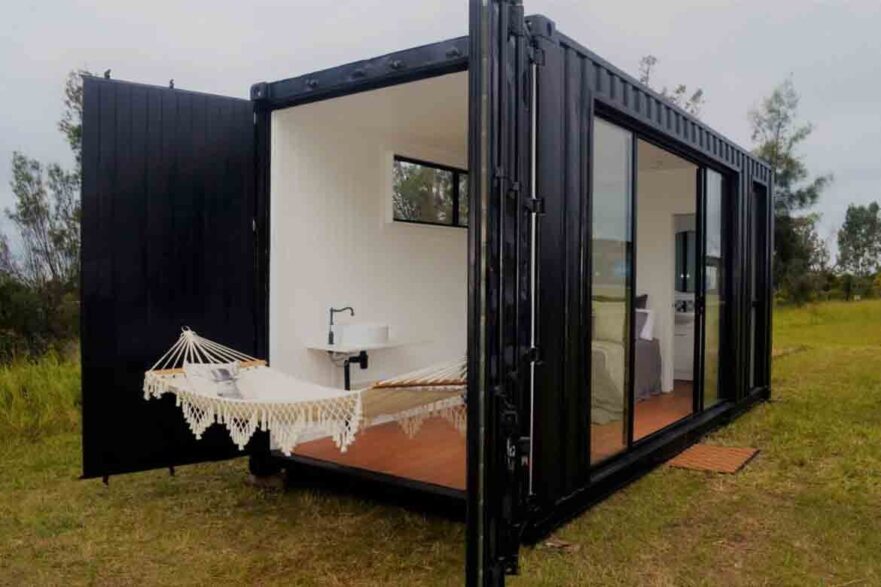 For those who want a more complete package but are still looking for cheap container homes under 100k, consider the $49,000 Nook Hamptons 20 Coastal Luxe.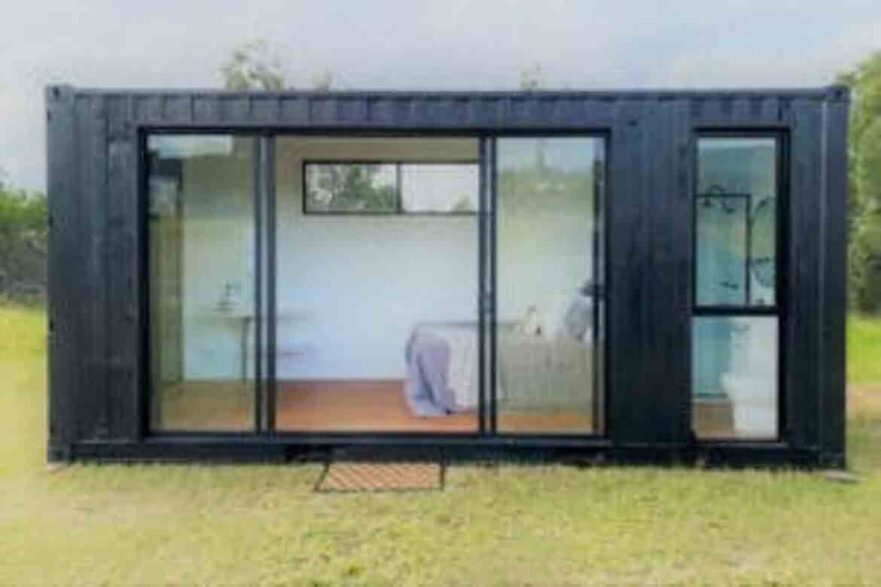 This affordable shipping container home is perfect for a small area, as an Airbnb or even as a second unit on your property. It has a stone benchtop and separate bathroom with state-of-the art fittings. You can browse here for more information about the inclusions or purchasing.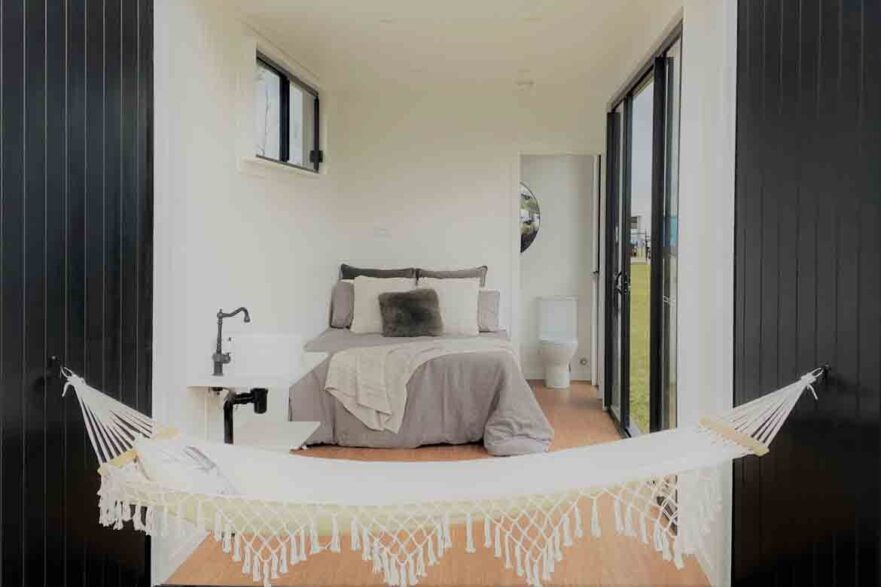 ---