Glenn Murcutt was born in London, England in 1936 and lived on the coast of Papua New Guinea for most of his early years. In 1941, he attended Manly Boy's High School in Sydney before continuing to study architecture at the Sydney Technical College (now the TAFE New South Wales Sydney Institute). Murcutt currently lives in Sydney with his third wife Wendy Lewin, who is a fellow architect and a founding member of the Australian Architecture Association. Glenn Murcutt had two sons; Daniel and Nick Murcutt. Nicholas, also an architect, founded the Neeson Murcutt architecture firm. Nicholas passed away in 2011, aged 46, and younger brother Daniel Murcutt has since become an advocate for cancer research.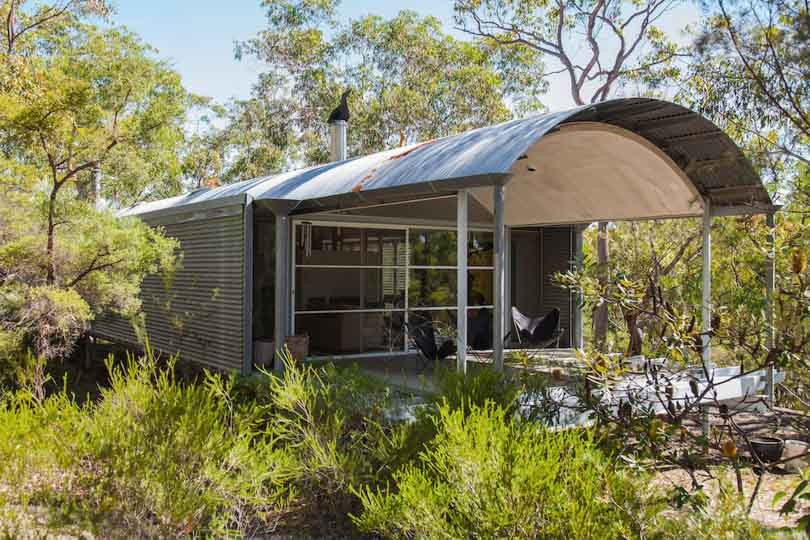 Recognition and Awards
After his 1961 graduation from Sydney Technical College, Murcutt spent the next eight years at renowned Sydney firm Ancher, Mortlock, Murry and Woolley. In 1969 he began his own practice operating out of the Sydney suburb Mosman, while also teaching design at the University of Sydney. The first official recognition of Murcutt's rare talent came in 1992 when he was awarded the RAIA Gold Medal by the Australian Institute of Architects. The criteria for this award include:
Designing or executing buildings of high merit
Producing work of great distinction that has advanced architecture or endowed the profession in a distinguished manner.
Despite working exclusively in Australia, Murcutt was awarded an equivalent Gold Medal by the American Institute of Architects in 2009 for his "profound impact on Architecture throughout the world." These are just two of many symbols of Murcutt's influential approach to architecture worldwide; Murcutt made history as the first Australian to ever win the Pritzker Architecture Prize in 2002, generally regarded as the most prestigious architectural prize in the world. Some of his other most notable awards include
Alvar Aalto Medal (1992)
Richard Neuta Award for Teaching (1998)
Green Pin from the Royal Danish Academy of Architects (1999)
Thomas Jefferson Medal for Architecture (2001)
Kenneth F. Brown Asia Pacific Culture and Architecture Award (2003)
Praemium Imperiale (2021)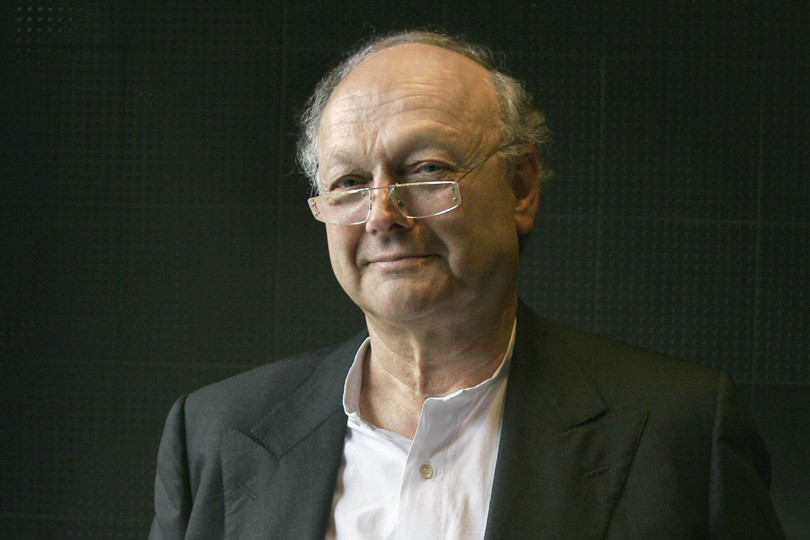 Philosophy and Media
Murcutt is known for his iconic design philosophy, "touch the earth lightly," an Aboriginal proverb which takes center-stage in all Glenn Murcett designs as he seeks to create sustainable buildings which work in harmony with the Australian environment. Many of his architectural choices are influenced by his upbringing in Papua New Guinea, where his family home was a testament to the unique landscape – for example, the house was built on stilts for protection from water and animals. It is Murcutt's devotion to specificity and individuality that made him such an unlikely candidate for the Pritzker Prize, competing with multi-billion dollar projects despite his exclusive commitment to the Australian environment and modest (single story) houses.
Murcutt's unique philosophy has inspired many books.
Philip Drew authored Leaves of Iron: Glenn Murcutt: Pioneer of an Australian Architectural Form in 1994, drawing attention to Murcutt's vast influence over modern Australian architectural practices. Drew authored another book on Murcutt's philosophy in 1999 titled; Touch this Earth Lightly: Glenn Murcutt in His Own Words. This is a novel in conversation with Murcutt himself as they discuss the relationship between nature and architecture and the influences of Murcutt's childhood on his design practices.
Other Glenn Murcutt books focus on different aspects of his career, including;
Glenn Murcutt, Buildings and Projects, Fromont Francoise (1995)
Three Houses: Glenn Murcutt Architecture in Detail, Elizabeth Farrelly (2002)
Glenn Murcutt: A Singular Architectural Practice Beck, Haig & Cooper (2005)
Locating Design: A Site Every Design Professional Should See: The Marika-Alderton House, Yirrkala, Design and Culture Vol.3 No.3 (2011)
Glenn Murcutt: Thinking Drawing/Working/Writing Gusheh, Heneghan, Lassan, Seyama (2008)
A 2016 documentary by Australian filmmaker Catherine Hunter takes an in-depth look at Murcutt's career and famous commissions. Glenn Murcutt: Spirit of Place primarily follows the completion of Murcutt's ten-year project: The Australian Islamic Center in Newport, Melbourne. Read a more detailed account of the Glenn Murcutt Mosque and its groundbreaking construction here.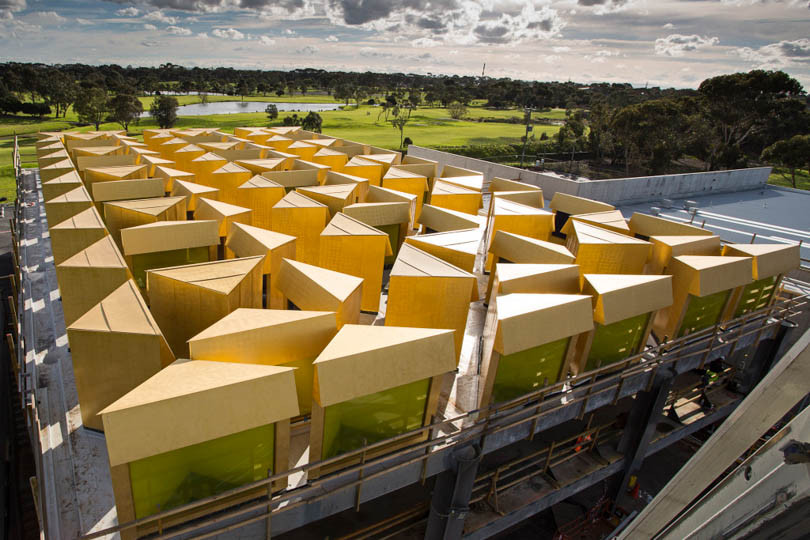 Detailed List: Houses & Projects
Glenn Murcutt has taken the lead on over on over 20 buildings since the 70s. His projects since the 90s have included. Since the 90s, his work has included:
Magney House, Sydney 1986-1990
Done House, Sydney 1988-1991
Meagher House, Bowral 1988-1992
Raheen (Pratt Family Wing Addition), Kew 1992
Simpson-Lee House, Mount Wilson 1989-1994
Marika-Alderton House, Yirrkala Community, Eastern Arnhem Land 1991-1994
Murcutt Guest Studio, Kempsey 1992
Bowali Visitor Information Centre, Kakadu National Park 1992-1994
Schnaxl House, Newport 1994-1996
Fletcher-Page House, Kangaroo Valley 1996-1998
Douglas and Ruth Murcutt House, Woodside 1995-1996
Arthur and Yvonne Boyd Art Centre, Riversdale, West Cambewarra 1996-1999
House at Kangaloon 1997-2001
Murcutt/Lewin House and Studio, Mosman 2000-2003
Walsh House, Kangaroo Valley 2001-2005
Lerida Estate Winery, Lake George 2002-2003
Moss Vale Education Centre, Moss Vale 2006-2007
Australian Islamic Centre, Newport 2006-16
MPavilion, Melbourne 2019
High-Profile Projects
Murcutt's best known works include the Kempsey house (also known as the Marie Short House), Magney house, Simpson Lee house, and the Marika Alderton house. These houses and their features are unified by a commitment to the Australian climate through their unique architectural features. Read on for a comprehensive outline of each house, their floor plans, and Murcutt's initial drawings.
Kempsey House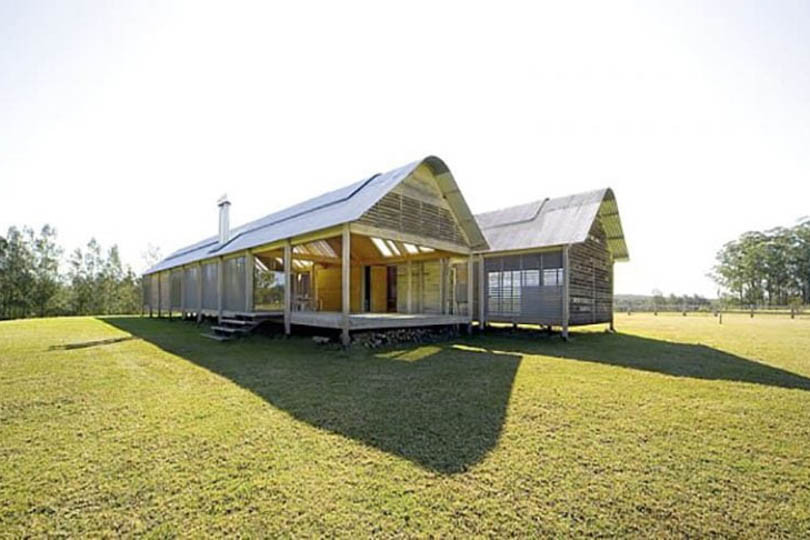 Initial Sketch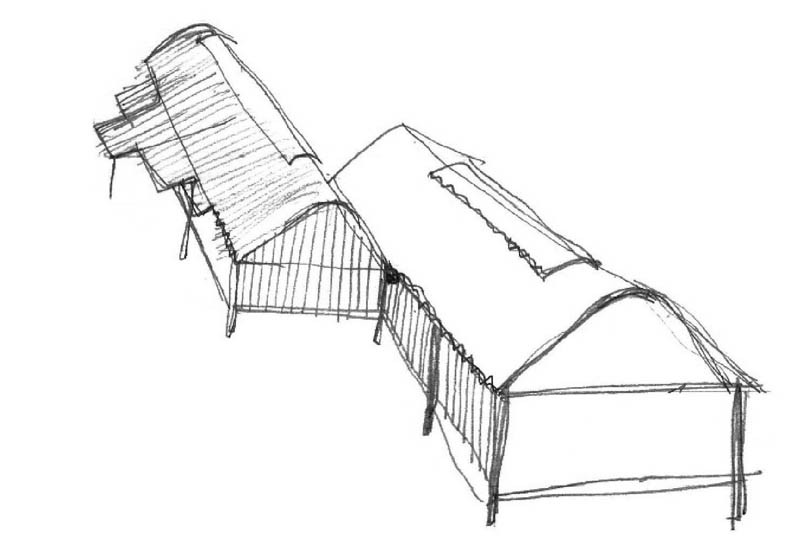 Overhead drawing of the initial design for the Kempsey House by Glenn Murcutt. Note the separation of public and private areas. Marie Short, the client, requested a building which could be disassembled, transported and reconstructed with ease. This inspired Murcutt to draw from the Japanese Metabolic architecture movement, separating the house into six cell-like structures which he later expanded to nine.
Floor Plan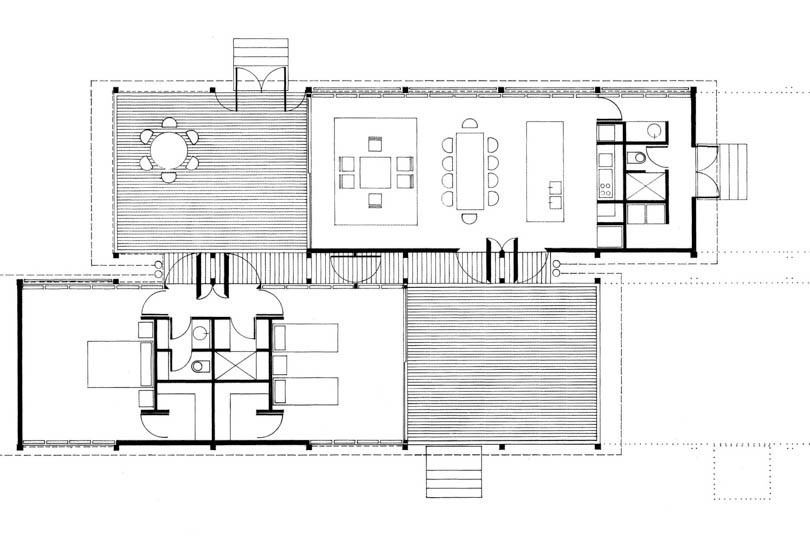 The house was built using local timber, and the roof was constructed from curved corrugated metal sheets which allow ventilation. Like Murcutt's childhood home, it is set on stilts to discourage animals. It requires no air conditioning as the wide-set eaves provide shade from the sun and allow wind to blow through during the summer. The steel louvers can be adjusted to moderate air flow, and heat up during the winter. This is the level of environmental planning typical of Glenn Murcutt houses, each specific to their individual situation and geographical context.
Magney House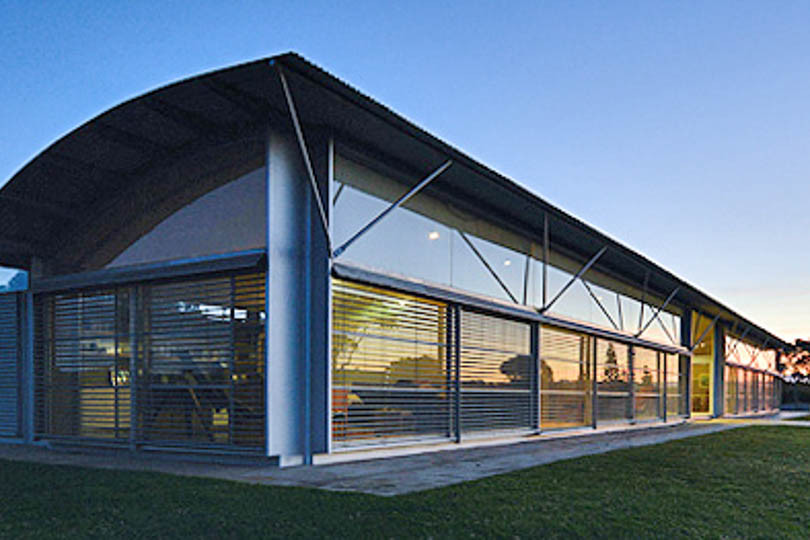 Initial Sketch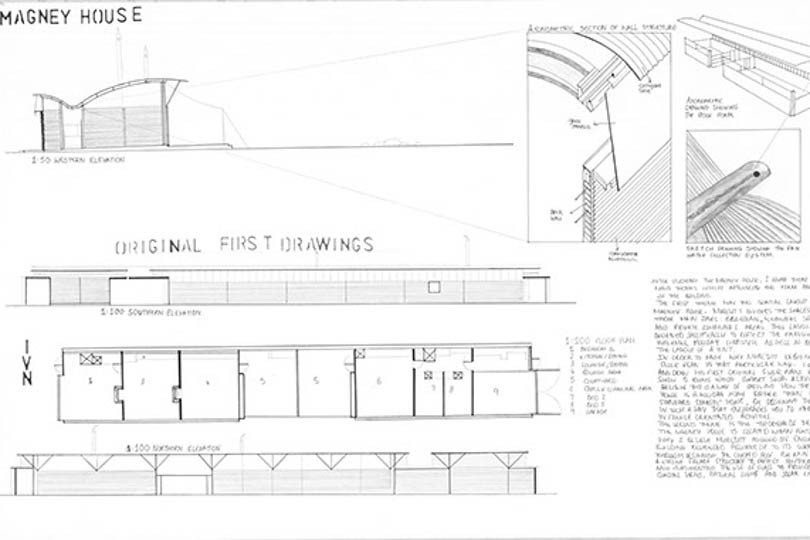 Floor Plan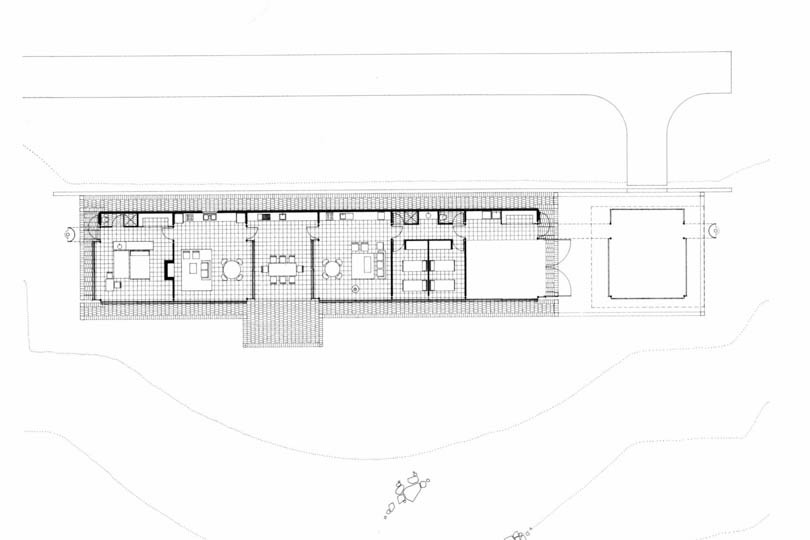 Simpson Lee House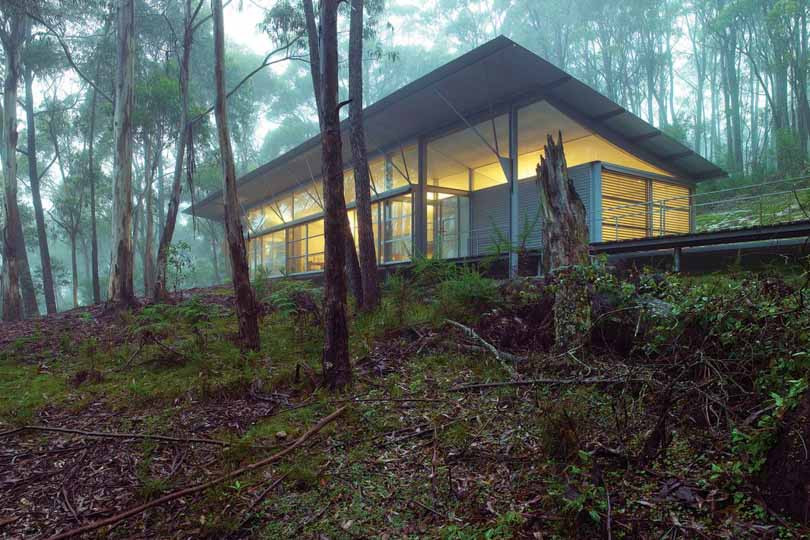 Initial Sketch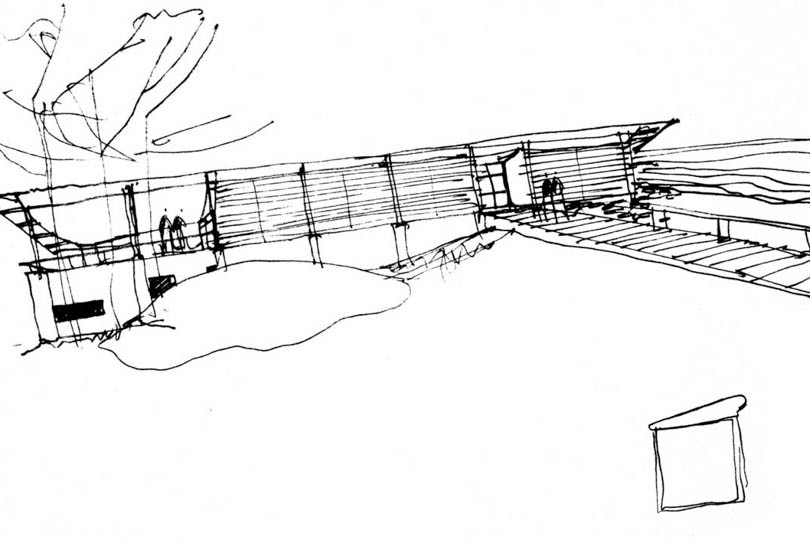 Floor Plan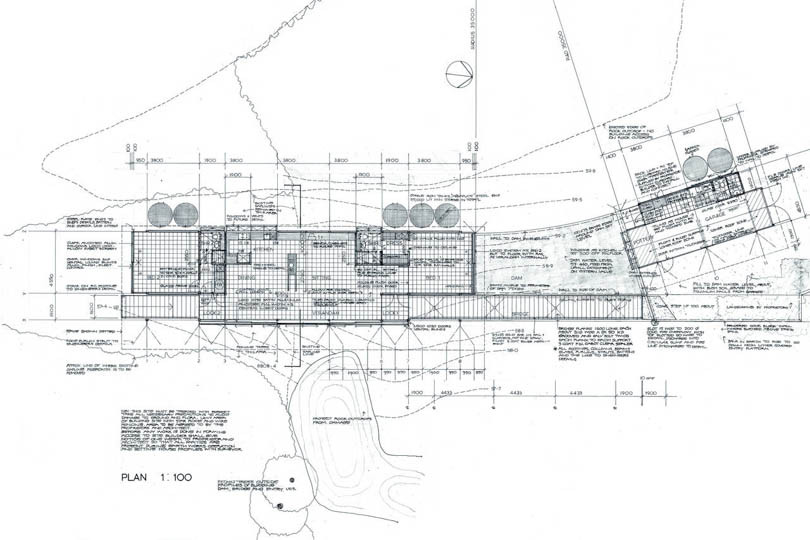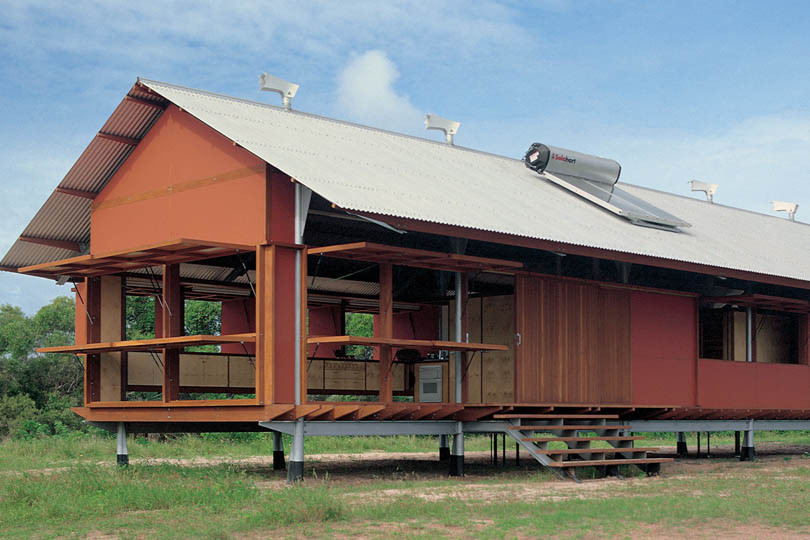 Initial Sketch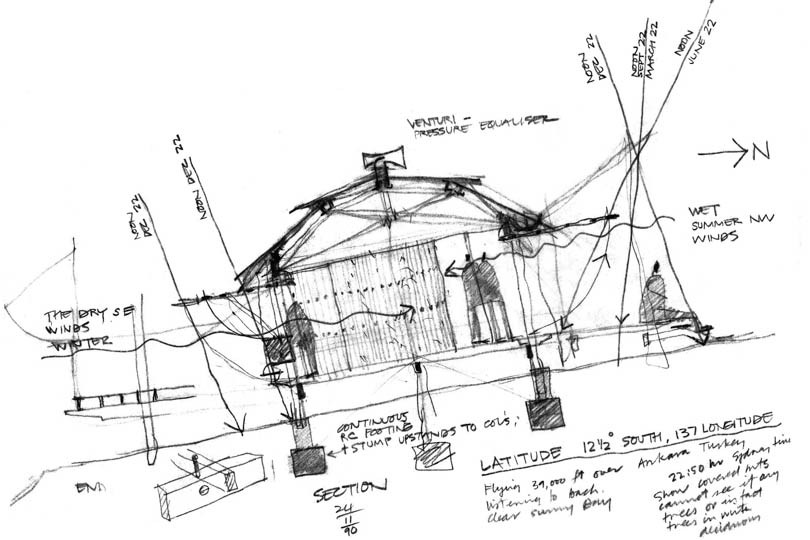 Floor Plan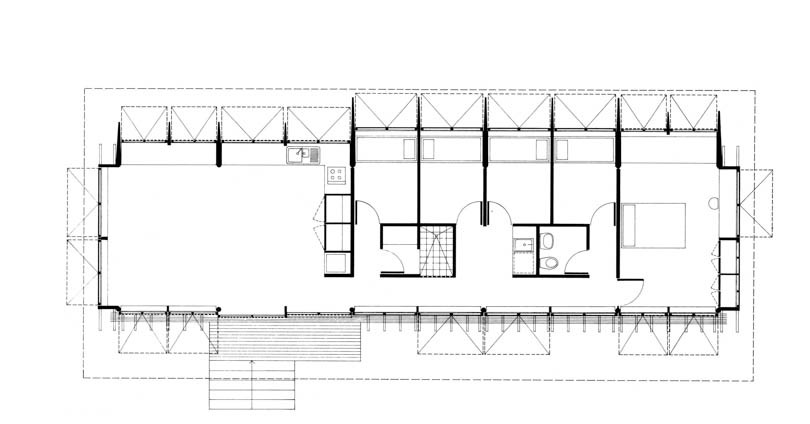 Note: The Marika Alderton House, commissioned by Aboriginal leader Banduk Marika, was designed with particular reference to Indigenous Design principles. For more information on the use of Aboriginal Designs in architecture, look here.
---